The Perfect Fried Goat Cheese Board
I don't know about you but I LOVE a great fried goat cheese ball? Something about the creamy, crunchy texture paired with an array of jams, honeys or dipping sauces just screams delicious and addicting. Am I right? Looking for the perfect appetizer or grazing board addition to any gathering this year / holiday season? I have you covered! Keep reading to see how to make the perfect fried goat cheese board in a flash- and don't be surprised when it is a runaway hit this holiday season!
Tis the season for friends, family, gatherings and holiday get-togethers – and best of all delicious food! I love hosting a great holiday gathering with friends and family and creating a solid spread of delicious appetizers, drink pairings and more. This year has been the year of my love for goat cheese and hands down fried goat cheese balls are one of my favorite appetizers/ hors d'oeuvres ever! These are perfect because not only are they addicting as can be but they also are simple to make and always make a splash at any party as a favorite. Think about it – who doesn't love creamy, melty cheese oozing our of a crunchy, delicious golden crust with every bite? Sign me up!
For more recipes that I love to use goat cheese balls in , be sure to try this delicious salad! Check out other recipes with goat cheese added HERE!
WHY A FRIED GOAT CHEESE BOARD?
Well a board lately has been the perfect way to create a insta-worthy grazing appetizer. A board is super easy to make, it allows multiple options to be in one place and it makes the perfect conversation starter as well. These fried goat cheese balls are super easy to make and take just a few ingredients- making them the perfect addition to a holiday board appetizer, tailgating snack, addition to your favorite salad or late night munchie!
These are especially awesome because they are crowd-pleasers that do not take a ton of time to cook or prep. Plus if you want to get the whole family involved it makes for a great family activity but also they are fun to eat and make as you go!
These goat cheese balls are super easy to make. Think under 30 minutes maybe even less if you enlist some help! All you have to do is shape the cheese, cant them in breadcrumbs, eggs and flour and deep fry them to golden delicious perfection.
These are a solid crowd favorite! I don't know about you but I am a certified cheese lover! I feel like most people are – which means when they hear "fried cheese balls" they instantly run and grab them before they are gone in an instant! These are deliciously packed with flavor and you can jazz them up with a drizzle of honey, a variety of dipping sauces and more.
Can you make the FRIED GOAT CHEESE BOARD IN ADVANCE?
Absolutely! The best part of a fried goat cheese ball is that you can make ahead the day before assembling your fried goat cheese board and save tons of time. All you have to do is shape and coat the balls before, tightly wrap them and store them in your fridge overnight- then the next day you can easily grab and fry them to perfection. You can also freeze them if you want, and cook them directly from frozen when ready. Easy peasy and gives you time to basically prepare other food then prepare these last before guests arrive.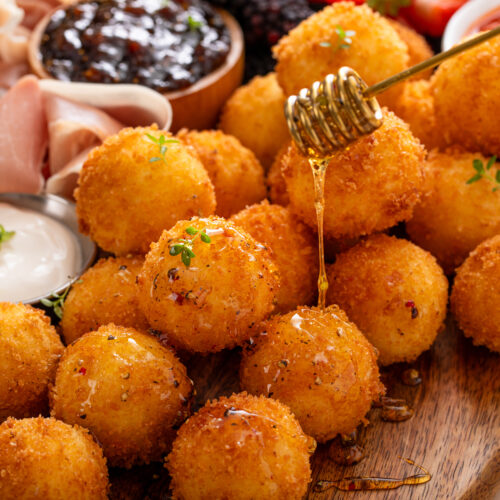 Fried Goat Cheese Board
This fried goat cheese board take less than 30 minutes from start to finish and require just a handful of simple ingredients. It makes for the perfect party appetizer or a holiday grazing grab and go board!
Ingredients
2

8oz

goat cheese

chilled and cut into rounds or logs

1

cup

all purpose flor

2

eggs

beaten

1

cup

breadcrumbs

I used Panko

vegetable oil

for deep frying

parsley

diced (for garnish)

honey

for serving and garnish
Instructions
Prepare three shallow bowls or plates. Place the flour in one, beaten eggs in another, and breadcrumbs in the third.

Take a piece of goat cheese and lightly coat it in flour, shaking off any excess.

Dip it into the beaten eggs, allowing any excess to drip off. 

Finally, coat the cheese in breadcrumbs, pressing gently to ensure they adhere well. Repeat with the remaining goat cheese pieces.

Heat vegetable oil in a deep skillet or frying pan over medium heat. The oil should be approximately 1 inch deep.

Carefully place the coated goat cheese pieces in the hot oil and fry for about 2-3 minutes, or until golden brown on all sides.

Use a slotted spoon or tongs to remove the fried goat cheese from the oil and transfer to a plate lined with paper towels to absorb any excess oil.

Arrange the fried goat cheese on a serving board or platter.

Serve the fried goat cheese board with the prepared sauces for dipping.
Notes
TIP: * For best result freeze the goat cheese balls for 6-8 hours prior to frying*
SAUCES TO SERVE WITH ON BOARD
Honey Mustard Sauce
Marinara Sauce
Red Pepper Jelly
Fig Jam
Garlic Aioli
Sriracha Mayo
Cracked Black Pepper Honey
GARNISHMENTS FOR THE BOARD
Sliced strawberries
Blackberries
Caramelized Onions
Prosciutto
HOW TO SERVE YOUR FRIED GOAT CHEESE BOARD
When it comes to fried goat cheese balls they are best served warm — literally just a few minutes off the pan! This is when they are at the crunchiest, creamiest and melty cheesiest. While we love serving these with a drizzle of honey, you can also enjoy them with your favorite dips such as:
DIPPING SAUCES
Honey Mustard Sauce
Marinara Sauce 
Red Pepper Jelly
Fig Jam
Garlic Aioli 
Sriracha Mayo
Cracked Black Pepper Honey
GARNISHMENTS FOR BOARD
Sliced strawberries
Blackberries
Caramelized Onions
Prosciutto
LOVE THIS BOARD? CHECK OUT MORE BOARD RECIPES BELOW!
Whether you are looking for a easy quick grazing board, something for a tailgate or something for a holiday gathering, we have a variety of board recipes and tips to make for just about any occasion!
So there you have it , the perfect bite sized delicious appetizer that will make a splash at any upcoming gathering or party! If you make this fried goat cheese board, please be sure to tag me over on Instagram so I can see how you crafted your delicious recipe!
PIN NOW, MAKE FOR LATER: