Looking for the perfect appetizer dish to wow your guest? This mushroom & brie crostini recipe make for the most perfect, delicious and savory appetizer! Keep reading to see how to make them ASAP for your next dinner party or holiday gathering!
Who doesn't love a great crostini recipe? When it comes to dinner parties, holiday gatherings or just anytime you need a great appetizer- I tend to love a great crostini. Why? Well they are quick to make, perfect grab and go bite when trying to mingle, and the perfect pair when it comes to a great glass of wine and a small bite. Plus you can always make them a bit in advance to cut down on time, by storing ingredients chopped ahead of time. For these it takes just minutes to top the baguettes with the brie and mushrooms before tossing into the oven to melt and warm them. Literally a simple, quick and delicious party bite sized food.
WHY A MUSHROOM & BRIE CROSTINI?
Crostinis are one of the most perfectly versatile appetizers you will find on the table. One these "little toasts" are perfect because you can literally create anything you want. From sweet to savory- a crostini is perfect. These contain two of my favorite toppings – perfect mushrooms and gooey brie! Want to change things up for a different variation? Try these options:
Add caramelized mushrooms to make them a bit more jammy and add a bit of extra savory flavor
Add little heat by adding a bit of crushed red pepper flakes to take it up a notch
Not a fan of brie? You can also use ricotta cheese for a bit more of a creamy bite.
Want to add a slice of fresh fruit to make it a bit sweeter? Try a pear to give you a bit of a sweet and savory bite.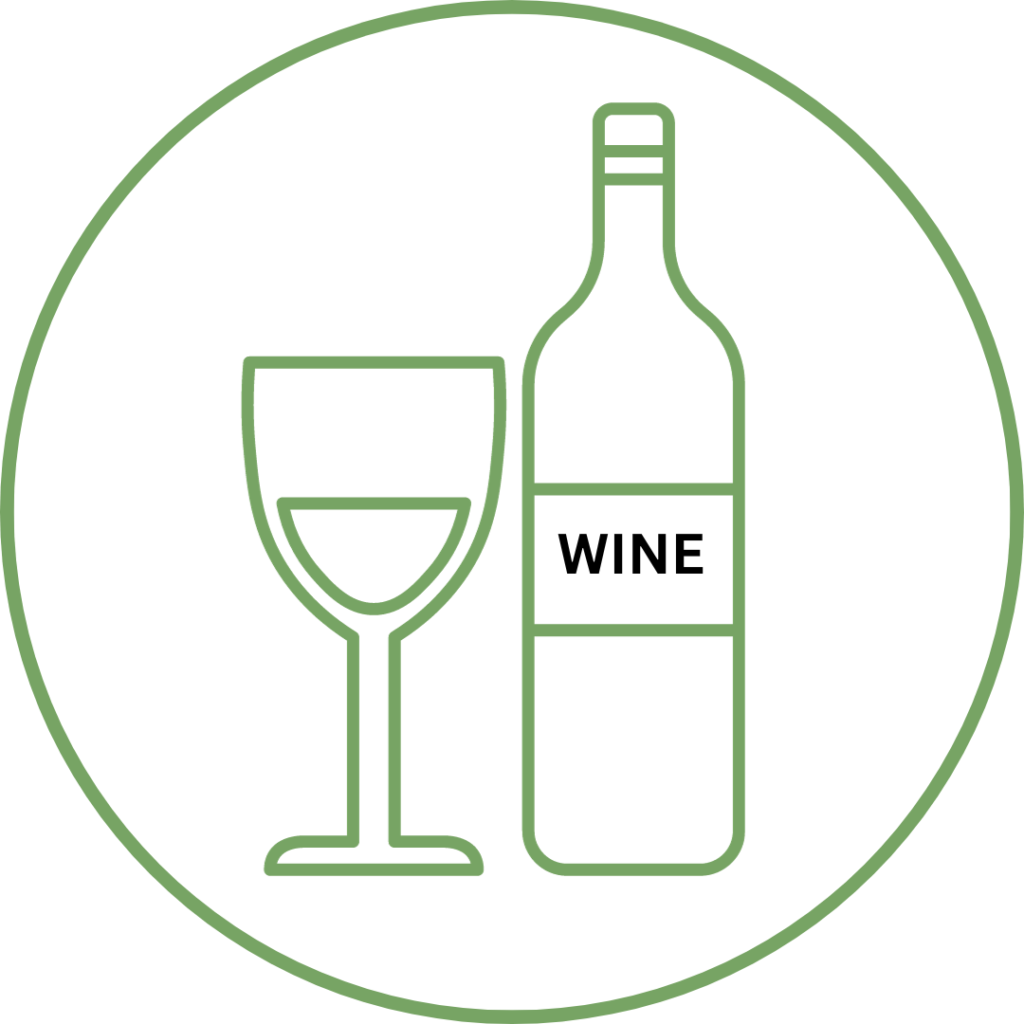 WINE PAIRING TIP: This mushroom & brie crostini pairs perfectly with J. Lohr Carol's Vineyard Cabernet Sauvignon. The rich, bold flavors of J.Lohr's Carol's Cabernet Sauvignon, including dark berries, black currants, and hints of oak and spice, beautifully complement the creamy and earthy flavors of mushrooms paired with brie cheese in the crostini. Perfect wine companion to a great guest loving appetizer!
Can you make the mushroom & brie crostini in advance?
Absolutely! That is the best part of this easy recipe. You can cook mushrooms in advance and refrigerator for up to 3 days. All you need to do is reheat them on the stove for a few minutes or in the microwave just before serving. You can also cut the baguette into slices the night before and store them in a plastic bag to just grab and assemble the day of your gathering!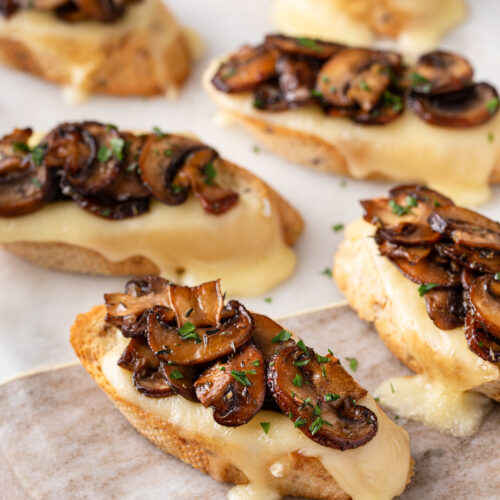 Mushroom & Brie Crostini
The perfect appetizer recipes for upcoming dinner parties or holiday gatherings! Perfectly prepared mushrooms paired with gooey brie cheese on a crostini – it's destined to be a crowd pleaser!
Ingredients
1

baguette

Sliced into 1/2 inch thick rounds

1

tbsp

olive oil

used for brushing

250

g

Baby Bella Mushrooms- thinly sliced

2

galic cloves- minced

1/4

cup

Marsala wine

1

package

Brie Cheese – sliced

1

tbsp

salt and pepper

to taste

1

bunch

fresh parsley

finely chopped for garnish

1

dash

crushed red pepper flakes

OPTIONAL to add a little heat
Instructions
**Prepare the Baguette**  

a. Preheat the oven to 375°F (190°C).   

b. Place the baguette slices on a baking sheet.   

c. Brush both sides of each slice with olive oil.   

d. Toast in the oven for about 3-5 minutes, or until the slices are toasted.

Remove and set aside.

**Cook the Mushrooms**  

a. In a large skillet, heat about 2 tablespoons of olive oil over medium heat.   

b. Add the garlic and sauté until fragrant, about 1 minute.   

c. Add the sliced Baby Bella mushrooms to the skillet. Cook, stirring occasionally, until the mushrooms release their moisture and become golden brown, about 5-7 minutes.   

d. Pour in the Marsala wine and let it simmer until the liquid reduces by half, which should take about 2-3 minutes.   

e. Sprinkle in the thyme leaves and season with salt and pepper. If you're using red pepper flakes, add them now.

Stir to combine and remove from heat.

**Assemble the Crostinis**  

a. Lay a slice of Brie on each toasted baguette slice. Make sure the slice of brie covers the crostni.    

b. Spoon a generous amount of the mushroom mixture over the Brie.   

c. Place the loaded baguette slices back on the baking sheet.

**Bake**  

Transfer the baking sheet back to the oven and bake for about 3-5 minutes, or just until the Brie starts to melt.

**Serve**  

a. Remove from the oven and let them cool for a minute.   

b. Garnish with chopped fresh parsley before serving.   

c. Serve immediately while the Brie is still warm and gooey.

d. ENJOY!
So there you have it , the perfect bite sized delicious appetizer that will make a splash at any upcoming gathering or party! If you make this recipe, please be sure to tag me over on Instagram so I can see how you crafted your delicious recipe!
MORE CROSTINI RECIPES TO TRY
Looking for a great crostini appetizer to wow your guests this year? From the most delicious catfish bite to the perfect holiday brie crostini – here are a few of the best that you can be sure to try for your next dinner party or gathering!
PIN NOW, MAKE FOR LATER: