This Honey Lime Peach Fruit Salad is absolutely divine! If you are looking for the perfect summertime fruit salad- this is it! From the light drizzle of honey to the subtle hint of basil and lime, this peach fruit salad is the perfect summertime fruit salad to add to your line up this year! Curious how to make it? Keep reading for the delicious yet easy recipe.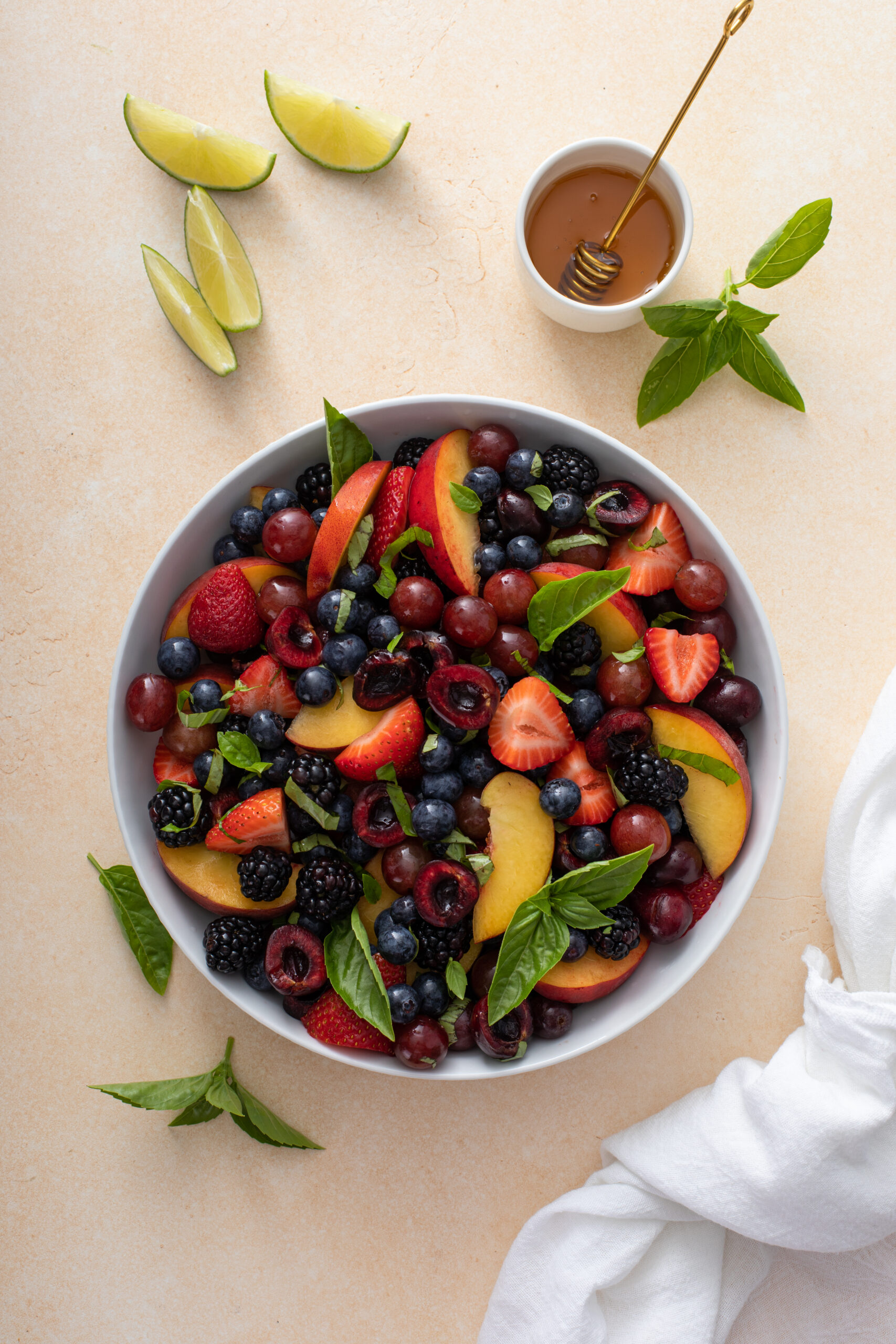 Who doesn't love a great fruit salad? Lately this summer in our house we have been all about light, easy salad. From the perfect berry salad to the best tuna salad ever, this peach fruit salad is something you are going to want to make ASAP! It's perfect for the summer month's as peaches are the perfect summertime fruit, but the hint of lime and basil with a little drizzle of honey, make this peach fruit salad perfect for any upcoming backyard BBQ's and parties.
Honey Basil Peach Fruit Salad
INGREDIENTS
1 Cup Sliced Peaches
1 Cup Blackberries
1 Cup Sliced Strawberries
1 Cup Red Grapes
1 Cup Cherries
1 Cup Blueberries
1 tsp Honey or agave
2 tbsp Lime juice, fresh
1/2 cup diced basil leaves
INSTRUCTIONS
Add peaches, blackberries, strawberries, blueberries, red grapes, cherries and basil leaves to a large bowl.
Drizzle honey and lime juice, and toss with tongs.
Refrigerate for 3 hours prior to serving.
Serve and enjoy!
Need a few ideas on how to serve this delicious summertime treat? Try a few of these pairings below:
So I have to ask- do you have a favorite summertime fruit salad? If so, let me know in the comments below! If you make this salad be sure to tag me on Instagram to be featured!
SAVE NOW, MAKE LATER: