Over the years, families all over the country create various traditions. One of my families', which was expanded from friends, favorite tradition is a huge Thanksgiving breakfast. Each year after Thanksgiving, we have no issues with what to do with leftover turkey or ham.  We know that it's going to be used for breakfast.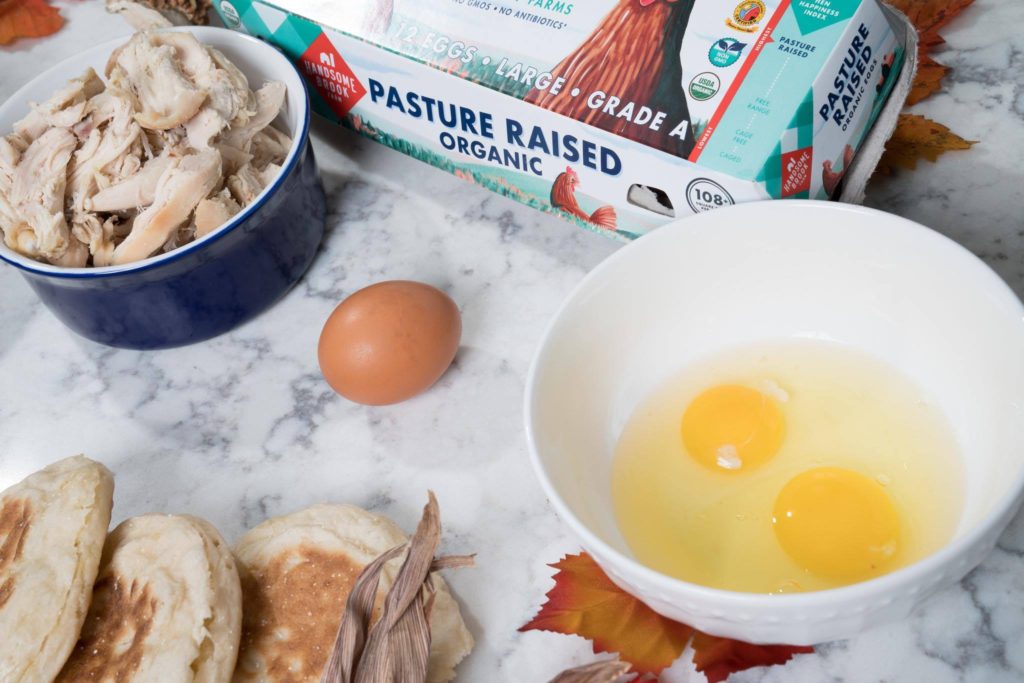 This year we decided to do something a little different. We decided to host a potluck breakfast. I couldn't think of creating the perfect breakfast dish without including Handsome Brook Farm eggs.   What I love most about these pasture-raised eggs are their trademark golden-orange yolk.  Not all eggs were created equal.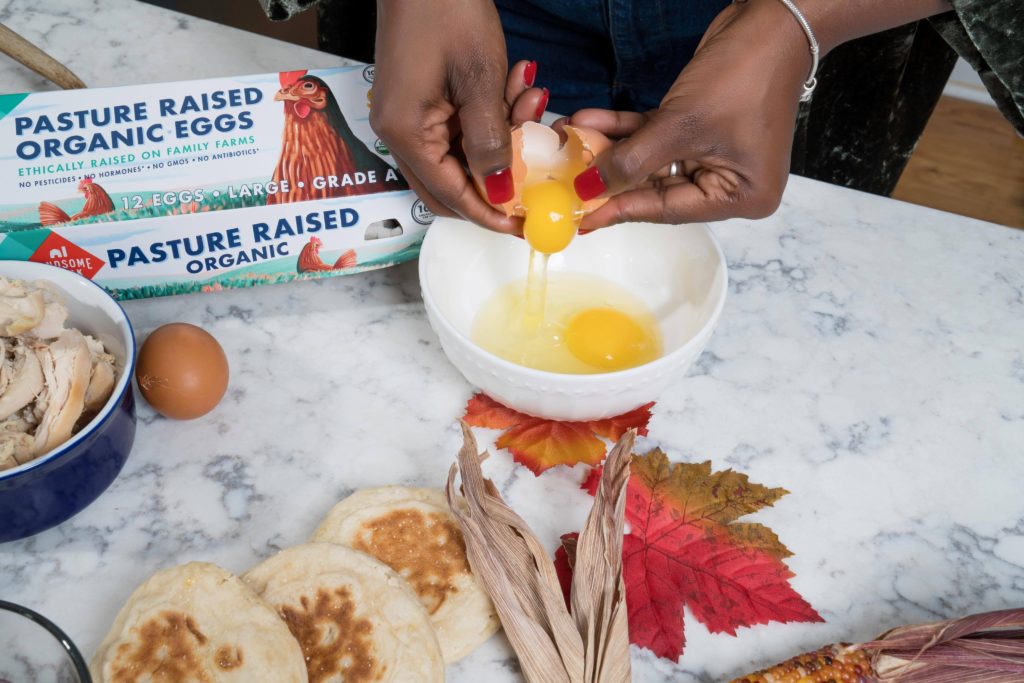 Handsome Brook Farm eggs come from organic-fed pasture-raised hens.  These eggs simply are better for you.  Hens are meant to live their lives outdoors and in a pasture, not cooped up uncomfortably in cages.  When you have happy hens, you have better eggs.  And when you have better eggs, you'll have better everything else. Nothing is better than pasture raised eggs.
Handsome Brook Farm eggs contain no pesticides, no GMOs, and no antibiotics.  They are USDA certified organic and American humane certified.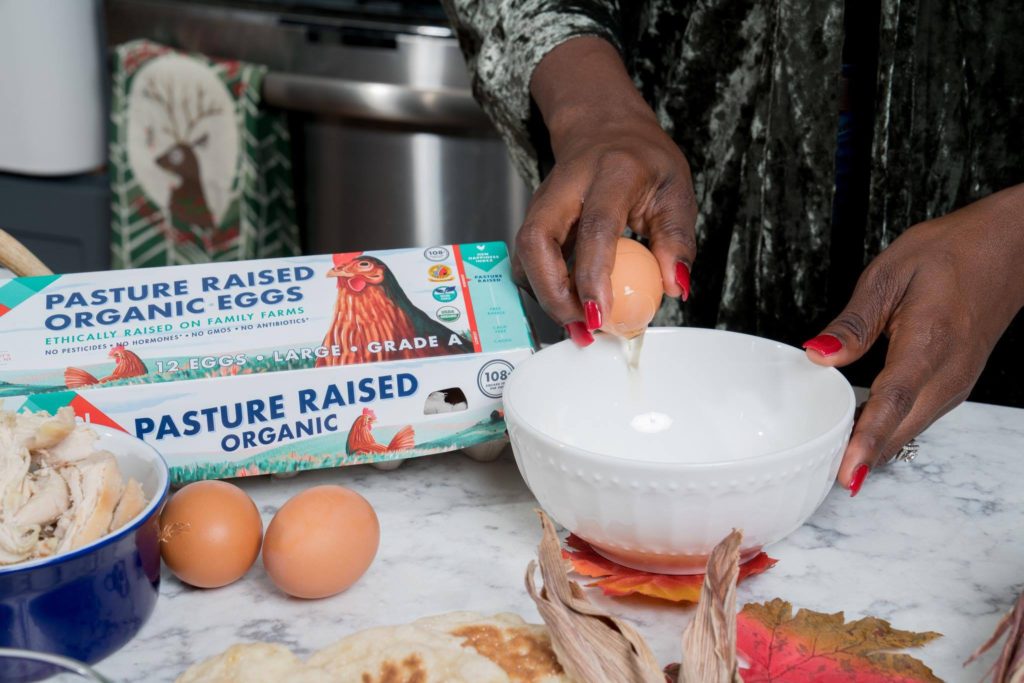 I decided for my dish that I was going to create a classic dish-like eggs Benedict and make it my own.  I love anything and all-things turkey.  I felt that if I added red onions and spinach, it would make this dish a little more special and delicious.  It's the perfect dish as a comfort food.  And if you're anything like me, seeing some greens on your plate makes you feel better about coming back for seconds.  Not only was my dish simple to create, it was pretty as well.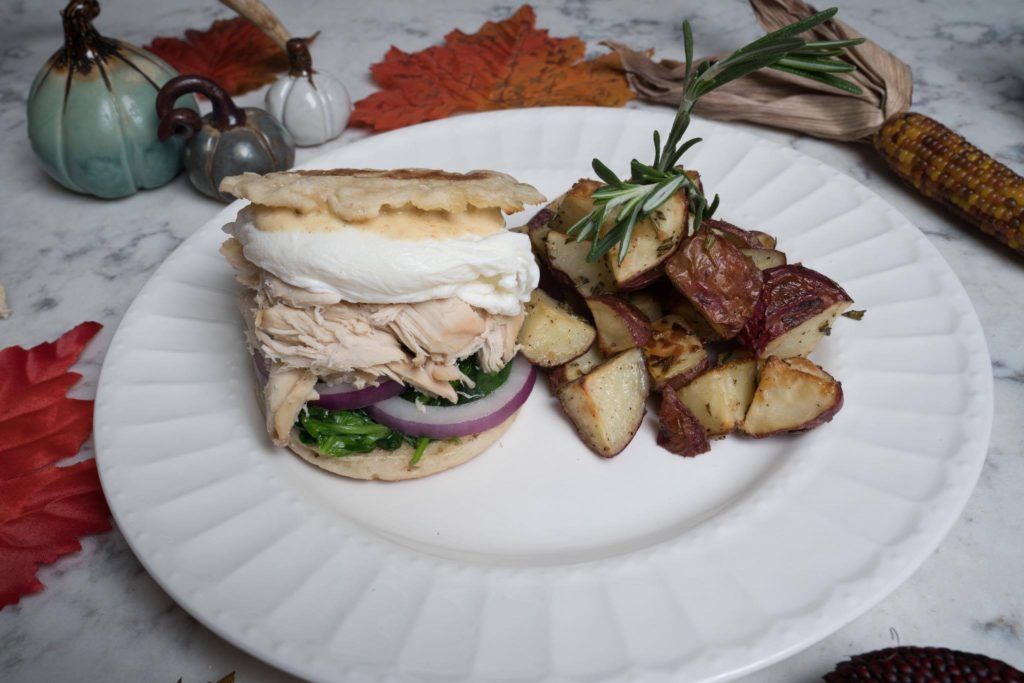 I have provided the recipe below. Make sure that you try Handsome Brook Farm eggs.  Find a location near you that offer these delectable eggs: http://www.handsomebrookfarm.com/find-us/
Turkey Eggs Benedict
Cook Time: 25 mins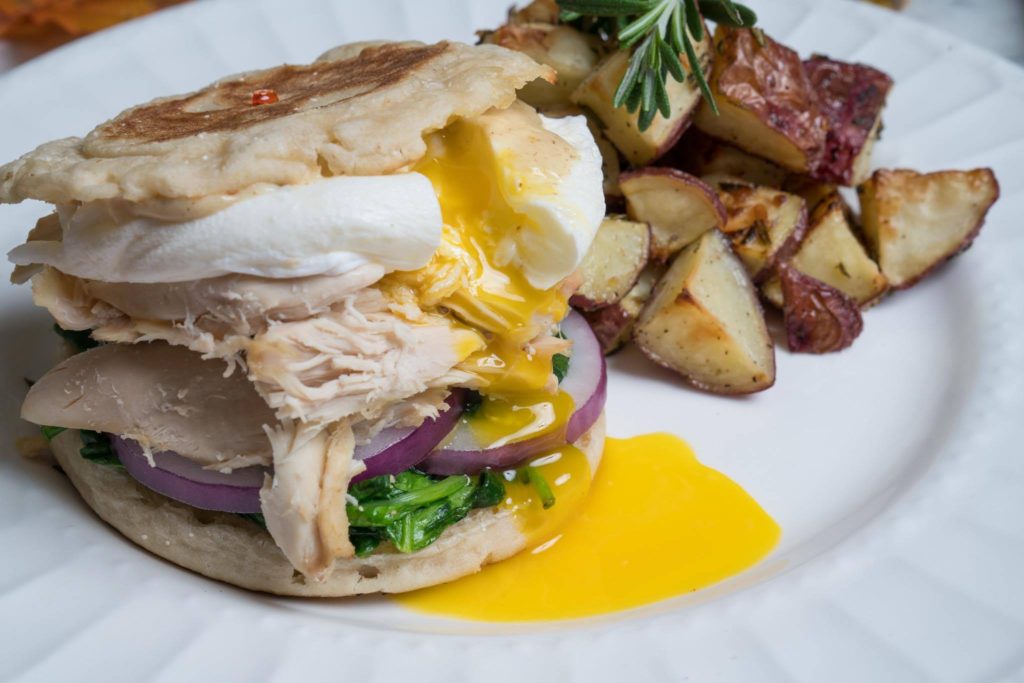 For each serving
1 Handsome Brook Farm egg
1 1/2 cup baby spinach, washed and dried
1 slice red onion (sweet yellow may substituted)
1/2 cup leftover turkey, warmed
1 English muffin, split and toasted
1 tbsp vinegar for poaching
Salt and pepper to taste
Bring a large pot of water to a gentle boil (small bubble, slightly more than a simmer).
While the water heats, heat a small pan over medium high heat. Sear the red onion slice on both sides until it is soft, with a golden brown exterior. Set aside and keep warm.
To the same pan, add the spinach and cook until wilted, seasoning with salt and pepper as desired. Set aside, keeping warm.
Once the water has come to a gentle boil, add your vinegar. Crack the egg into a small bowl or dish, making sure the yolk remains intact and there are no shell pieces. Add the egg to the water and gently poach for three minutes. Remove from the water with a slotted spoon or fine mesh strainer and gently lay to drain on paper towels.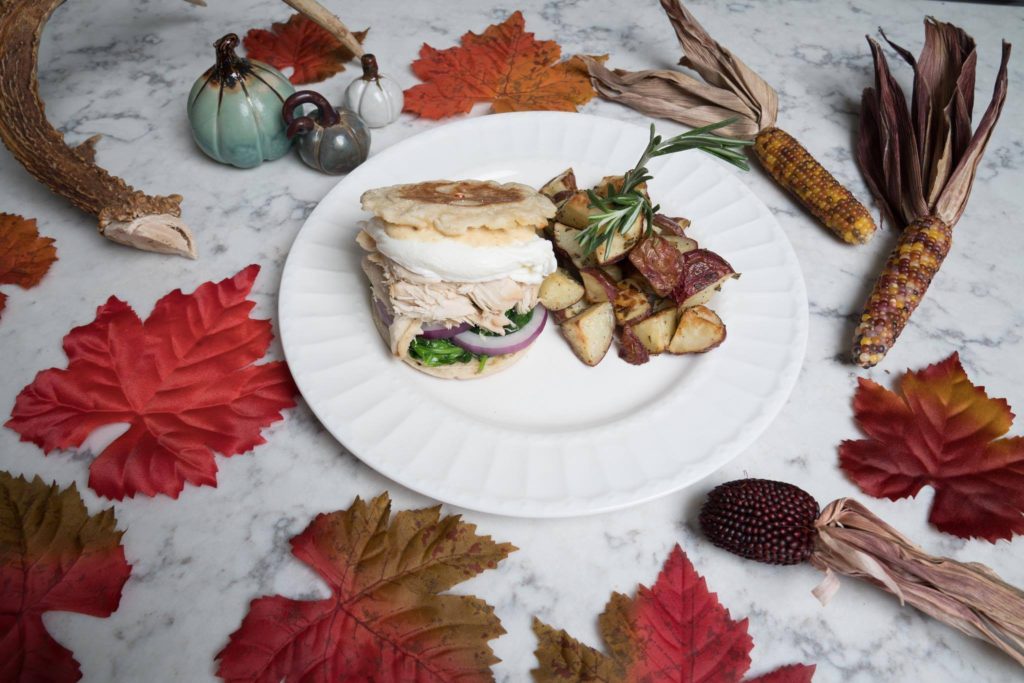 To assemble:
Using a warm plate, on the thickest half of the English muffin, spread a small layer of hollandaise and top with the spinach and red onion slice. Add the turkey. Top with the poached egg and the remaining English muffin half (if desired). Drizzle with the remaining hollandaise.
For an easy hollandaise
2 Handsome Brook Farm egg yolks
1 tbsp freshly squeezed lemon juice (organic bottled may be substituted)
Pinch of salt
2 tbsp butter, melted in a small measured cup (or any heatsafe vessel with a spout)
Pinch of cayenne or chili powder (optional)
Beat together egg yolks, lemon juice, and salt until smooth. Slowly drizzle in the melted butter, while whisking to incorporate at the same time. Continue whisking until blended.
Microwave for 15 seconds, and whisk until smooth.

Enjoy!