Until I can convince my best friend to leave her great farm/sweet husband/adorable animals, and move back to the city, we're having friend dates at the halfway point between my place and hers for the foreseeable future. Luckily, Alpharetta has stepped up its profile from bedroom community with chain restaurants to a thriving metro-Atlanta suburb with must-list dining destinations, so it's usually worth it to leave the city for bestie time.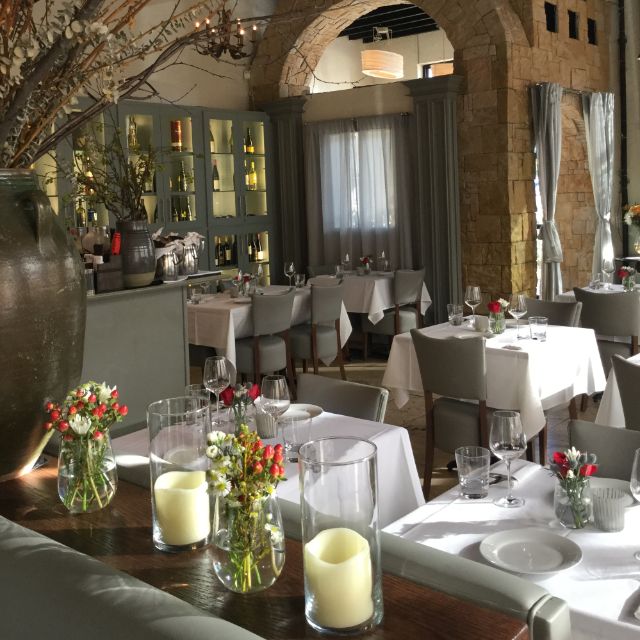 Nahm Fine Thai Cuisine, located on Windward Parkway, features authentic Thai cuisine from Executive Chef and owner, Nahm Thongyoung, and each dish is made to order, has no MSG, and has substantial gluten-free substitution options. Chef Nahm and her restaurant take obvious pride in their and each offering to customers from cocktails to mains to desserts is presented as a work of art. Nahm Fine Thai Cuisine is a recipient of Thai Select Certification. Thai Select certification identifies Thai restaurants with 60% of authentic Thai foods. Department of International Trade Promotion, Ministry of Commerce, the Royal Thai Government has launched the "Thai SELECT" program to certify and promote authentic Thai cuisine around the world. Erica is visiting Thailand soon and will be exploring authentic Thai cuisine.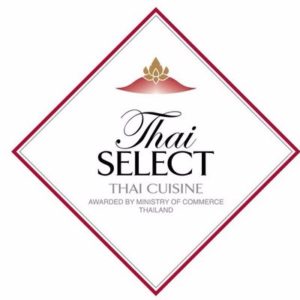 On our first trip here, Erica and I were eager to try everything on the appetizer menu, but for blogger dinners, pacing oneself is important so we decided to make use of the restaurant's Mixed Appetizers, in which diners can choose three appetizers to share. We chose the vegetarian Crispy Spring Rolls, Chicken Satay with peanut and curry sauce (my favorite of the three), and the Corn Fritters stuffed with pork and shrimp (!!!).  Meats were tender, the fritters and spring rolls had a lovely fried crunch without being greasy, and the dipping sauces were pleasantly spicy without numbing one's lips. During our first course we also enjoyed some signature house martinis (pineapple for me, pomegranate for Erica) made with fresh fruit juices and garnished with orchids. They were perfection, and made us feel like we'd been transported to a beach.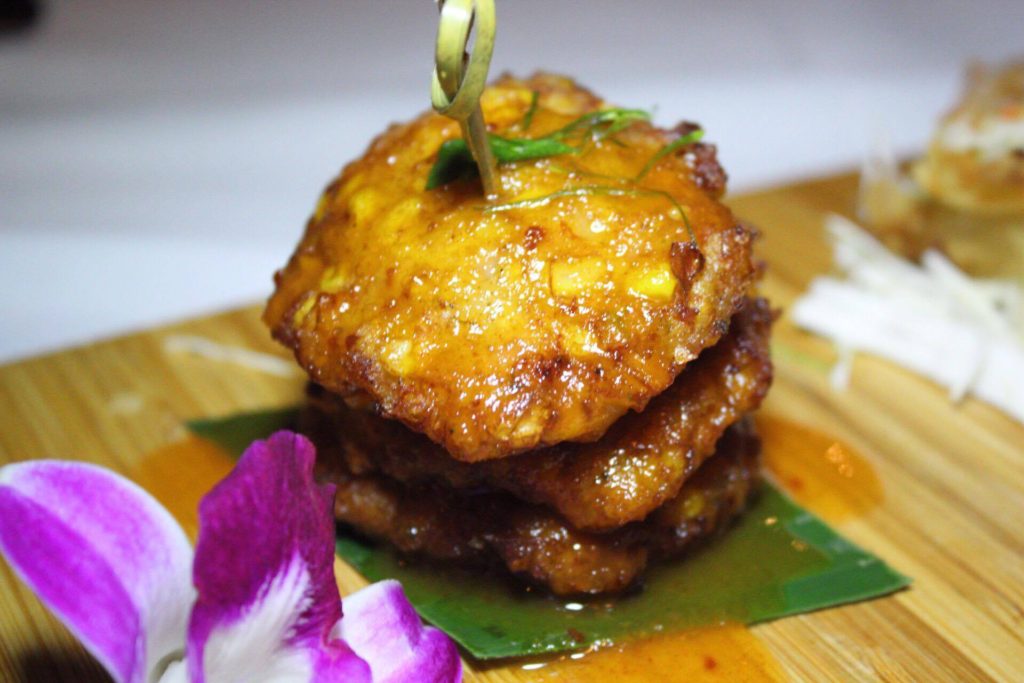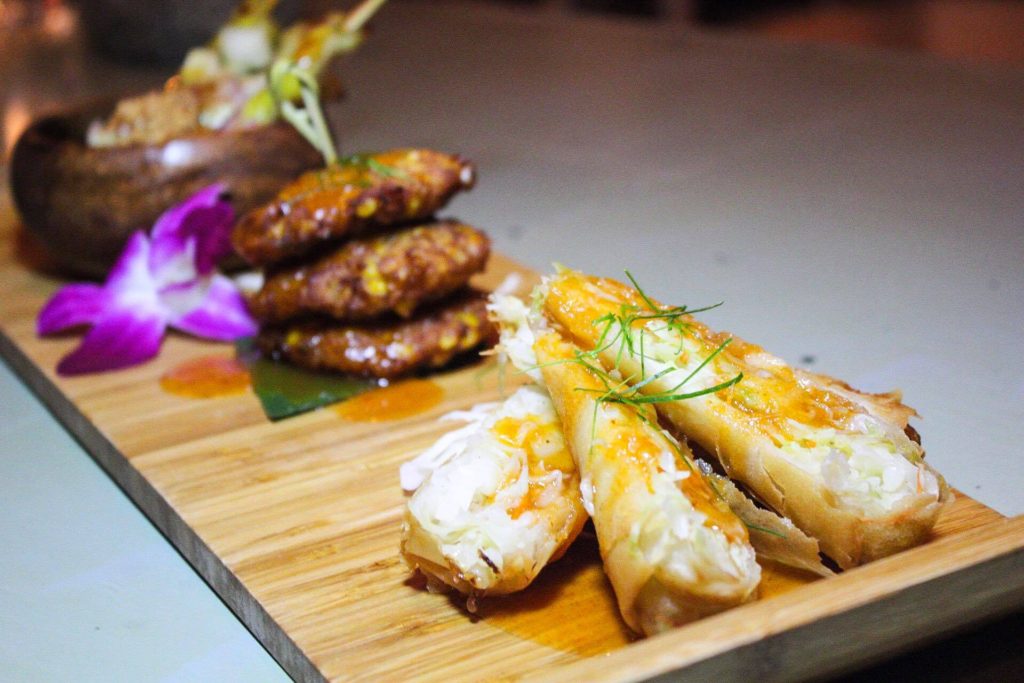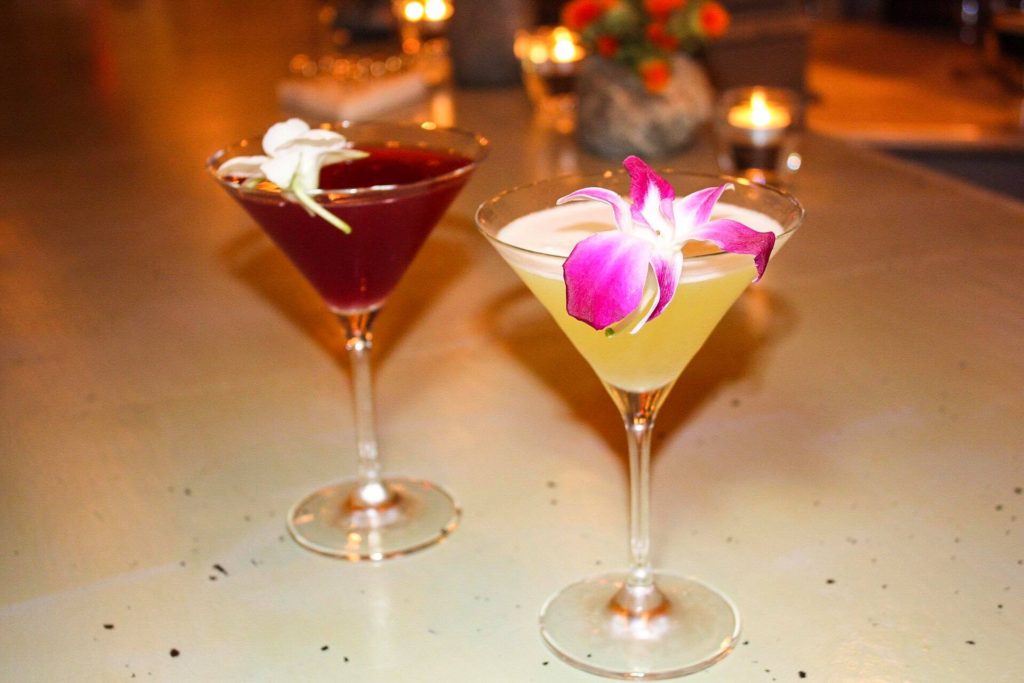 By this point, I feel like my love of soup has been well-documented, and I'm happy to report Nahm makes amazing soup. I ordered the veggie and tofu soup; the vegetables retained some of their lovely crunch, and the broth was just what the doctor ordered while fighting off a seasonal head cold. Erica made an also-correct choice with Lemongrass Soup, featuring shrimp, kaffir lime leaves, and a lovely sour broth.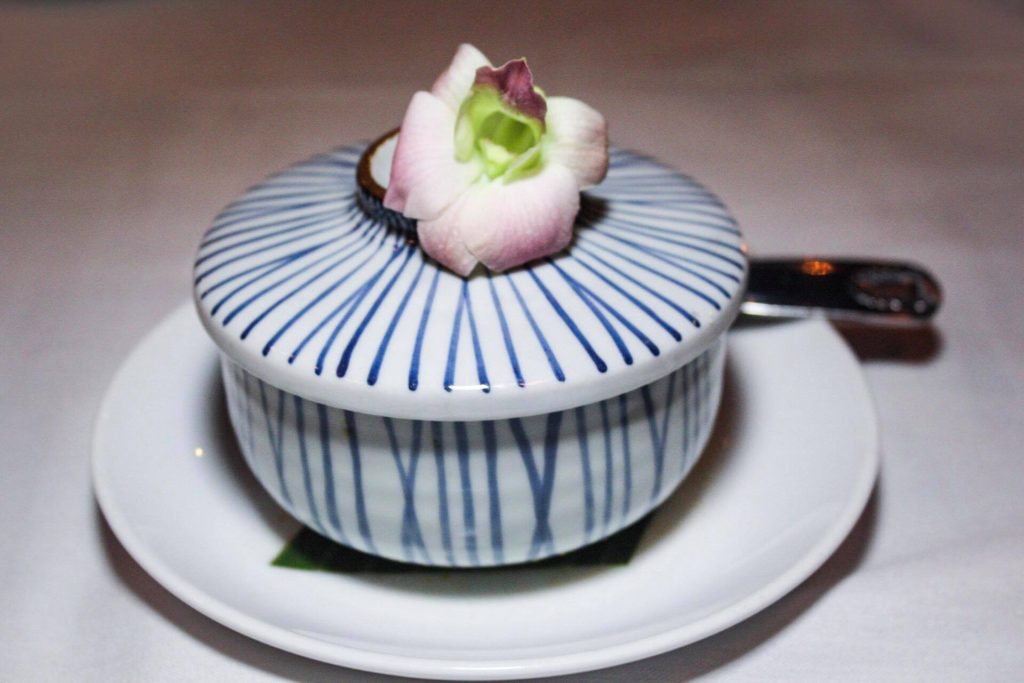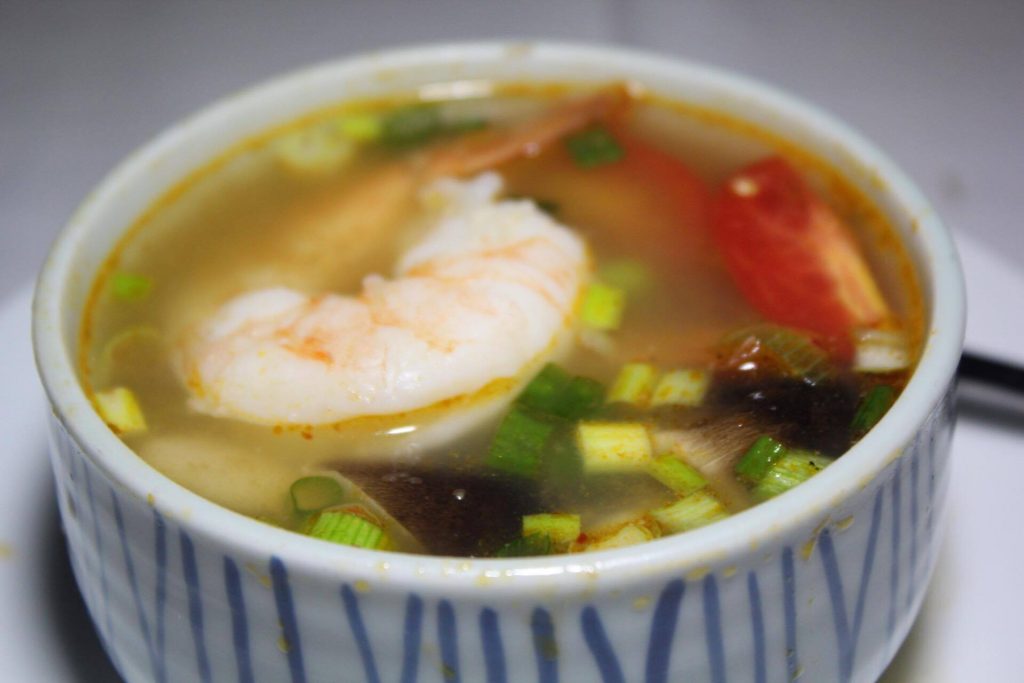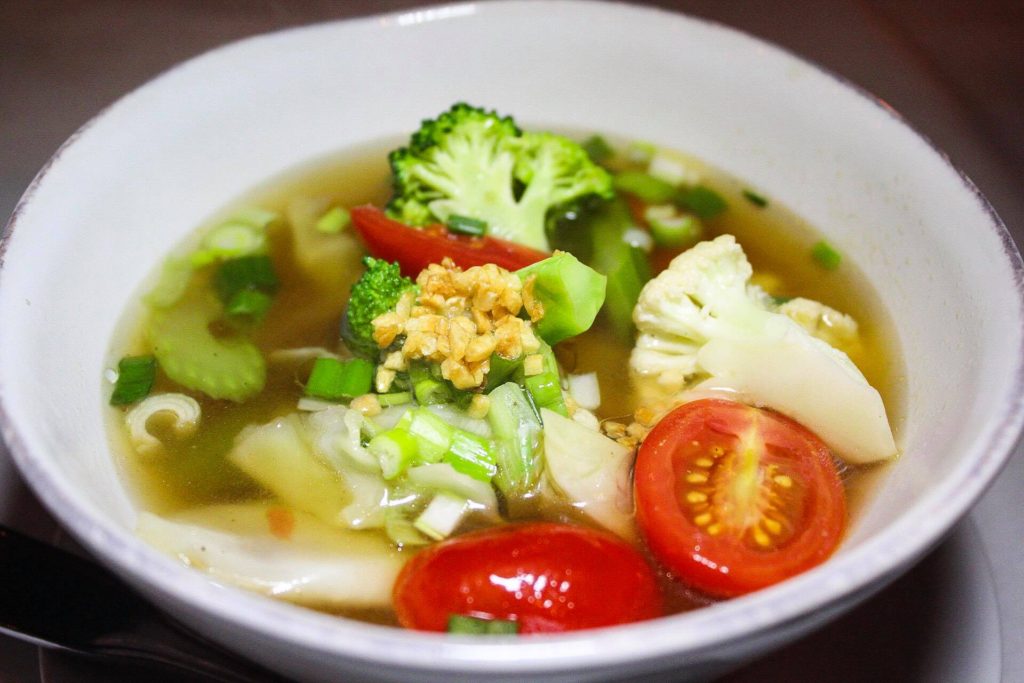 While fighting the aforementioned cold, I opted for comfort food in my main course, and the ginger chicken checked off all my boxes. With the perfectly tender chicken, brown sauce, and ginger, I am convinced this dish has restorative powers, as I started to feel better almost immediately after eating it. Erica order a truly stunning looking scallop dish that was accompanied by minced shrimp and a creamy basil sauce. It definitely had some kick to it, but the sauce helped offset any of the mouth-searing qualities, and instead it was a dish that just left its eater with a pleasant awareness of all the featured flavors.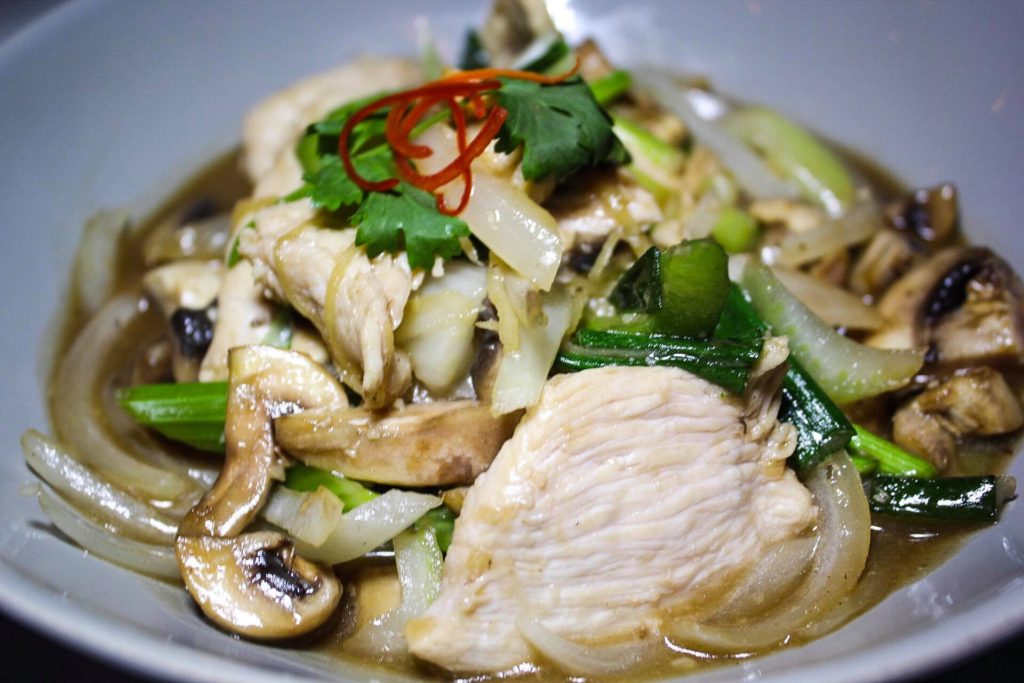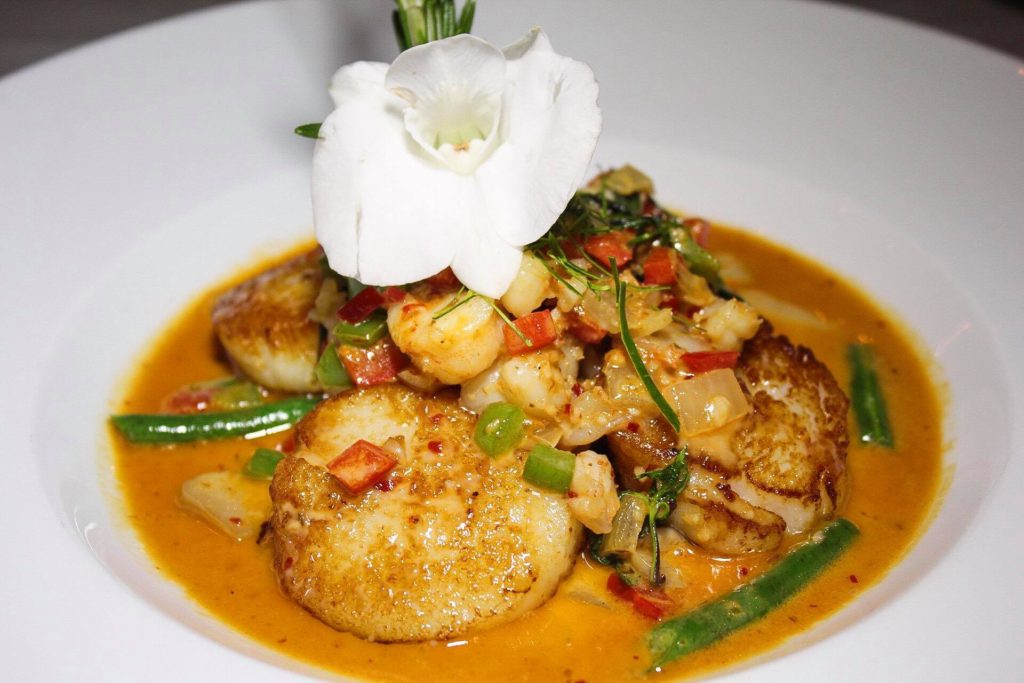 Dessert was a lovely, simple course with a sampler of their three house martinis in tasting portion size, and the restaurant's signature coconut ice cream. The ice cream was a revelation with its rich, creamy texture and lightly-tropical coconut taste. It was the perfect cap on a meal that is satisfying without over-saturation.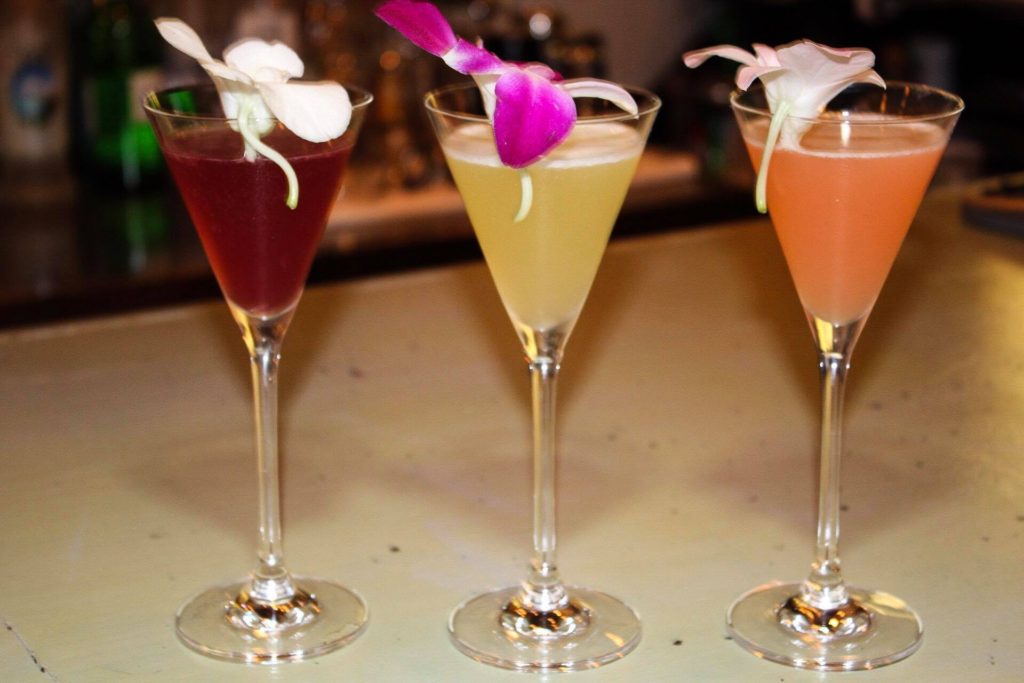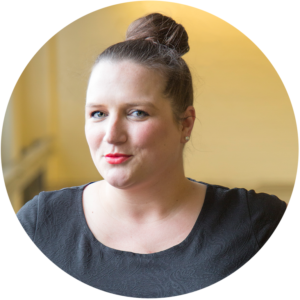 Rachel Boyd is an Atlanta native, holds degrees from the University of Georgia and Kennesaw State University, and is a reformed picky eater (still trying to overcome an irrational shrimp-phobia).  Non-cooking-related passions include her Great Dane-Bulldog mix, volunteer work, and half marathons with the Atlanta Track Club, bourbon, binge-watching detective shows, reading all the books, learning French, cute bearded dudes, and spending time on her best friend's farm.