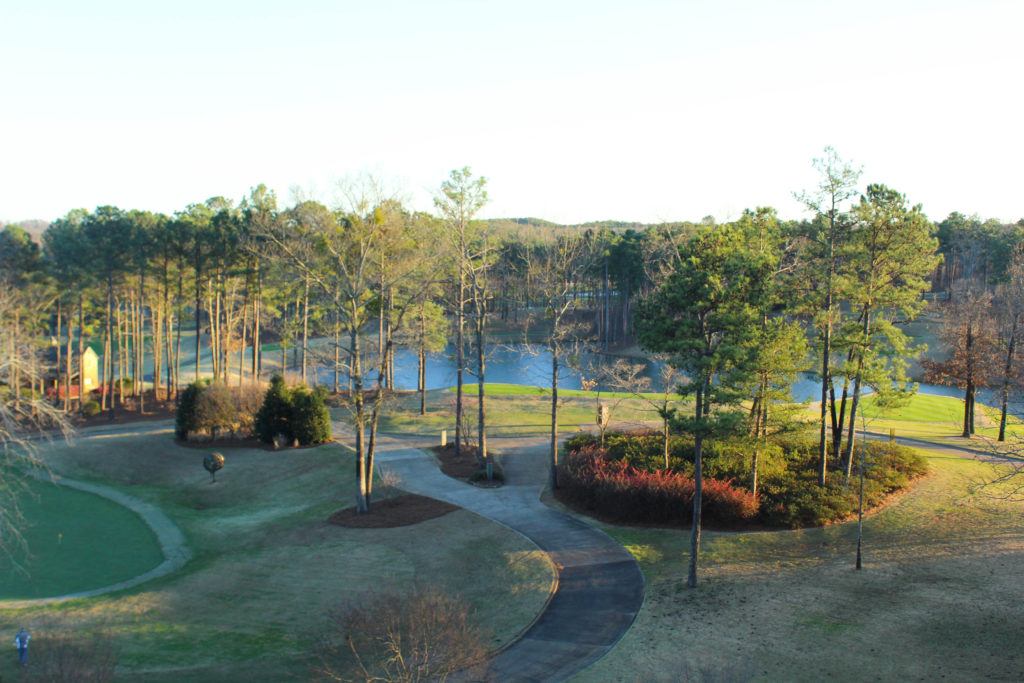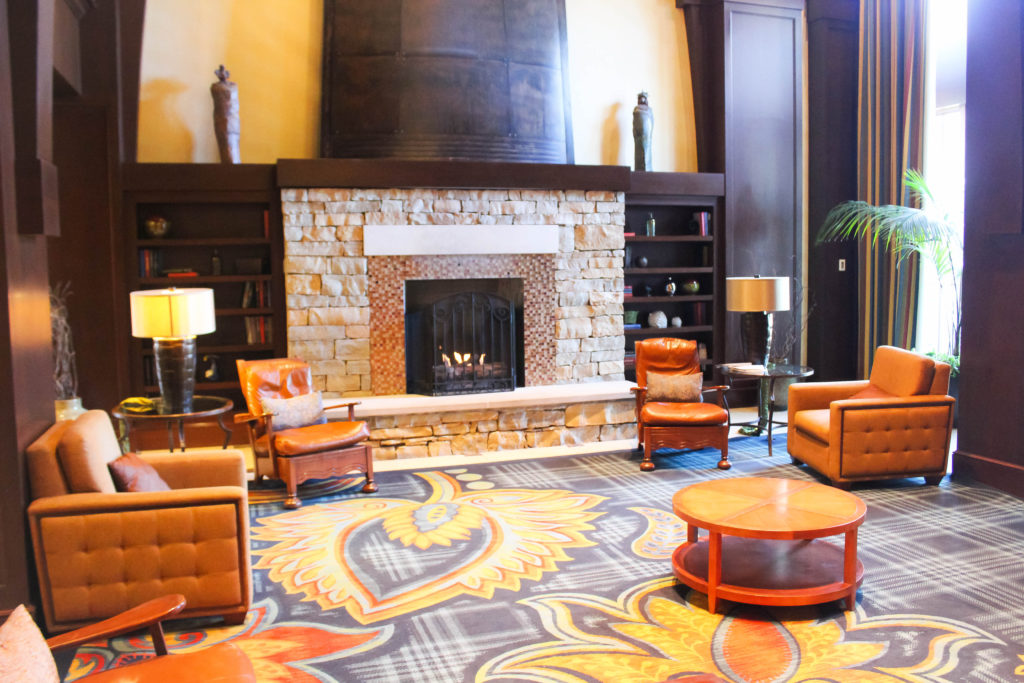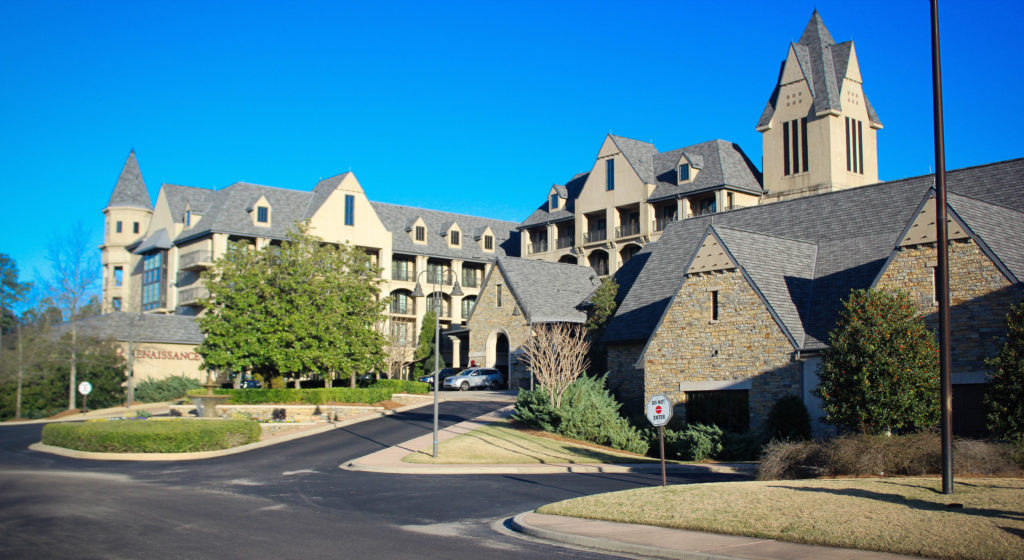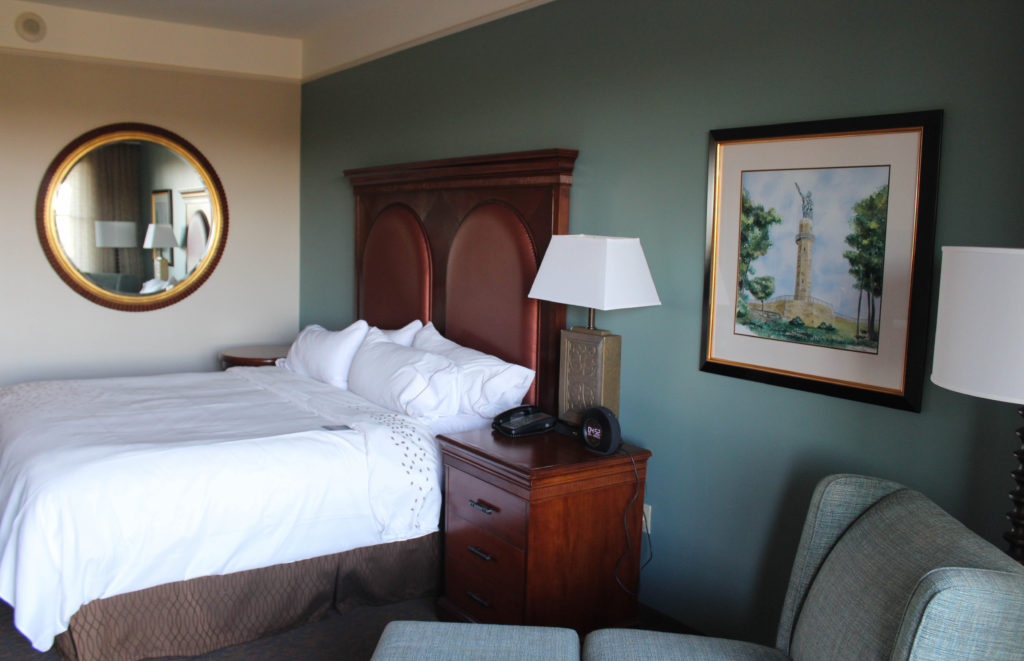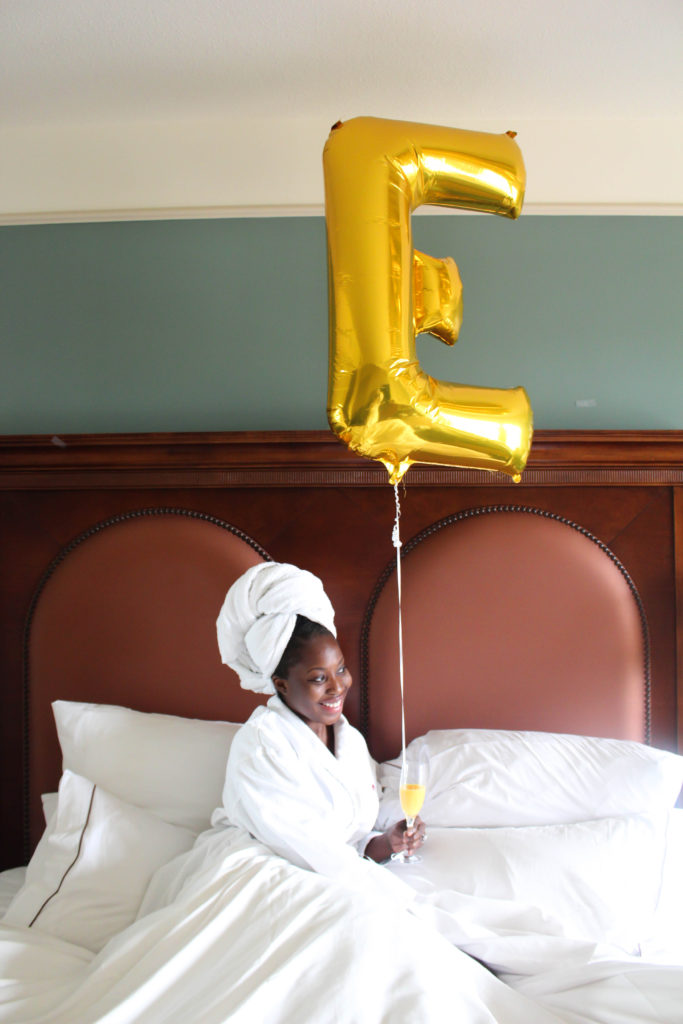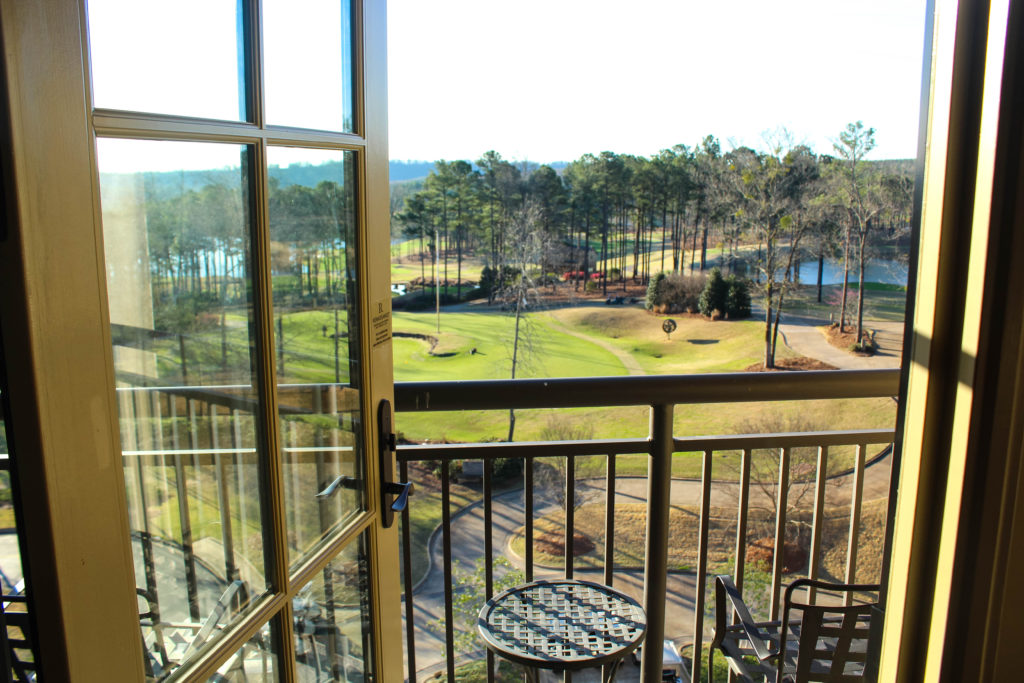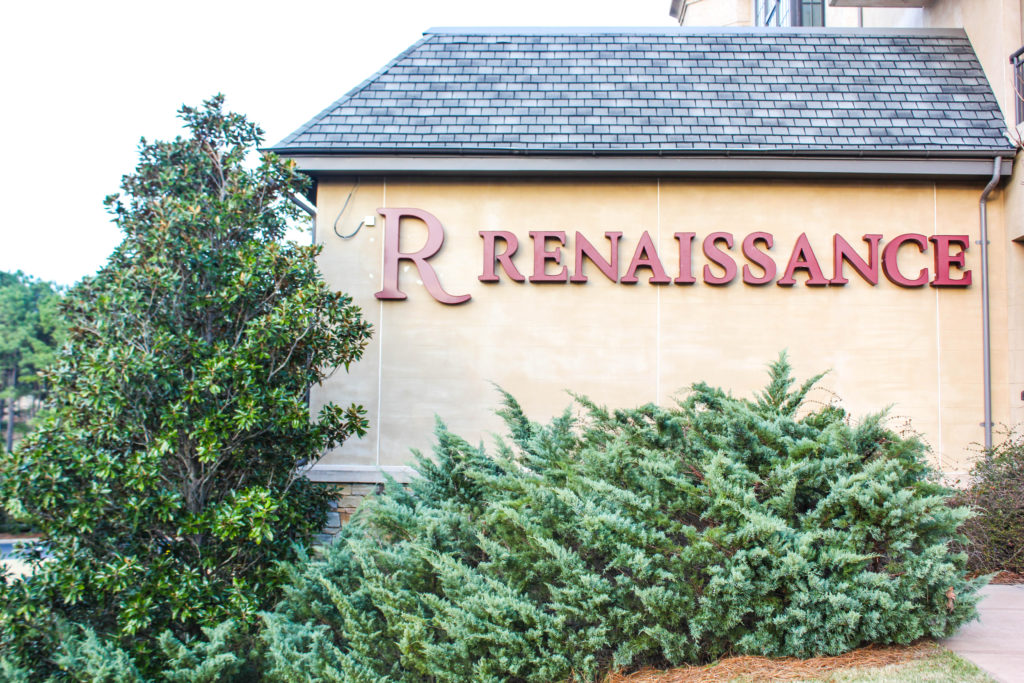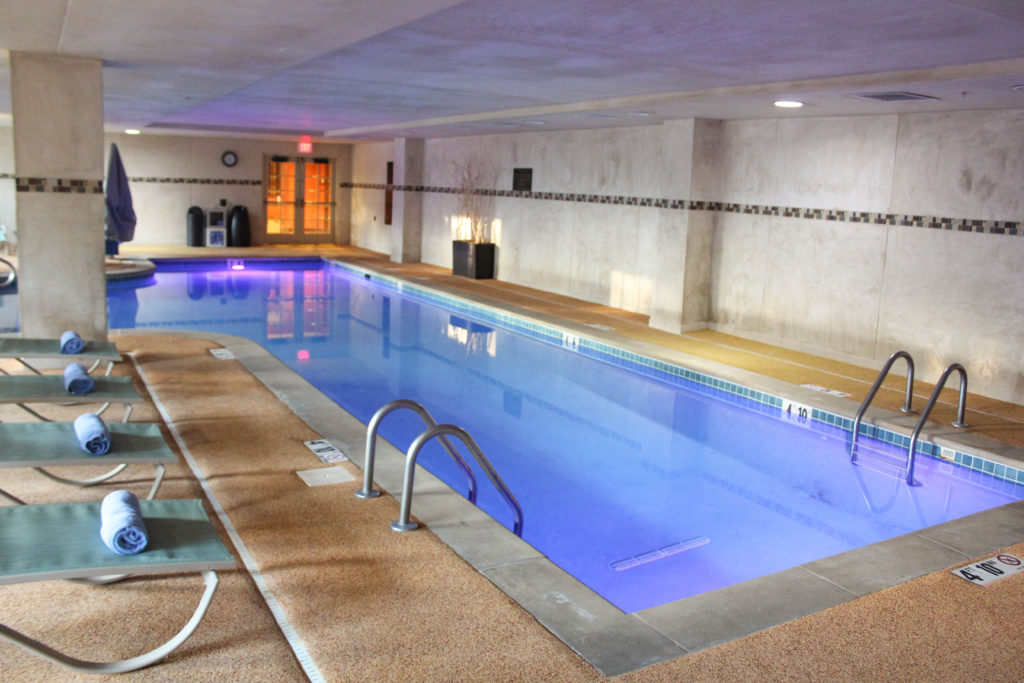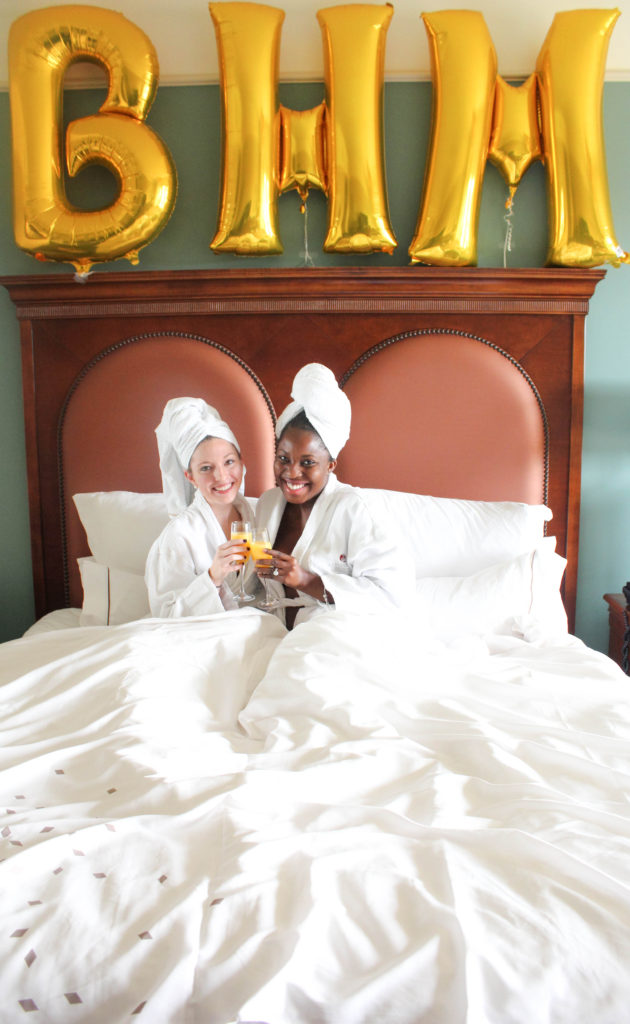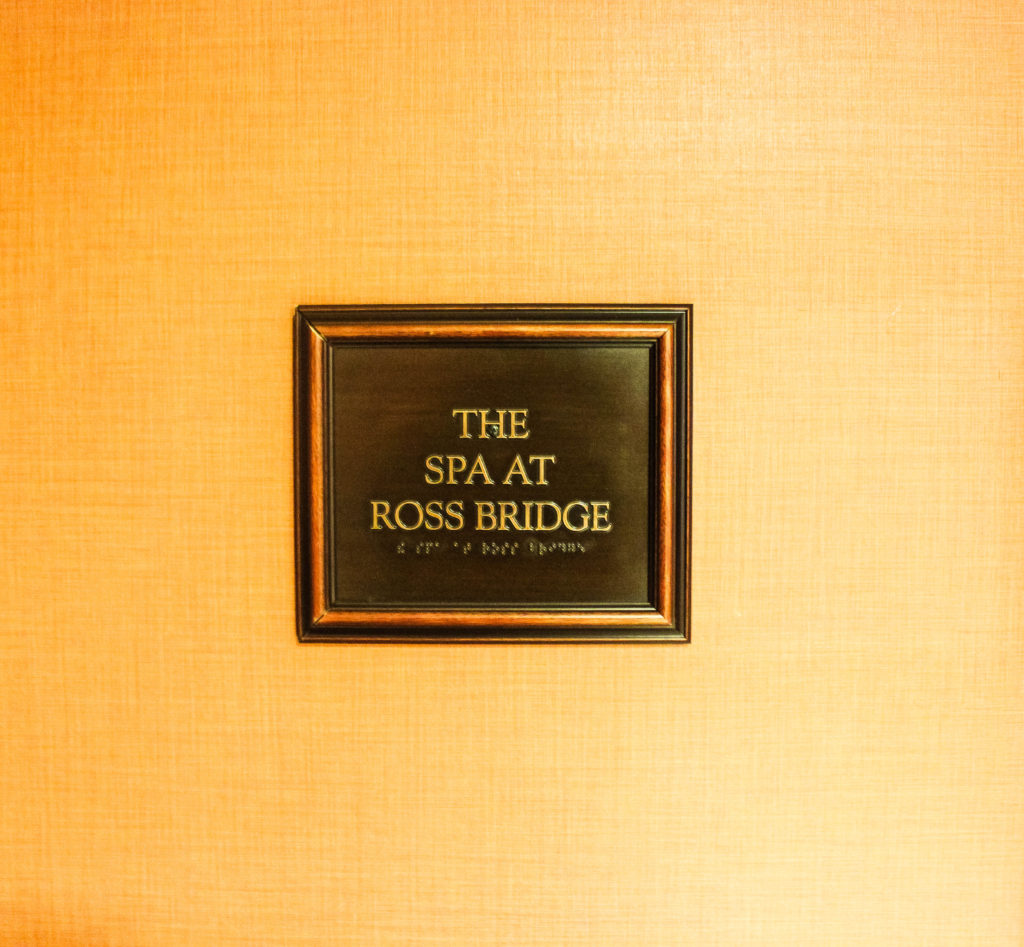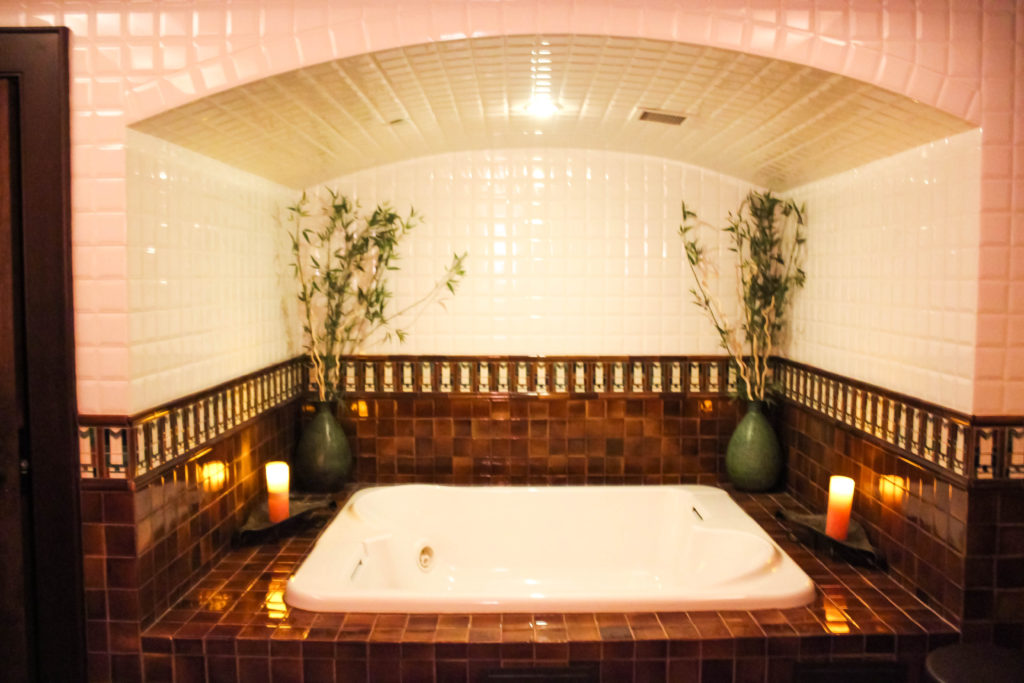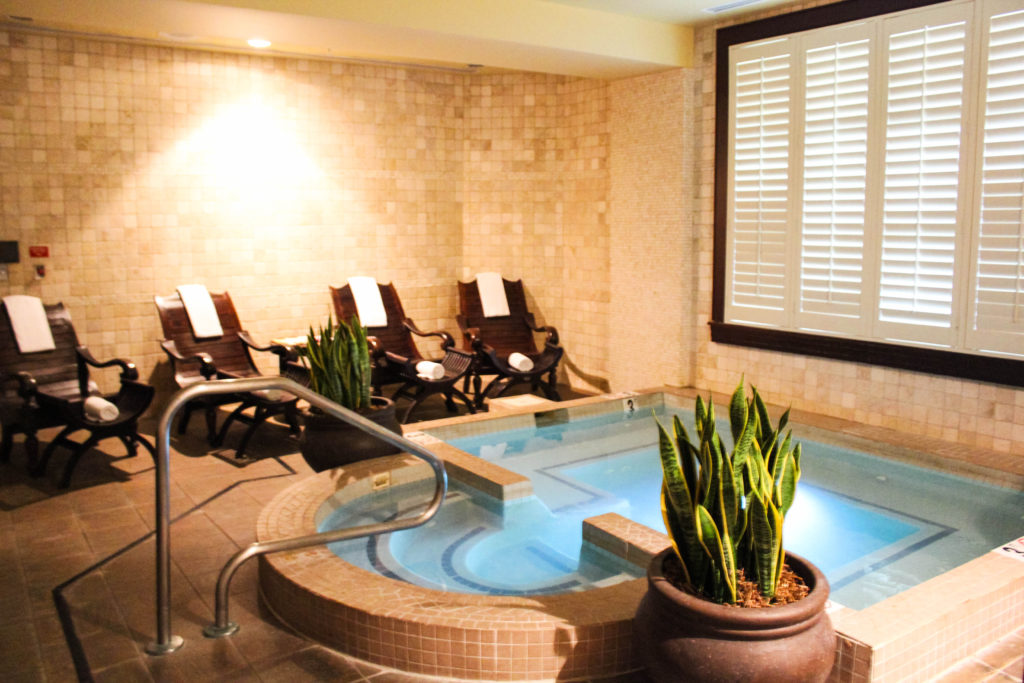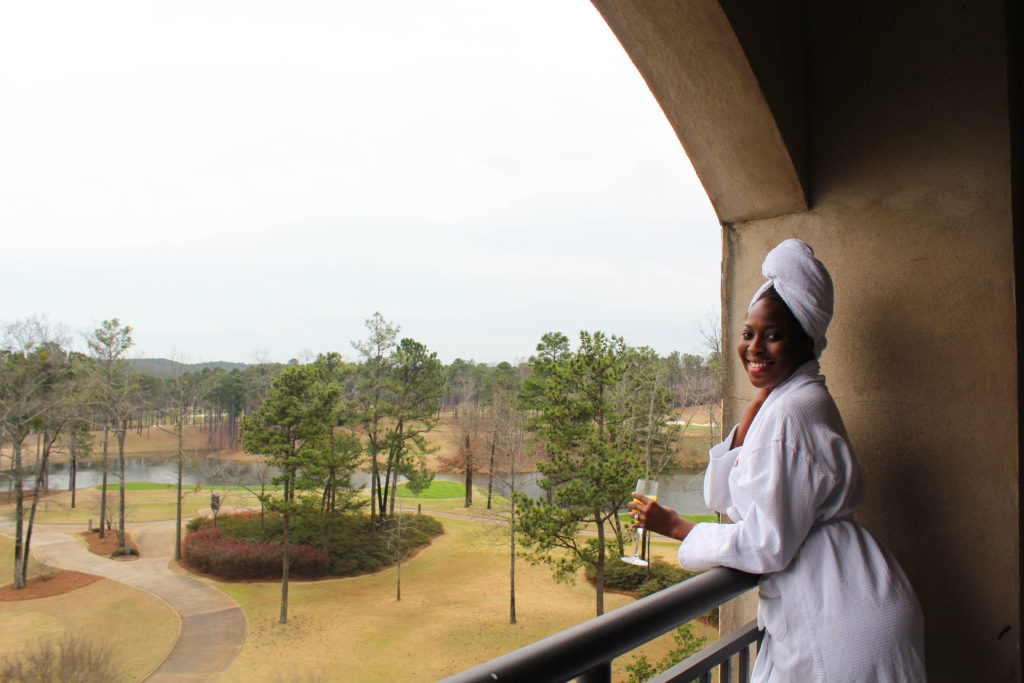 While exploring Birmingham, Alabama on my southern food tour, we stayed at Renaissance Birmingham Ross Bridge Golf Resort & Spa, which is located in Hoover, Alabama.  Hoover is about 20 minutes away from Birmingham and a 2.5 hours from Atlanta.  While we spent a lot of time commuting to and from Birmingham, it actually was a very short distance to and from the city.  This gorgeous resort is the perfect place for a couple's getaway, especially if you or your mister love golf.  It's also ideal for a girls' weekend retreat or work conference.  
This breathtaking resort has the most amazing curb appeal. Just like I did, you will fall in love with the exterior of this castle-like resort.  It has 259 extremely large rooms, and it's spead out over 12,000 square feet of property.  I was in love with my room 408-square foot room that had a king-size bed and a lovely view from the balcony that overlooked the perfectly landscaped golf course. I slept so peacefully on the pillow-top mattress, which made me feel as if I were sleeping on air.
This resort has four on-site restaurants: Brock's, The Clubhouse Restaurant, The Coffee Shop, and JT's Lounge.  There's also a large indoor and outdoor pool, hot tub, fitness center, and a fit pit, which is perfect for after-drink cocktails.  This resort has an impressive spa, and our visit to it was truly an experience.  What I loved most about the spa is the array of services they offer.  No matter what you need, you are going to get it at this resort and spa.
A few of the services that are offered are body scrubs, body wraps, eye treatments, facials, lip treatments, and hair and scalp treatments. When Anna Kate and I explored the spa, we decided to treat ourselves to a 60-minute couple's massage.  I am going to be honest, I didn't want to the massage to end. I received the deep tissue massage, and my masseuse really catered to my lower back, which is where I had the most tension.  I felt like a brand new woman.
They have a women's lounge in which you can relax and enjoy fresh fruit, light lunch, light bites, and indulge in adult beverages. There is also a spacious hot tub and steam room.  It's very relaxing and provides true tranquility.  If you do anything while staying at this resort, make sure you add spa activities to the top of your list.
I am not a golfer, but if you are, you can't select a better place to golf than this resort.  If you are interested in championship golf, this is the place for you.  From 2006 through 2009, Ross Bridge was the host course of PGA's Championship Golf Tournament and The Regions Charity Classic.  With 18 holes spread throughout and, 8,191 yards of par for course: 72, this resort has one of the longest golf courses in the world.
No matter your skill level, this course has you covered with golf lessons, golf rental, and a golf program for juniors. There is also a clubhouse restaurant, a driving range, and putting green.
Ross Bridge Golf Resort & Spa provided first-class accommodations from the excellent customer service to their willingness to assist with the simplest task.  It is one of three hotels in Alabama to receive its four-diamond rating from AAA, and Travel + Leisure named it one of theTop 500 hotels in the world.
My overall experience at this fabulous resort was memorable and enjoyable.  I cannot wait to return!