Shreveport might not be the first place you think of when you think weekend getaway, but I'm here to change your mind. It's a gem in the crown of the deep south. This big city has a homey, small-town vibe where you're sure to feel welcome, and you'll be instantly charmed with the relaxed southern atmosphere. Shreveport has everything you're looking for in a stateside vacation: great food, culture and a rocking night scene, which includes some of the best poker around. It's all surrounded by weeping willows and captivating wildlife, set in the breathtakingly beautiful state of Louisiana.
Where to Stay
Where you should stay pretty much depends on what your goals are for your visit. Prefer to relax on the back porch, enjoying the natural beauty of Louisiana like a local? Get a vacation rental or stay at one of the many quaint bed-and-breakfasts, which dot the countryside around the city.
Looking to strike it big in one of Shreveport's many casinos? Most of them now have hotels attached to them for the comfort of their guests. You can play your hand at Texas Hold'Em, then mosey on back to the room and catch some shut-eye before heading back out the next day to win big at Omaha Hi-Lo.
What to See, Do and Experience
There's so much to do in Shreveport that you could easily stay here for a month. Most people don't have that kind of time (if you do, kudos!), so here's what I recommend that you need to see.
Shreveport's downtown district is a hodgepodge of cultural hotspots. For starters, you can walk along the water at the Red River District, a stunning spot with a scenic river view. Here you'll find restaurants and live music as well as the Louisiana Purchase Plaza. This outdoor mural gallery depicts historical events that have helped shape Louisiana into the state it is today. You really don't want to miss the local vendors selling wares along the River Walk — you may just find a treasure.
Fishing and boating in the river are also encouraged. Next to the waterfront is where the casino cruises leave from, which is an excellent option if you want to play poker with a stunning view of the city skyline on the water in front of you.
Wander through the extensive collection of art galleries, historical spots and specialty museums, which decorate this unique city. You're sure to find something that fits your personal taste as well as gifts to bring home for the whole family.
It wouldn't be a trip to the south without enjoying some Louisiana cuisine, and Shreveport has its own famous eats. So, try out a local restaurant for some down-home Cajun comfort food — crawfish, alligator and catfish are only some of the mouth-watering possibilities awaiting you.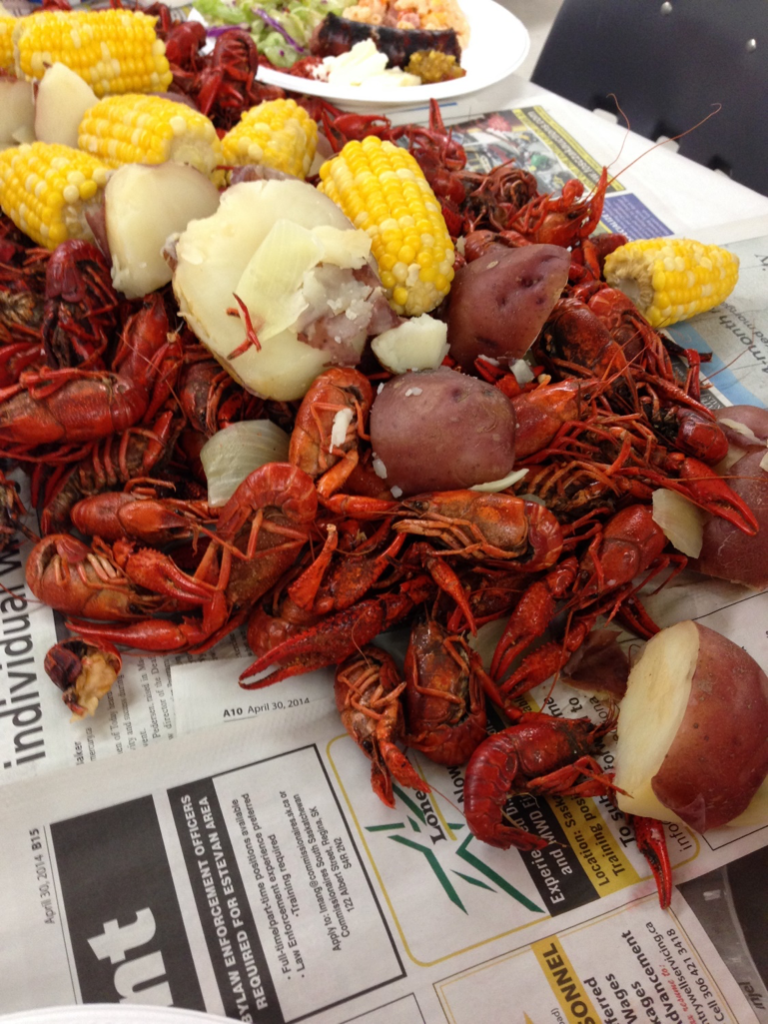 Caption: Don't miss out on a Cajun-style crawfish boil! Eat Louisiana food like a local.
Louisiana Style Fun
The night scene in Shreveport is one of the best in the south. Head to the waterfront to listen to classic Louisiana-style blues and jazz as well as an eclectic mix of rock, country, folk and bluegrass — the spirit of Dixie lives on in Shreveport! You'll find every style of entertainment here, from earthy dive bars to rocking clubs.
Though you can easily get your kicks at one of Shreveport's many downtown venues, many people flock here to experience the thrill of the poker table. Reveling in the excitement of risk is something you can't do in too many other states, and Shreveport offers some of the best casinos around.
Hitting the poker tables is an intrinsic part of Shreveport culture, a favorite pastime of locals and visitors alike. You'll find something here for everyone, no matter what game you like to play. Hit up a riverboat casino for a game of five-card stud, or don your best suit and compete on one of Shreveport's many live poker tournaments—it's all up to you.