Prior to blogging, I always had my favorite hotel brands that I adored and admired.  No matter the city or state, I am loyal to my favorite brands because I can guarantee that the service will be two thumbs up at each location.  Loews is one of those brands in which you can't go wrong.  I always love the superb customer service, their beautiful and modern interior decor, and of course, their fabulous spa.  So it's no surprise when I needed a weekend staycation to relax and unwind, Loews was the first place that I had in mind.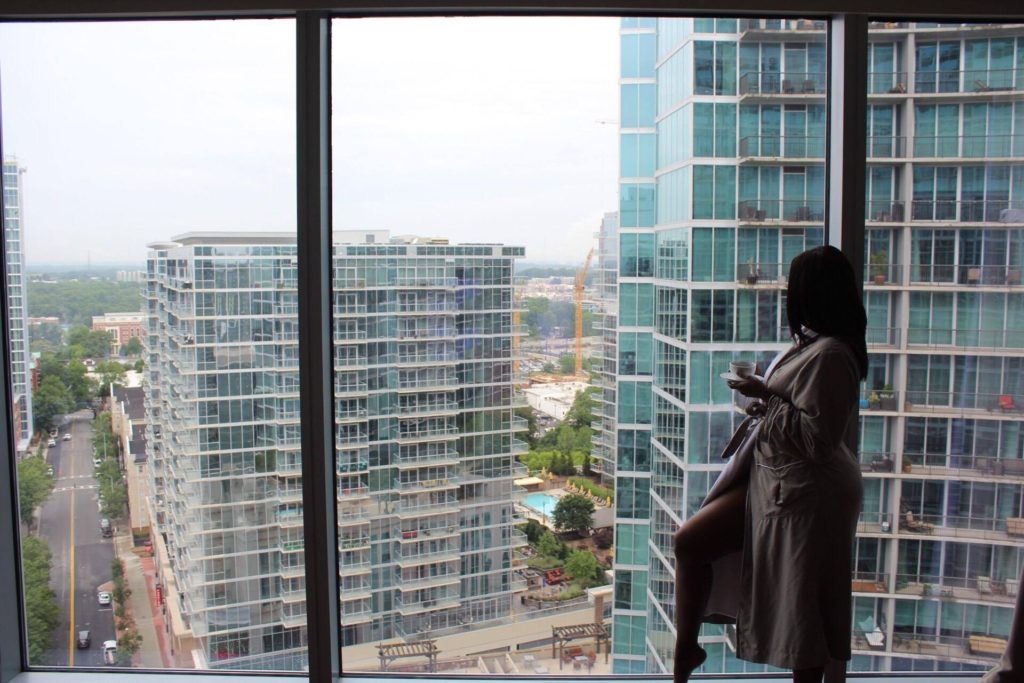 Located in Midtown, Loews Atlanta is the perfect location for some R&R , especially if you are an out-of-town guest.  You'll be be within walking distance to many restaurants, and you're only within a ten-minute Uber ride to shopping at Phipps Plaza and Lenox Square Mall.  Loews Atlanta also offers complimentary car service.  You can explore Midtown in a complimentary chauffeured car service in a Mercedes GL450.  You can get dropped off or picked up within a three-mile radius. You'll definetely have plenty of options for nightlife, and you won't have any trouble getting to where you need to go.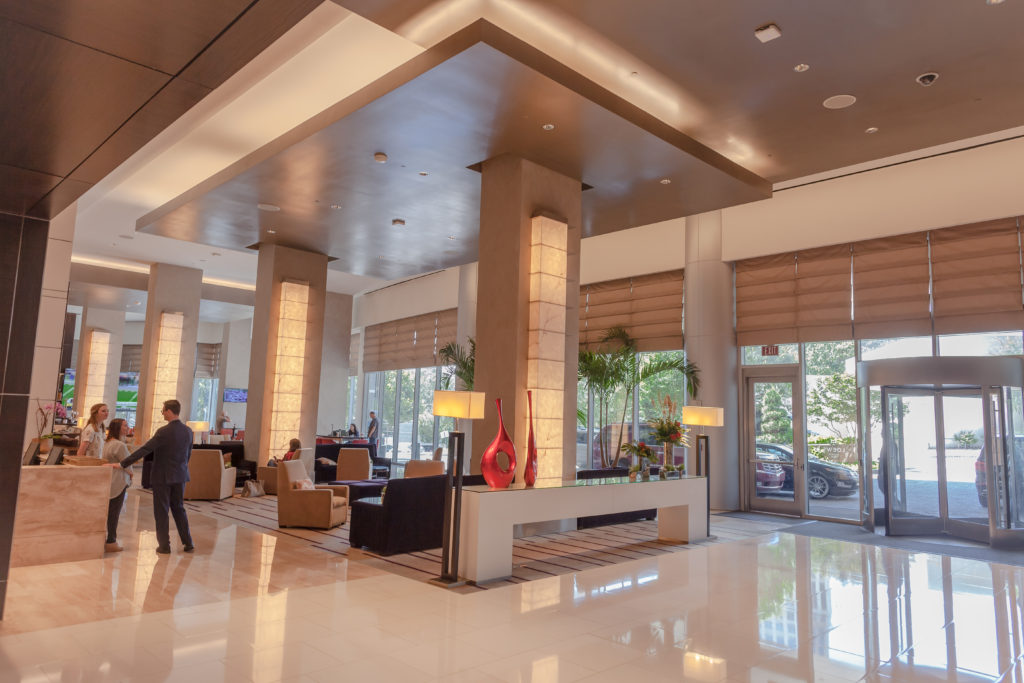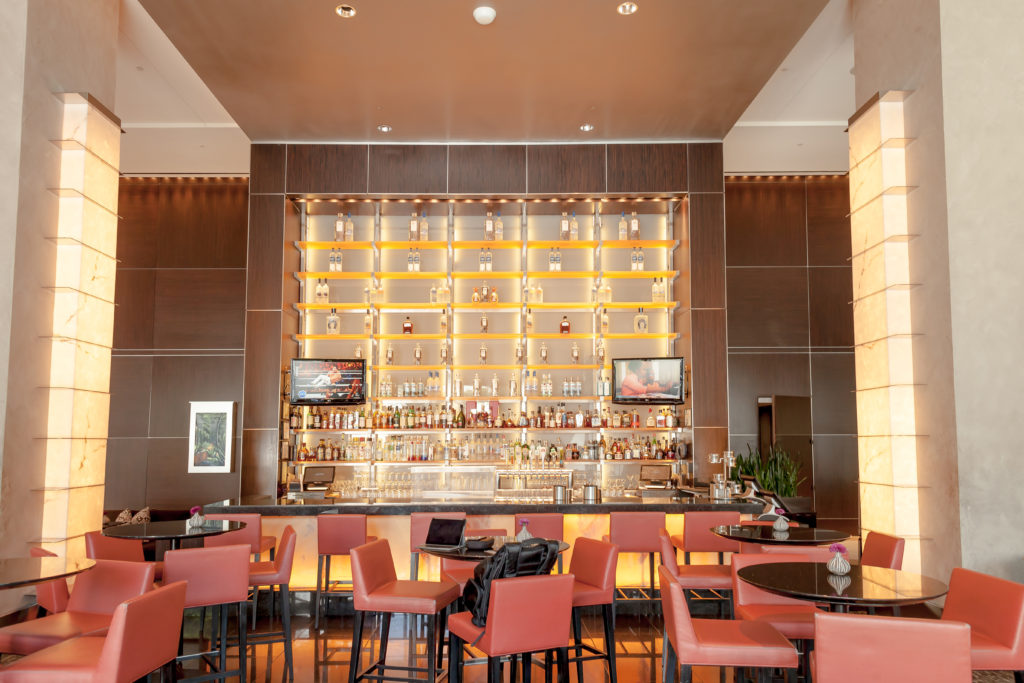 On this particular visit, my fiancé and I decided that we needed some time to get away and relax without leaving the city.  We were treated to the king business suite, which offered an amazing city view, WiFi, and plenty of space.  What I loved most were the tall windows, which made perfect for natural lighting to peak in.  The city view was a great backdrop for an awesome photo.  The suite offered a great living room, dining room, and sitting area.  The bedroom was cozy, yet spacious.  The bathroom offered a great shower and bathtub.  You gotta love all of these options!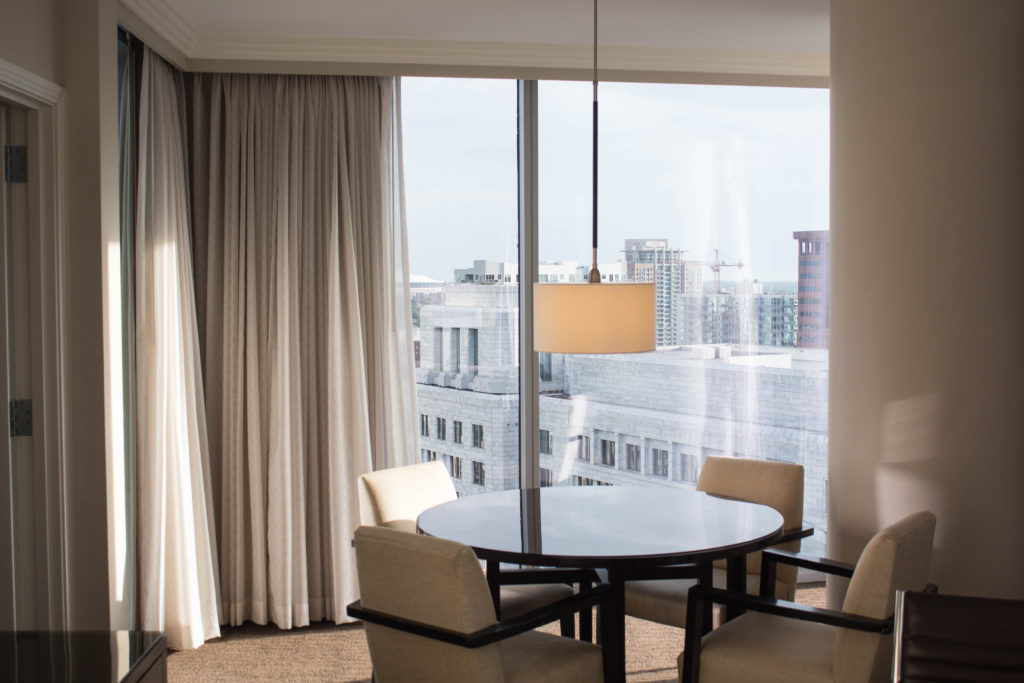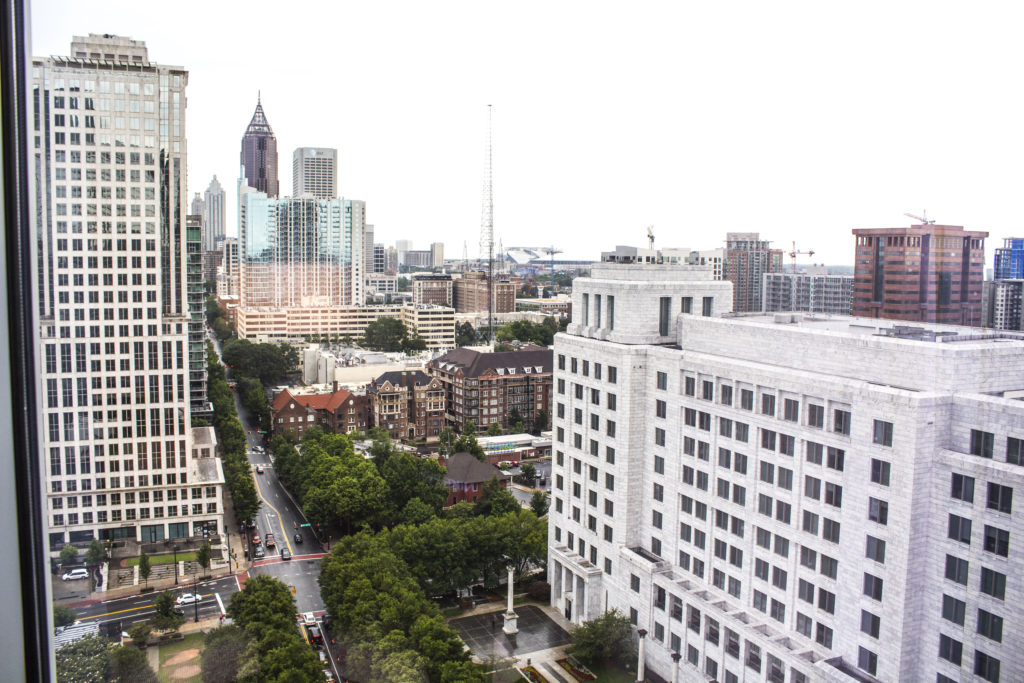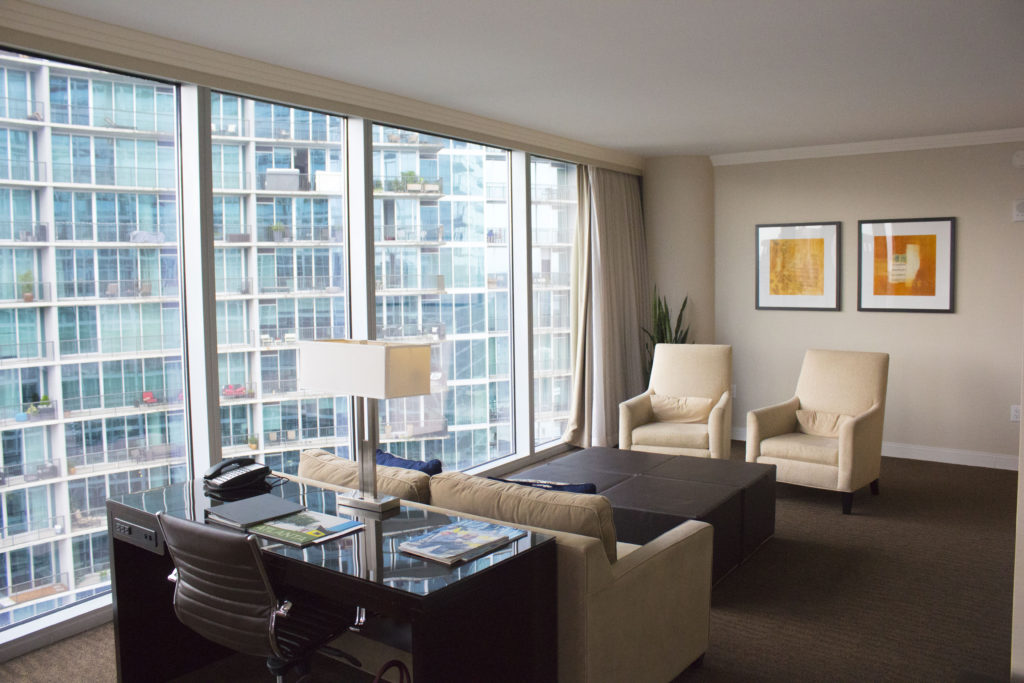 For dinner the mister and I enjoyed Saltwood restaurant. Since we were staying very low key, we loved that we could walk downstairs for a scrumptious meal.  What I love about Loews is that throughout the evening, we received text messages inquiring about our stay and making sure that we were comfortable.
The next morning we enjoyed a very impressive breakfast courtesy of room service.  Their breakfast menu offered everything that you desire for breakfast.  I enjoyed devouring bacon, eggs, fruit, and toast.  After breakfast we decided to burn some calories at the gym.  And I must say that their fitness center is very impressive.  The gym offered some of my favorite equipment.  It's not surprising that this particular fitness center was voted "Best Fitness Spot" by Women's Health magazine.  The fitness center offers classes including barre, cardio, bootcamp, yoga, and HIIT.  No matter how you burn off calories or stress, you are sure to enjoy this award-winning fitness center.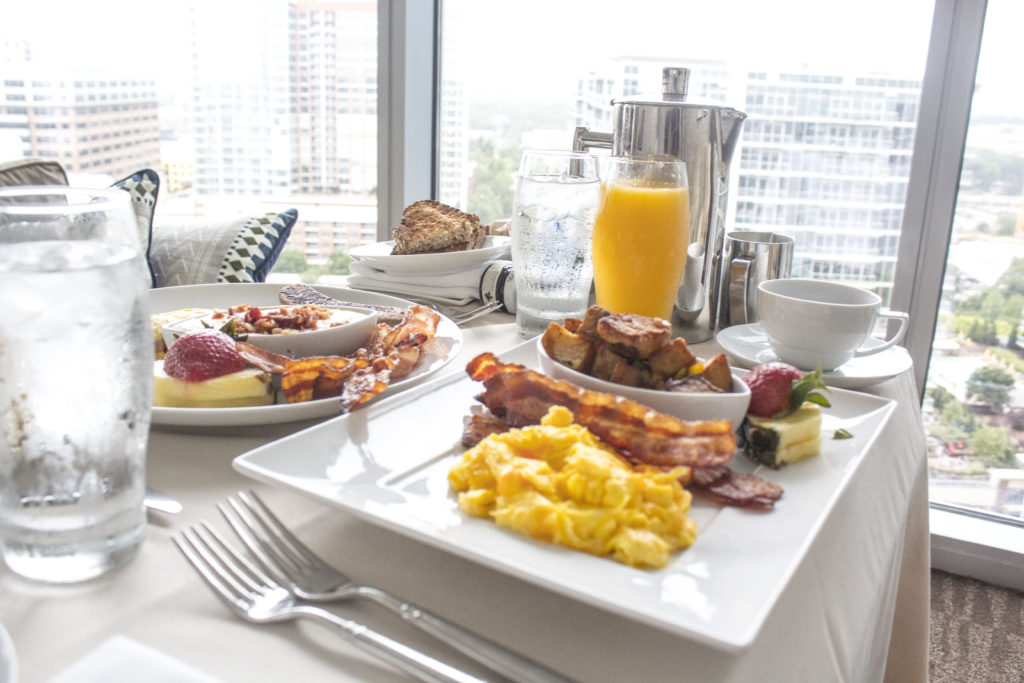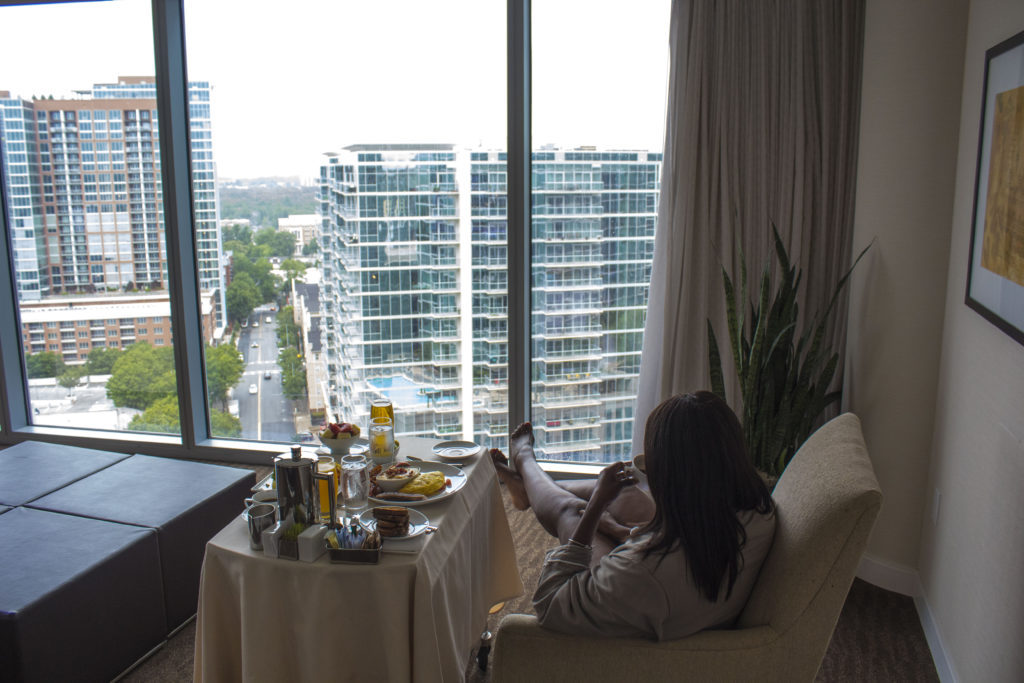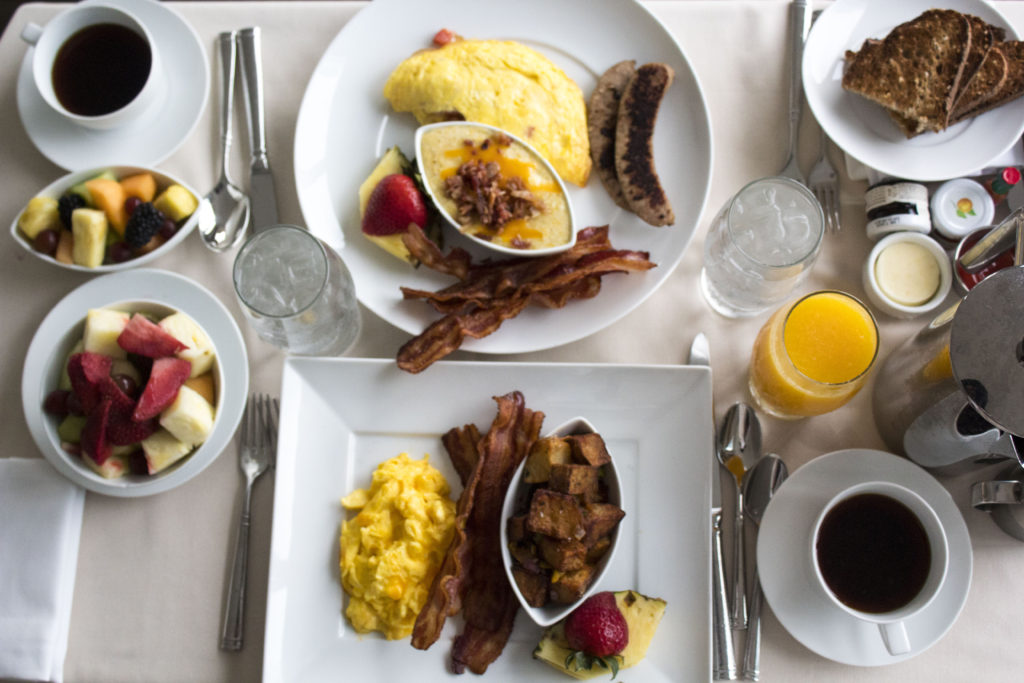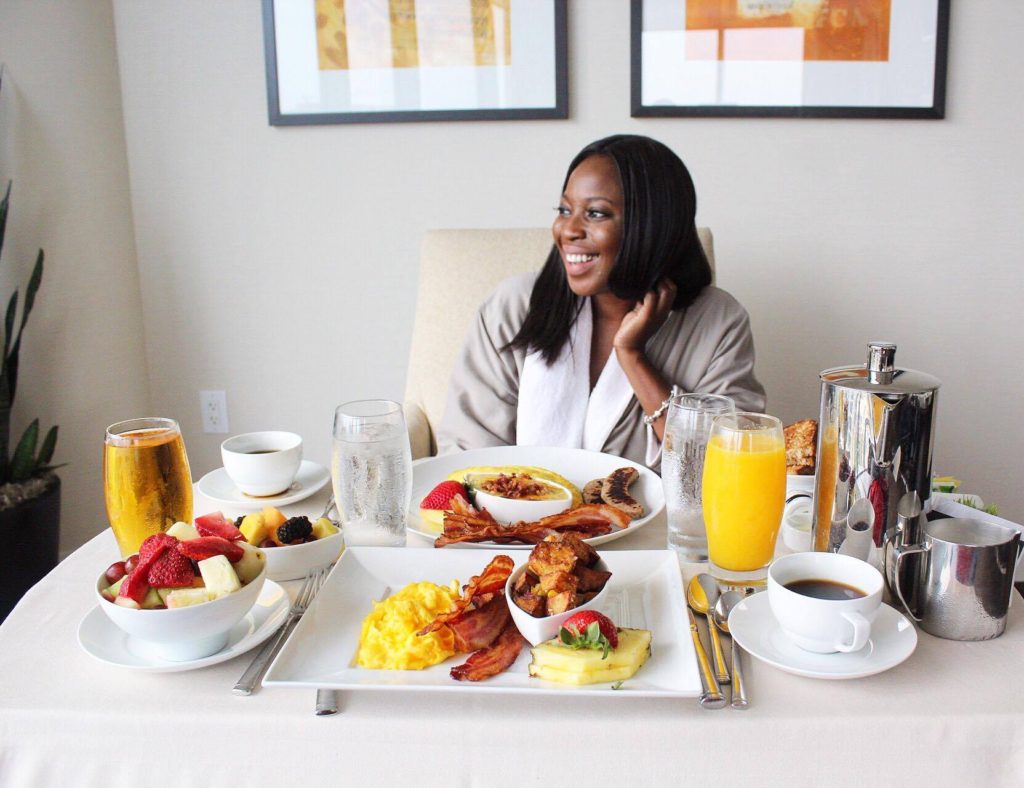 An R&R trip is not complete without a spa visit.  Exhale Spa is located on the 7th floor.  There are so many signature luxury treatments to choose from.  This spa was voted "Best Facial" by Allure magazine.  What I love most about this spa is that the staff is so friendly and attentive to my spa needs. I am always on cloud 9 when I leave.  I highly recommend the fusion massage and ultra sonic facial.  The fusion massage will have you feeling like a million bucks with its relaxing and revitalizing aromatherapy oils.  Your tired muscle will thank you.  The ultra sonic facial is ideal if you are looking for cleaner and smoother skin.  It also helps repair discoloration and scarring.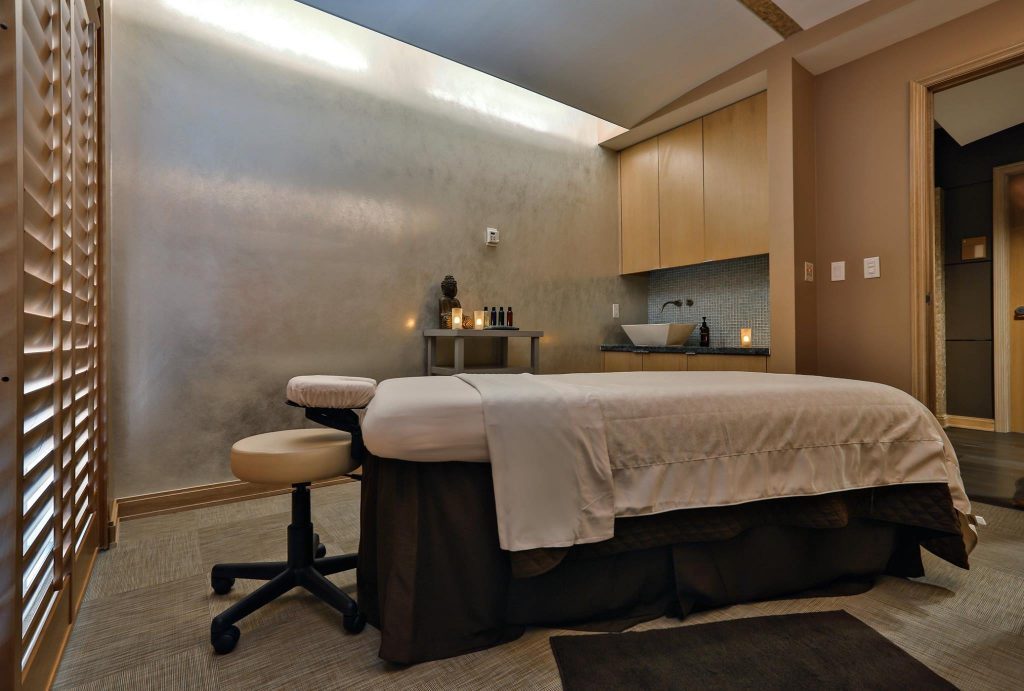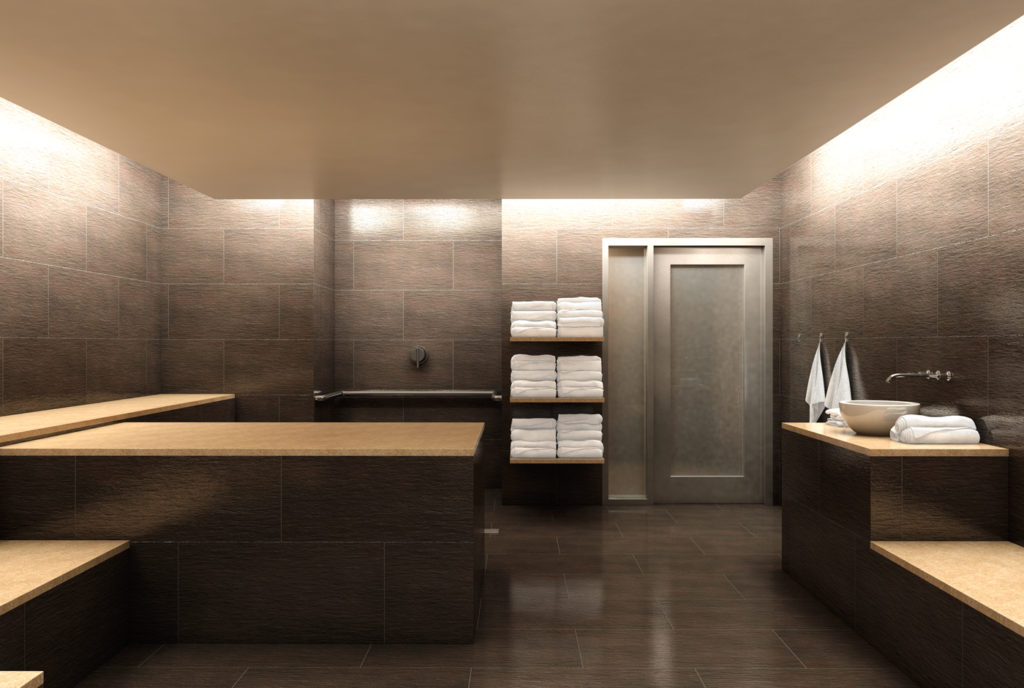 No matter if you are visiting or needing some time to get away, the Loews will have you covered.  They have some special offers right now which are way too good to pass up. Some of my favorite offers right now are:
Exhale Spa Relax & Renew Package
https://www.loewshotels.com/atlanta-hotel/specials/relax-renew-exhale

Bed & Breakfast at Loews
https://www.loewshotels.com/atlanta-hotel/specials/bed-breakfast-at-loews

A Suite Deal
https://www.loewshotels.com/atlanta-hotel/specials/a-suite-deal
Whether you are visiting in-town or visiting from out of town, I am sure you will have a fabulous time.