Award winning, Chef Maira Isabel was born into a culturally diverse family coming from Cuba, Venezuela, Spain and Puerto Rico where she was born and grew up. 
Maira Isabel is the new Corporate Executive Chef of Schlotzsky's, owned by FOCUS Brands. Among many responsibilities, Maira leads the Research and Development (R&D) Department where creation of new menu items, limited time offers (LTO's) and directing the department are all part of her everyday tasks. In this new role under Maira's leadership, the team will continue developing recipes and menu offerings which soon will be seeing in over 350 locations worldwide.
Previous to this journey, Chef Maira Isabel was the Executive Chef at Disney World Golf Courses. This job presented an exciting challenge while at the same time was an honor to be the first Hispanic woman to undertake this role.  Additionally, she was the official ambassador and Executive Chef of Puerto Rico at the Epcot Food and Wine Fest 2014 (EFWF). Here, she conducted 23 live cooking & beverage demos and developed and created -alongside Epcot's Executive Chef- the recipes for the Puerto Rico marketplace. Additionally she was among the chosen 20 chefs to present  at the EFWF signature event; The Party of the Senses plus she  was the main chef at the Puerto Rico Gala;  Puerto Ricos' signature event at the EFWF. To be part of this World renown event, was an honor to say the least!.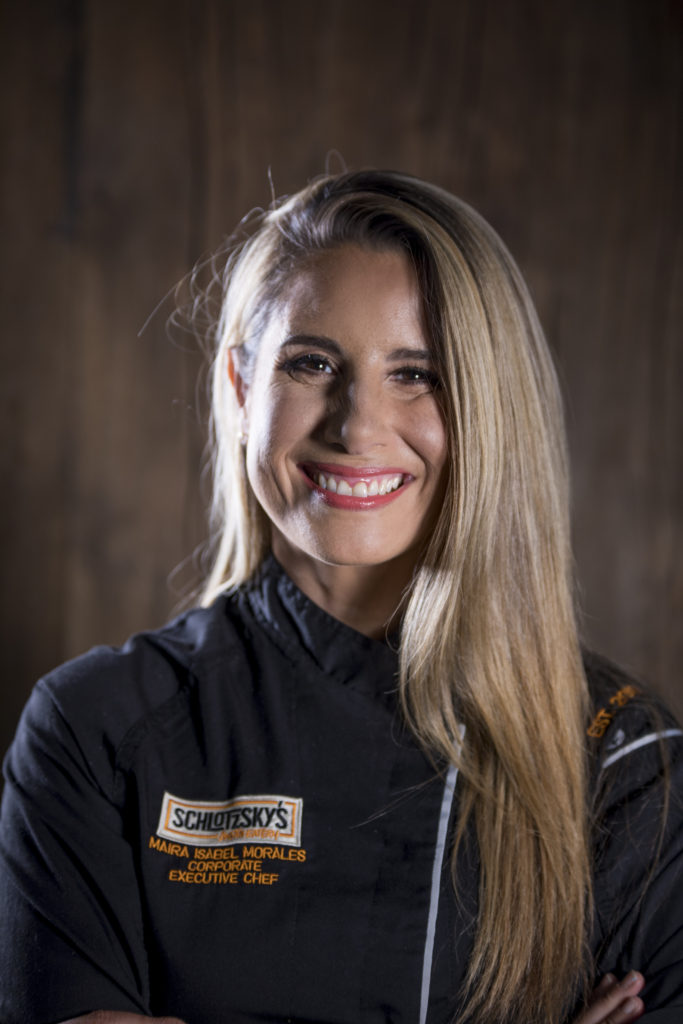 Maira Isabel, has being featured in numerous television shows in the United Stated, Puerto Rico and throughout Latin America. These shows include: The Travel Channel's "Bizarre Foods" Puerto Rico episode where she part of the commercial to promote it, the Cooking Channel's "Hook, Line and Dinner" and Comcast Network's "TV Dinners Show" among others.
Chef Maira is the former chef/talent of "Sabores de Familia" (Fox Utilísima Network – Latin America's "do-it-yourself" network), which is still broadcasted in the United States and in 20 countries throughout Latin America. Also of "Tu Mañana" (Univisión PR), Telemundo Network "Levántate" (broadcasted live in Latin America's 20 countries and coast to coast in US – live)  and "En Todas" (WIPR – PR PBS Station) shows no longer in production.

Maira's worked as a food and beverage consultant for over two decades. Services included: recipe and product development, spokesperson, food and prop stylist, food service and culinary professor and lifestyle/ cooking reporter. Former clients include: Florida Dairy Association, KFC (Yum Brands), Hot Potato, Avon, Smuckers, Mazola Oils, Ritz Crackers (US Hispanic Market), Kitchen Aid appliances, Carmela Sausages, American Military Academy of PR, Matosantos Food Service Distribution, The Government of Puerto Rico, Casiano Communications, Unilever, Arco Advertising and WalMart among others.
In 2012 Maira Isabel opened Guava Restaurant in paradisiac Culebra Puerto Rico. The menu featured worldwide flavors with Caribbean fusions based on traditional worldwide cuisines and techniques. She also owned Let's Cook PR a culinary school for the foodie at heart. Maira is also a best seller cookbook author.  "Gourmet Para Todos Los Días" (Gourmet for Every Day) was published in 2007 (Editorial Norma) that went on to be the #1 cookbook in Puerto Rico for more than 10 straight weeks.

Chef Maira Isabel is frequently invited as a guest in culinary competitions and to participate in culinary events and forums. Some of her favorites are Plaza Food Fest and the Puerto Rico Wine and Food Fest (PR's most respected and biggest culinary event). Here, she shared the stage with Chef Tom Colicchio ("Top Chef"/Bravo).
Maira is fully bilingual (English/Spanish) with some knowledge of French, currently learning Portuguese and Italian.  In her free time she enjoys traveling, cooking (of course!) wines, painting, arts and crafts, photography, collecting restaurant menus, cookbooks and olive oils. She lives in Atlanta GA with her 4 year old baby girl.
Education
·        A.S. Food and Beverage Management, Johnson and Wales University, RI 1995 (The program included a year in culinary arts)
·        B.A. Business Administration, Trinity College, DC 1996
·        M.B.A. Marketing, University of Phoenix, PR 2003 (3.5 GPA)

Continuing Education Courses
·        Cook and Taste – Barcelona, Spain
·        The Culinary Institute of America – NY & CA, United States of America
·        Le Cordon Bleu – Paris, France
·        L'Atelier des Sens – Paris, France
·        Colette Peters Pastry School – NYC, United States of America
 Memberships & Certifications
·        American Culinary Federation (ACF) Professional Member
·        Research Chef Association (RCA) Professional Member
·        Kansas City BBQ Society Member
·        ServSafe Food Protection Manager Certification
·        Certified BBQ Judge – Kansas City BBQ Society
·        Professional Server Certification (PSCC)
Languages
·        English (fluent)
·        Spanish (fluent)
·        French (basic)
·        Italian (basic)
·        Portuguese (basic)