I have known Lacee Watkins for a while.  We happened to meet via my blog.  I instantly adored and respected her hustle and hard work.  And her energy is so addictive.  I love to see Lacee in action at her events because she handles everything so flawlessly.  Can you say 'major boss babe'? Whenever I see her, it's tons of laughs and nothing but a great time.  So of course I had to invite her to come dine with me at Holeman and Finch located in Buckhead.
Learn more about Lacee and read about our dining experience below:
Name: Lacee Watkins
Bio: Small town values and big city dreams is something so cliche but describes Lacee Watkins to a tee. Lacee, first embarked on her journey in the publication industry as a Marketing and Events intern in August 2014 at Modern Luxury's Atlanta office, where she was then hired on as a Marketing and Event assistant, and has since graduated to her current title as Marketing and Events manager. In this double-headed role, Watkins both manages the digital and media outlets and plans, coordinates and executes signature events for Modern Luxury's five Atlanta books, which include The Atlantan, Weddings Atlanta, JEZEBEL, Men'sBook and Interiors Atlanta. Watkins may play for the marketing team at Modern Luxury, but she has not abandoned nor forgotten her passion for fashion, as she graduated from The University of Alabama with a degree in Fashion Merchandising and Marketing, and spent her time here interning among the likes of Oscar-winning designer Borris J. Powell and celebrity stylist and TV personality Shaye Strager. Not to mention her helping hands backstage at the Zac by Zac Posen Spring Summer 2016 show during New York Fashion Week.
Occupation: Marketing and Events Manager for Modern Luxury Atlanta: JEZEBEL Magazine, The Atlantan, Modern Luxury Weddings Atlanta, Modern Luxury Interiors Atlanta & Men'sBook Atlanta magazines
ATL hood:Brookhaven
Where we dined: Holeman & Finch
First time dining at the restaurant: YES
Favorite item on the menu and why: Royal Red Shrimp Toast
Meet Lacee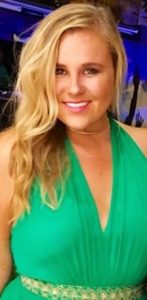 Starbucks or Dunkin' Donuts? Starbucks
Coca-Cola or Pepsi? Sparkling Water but…..Coca-Cola if I play by your rules 😉
Rosé or champagne? Rosé
Guilty pleasure? Like 2 hour bubble baths with a bottle of nice red wine
Reservations or recipes? Reservations on the weekends so I can dress up but

Friday's

I am all about the recipes and PJs.
Your go-to recipe to create for a party? Shaved Brussels salad (butternut squash, cranberries and lite honey mustard dressing, toasted and served chilled)
What would be your last meal? NC Rainbow Trout Almondine from Mercury in Ponce City Market
Favorite Food? Seafood!
Least favorite food? Probably a steak bc I am a pescaterian and its just gross to me
Go to cocktail? Jalapeño Marg
Do you eat leftovers? Yes — night of unless its pizza, day old pizza is kinda great
Favorite Atlanta Restaurant? Right now, Bettlecat
Favorite Restaurant Nationally? Shipp's Harbour Grill. I love this tiny littly bay spot in Orange Beach, best most fresh seafood EVER! Plus its family owned and I have really happy memories there.
Red Wine or White Wine? White when its warm and red when its cold! I don't play favorites
Best Atlanta Pizza? Dolce