Looking for the most festive holiday drink this year? You have to try the Perfect Cranberry Moscow Mule ASAP! Not only is it delicious and festive but it also is super easy to make; and for sure will be the showstopper of any holiday gathering this year!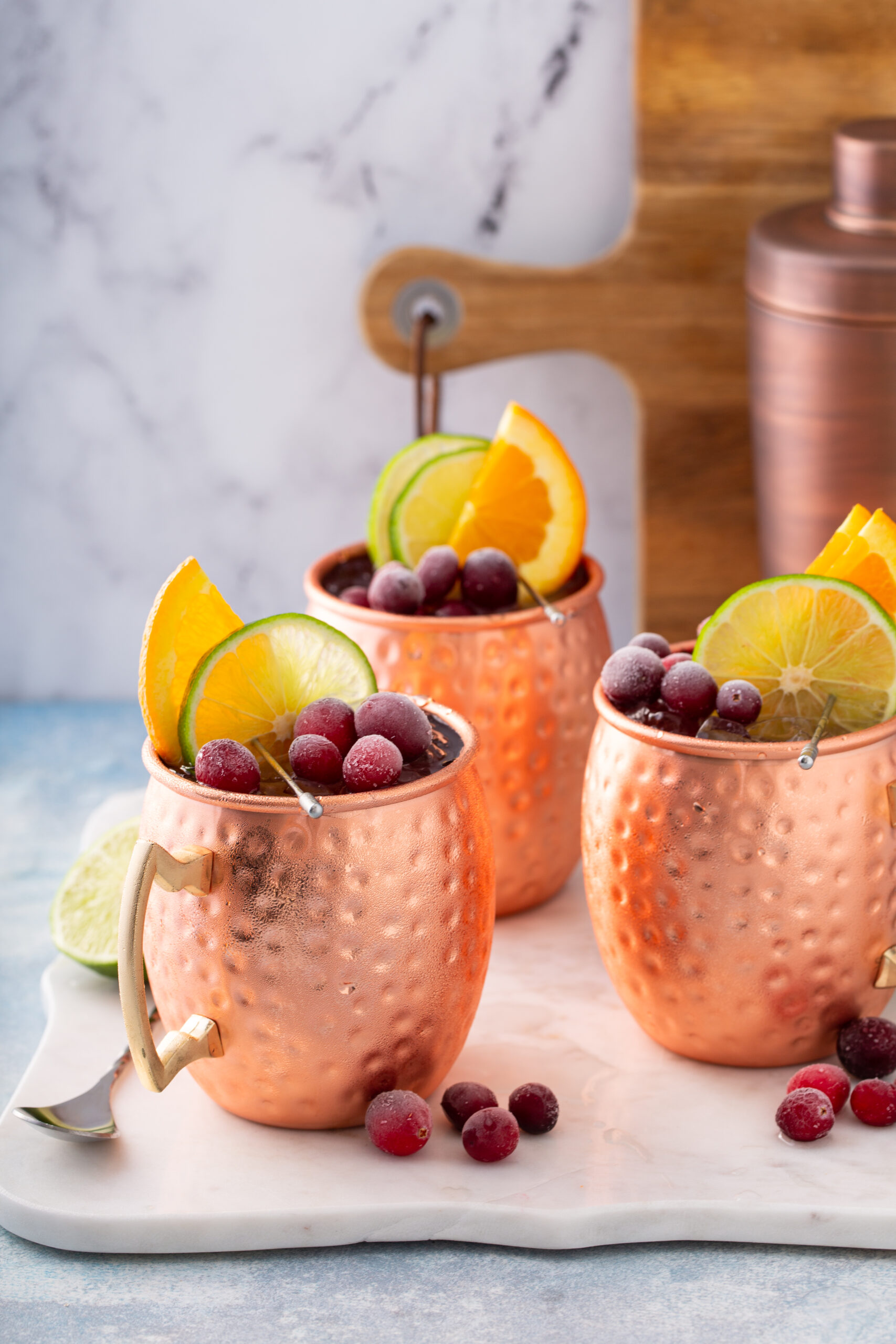 Can you believe the holidays are just around the corner? Not only has this year flown completely by, I am excited this year because it will be the first holiday season as a family a 3 for us. So this year entertaining is a bit special. One thing I tend to love when it comes to holiday entertaining is a signature cocktail of the party. This year I am obsessing over the Perfect Cranberry Moscow Mule. Not only is the Cranberry Moscow Mule the perfect signature drink- it literally combines the best flavors of the season, a delicious ginger beer based cocktail and gives a whole lot of holiday cheer.
A traditional Moscow Mule is made of vodka, ginger beer, lime juice and a lime wedge for garnish. It has a little bit of a spicy, ginger flavor that is super refreshing during the summer months (and my go to cocktail at times). But to make a Cranberry Moscow Mule, you are going to combine the traditional mule ingredients with cranberry juice cocktail. Added bonus: You can also use rum instead of vodka which helps bring out the cranberry flavor in the drink. Although I tend to love vodka with it a bit more to give a crisp light taste.
One of the best things of this cocktail is that it is easy to make and can be made in batches or single servings. While this cocktail recipe screams holiday cheer, I have to say it will taste best with using quality good vodka. I like to use Tito's or Grey Goose- depending on your flavor. And one this I have to say makes this recipe even better is using copper mugs. The copper is very good at conducting temperature.  So when an ice-cold mule is poured inside, the glass takes on that temperature and keeps the drink colder, longer. Trust me you will not be disappointed.
Only have 20 minutes until your guests arrive? All you need to do is literally throw the copper mugs into the freezer to get them super cold, take your time getting ready, and then come back and make the cocktail. You can even serve them with delicious holiday appetizers like these amazing Cranberry Brie Turkey Bites, and you are ready to have the perfect festive gathering ever! Trust me this Cranberry Moscow Mule will be the perfect yet festive drink of the season!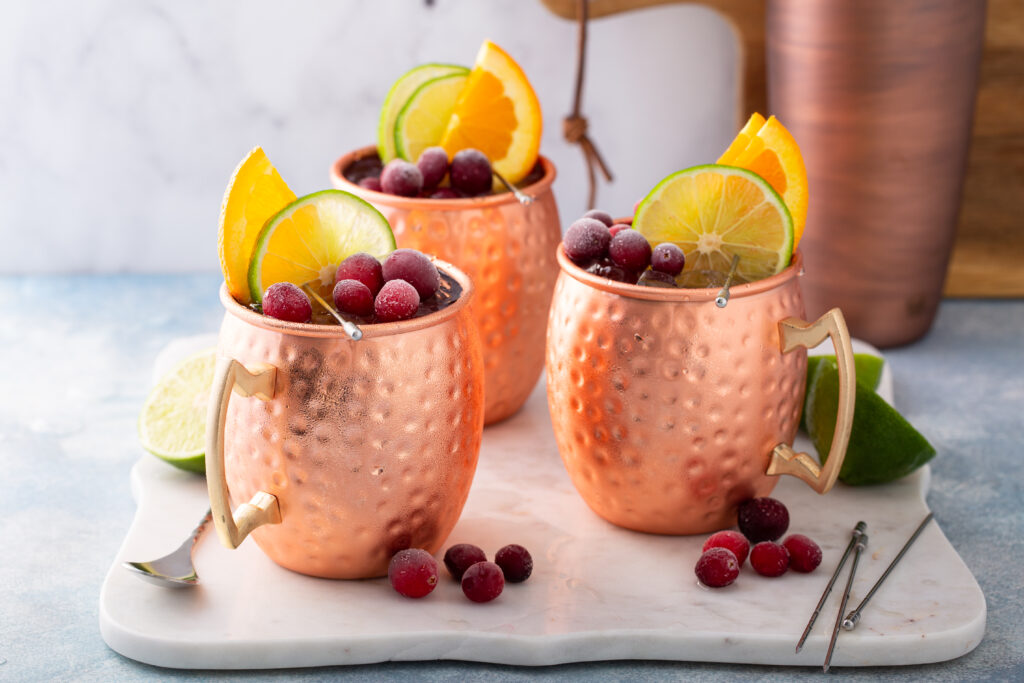 The Perfect Cranberry Moscow Mule
INGREDIENTS
1/2 oz lime juice
4 oz ginger beer
1/2 crushed ice
2 oz vodka
2 oz cranberry cocktail
Option garnishes: raw cranberries, rosemary sling, lime slices, or orange wedges
INSTRUCTIONS
Add 1/2 of a cup of crushed ice into a copper mug.
Add ginger beer, cranberry juice & rum. Then squeeze lime juice in a cocktail shaker filled with ice.
Shake.  Then pour into the copper mug.
Top with cranberries and garnish with a lime & rosemary sling.
Serve and enjoy!
** Cooking Tip **  
This cocktail is a stellar drink for holiday entertaining.  It's easy to make, delicious, and the presentation of it is very pretty.  When entertaining, you want to be able to multitask.  You can make this recipe single-serve, but making it as a batch is the way to go.  It will be a lot easier for you, and your guests can self-serve. 
So I have to ask- what is your favorite holiday cocktail? Let me know if the comments below!
SAVE NOW, MAKE LATER: