How To Create The Best U.S Farm Raised Catfish Board
Hi friends!
It's National Catfish Month and I have partnered with my friends at the U.S. Farm-Raised Catfish Association for an awesome recipe you are sure to love. This recipe is sponsored, but the opinions are my own. When making catfish the most difficult thing for me is deciding what to pair the catfish with. Do I want cold coleslaw and hot salty French fries? Or do I want thick, hot, garlic bread and crunchy chips? I decided, I want all the things.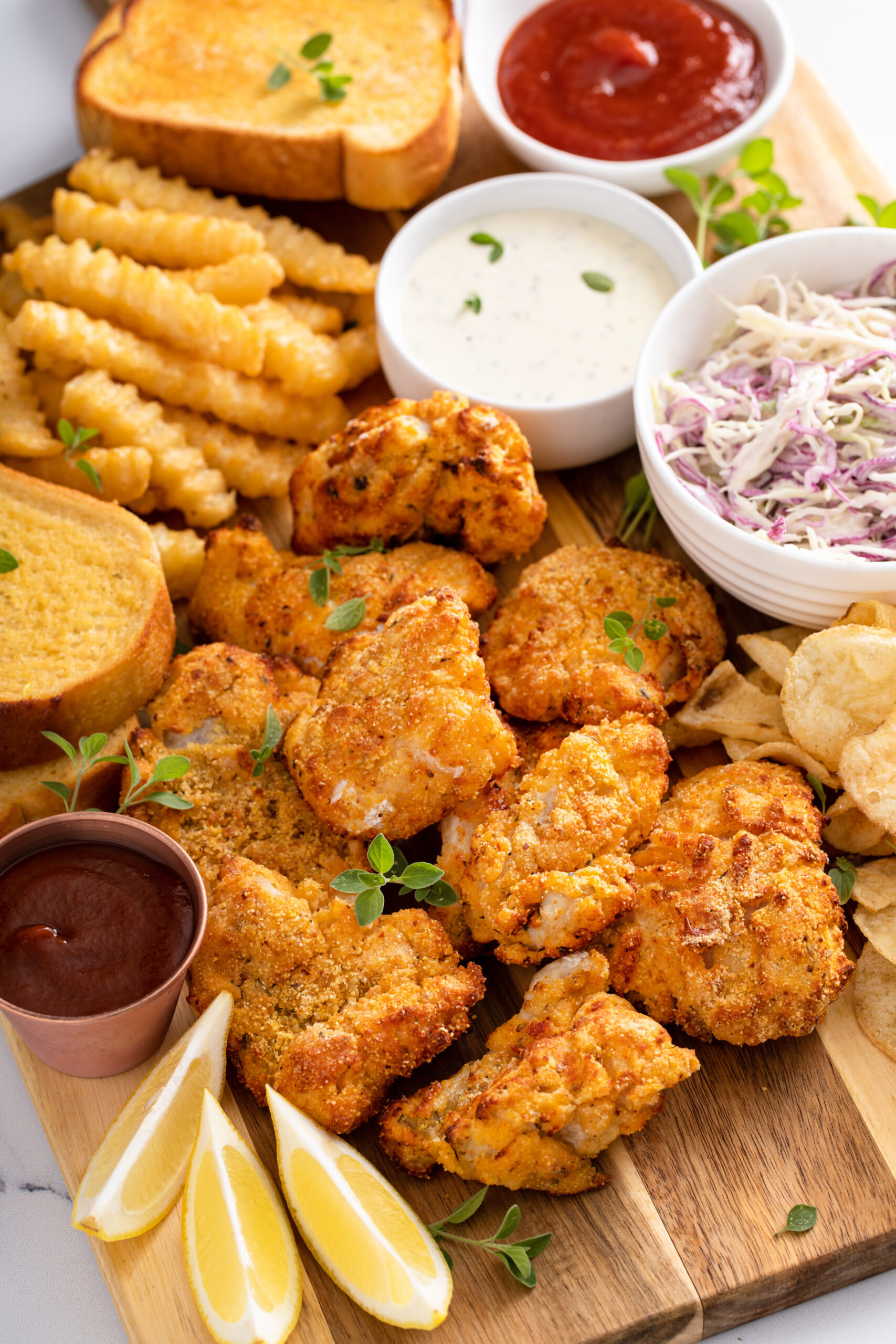 Which is why I created a U.S Farm Raised catfish board. With this board you don't have to choose, you get the best of both worlds with everything. The best part of cooking with U.S. Farm-Raised Catfish is it is versatile, sustainable and healthy. U.S Farm Raised Catfish is low in calories and packed with lean protein, healthy fats, vitamins, and minerals. There are so many amazing recipes you can create using catfish such as one of my personal favorites Catfish Bites with Pimiento Cheese and Fried Green Tomatoes . For other amazing recipes make sure to visit US Farmed Raised Catfish.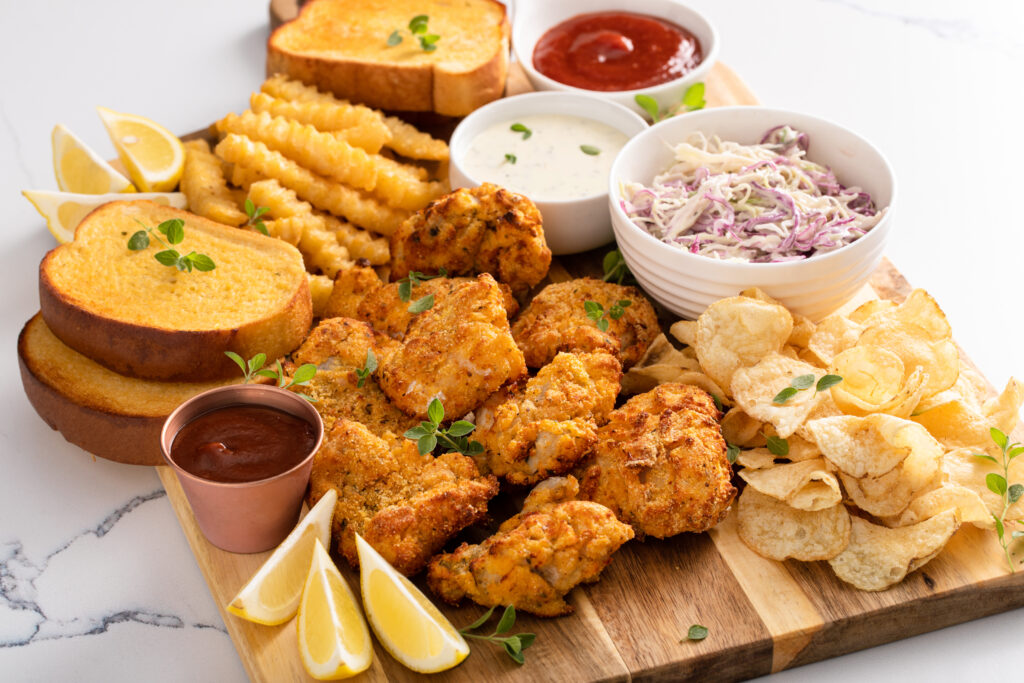 I created this recipe in the air fryer which was ideal because it's 10 mins and minimum clean up. I purchased my U.S farm raised catfish nuggets at the farmers market but if your local market doesn't offer the nuggets you can cut up catfish fillets into 1-2 pieces. This board is a great option for an easy Friday night dinner or having a casual get together with friends.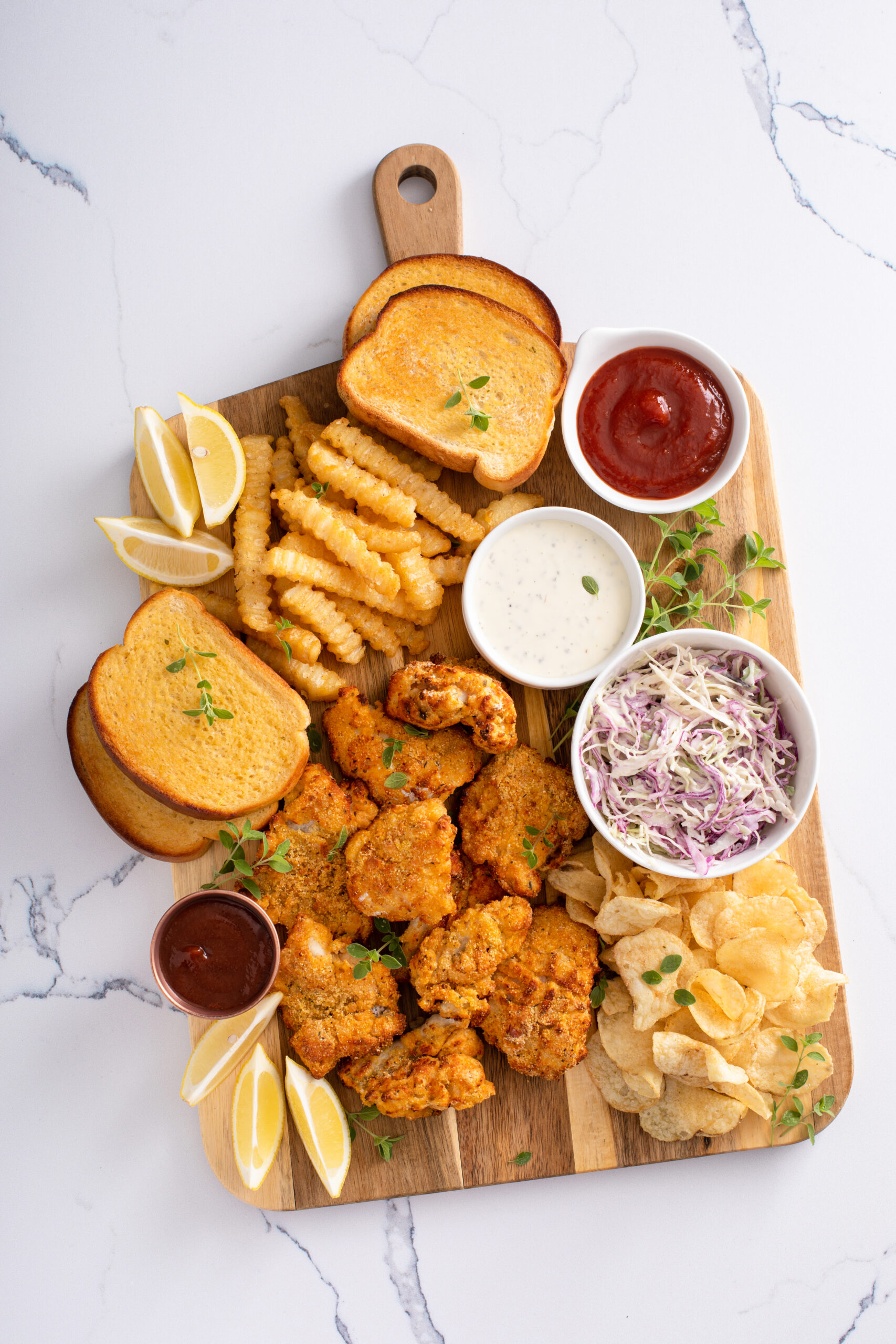 THE PERFECT FRIED CATFISH NUGGETS
INGREDIENTS
1 pound catfish fillets, cut into 2 inch pieces
3/4 cup seasoned fish fry coating
INSTRUCTIONS
Preheat an air fryer to 400 degrees F (200 degrees C).
Rinse and dry the catfish with a paper towel before coating.
Add the seasoned breading to a shallow bowl and then dip each piece of fish until coated completely.
Spread out nuggets on a baking sheet and spray with non-stick cooking spray.
Place nuggets in an even layer in the air fryer basket, sprayed side down.
Air fry for 8 minutes.
Flip nuggets over and cook for 4 minutes.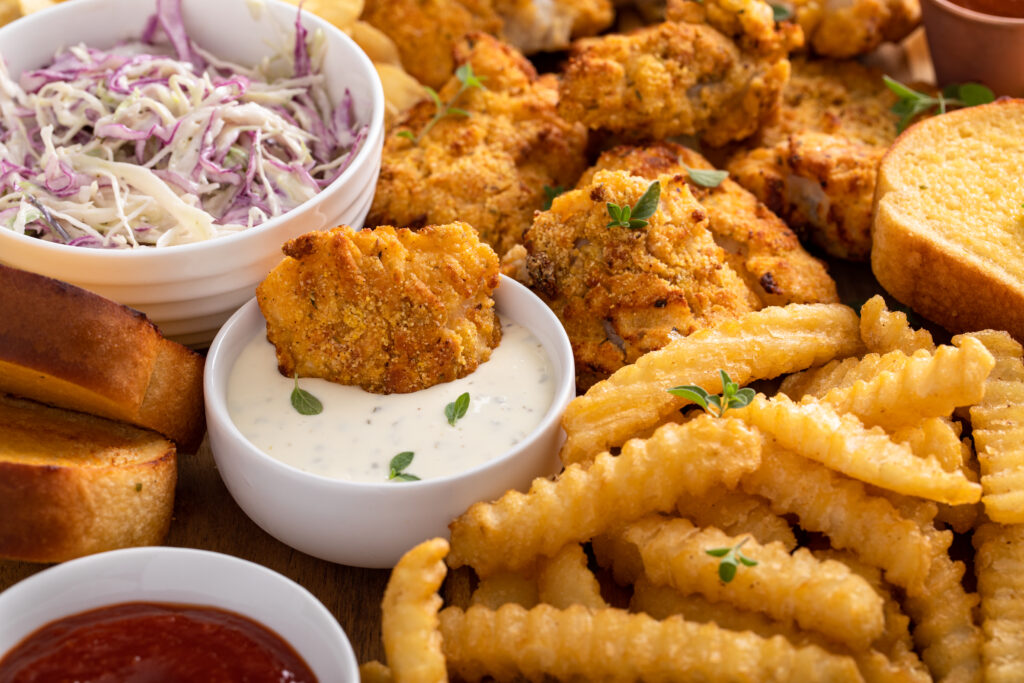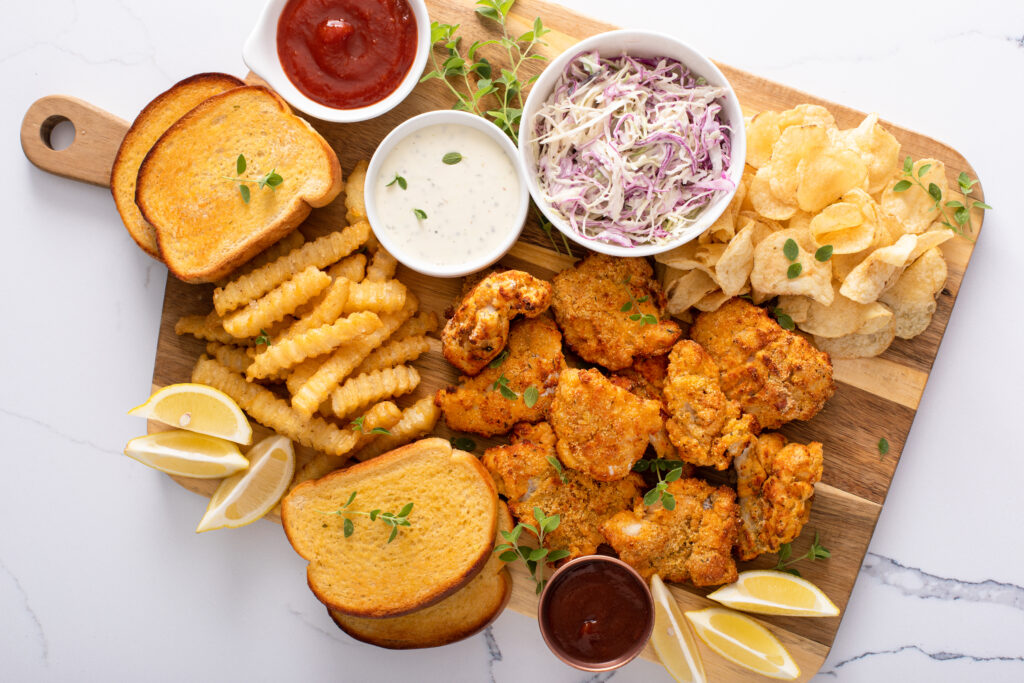 CATFISH NUGGET BOARD
INGREDIENTS
1 pound of fried catfish nuggets
4 lemon wedges
1 cup of french fries
1 cup coleslaw
1 cup of salt & vinegar chips
4 slices of toasted garlic bread
1 ramkin of cocktail sauce
1 ramkin of tartar sauce
1 ramkin of hot sauce.
INSTRUCTIONS
Position all ingredients on the board.
Enjoy!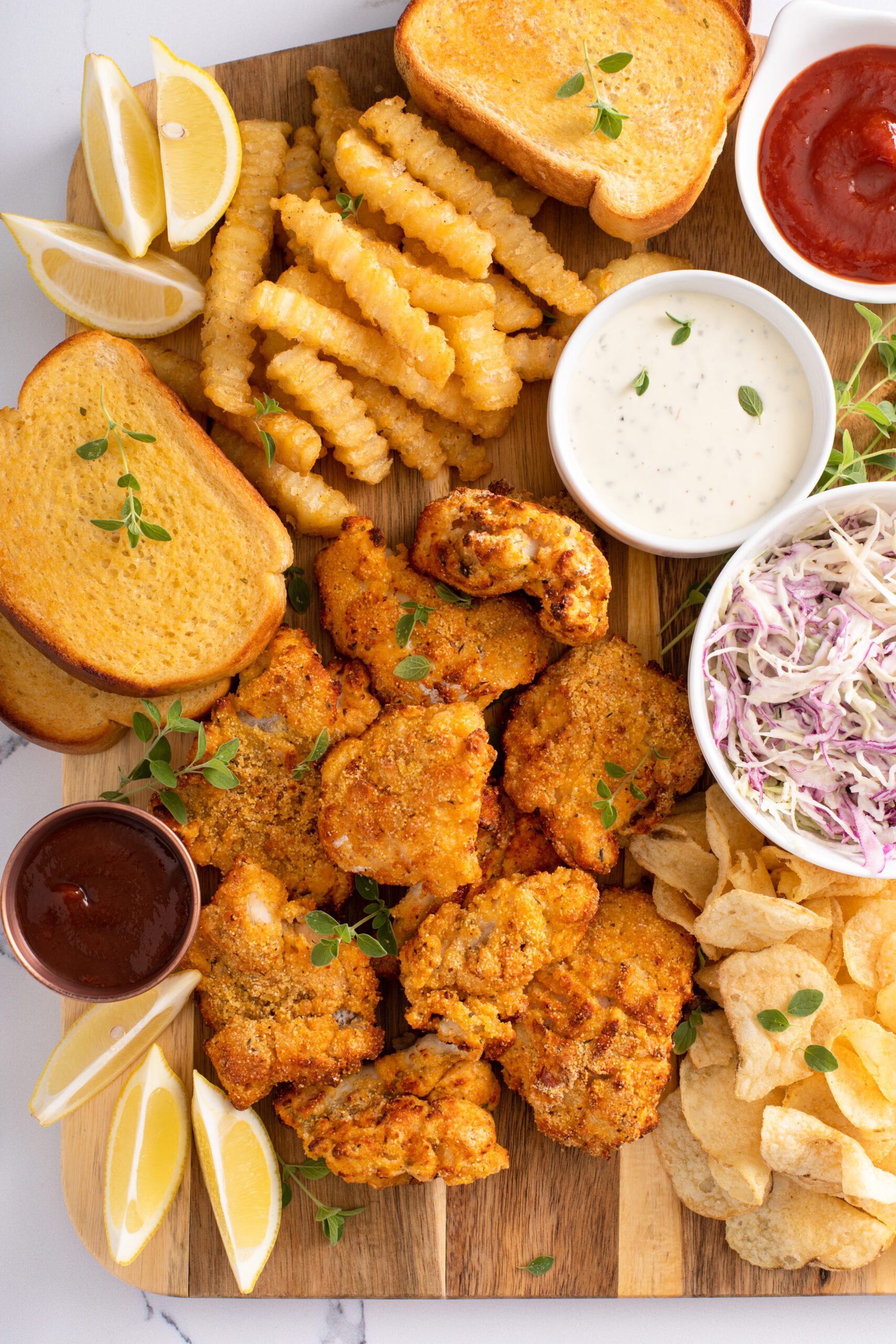 SAVE NOW, MAKE LATER: