Happy New Eve Friends! This year I am planning a festive NYE at home. Although NYE will be different and at home it will not be less festive. The champagne will be flowing along with good food. When entertaining as a GA native, I always love to include my southern staples in entertaining.
This year, one appetizer I am adding to my menu that will be a permanent menu item are Catfish Bites with Pimiento Cheese and Fried Green Tomatoes. The star of this recipe is the catfish. Not all catfish are all equal. When I use catfish, I make sure to use U.S Farm-Raised Catfish.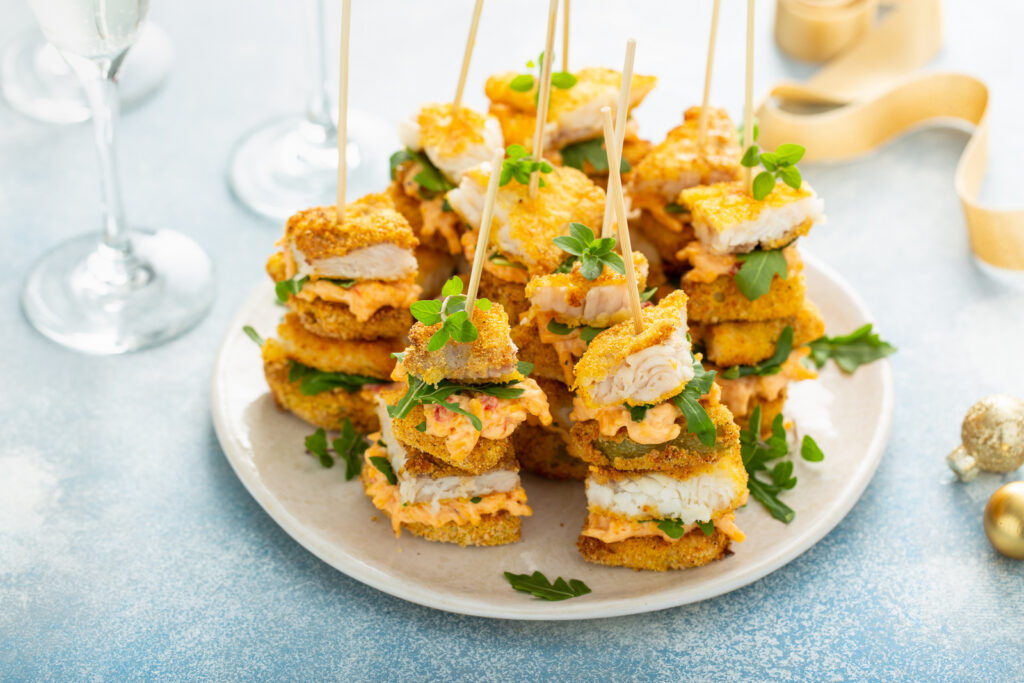 I prefer to use U.S Farm-Raised Catfish because catfish is an excellent source of protein and low in saturated fat. U.S. farm-raised catfish has been recommended by The National Audubon Society and Monterey Bay Aquarium as a safe, sustainable and environmentally friendly seafood choice. The catfish is always fresh, with a consistently mild, slightly sweet flavor.
U.S farm-raised catfish has no hormones added. When creating this recipe, I used the air fryer for the fried catfish and fried green tomatoes. If you want to reduce your fried foods intake, you can use a non-fried green tomato. This recipe takes a few southern favourites like fried green tomatoes, pimento cheese and fried catfish to create a simple and tasty recipe.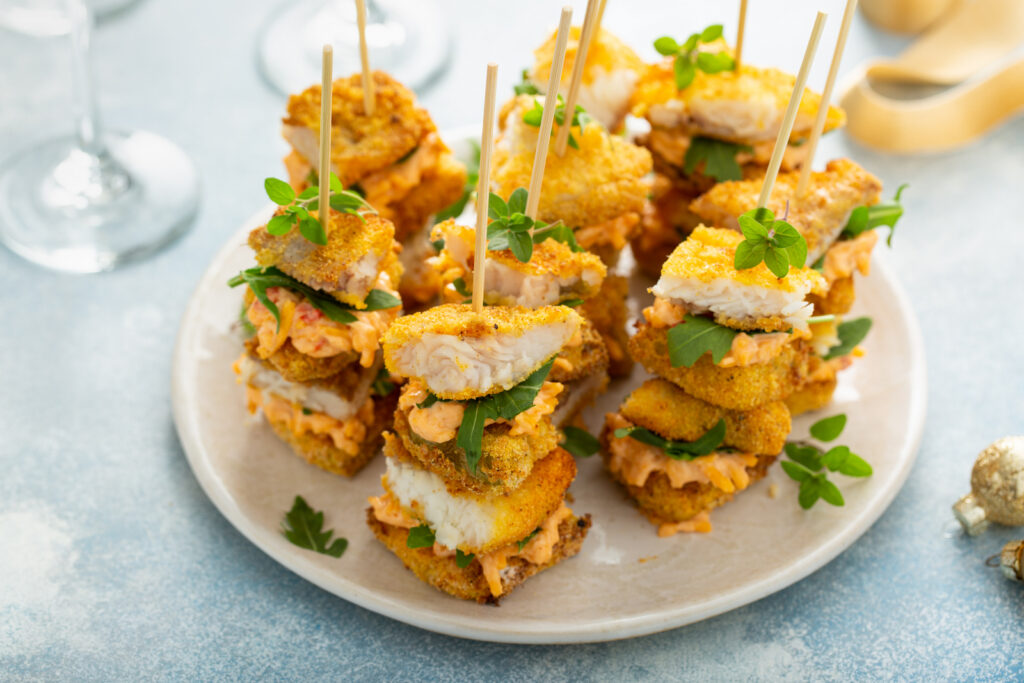 Happy New Year!!!
Recipe: Catfish Bites with Pimiento Cheese and Fried Green Tomatoes
Ingredients
1 cup of Pimento Cheese
2 cups of Baby Arugula
3 Fillets of U.S Farm-Raised Catfish
2 Medium-Large beefsteak tomatoes
3/4 cup cornmeal
3 teaspoons cajun seasoning
1/4 cup all-purpose flour
1 egg
2 tsp water
1/4 cup panko
1/4 cup cornmeal
1 tbsp of cajun seasoning
1 tbsp olive oil
Directions for Catfish
Rinse of catfish fillet
Mix the cornmeal and Cajun seasoning in a large bowl.
Dry the catfish fillets. Then add them to the bag, 2 at a time, and shake to cover the fillets in the mixture. Repeat until all of the fillets are coated.
Place the catfish fillets in the air fryer basket.
Cook on 390 F for 15 minutes, flipping the fillets halfway through.
Set Aside
Directions for Fried Green Tomatoes
Slice tomatoes about 1/3 inch thick into small four squares
In one bowl add flour, in another combine cornmeal, panko, and cajun seasoning. In a third bowl combine beaten egg and water. Set up an empty plate.
It's easiest to work in batches of 2. With your left hand, dredge 2 tomatoes through the flour and shake the excess off.
With your left hand, drop them into the egg mixture, stirring to coat.
Use your right hand and drop them into the cornmeal bowl and toss to coat. Place your breaded tomatoes onto a plate. Repeat.
Spray the basket of the air fryer with olive oil and gently place the breaded tomatoes in the basket.
Cook for 6 minutes at 395 degrees
Layer fried green tomato, pimento cheese, arugula and catfish and repeat until all ingredients are gone.