Recipe: Quick and Easy Tuna Salad Boats
Need the perfect quick and easy lunchtime recipe? I have you covered! Keep reading to see why these Quick and Easy Tuna Salad Boats are becoming my new lunchtime favorite meal! I promise you won't be disappointed!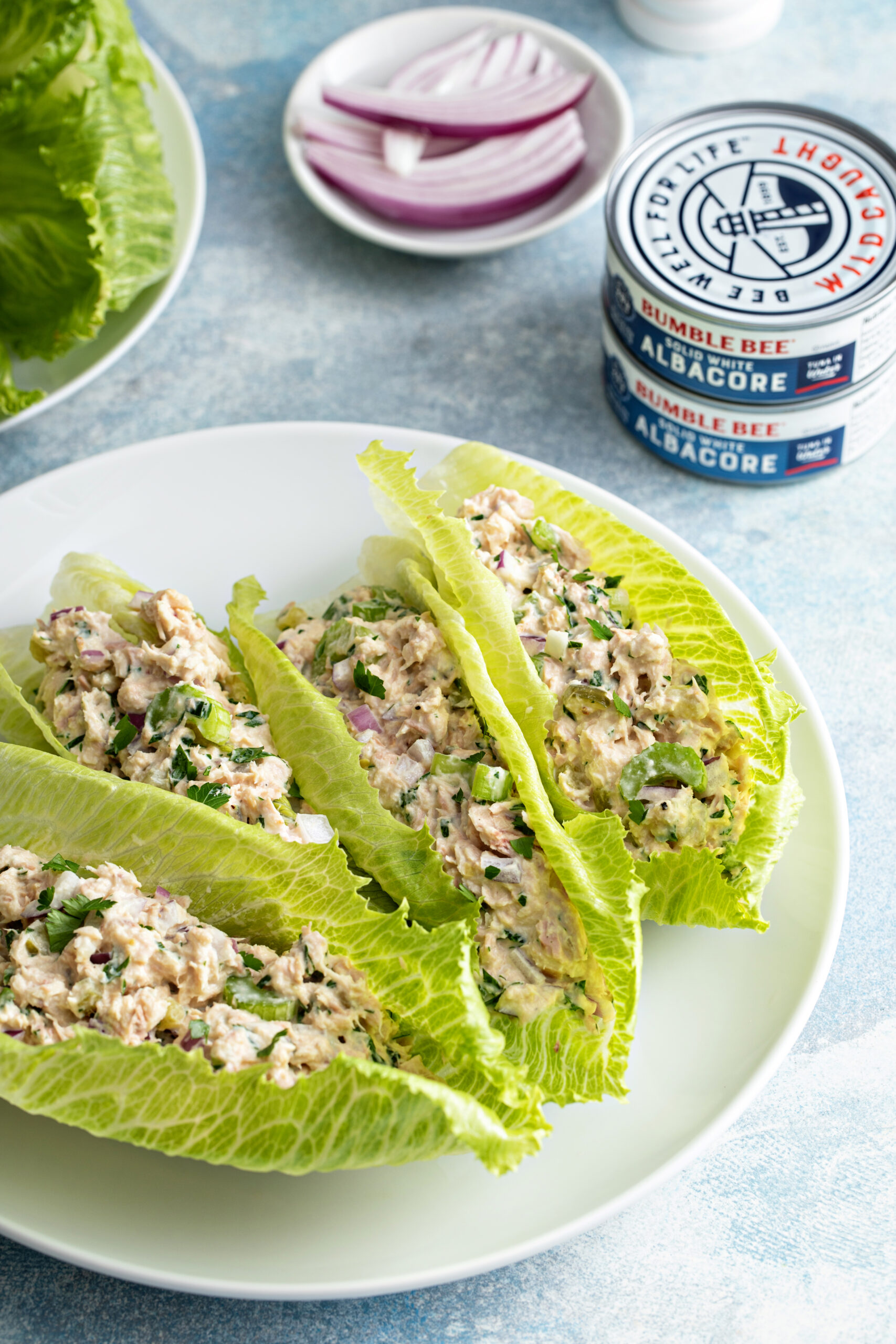 In my house lately, sometimes a quick and easy lunchtime meal is all I have time for. Which means…. enter the perfect Quick and Easy Tuna Salad Boats. One part delicious, one part quick and easy, these Tuna Salad Boats are becoming my lunchtime go-to! From start to finish they take about 15 minutes to make, and you are on your way to enjoying the most delicious quick lunchtime meal ever! Don't be surprised if they disappear in minutes – trust me they are that good! You can also pair these delicious tuna boats with this delicious recipe, or this recipe as well for the ultimate perfect lunchtime treat!
Quick and Easy Tuna Salad Boats
INGREDIENTS
4 5oz cans Albacore white tuna
1/2 cup Celery
1/2 cup Parsley, fresh
1/2 cup Red onion
2 Dill pickles
10 tbsp Hellman's mayo
1/2 tsp Pepper
1/2 tsp Salt 
2 tsp Bragg's apple cider vinegar
4 Romaine Tuna Boats 
INSTRUCTIONS
Start by opening the cans of tuna and drain them well. Then transfer it to a small bowl.
Now chop all your veggies: red onion, celery, pickles, and the fresh parsley. 
In a mixing bowl add the tuna, veggies, and mayonnaise
Add the salt, pepper and apple cider vinegar. Mix it all together until fully combined. 
Serve right away, or refrigerate until ready to serve. 
Put tuna in the Romaine boats 
Top with extra parsley serve. 
So I have to ask- what is your current lunchtime go-to meal? Do you love a great tuna salad boat? Let me know in the comments below!
SAVE NOW, MAKE LATER: