Who doesn't love cheese fondue? In our house we are major cheeseheads, something about melted cheese just always makes anything taste better- am I right? Today we are keeping it super cheesey and sharing my favorite way to level up your cheese game and have a little fun in the process. Curious how to make the perfect cheese fondue? Keep reading for the perfect cheese fondue recipe that you can make in the comfort of your home tonight!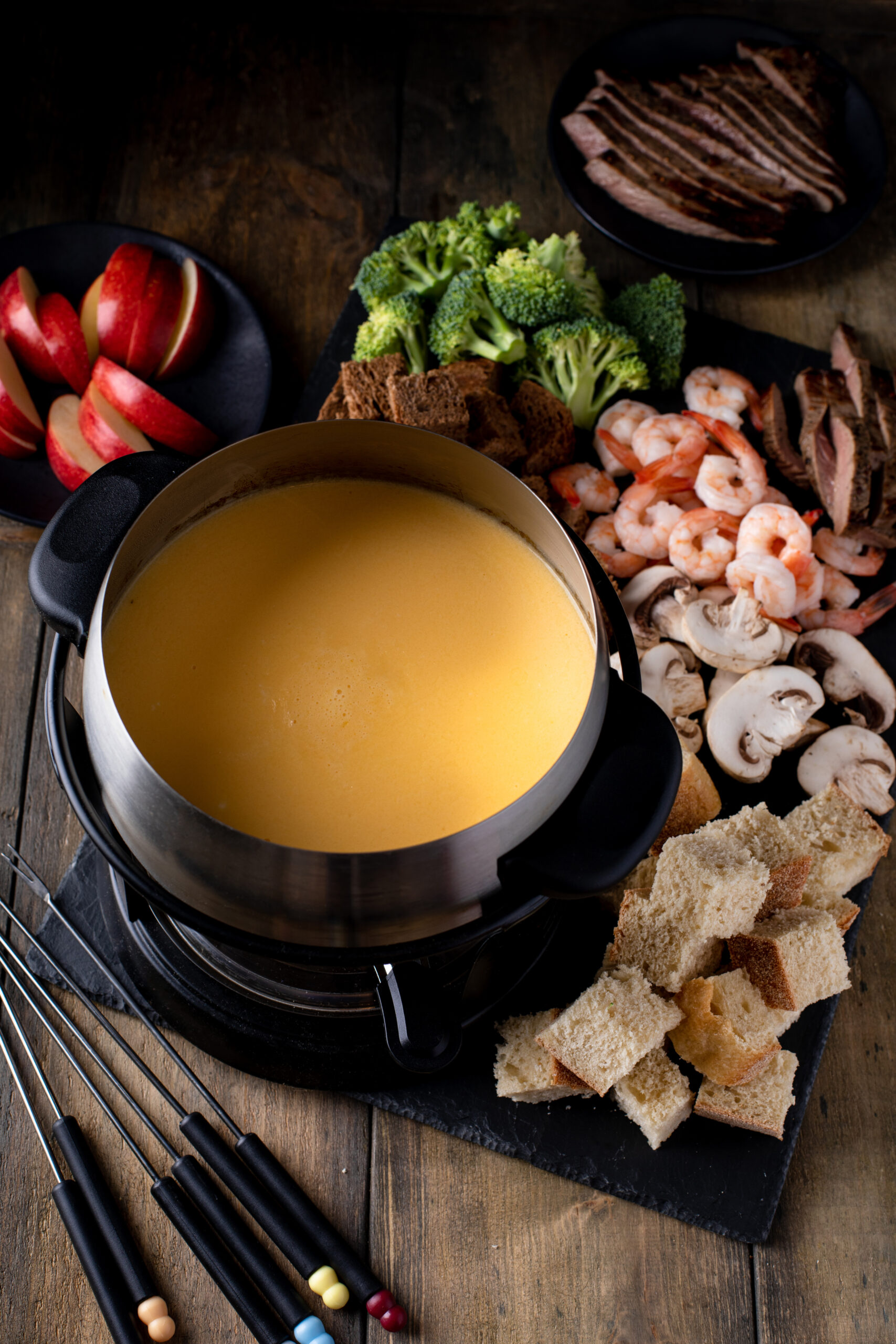 When it comes to cheese fondue – just about anything goes. From bread to meat, to veggies and everything in between – homemade cheese fondue is super easy and super delicious. We like to pair it with a few of our favorite wines or a cocktail or two. What about you? How do you enjoy cheese fondue?
How To Make Cheese Fondue
SWISS AND CHEDDAR CHEESE FONDUE
1 1/2 Tbsp. butter
1 Tbsp. corn starch
1/2 tsp. salt
1 cup milk
1 cup shredded cheddar cheese (I usually use mild or medium)
1 cup shredded Swiss cheese
DIPPERS FOR FONDUE
Cut Up Bread cubes (sourdough, rye, garlic, Italian, French baguettes, ciabatta, pumpernickel)
Fresh mushrooms
Broccoli 
Apples
Shrimp (cooked)
Steak Sliced 
HOW TO MAKE CHEESE FONDUE:
Melt the butter over low heat and then add the cornstarch, stirring until well combined – you can use a fondue pot or a saucepan on the stove – either method works great! If you have an electric fondue pot, turn the temperature slightly above warm as the temperature gets very hot if you go higher than this! 
Mix the salt in well and then add the milk.
Stir continually over medium heat until boiling.
Continue to stir and boil the mixture for one minute.
Turn the heat down slightly and then add the cheese.
Mix just until the cheese is melted and serve with all of your favorite dippers!
What is your favorite cheese to fondue with? Do you have the perfect cocktail for cheese fondue? Have a great cheese fondue recipe? Let me know in the comments below!
SAVE NOW, MAKE LATER: