We all have cabin fever these days, especially as the weather cools down and we're spending even more time at home than ever before. If you're on the search for a safe, friendly getaway destination to escape to before, during, or after the craziness of the holidays, we're lucky to have several incredible options within driving distance of Atlanta. A day trip or a weekend getaway makes the perfect gift for a loved one or even a treat to yourself to ring in 2021 well.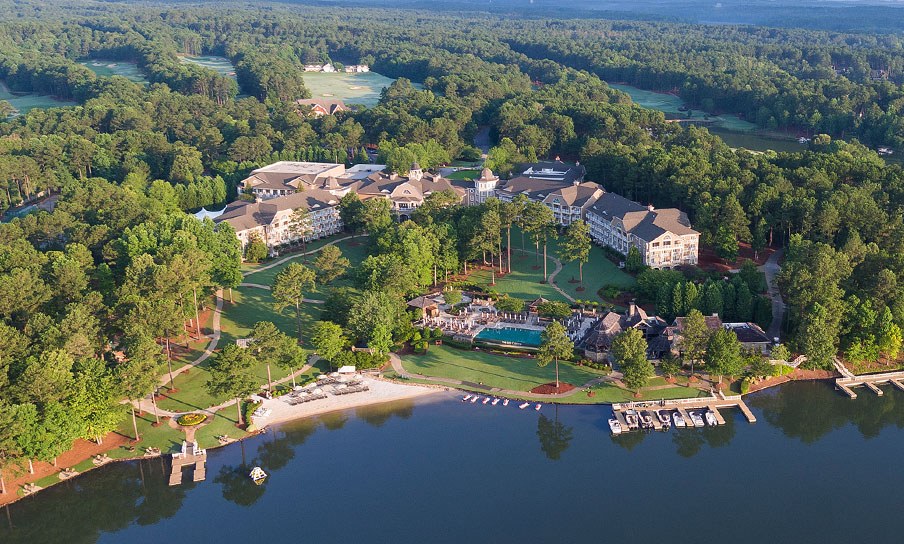 An ideal getaway destination under two hours from Atlanta is the serene Ritz-Carlton Reynolds, Lake Oconee. Nestled along the shores of Lake Oconee, tranquility truly meets beauty and provides guests a picturesque outdoor escape. I mean, how can one not find relaxation in a lakeside cottage?!
Whether you're the foodie, the golfer, or the spa-goer of the group, you'll find your place at the Ritz on Reynolds and find the refreshed lens you need to take on this long-awaited New Year.
Southern hospitality meets the Blue Ridge Mountains….what could be better? The Grove Park Inn has been welcoming guests to Asheville for over a century, and their expertise does not go unnoticed. With 5 star hotel rooms, stunning views, four locally-sourced restaurants, and, yes, the largest gingerbread house competition in the world (!), The Grove Park Inn is the type of place you'll want to make a tradition of visiting.
Another best-in-class Blue Ridge Mountain getaway can be found at the Old Edwards Inn and Spa of wonderful Highlands, North Carolina. Relaxed luxury is what you're sure to find at the European-style Old Edwards Inn. A mountain retreat equipped with farm-fed restaurants, a world-class spa, and 18 holes overlooking dramatic mountain vistas paints the picture for a perfect holiday escape.
The cherry on top? Highlands itself is a true hidden gem & the epitome of a quaint mountain village rich in community, culture, and natural beauty.
Located in Dahlonega just 40 miles North of Atlanta is the winery-based community known as Montaluce Winery & Estates. You'll quickly notice the beautiful Tuscan-styled architecture that brings you out of Atlanta traffic and right into a Tuscan escape, truly making you feel like you've travelled far away to sip on wine. At the end of 2020, I think that's what we all need.
If you aren't able to get away for the weekend, Montaluce is the perfect place to head for a day full of fun. Better yet, if you have just one day to compromise on an activity with a friend or loved one, Montaluce will please both the wine connoisseur and the nature enthusiast with wine hikes offered every Saturday & Sunday to take in the beauty of North Georgia.
Located just North of Atlanta on 3,500 acres sits a luxury destination resort equipped to host more than just an afternoon of wine tasting. Boasting a serene Spa Mansion welcoming both overnight and day guests as well as two gorgeous golf courses, the property is perfect for a quintessential getaway.
Offering a number of overnight options, you're sure to enjoy being just steps away from several incredible dining experiences the resort has to offer. Lunch at the Marc Restaurant is an EWE team favorite! Dine, drink, golf, and relax — all at the gorgeous Château Élan.
What sounds cooler than a treehouse that sits in a 400-year-old oak tree….that you can stay in for the weekend?! Nothing, if you ask me! The Atlanta Treehouse is an oasis that is so picturesque you'll find yourself asking how it is real. Located near East Point, the Treehouse is as close as can be to Atlanta — making for a convenient getaway — while also truly providing you that escape that will make it feel as though you're off-the-grid for a day or two. Book the Atlanta Treehouse through Airbnb and experience the total seclusion + tranquility it has to offer.
For a similar off-the-grid vibe, the Getaway House offers escapes to tiny cabins nestled in nature across a number of cities, Atlanta included. Think: your very own tiny house experience in a pristine little cabin located just outside of your city. Genius! Each cabin has running water, a complete bathroom, trails nearby…..you get it, the Getaway House experience is the true definition of "glamping". Kick off 2021 by disconnecting for the weekend and enjoy Getaway House's GA outpost location in Suches, Georgia, about 2 hours outside of the city.
For an activity-filled weekend in North Georgia, look no further than the 3,000 acres of beautiful Barnsley Resort to appeal to the traveler that wants a disconnected getaway but also likes to keep busy with outdoor fun. From golf, to horseback riding, to shooting, to hiking — Barnsley has it all.
Waldorf Astoria Atlanta Buckhead
For the perfect intown getaway that will have you feeling like you traveled somewhere for the weekend, Waldorf Astoria Atlanta Buckhead has you covered. The Waldorf is within a mile of Phipps Plaza, Lenox Square, and The Shops at Buckhead. You'll be in the middle of it all when stepping outside, and yet right back into a peaceful oasis within the walls of the hotel. Enjoy the yoga studio + sauna and be sure to stop by the spa to pick up your very own EWE Home candle!
Located on the edge of Atlanta in Chattahoochee Hills is Serenbe, a wellness community that is home to acres of preserved forests, trails, homes, and businesses. At first glance, it may look like it's too good to be true. Lucky for us, we can go check it out for the weekend! The Inn at Serenbe is an upscale inn destination boasting wildflower meadows, 15 miles of private trails, an animal village, croquet lawn, and more. Visit The Inn at Serenbe for an experience that cannot be found anywhere else in Georgia.