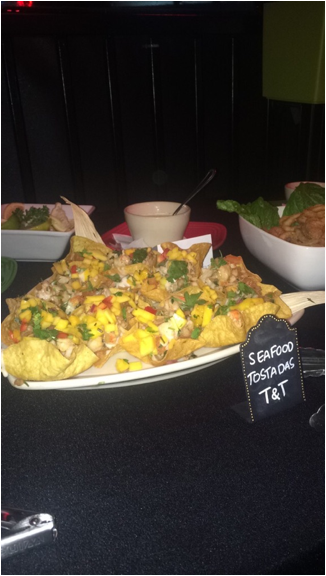 Tacos & Tequilas is the restaurant you see on the corner after doing a Whole Foods run on Ponce. It is easy to look past this restaurant, but you should not. T&T is the perfect place to have any type of celebration. The staff is fun and outgoing, the atmosphere is perfect for all occasions – from a birthday party to a casual catch up session, and the food is outstanding.
If you are a fan of seafood and Tex-Mex foods, the seafood tostadas should be the appetizer at the top of your list. The crunch from the crispy tostada combined with the soft, fresh seafood makes for a party in your mouth. On top of the shrimp, tilapia, Pico de Gallo, and mango is cheese dip. The cheese dip on top of this incredible combination tops off this appetizer perfectly, with a melted after tone. If you are not into seafood, I highly recommend the fried mushrooms as an appetizer. These crispy white 'shrooms are served alongside T&T's house creamy citrus jalapeno salsa and ranch – the best light start to a filling meal.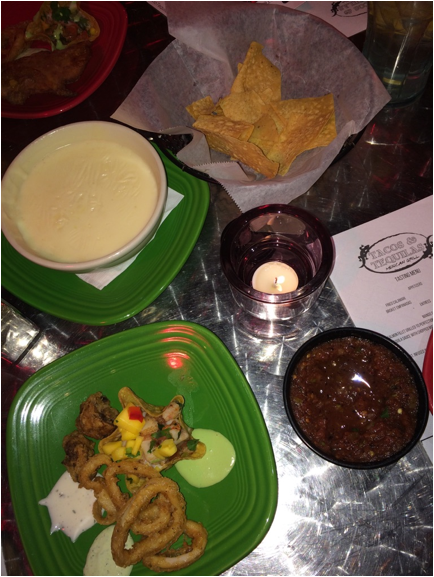 The entire menu is sure to satisfy, but if you come to T&T for the right reasons you will be ordering a taco.  There is not much better than a good shrimp taco filled with chipotle coleslaw.
All of Tacos and Tequilas meats are cooked to perfection with a tender texture. If you are as into seafood as I am, you must try the mango salmon. The sweetness of the mango pairs perfectly with the moist, grilled salmon. Unlike most restaurant salmons, T&T does not dry out their fish – making for a salmon that will melt in your mouth. Combine that with the sweet mango and the crunchy asparagus, and you have a meal fit for a queen.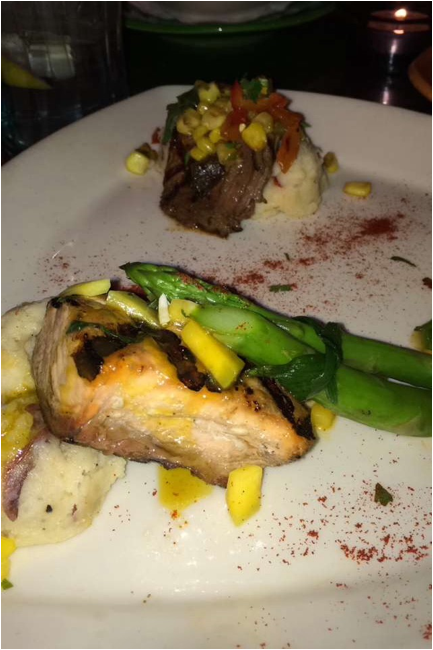 The highlight of any meal is, as always, dessert. The sweets at Tacos and Tequilas are unique in that they are cooked fresh. T&Ts crepes are topped with honey, butter, and whipped cream. These crepes were warm and gooey – everything one would want in a dessert after a good meal. Of course, you could never go wrong with the classic churro. The fried sticks are served warm after being rolled in a cinnamon sugar mix with whipped cream to top it off.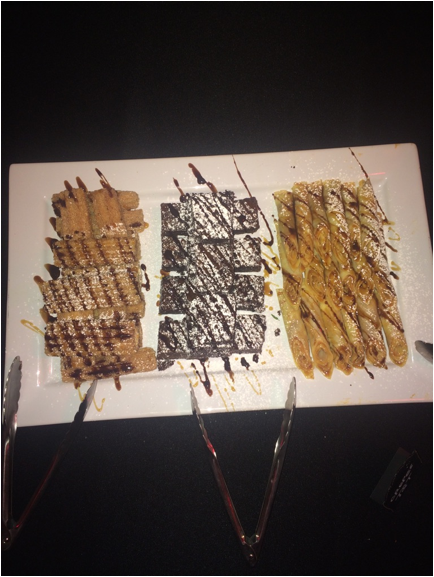 The best part of eating at Tacos & Tequilas is knowing that you are spending your time supporting a family owned business that pours their heart and soul into making sure your experience sends you into a happy food coma.  Next time you are out and about in Midtown, Buckhead, or Cumming, make sure to stop by T&T and treat yourself to some of the most delicious Tex-Mex food in the city.
By: Chelsea Barbee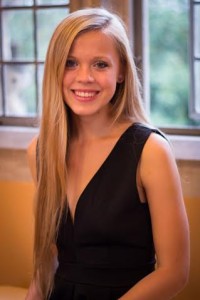 Chelsea Barbee is a third year student at Georgia State University. As a child, she loved to help her mom in the kitchen, whether it was sautéing mushrooms or baking chocolate chip cookies. After being diagnosed with hyperthyroidism in 2009, Chelsea began her true exploration into the world of food. Throughout the years, her food exploration slowly became her passion and is presently what makes her world spin. Now a resident of the ever-evolving foodie city of Atlanta, Georgia, Chelsea has the opportunity to make each day taste incredible. She enjoys learning and eating her way through the Atlanta food scene, one bite, crunch, and sip at a time. She spends her free time practicing yoga, eating way too much sushi, and wandering around Trader Joe's for hours on end. Follow Chelsea On Social Media @chelseabarbee13