The Best Pumpkin Spice White Hot Chocolate
This recipe is sponsored by Jackson Morgan. All ideas are my own. Please Sip Responsibly
It's fall, y'all! Fall is one of my favorite times of the year, with the changing leaves, sweater weather, and most importantly, pumpkin spice season. Today, I'm excited to partner with my friends at Jackson Morgan for the ultimate Pumpkin Spice White Hot Chocolate recipe. And honestly, this isn't just a drink; it's a celebration of fall. I've given this drink a fantastic remix, and it's amazing. My version of classic hot chocolate elevates the experience with its unique blend of flavors, making it a must-try for the season.
What truly sets this recipe apart is the Jackson Morgan Pumpkin Spice Roll Liquor. It's incredibly smooth, offering just the right amount of pumpkin flavor without being overwhelming. It's the star of the recipe. What I love most about creating this drink is how the liquor adds an adult-friendly kick, transforming a childhood favorite into a sophisticated treat for grown-up tastes.
One of the many reasons I adore Jackson Morgan Pumpkin Spice Roll is its versatility. You can bake it into pies and cookies, or mix it into scones and breads to delight a crowd. Stir it into pancake or French toast batter for a perfect autumn brunch treat, topped with warm maple syrup and roasted nuts. The possibilities are truly endless, and this is sure to be a hit with your guests when entertaining.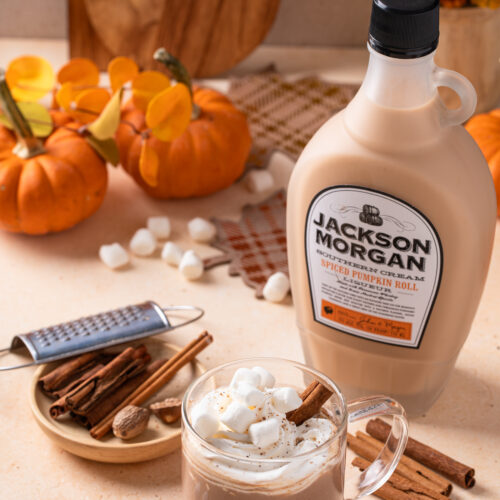 Pumpkin Spice Hot Chocolate
The perfect sweater weather hot chocolate recipe that is sure to be a hit at any gathering this season!
Ingredients
2

cups

milk

(whole milk or any plant-based milk of your choice)

1/2

cup

canned pumpkin puree

1/4

cup

granulated sugar

adjust to taste

2

tbsp

unsweetened cocoa powder

1/2

tsp

pumpkin pie spice

a mix of cinnamon, nutmeg, and cloves

marshmallows

1/2

tsp

vanilla extract

whipped cream

cinnamon stick

for garnish

nutmeg

for garnish
Instructions
In a medium saucepan, whisk together the milk, canned pumpkin puree, granulated sugar, unsweetened cocoa powder, and pumpkin pie spice.

Place the saucepan over medium heat and warm the mixture, whisking constantly to combine the ingredients.

Heat the mixture until it's hot but not boiling, and the sugar has completely dissolved, which should take about 5-7 minutes. Stir in the vanilla extract.

Once the Pumpkin Spice Hot Chocolate is hot and well-mixed, remove it from the heat.

If desired, top each mug with a dollop of whipped cream and a sprinkle of ground cinnamon or nutmeg for added flavor and presentation.

Serve your Pumpkin Spice Hot Chocolate immediately and enjoy!This delicious and cozy drink is perfect for cool autumn evenings or as a treat during the fall season.
This recipe is versatile and customizable to your liking. Whether you prefer whole milk for its creaminess or a plant-based alternative for a lighter option, the recipe adapts easily to suit your preferences. Cheers!