Happy Holiday Friends! As the holidays draw near, it's time to put on your hostess hat and establish your own festive food traditions. Whether I'm whipping up New Year's Eve Sliders or Catfish and Grits, U.S. Farm-Raised Catfish always manages to impress my guests. If you're searching for a delightful new appetizer to shake up your holiday menu, my Mini Catfish Tacos are just the ticket. I've concocted a simple yet festive recipe that's perfect for the holiday season.
Mini Catfish Tacos are not only an ideal appetizer for any holiday gathering but also come with a host of benefits such as : 
They're bite-sized, making them easy for guests to enjoy while mingling.
Their small size allows guests to sample a variety of flavors without getting too full.
Let's talk about the star ingredient – U.S. Farm-Raised Catfish:
It's incredibly versatile – a mild fish that beautifully complements virtually any recipe, adding its unique flair without overpowering other flavors.
The flavor itself is something to savor, with these mini catfish tacos packing a punch of taste in every bite.
U.S. Farm-Raised Catfish is not only delicious but also nutritious, offering health benefits such as:
It's a lean source of protein, providing a healthier option for those looking to maintain or lose weight during the indulgent holiday season.
This catfish variety boasts higher levels of omega-3 fatty acids compared to its wild counterparts, contributing to heart and brain health.
I adore this recipe for its simplicity – it's a breeze to make in an air fryer, and the entire process takes no more than 30 minutes from start to finish.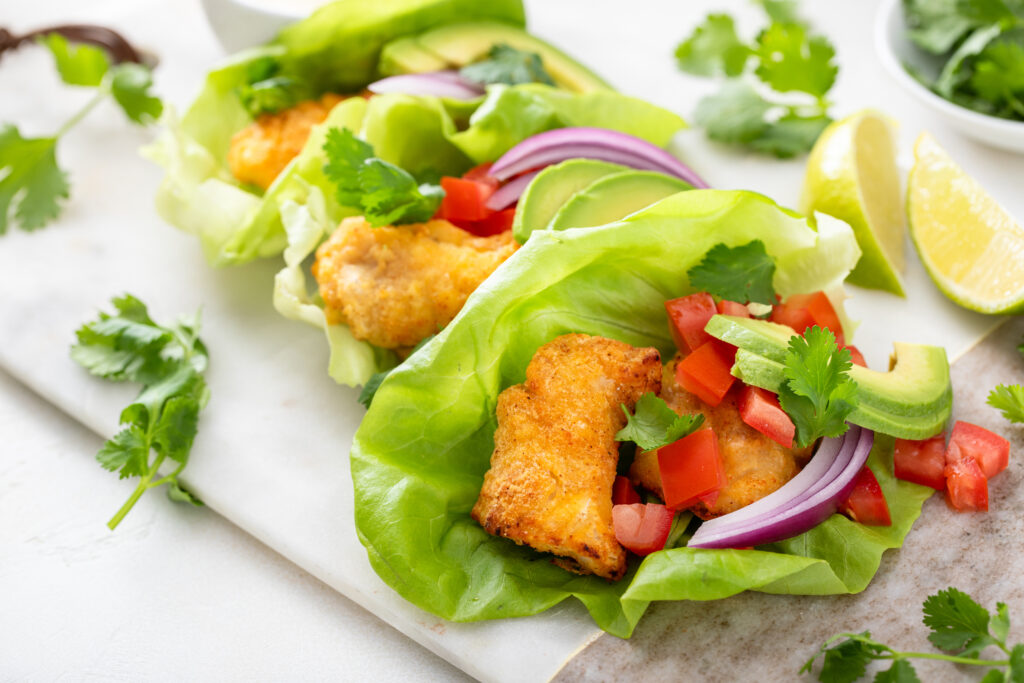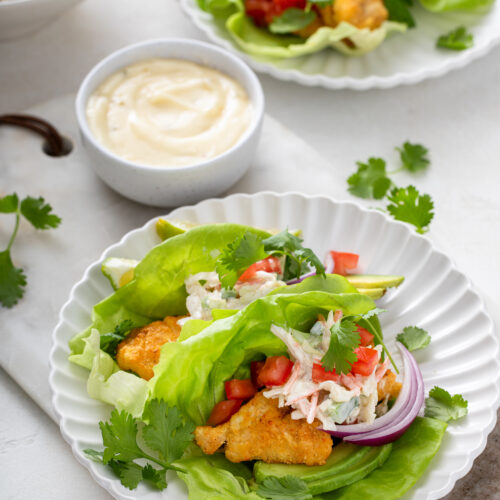 Mini Catfish Tacos
A festive yet simple recipe that is perfect for an appetizer or bite sized snack at any gathering or party you might have this year!
Equipment
Airfryer

**Fried Catfish Mini Tacos Using the Air Fryer**
Ingredients
4

catfish filets

3/4

cup

seasoned fish fry coating

cooking spray

8-10

pieces

bibb lettuce leaves

washed and dried

1

tomato

diced for topping

1

red onion

diced for topping

1

bunch

cilantro

diced for topping

1

avocado

diced for topping

1/2

cup

tartar sauce

for topping

1/2

cup

mayonnaise

for slaw on tacos

1

juice of

lime

for slaw on tacos

1/2

tsp

salt

for slaw on tacos

1/2

tsp

ground cumin

for slaw on tacos

1-2

french jalapeños (chopped)

for slaw on tacos

2

cups

slaw mix or shredded cabbage

for slaw on tacos
Instructions
Preheat the air fryer to 400 degrees F (200 degrees C).

Rinse and pat the catfish dry with a paper towel before coating.

Add the seasoned breading to a shallow bowl and dip each piece of fish until fully coated.

Lay out the nuggets on a baking sheet and spray with non-stick cooking spray.

Place the nuggets in an even layer in the air fryer basket, sprayed side down.

Flip the nuggets over and cook for an additional 4 minutes.

Take a Bibb lettuce leaf and place a piece of fried catfish in the center.

Add toppings: diced tomatoes, sliced red onion, cilantro, sliced avocado, and a dollop of tartar sauce.

Serve the Fried Catfish Lettuce Wraps immediately while the catfish is still crispy.

Garnish with lime and enjoy!
Notes
FOR SLAW
Mix all ingredients together and serve with tacos! 
So, embrace the charm and taste of U.S. Catfish this holiday season – your guests, and their taste buds, will thank you!
READ NOW, MAKE LATER: