The Best Spiked Peach Milkshake for Game Day
It's game day, y'all! As we get ready for the ultimate college game day, featuring the highly anticipated UT vs. Georgia matchup, what better way to celebrate than with some tailgating? In partnership with The Dairy Alliance, I'm excited to share some delicious recipes in honor of both teams, starting with milkshakes! Creating this recipe was so much fun, especially since I have a soft spot for both teams.
First up, in honor of the home team – Go Dawgs! – is my Spiked Peach Milkshake, perfect for tailgating at home or at Sanford Stadium. I chose peaches for this recipe, as Georgia is famously known for them, and a spiked milkshake seems just right for game day festivities.
Milk is the key ingredient, known for creating creamy, thick, and delicious milkshakes. But did you know milk is also excellent for hydration? It outperforms water and sports drinks, thanks to its natural electrolytes, carbohydrates, and protein. Milk is a powerhouse of calcium, vital for strong bones and teeth, and it's rich in protein, supporting muscle growth and repair. Plus, milk provides energy as a natural source of 4 B vitamins, which is essential for staying energized during tailgating.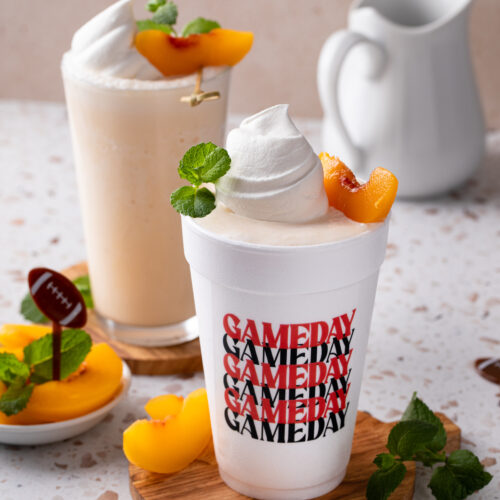 Spiked Peach Milkshake Recipe
Who doesn't love peaches? They make for the perfect companion to your Georgia game day! Try this delicious Spiked Peach Milkshake and thank me later!
Ingredients
2

Ripe Peaches, pitted and diced

(or 1 cup frozen peaches)

1/2

cup

Milk

(or almond milk for a non-dairy option)

2

scoops

Vanilla Ice Cream

1/4

cup

Peach Schnapps

1

tbsp

Sugar

(optional, based on peach sweetness)

Whipped Cream

(for topping)

Fresh Peaches

(for garnish)

Ice Cubes

(optional, for a thicker shake)

MInt

(for garnish)
Instructions
Prepare the Peaches: Blanch fresh peaches in boiling water for 30 seconds for easy skin removal, then pit and dice.

*For frozen peaches, ensure they're partially thawed for blending.*

In a blender, combine peaches, milk, vanilla ice cream, peach schnapps, and sugar if needed.

Add ice cubes for a thicker shake.

Blend until smooth, adjust thickness if necessary.

Taste and add more sugar or peach schnapps if desired.

Pour into a chilled glass and top with whipped cream, mint, and a fresh peach slice.

Serve immediately with a straw and a spoon.

Enjoy your game day with this delectable Spiked Peach Milkshake!
This recipe is versatile, allowing the use of oat milk, almond milk, or lactose-free milk to suit all preferences. And if you didn't know, lactose-free milk is real milk, just without lactose, offering 8 grams of protein or more per serving. If peaches are out of season, frozen peaches are a great alternative.
Enjoy your game day with this delectable Spiked Peach Milkshake!
PIN NOW, MAKE FOR LATER: