This post is sponsored by Kraft and Velveeta.
It's Game Day, y'all! Down here in the South, we elevate tailgating to an art form. Tailgating isn't just a pre-game ritual—it's a deeply rooted tradition, a celebration of community, food, and spirited competition. Our family's tailgate motto? "We might lose a game, but we've never lost a tailgate." Over the years, we've cultivated several tailgating traditions that I'm excited to share with you today. There is nothing like the kick off of football season. Fun Fact: Did you know the South boasts some of the largest tailgating events, with people often prepping their setups days in advance?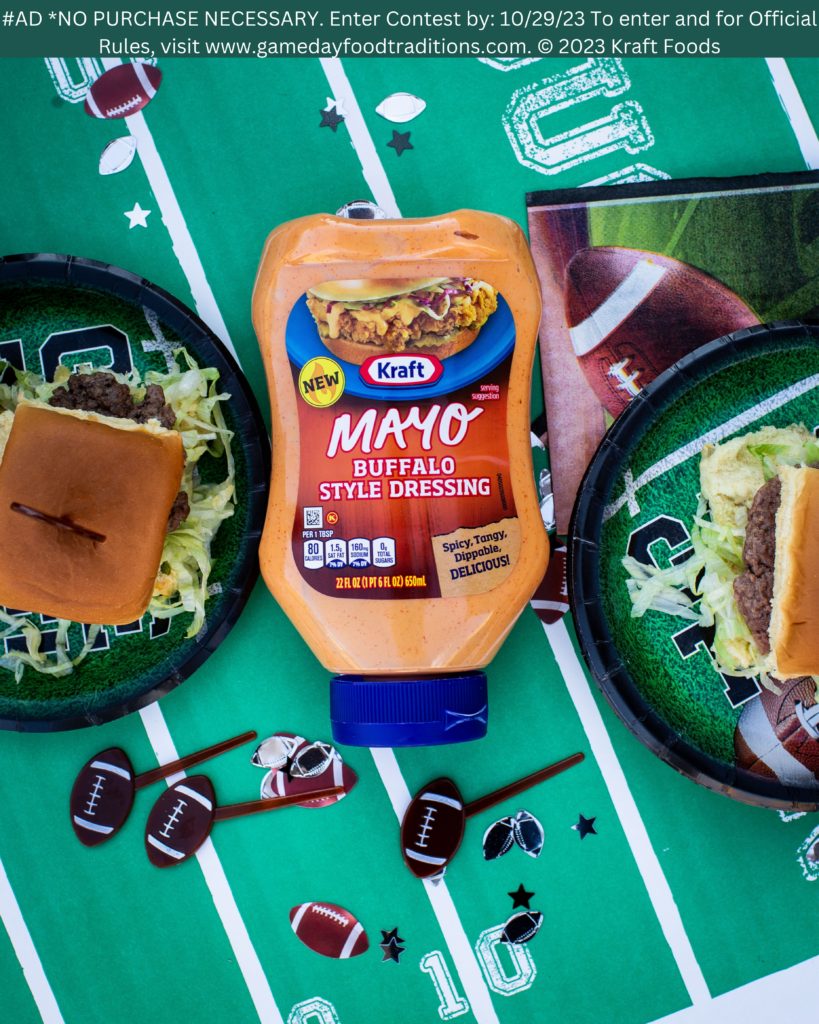 And, it's not just about grilling; Southern tailgates are grand events, complete with intricate decorations, music, and even chandeliers are hung under tents! We Eat: Food sets a win for our family tailgate. I know…not everyone can get to the game in person. But don't worry! You can easily replicate the excitement, atmosphere, and most importantly, the food at home.
My aim? A menu that's fuss-free but flavor-packed. No matter the tailgate I am going to ensure there is a dip and sliders. Game Day isn't complete without delectable sliders, topped with Kraft's Buffalo Mayo. Make a spicy Velveeta queso by mixing some melted Velveeta with spicy tomatoes and chiles and you've concocted an irresistible game day dip.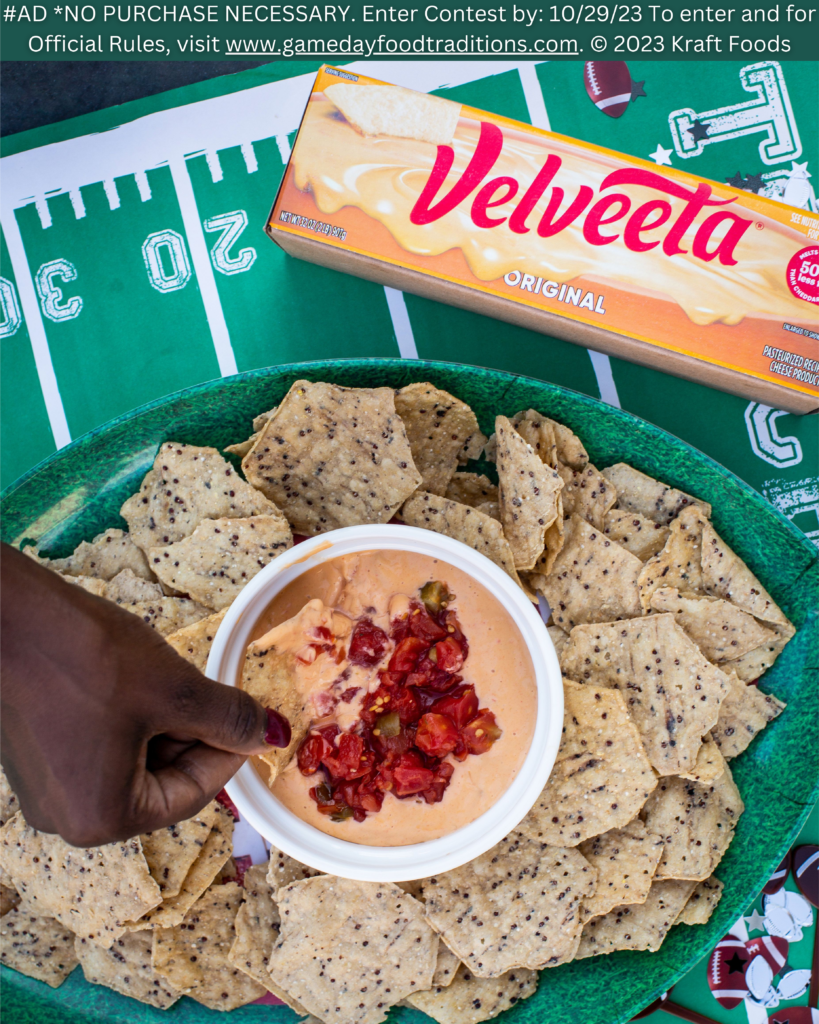 Spicy Velveeta queso
Ingredients:
1 lb (16 oz) Velveeta Cheese
1 can (10 oz) Diced Tomatoes & Green Chilies
Directions
In a medium-sized saucepan, combine the cubed Velveeta and the can of diced tomatoes and green chiles (do not drain).
Place the saucepan on the stove over medium heat.
Stir the mixture frequently until the Velveeta is completely melted and the ingredients are thoroughly combined. This should take about 5-7 minutes.
Once the dip is melted and smooth, reduce the heat to low to keep the dip warm while serving.
Serve with your favorite chips, crackers, or fresh vegetables.
Trust me, appetizers like these never fail to score with our guests. We Cheer: Our enthusiasm knows no bounds! "First down, first down, on our way to a touchdown!" is but one of the many chants that reverberate through our gatherings at home and at the stadiums.
You have to add a clap at the end of the chant. We Host: As the designated tailgating host family, we pride ourselves on being the quarterbacks of the day. This involves more than just grilling – we go all out with decor, making sure the ambiance is just right. And, even if the scoreboard isn't in our favor, our guests depart with memories of an epic party. Because really, what's Game Day without the beloved family traditions that accompany it?
We Celebrate: Win or Lose, we know we won the tailgate. From the sizzling grills to the laughter ringing out among friends and family, our tailgate is unmatched. It's not just about the score on the board; it's about the memories made, the bonds strengthened, and the traditions upheld. No matter the outcome of the game, in our hearts, we've always claimed victory at the tailgate. On the topic of traditions, I've teamed up with my friends over at Kraft and Velveeta. They're offering a fantastic opportunity for you to share your Game Day traditions and potentially win big – did I mention you can enter for the chance to win $10,000? Talk about starting the season with a bang! Discover more at gamedayfoodtraditions.com.
*NO PURCHASE NECESSARY. Enter Contest by: 10/29/23. To enter and for Official Rules, visit www.gamedayfoodtraditions.com. © 2023 Kraft Foods