When the word steak frites comes out it is something that sounds super fancy, very high-end fine dining, right? What if I told you that steak frites is something SUPER EASY to make, and even easier to wow just about anyone in your life that tries it? Curious how to make this delicious dish? Keep reading to see how.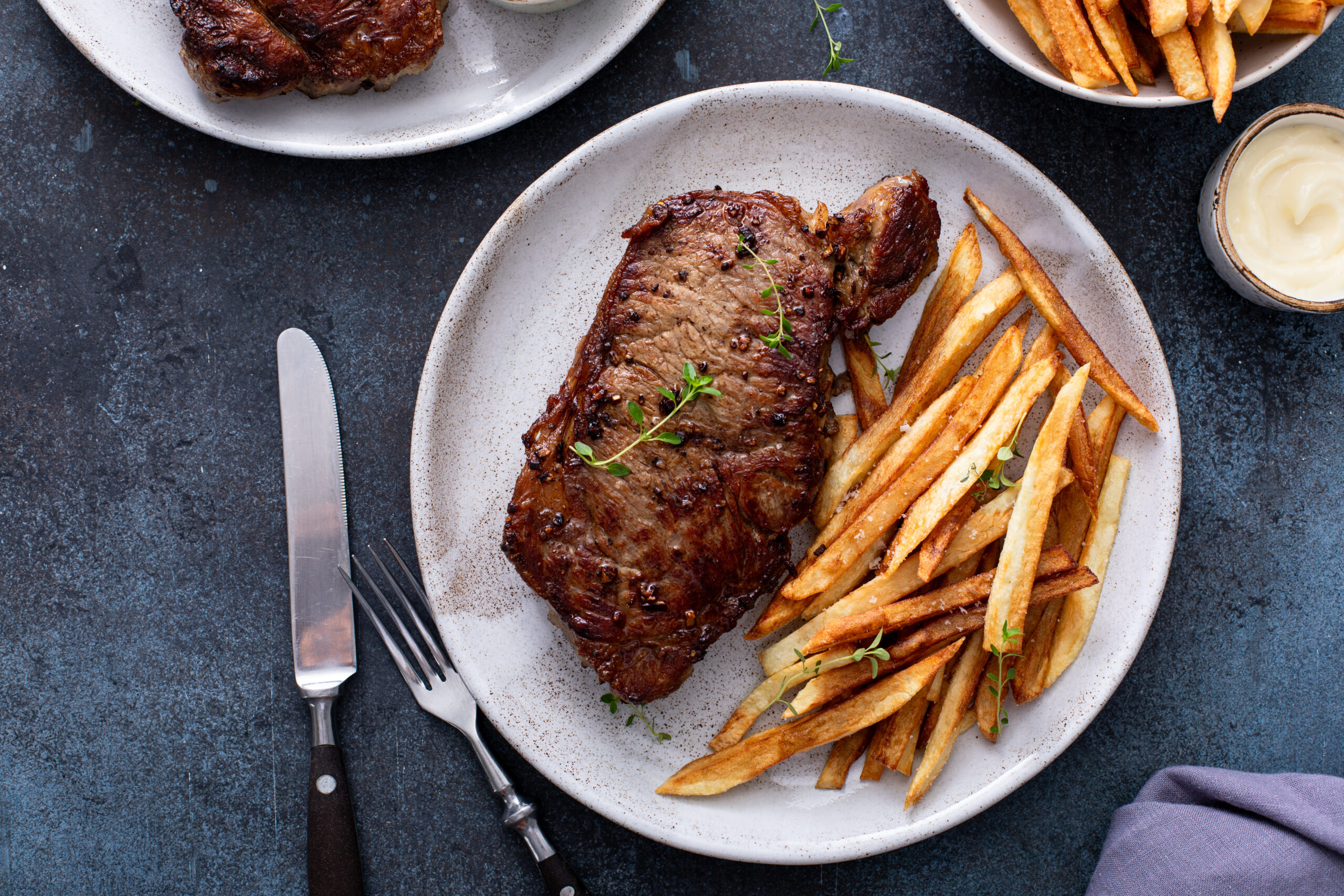 WHAT IS STEAK FRITES? Steak frites is a classic French dish that basically is steak and fries in translation. The steak is typically simple and just seasoned with a little salt and pepper before being pan-seared or grilled to delicious perfection. The frites (also known as fries) as thin-cut and deep fried to become crisp on the outside and fluffy and delicious on the inside. Basically frites are the perfect version of french fries.
When it comes to the perfect steak fries, the most important aspect of this recipe is that you use some type of beef steak. We like to use a nicely marbled and tender cut like a ribeye steak, top sirloin or NY strip. So in this recipe we are going to use a delicious cut of a New York Strip Steak. The cut of this steak paired with a delicious garlic aioli sauce is literally perfection. A few other great sauces that would accompany this recipe perfectly are: a chimichurri sauce, a garlic béarnaise sauce or a herb garlic butter would be incredible and super easy to make in a flash.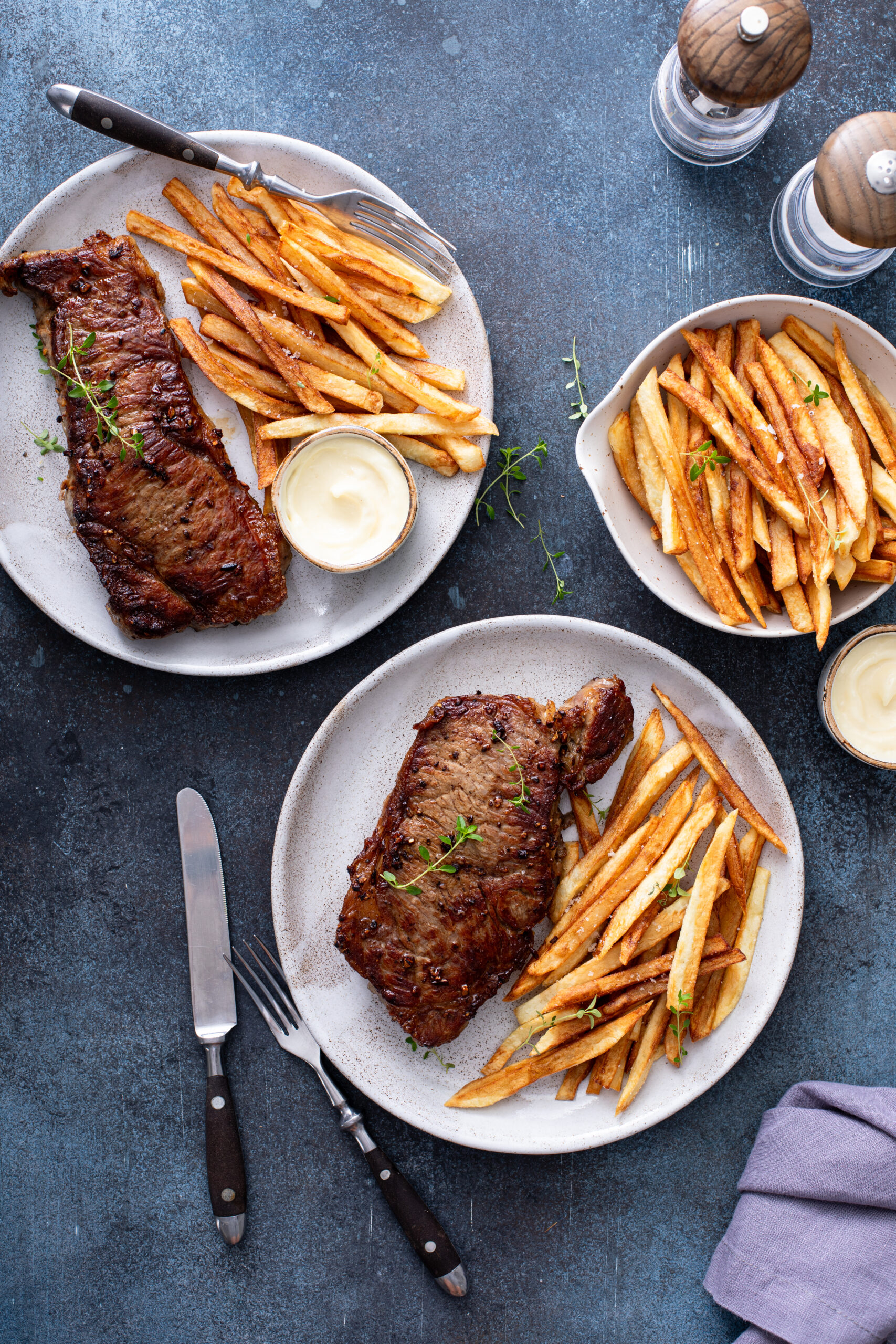 THE PERFECT steak frites 
INGREDIENTS
For the Steak:
2 New York strip steaks (about 1 inch thick)
Salt and freshly ground black pepper
2 tablespoons vegetable oil
2 tablespoons unsalted butter
2 garlic cloves, minced
2 sprigs of fresh Rosemary 
 For the Frites: ( you can use frozen) 
4 large russet potatoes
Vegetable oil for frying
Salt
INSTRUCTIONS
1. Preheat the oven to 400°F (200°C). Place a baking sheet inside the oven to preheat as well.
 2. Start by preparing the frites. Peel the potatoes and cut them into long, thin strips, about 1/4 inch thick. Rinse the potato strips under cold water to remove excess starch, then pat them dry with a clean kitchen towel.
 3. In a large pot or deep fryer, heat vegetable oil to 325°F (165°C). Carefully add the potato strips in batches, frying them for about 4-5 minutes or until they are lightly golden. Remove the partially cooked frites and set them aside on paper towels to drain excess oil.
 4. Increase the oil temperature to 375°F (190°C). Return the partially cooked frites to the hot oil in batches and fry them again for another 2-3 minutes until they become crispy and golden brown. Remove from the oil, drain, and sprinkle with salt to taste. Keep the frites warm in the oven while you cook the steaks.
 5. Season the New York strip steaks generously with salt and freshly ground black pepper on both sides.
 6. Heat a large skillet over high heat. Add the vegetable oil and heat until it begins to shimmer. Carefully place the steaks in the hot skillet and sear them for about 3-4 minutes on each side for medium-rare (adjust cooking time according to your preferred doneness). Add the butter, minced garlic, and fresh thyme to the skillet, basting the steaks with the melted butter mixture.
 7. Remove the steaks from the skillet and let them rest on a cutting board for a few minutes to allow the juices to redistribute. Slice the New York strip steaksagainst the grain into thin strips.
 8. Serve the steak frites by placing the sliced New York strip steak on a plate alongside a generous portion of crispy frites served with garlic aioli ketchup.
Enjoy!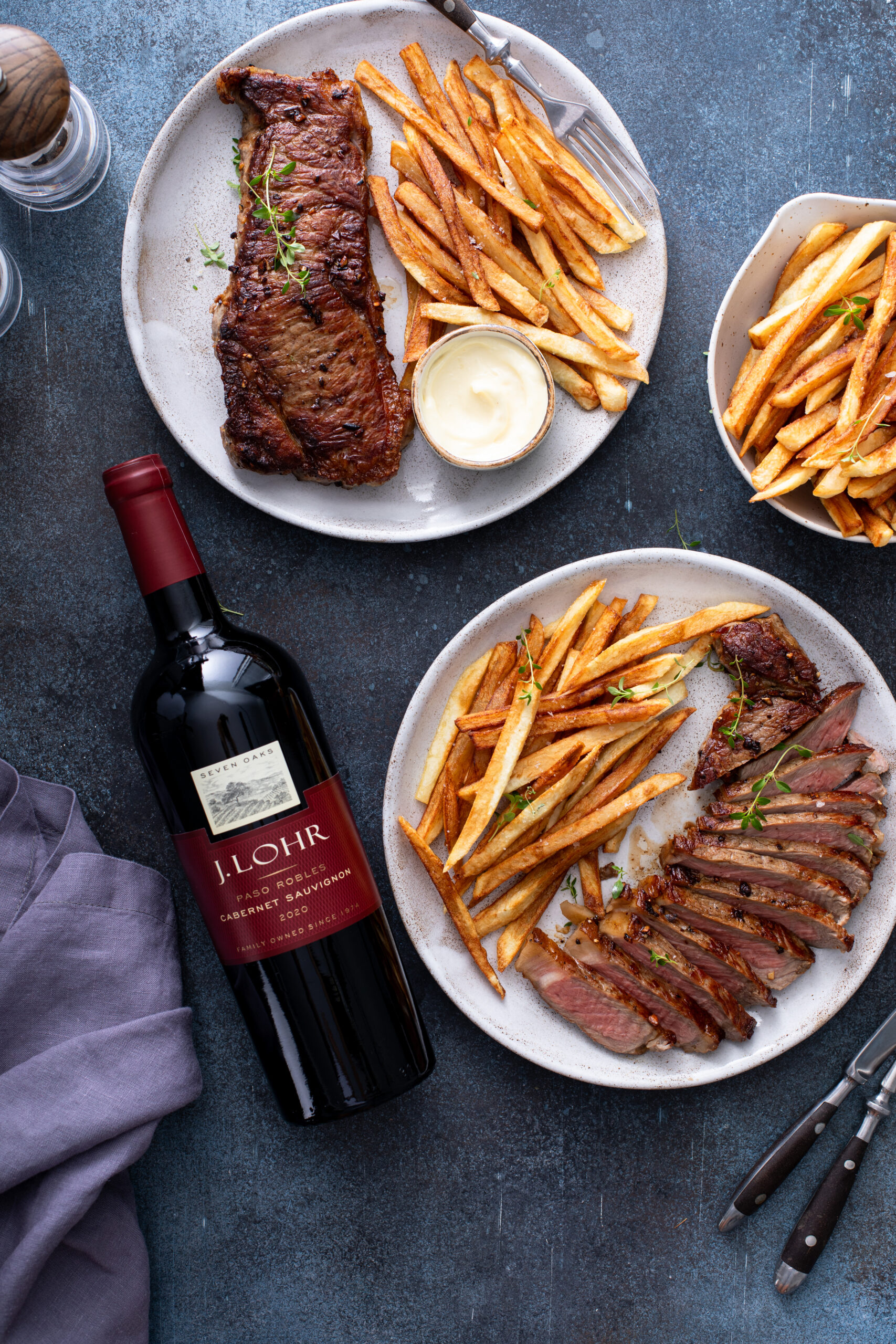 To keep the fine dining effect at home up a notch, pairing a great wine with our steak fries recipe is important. For this recipe we are using a gorgeous bottle of J.Lohr Seven OaksCabernet Sauvignon. This wine is simply delicious and pairs brilliantly with this meal. A unique blend of ripe fruits and aromas of black cherry and currants paired with a little toast of vanilla and hazelnut- this juicy red wine helps effortlessly infuse the fine dining aspect of this impressive recipe. You could also pair this meal with a great Red Blend, or even a little Syrah to help accent the tenderness of the meat.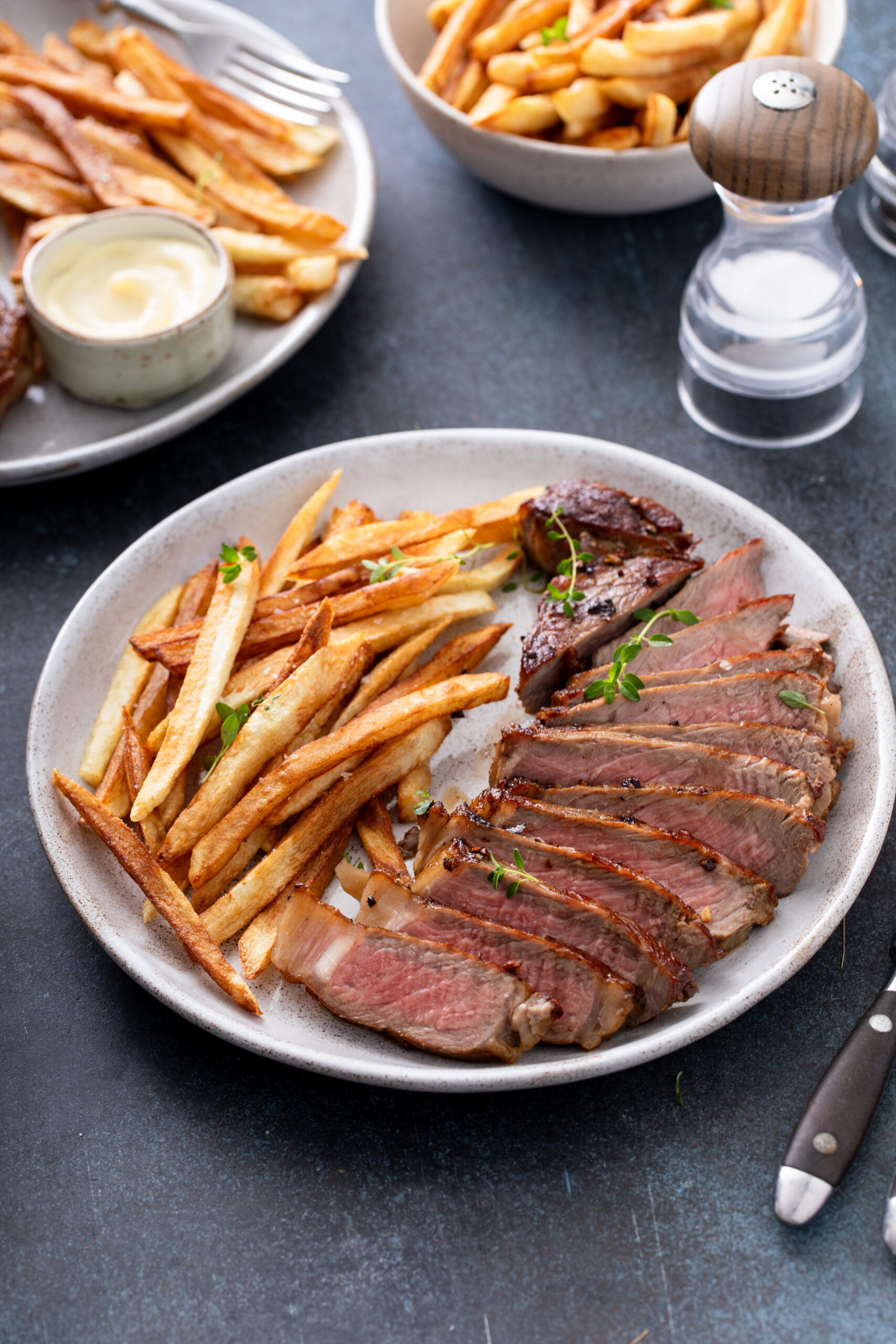 This recipe is something the entire family will love, it is quick and simple yet super impressive comfort food. Looking for the perfect date night at home meal- this is it! Who doesn't want to bring a little bit of fine french classic dining into the comfort of their home? If you do be sure to tag me on Instagram or let me know if you loved it in the comments below!
SAVE NOW, MAKE LATER: