Apple recipes are the perfect recipe to incorporate in the fall but also they make get recipes for year round. This Air Fryer Apple Fries recipe is pure perfect – with simple ingredients and delicious flavors, your friends and family are sure to ask you for your recipe! Keep reading to see how to make this treat ASAP!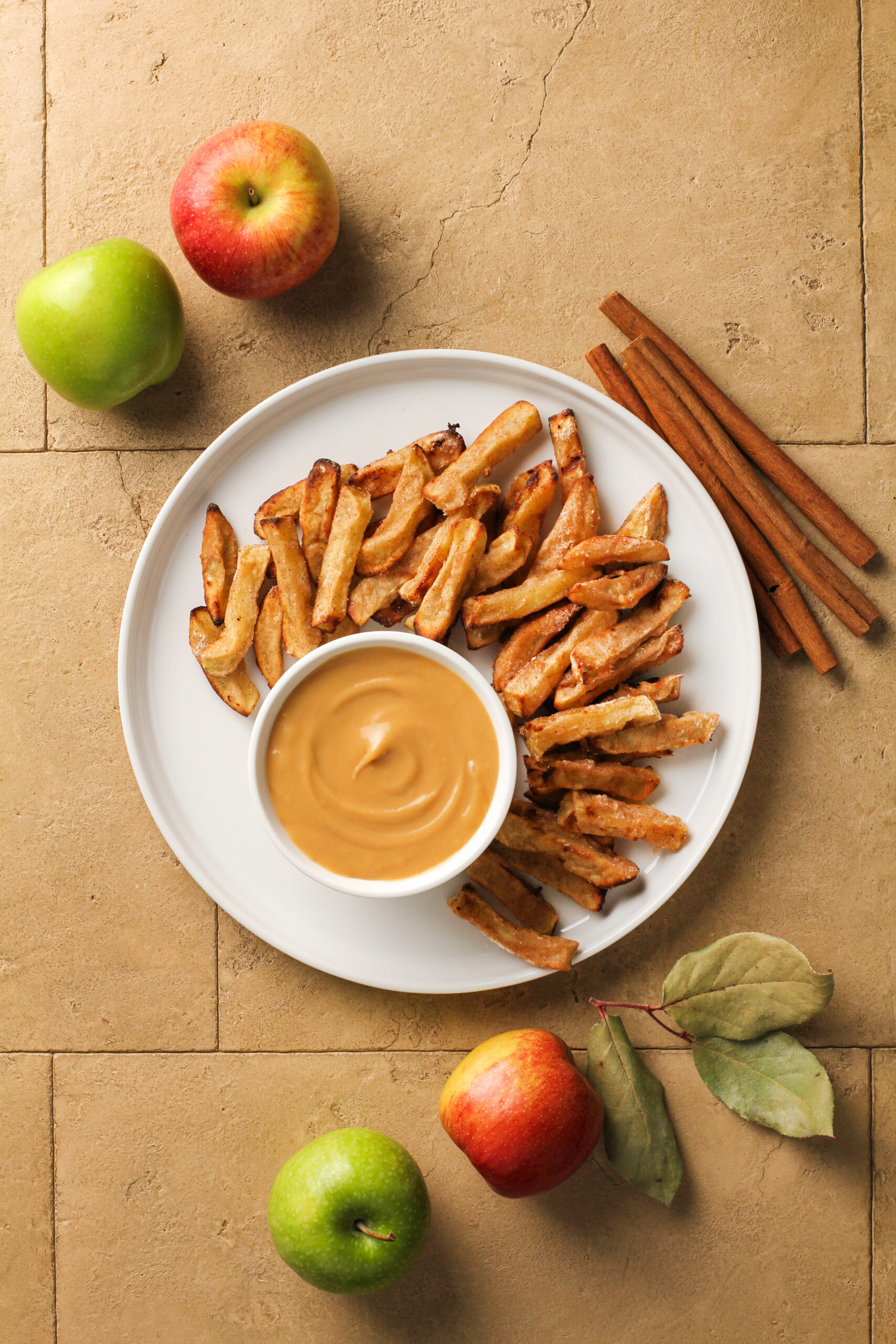 I love that this recipe is super easy. All you do is just combine peeled crisp apple wedges that get lightly battered and fried in a pan, then sprinkled with a delicious cinnamon+sugar mix. For me the dipping sauce is also a major stand out- seriously it is that good!
HELPFUL TIPS: When it comes to making apple fries, I recommend keeping the slices rather thick. White thin ones are great , the thicker ones have a tiny bit of crunch and more apple flavor. Also be sure to peel the apple as the skin doesn't do well in the air fryer.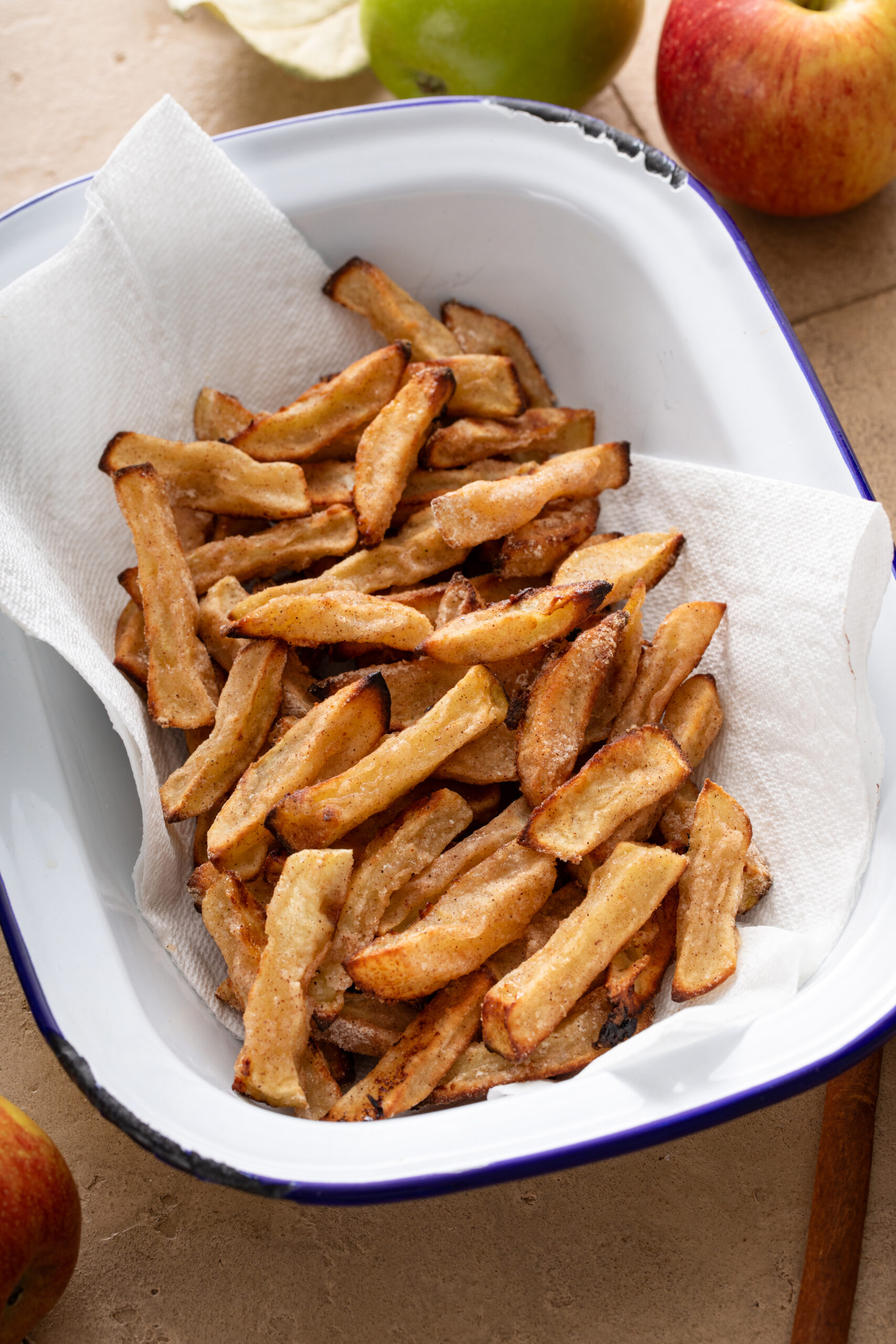 Air Fryer Apple Fries with Caramel Cream Dip
INGREDIENTS
For the Apple Fries:
2 large apples (such as Granny Smith or Honeycrisp)
1 tablespoon lemon juice
1/2 cup all-purpose flour
1/4 cup granulated sugar
1 teaspoon ground cinnamon
Pinch of salt
Cooking spray or oil spray
For the Caramel Cream Dip:
1/2 cup caramel sauce
1/2 cup cream cheese, softened
1/4 cup powdered sugar
1/2 teaspoon vanilla extract
INSTRUCTIONS
Preheat your air fryer to 400°F (200°C).
Peel the apples and cut them into thin fries-like strips, about 1/4 inch thick.
Place the apple strips in a bowl and toss them with lemon juice to prevent browning.
In a separate bowl, mix together the flour, granulated sugar, cinnamon, and salt.
Take a few apple strips at a time and toss them in the flour mixture until well coated.
Shake off any excess flour and place the coated apple strips on a plate.
Lightly spray the air fryer basket or tray with cooking spray or oil spray to prevent sticking.
Arrange the coated apple strips in a single layer in the air fryer basket or tray. You may need to work in batches depending on the size of your air fryer.
Cook the apple fries in the preheated air fryer for about 8-10 minutes, flipping them halfway through, until they are golden brown and crispy. Keep a close eye on them as cooking times may vary based on the thickness of your apple strips.
While the apple fries are cooking, prepare the caramel cream dip.
In a bowl, combine the caramel sauce, softened cream cheese, powdered sugar, and vanilla extract.
Mix well until smooth and creamy.
Once the apple fries are done, transfer them to a serving plate or basket.
Serve them warm with the caramel cream dip on the side.
Enjoy!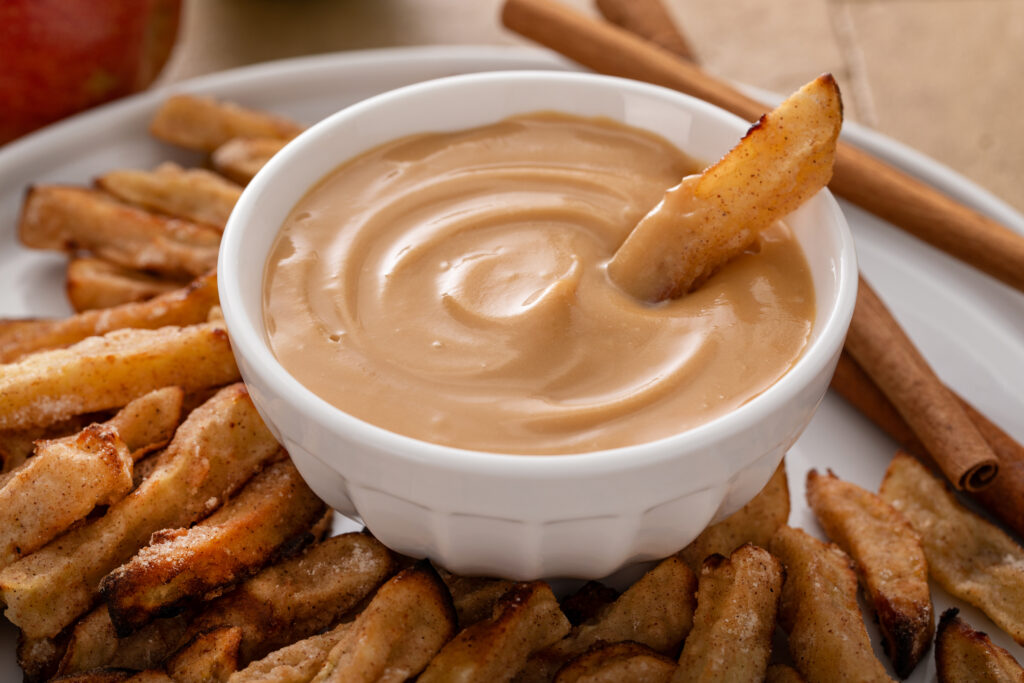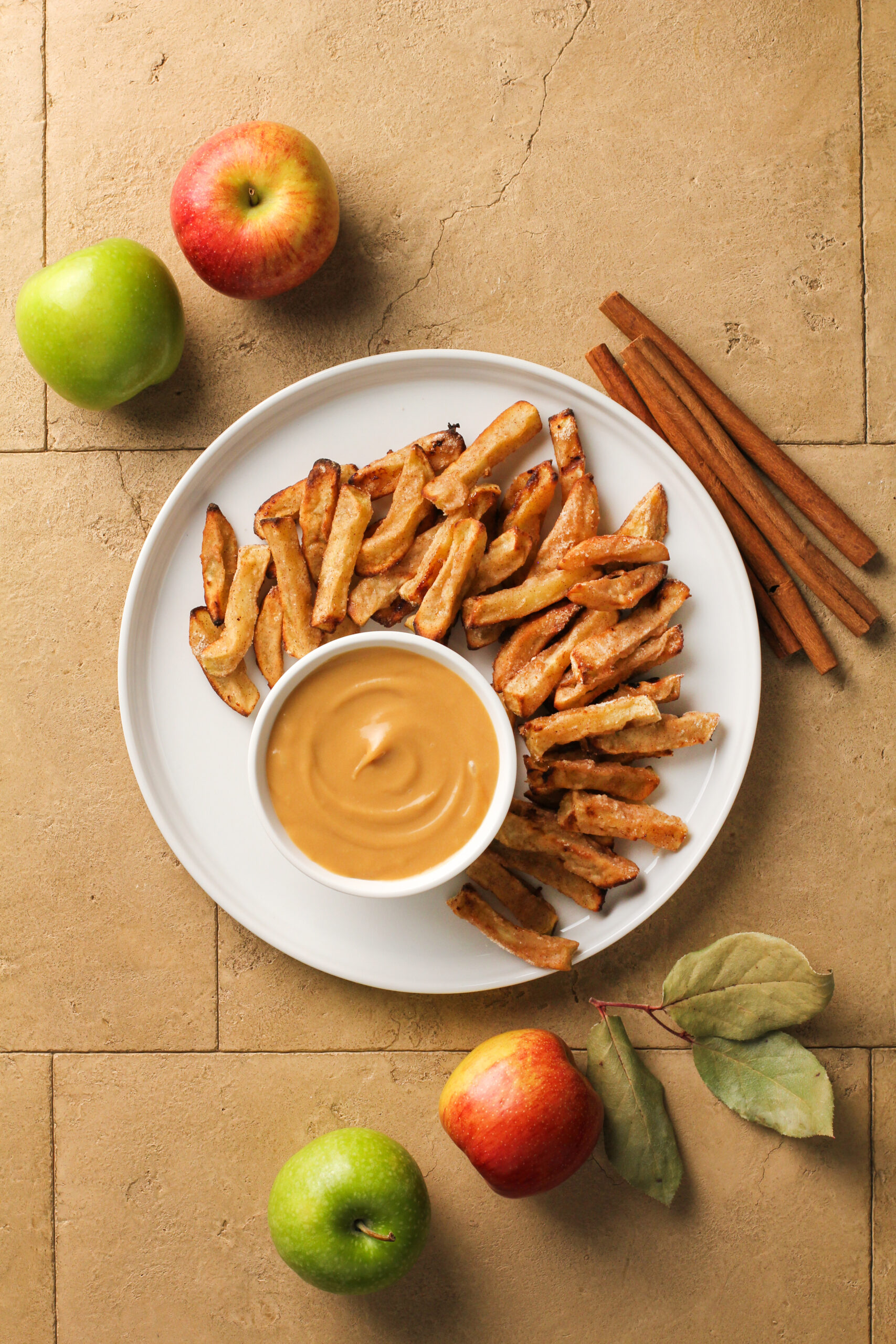 This recipe is something the entire family will love, as it is quick, easy and super delicious. I promise you – your taste buds will not be disappointed. I cannot wait for you to try this delicious sweet treat! If you do be sure to tag me on Instagram or let me know if you loved it in the comments below!
SAVE NOW, MAKE LATER: