I can't think of anything better than lunch and a latte at a charming place like Le Bon Nosh. Certainly, I'm putting forth the most effort while going for coffee in this dress, but why save your lovely clothes for only special occasions? Every day should be celebrated!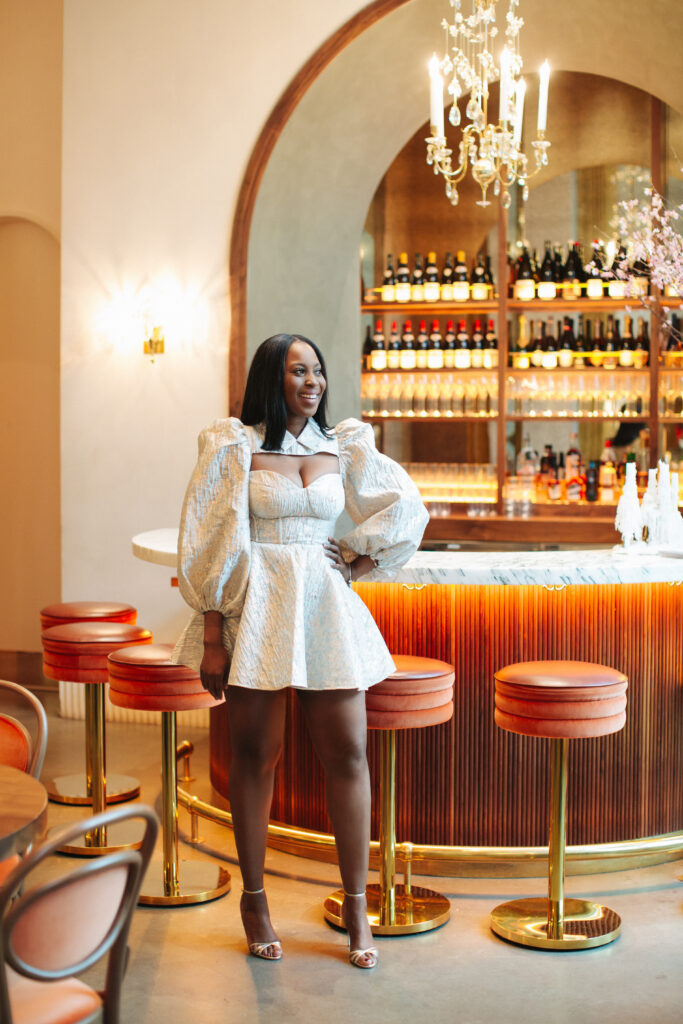 Need a statement dress that effortlessly exudes elegance and sophistication? Look no further than the ASOS Luxe Peekaboo Mini Dress in Silver Jacquard. I know it's over the top, but that's why I love it so much! The intricate jacquard pattern and peekaboo detailing add a touch of romance to this dress, making it perfect for any occasion where you want to make a statement—like a French Cafe! I paired it with some strappy heels and minimal accessories to let the dress really shine.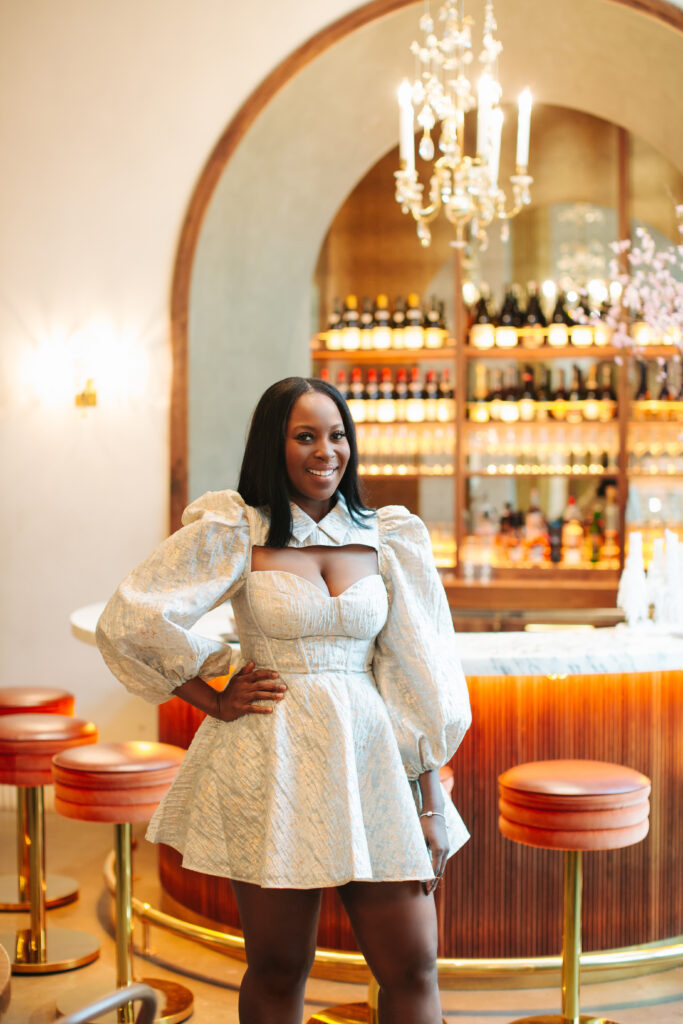 What I Love About This Peekaboo Mini Dress
The spread collar, which gives this dress a distinctive and contemporary twist, is without a doubt the star of the show here. It distinguishes it from other dresses I own by giving it a polished, sophisticated appearance. The volume sleeves, which are not overdone in this instance, are easily flattering on all body types, and the mini length adds an energetic and fun vibe while still maintaining an air of elegance. And the dress' necessary zip-back fastening makes it simple to put on and take off without the need for assistance, which is a huge plus in my book!
Whether you're attending a cocktail party or a romantic dinner date, this ASOS Luxe Peekaboo Mini Dress in Silver Jacquard will absolutely make you feel confident and beautiful. Its timeless design ensures that it will remain a staple in your wardrobe.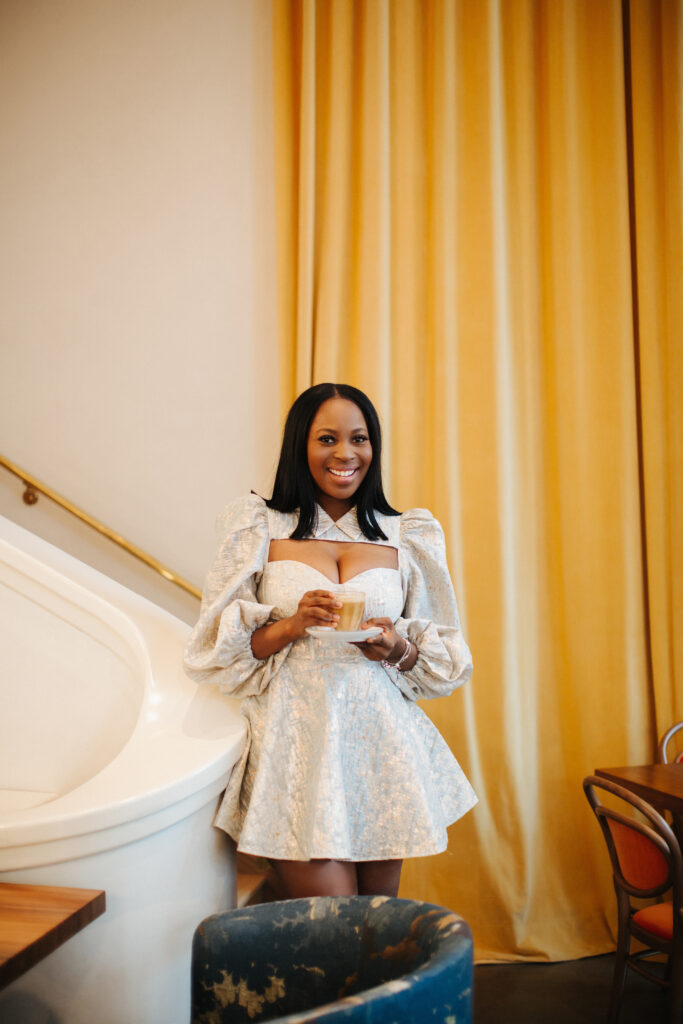 About the Vibe and Delicious Food at Le Bon Nosh
Farm-to-table cuisine is served at Le Bon Nosh, a French American Cafe in Buckhead and the dining experience is heightened by the establishment's stylish and vivacious French atmosphere. What sets them apart is their commitment to using fresh, locally sourced ingredients in their dishes.
From the lattes, food, and ambience to the impeccable service, this place really took my breath away. The moment I stepped inside Le Bon Nosh, I was greeted by the aroma of freshly brewed coffee, enticing me to indulge in one of their expertly crafted lattes. As I sipped on my drink, I couldn't help but admire the attention to detail in every dish that came out of the kitchen. Each plate was truly a work of art, beautifully presented, and bursting with flavors that danced on my palate. From classic savory dishes like Tartines to favorites like Chocolate Croissants, there is something for everyone to enjoy.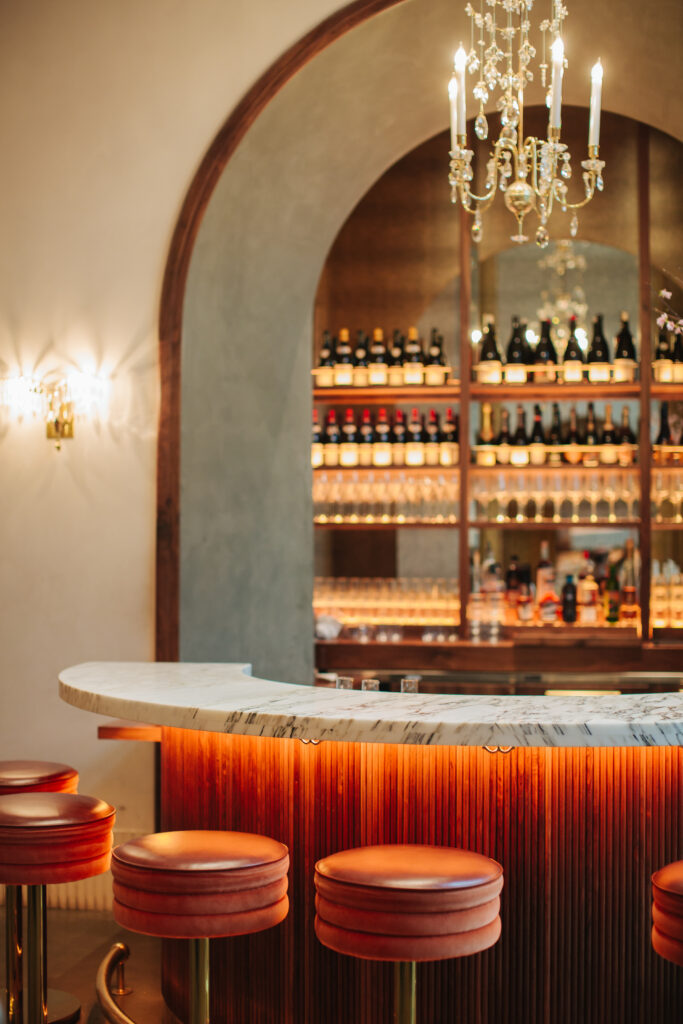 My Must-Have Food Recommendations
Mushroom tartine, wood-fired roasted mushrooms, stracciatella, gremolata
I can't wait to hear your thoughts on Le Bon Nosh's culinary perfection, which they have truly mastered. You won't want to miss out on this elegant dining experience, so dress up and bring a friend!
Follow my shop, @eatingwitherica, on the @shop.LTK app to shop this post and get my exclusive app-only content! #liketkit https://liketk.it/429qX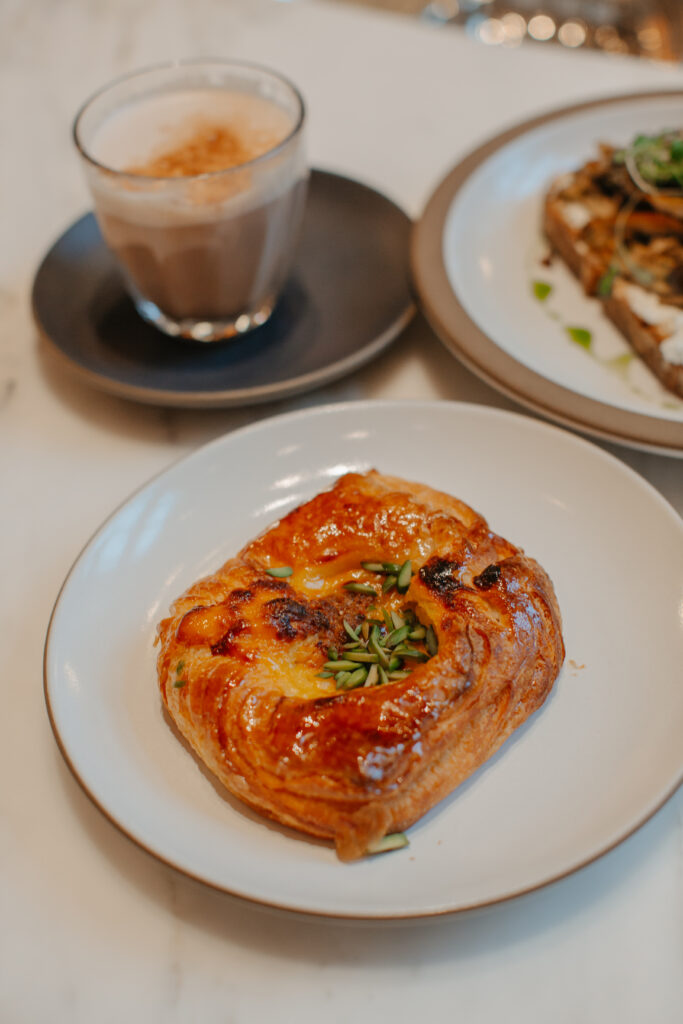 READ NOW, SAVE FOR YOUR NEXT ATL HOTSPOT LATER: