Anyone else dreaming of apples lately? I know, I know they are more of a fall thing, but for me personally I think apples are more a year round thing, am I right? Lately I have been craving an apple pie, so today I decided to make my favorite perfect yet super easy Apple Gazette. This delicious treat is filled with sweet, crisp apples tossed in the most delicious cinnamon sugar coating all while sitting perfect in a flaky pie dough drizzled with caramel cream sauce. Is your mouth watering yet? Keep reading to see how to make this delicious sweet treat today!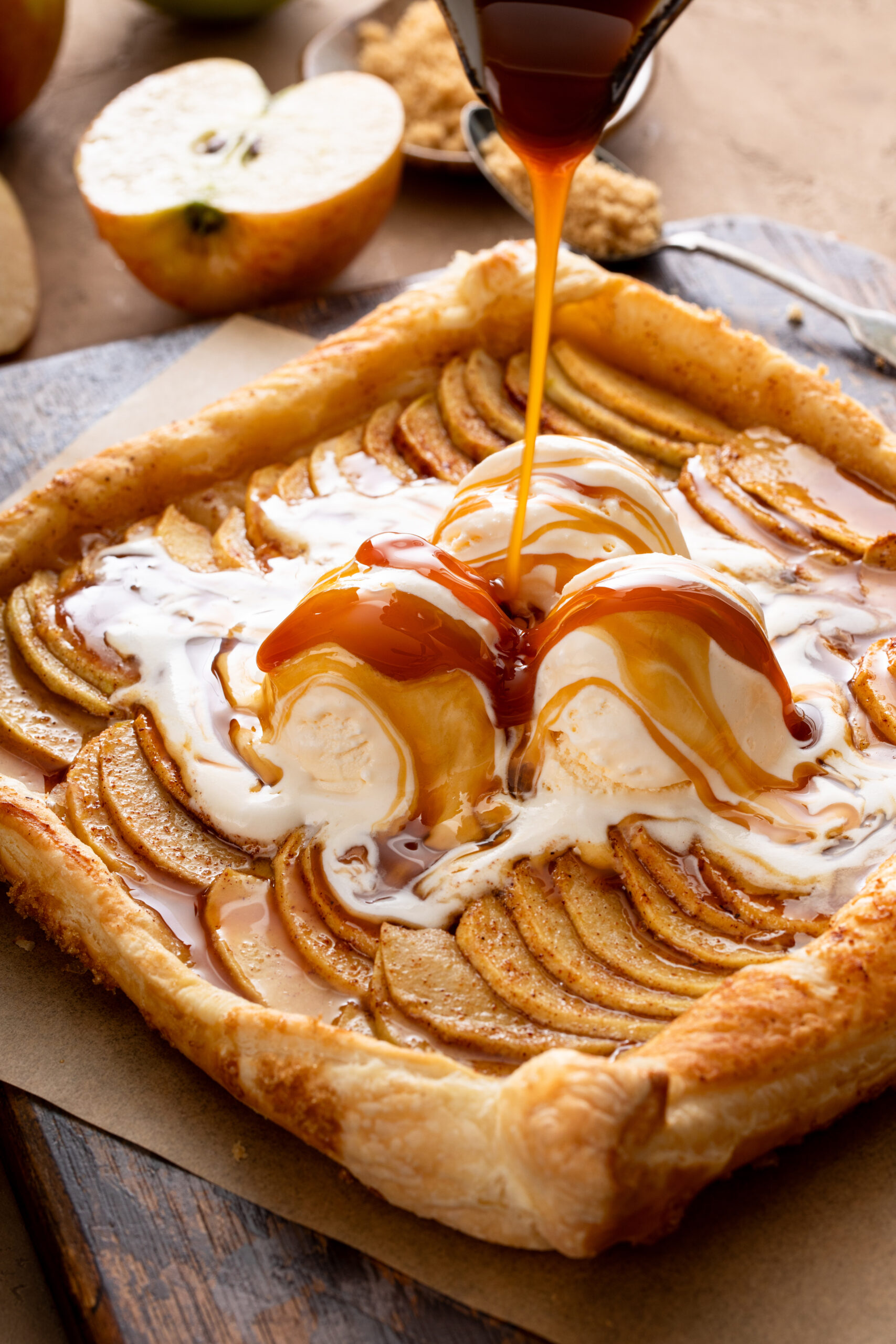 If you have never had an Apple Gazette before, it is actually SOOOOOO much easier than making an actual pie. An Apple Gazette is a french term that basically is equivalent to flat round or freeform crust like cakes. You get all the deliciousness that you get with an apple pie, but without the added stress of perfecting the crust. Instead the Apple Gazette crust is buttery and flakey to perfection. Sounds good, right?
In this recipe Apples are obviously the star of the show, making up the filling after they are tossed in a light layer of cinnamon sugar. But you can also make various options of a gazette ranging from sweet with fruits or savory with things like mushrooms, tomatoes, cheese, etc.. Right since I am on an apple kick I am obsessing over the sweetness of the apples, and then have been topping this delicious treat with a little but of ice cream and a gooey delicious caramel cream sauce. Literally perfection in your mouth with every bite!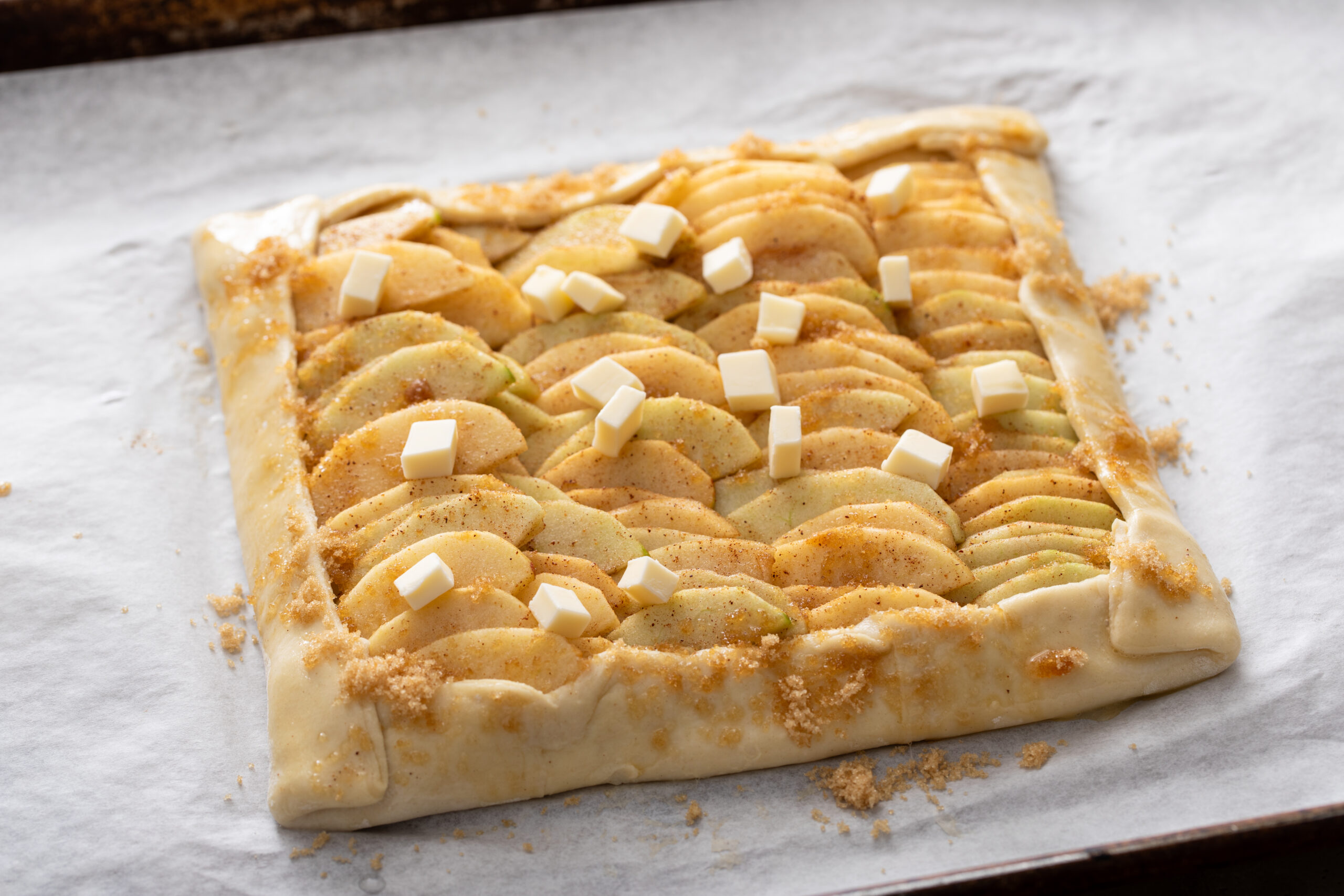 THE PERFECT Apple Gazette 
INGREDIENTS
1 sheet of store-bought puff pastry, thawed
4 large apples—peeled, cored and sliced
1/2 cup sugar
1/2 teaspoon cinnamon
1/2 teaspoon nutmeg
1 tablespoon lemon juice
1 egg, beaten for egg wash
1 tablespoon butter, cut into small pieces
If opting to enjoy this for dessert garnishes vanilla bean ice cream & 2 tablespoons of carmel, brown sugar for sprinkling
INSTRUCTIONS
Prepare the puff pastry: Preheat your oven to 400°F (200°C). Roll out the thawed puff pastry on a lightly floured surface to remove the creases.
Then, transfer it to a large baking sheet lined with parchment paper.
Prepare the filling: In a large bowl, toss the sliced apples with the sugar, cinnamon, nutmeg, and lemon juice. Arrange the apple slices on the puff pastry, leaving about a 1-inch border.
Fold the puff pastry edge up and over the apples to create a border.
Brush the beaten egg over the crust.
Dot the top of the apples with the pieces of butter and sprinkle the crust and top of the apples lightly with additional sugar.
Bake the galette for about 20-25 minutes, or until the pastry is puffed and golden brown, and the apples are tender.
Transfer the baking sheet to a rack and let the galette cool for a few minutes.
Then, slide it onto a serving plate using a large spatula or carefully invert the baking sheet over a plate to unmold.
Serve your delicious apple galette warm or at room temperature.
Enjoy!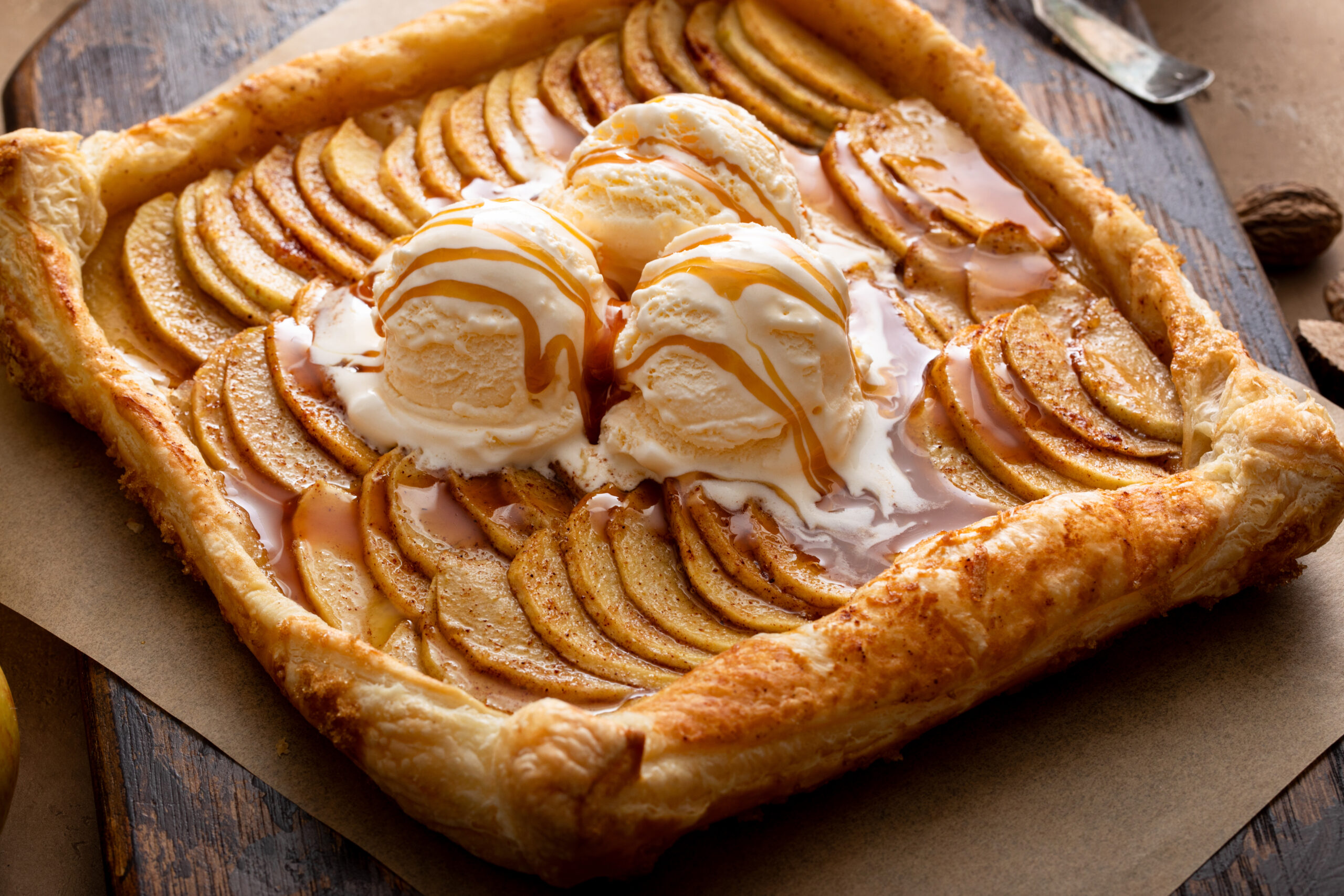 This recipe is something the entire family will love, as it is quick, easy and super delicious. If you have been afraid to make an apple pie before I HIGHLY recommend trying to make this delicious Apple Gazette. I promise you – your taste buds will not be disappointed.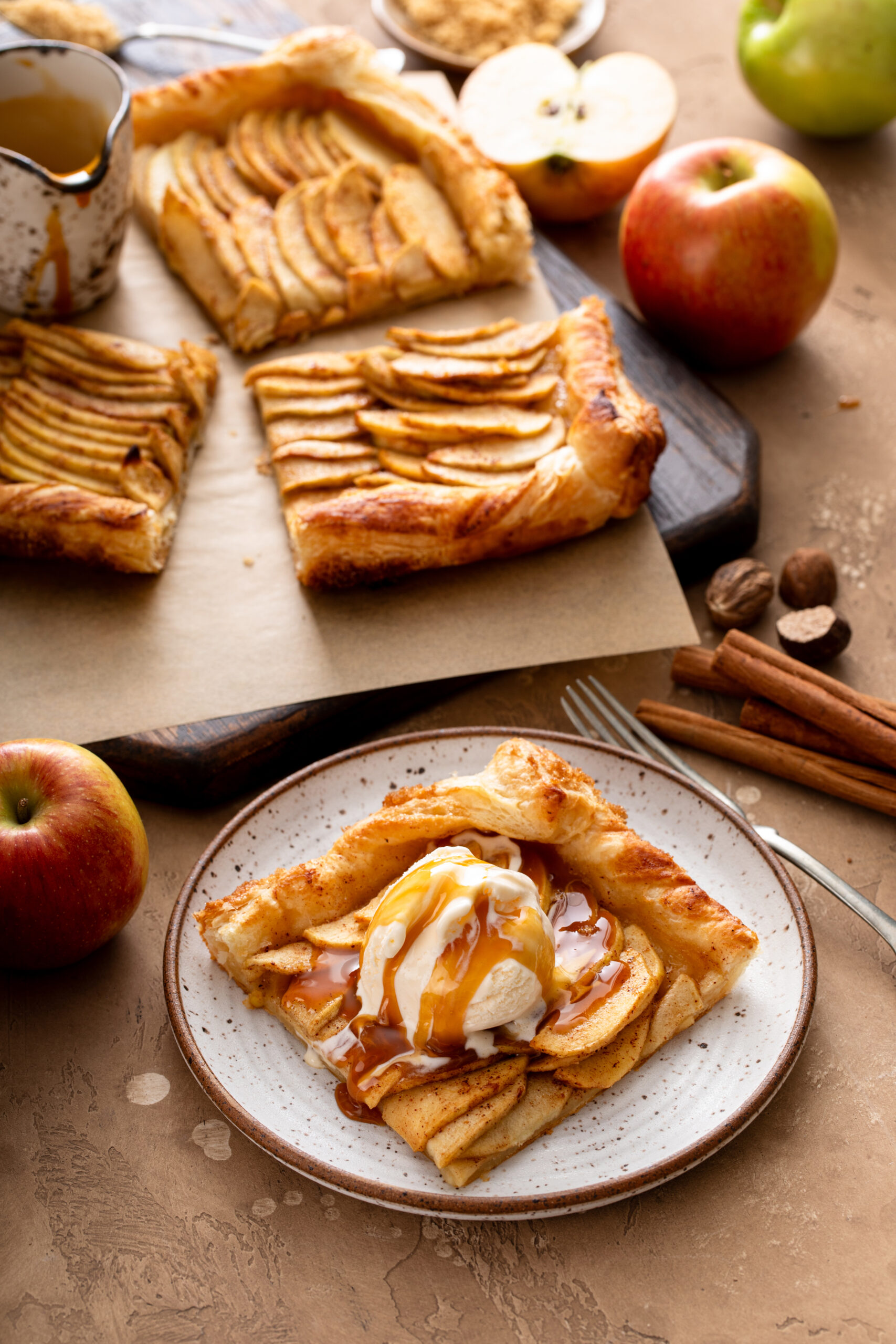 I cannot wait for you to try this delicious sweet treat! If you do be sure to tag me on Instagram or let me know if you loved it in the comments below!
SAVE NOW, MAKE LATER: