This Strawberry Lemonade Fruit Pop Mocktail recipe is the perfect refreshing summer drink! It's great for parties, BBQ gatherings, basically anywhere you want easy mocktails for your guests. The best part is it is SUPER easy, very refreshing and hands down one of the best mocktail recipes out there!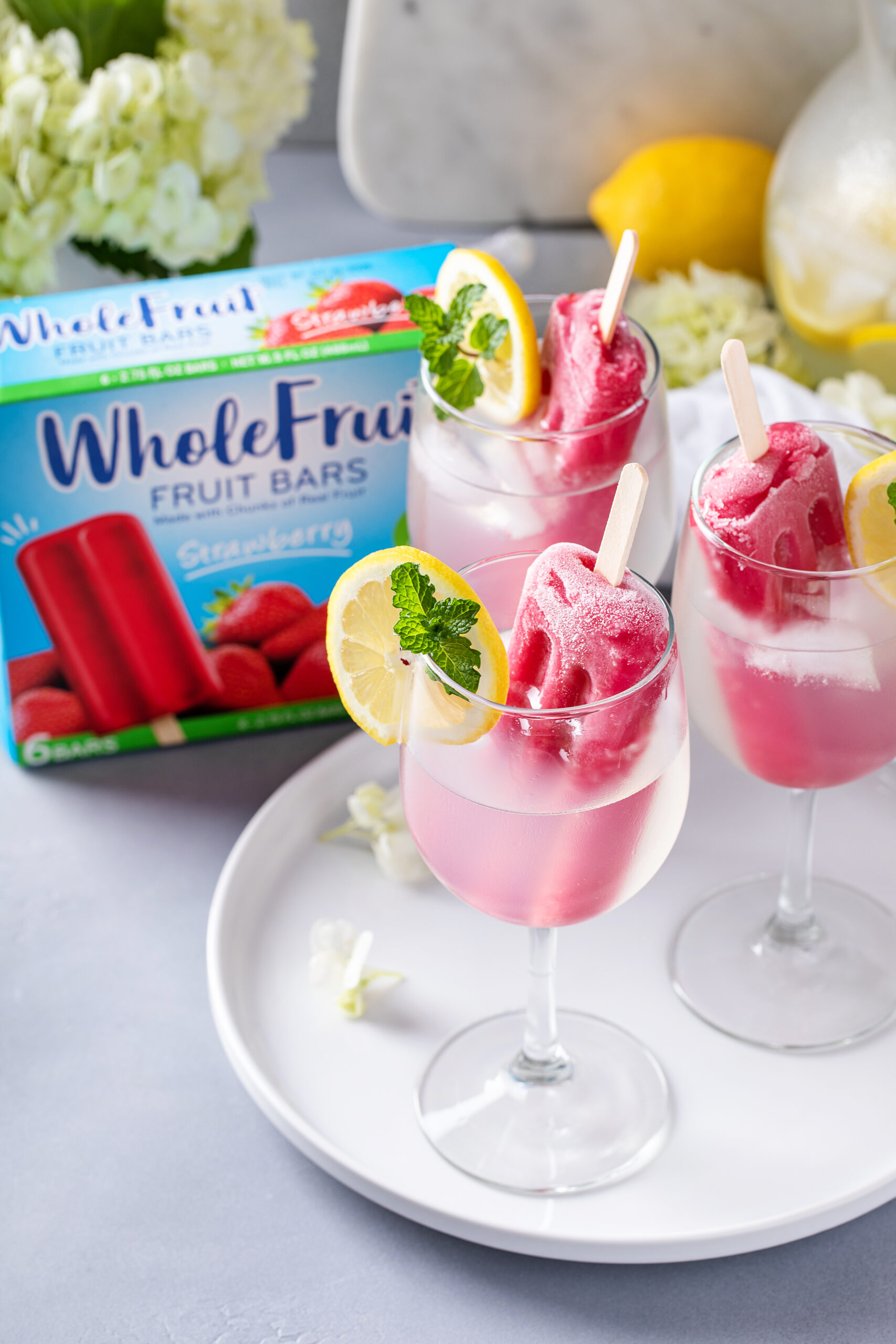 I love that this recipe is a little sweet, fruity, and 100% refreshing. I'll definitely be making these at some of my upcoming backyard gathering throughout the warm weather summer we tend to get in the South. This will be a perfect refreshing sweet treat!
WANT TO MAKE IT A BOOZE COCKTAIL: Add your favorite alcohol to the recipe. I love adding Vodka to Lemonade as it keeps the drink very light and refreshing!
WANT TO ADD EVEN MORE FLAVOR? You can also make this with Limeade for a more citrusy and tangy flavor- paired with the strawberry fruit bars – it is DELICIOUS!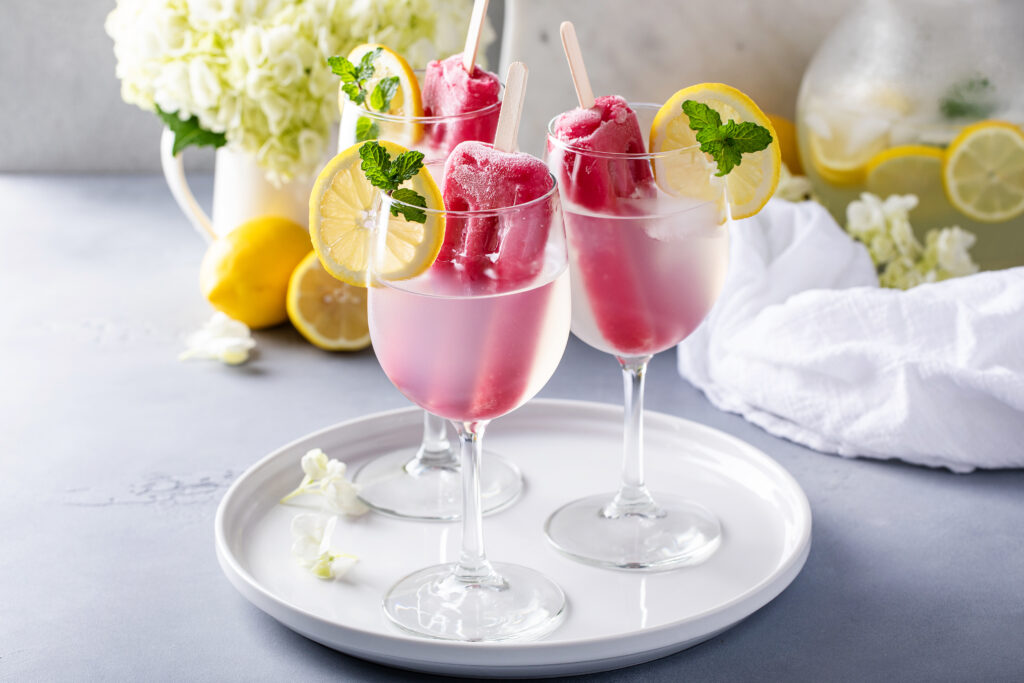 STRAWBERRY LEMONADE FRUIT POP MOCKTAIL RECIPE
INGREDIENTS FOR LEMONADE
** YOU CAN ALSO USE STORE BOUGHT LEMONADE IF WANTED**
¾ cup lemon juice approximately 4-5 lemons
7 ¼ cups water
1 ¼ cups sugar
3 cups ice 
INSTRUCTIONS
Wash then roll then squeeze the juice from lemons until you reach ¾ cup (this should be approximately 4-5 medium lemons).
Alternatively, you can use bottled lemon juice to replace or supplement the fresh lemon juice. Set aside. 
Slice the squeezed lemons and set aside.
To a large pot over medium heat, add the water and sliced lemons. Bring to a slight boil (about 8 minutes).
Add in the sugar and stir until dissolved.
Use a strainer to pour the sugar water into a pitcher to catch any lemon seeds and pulp.
Add in the fresh lemon juice and stir. Add in the ice.
Let chill 2-4 hours in the fridge (or overnight) then enjoy
DIRECTIONS TO CREATE THE MOCKTAILS
Pour Lemonade into a pitcher with ice.  
Garnish Wine Glasses With Mint & Lemons 
Place fruit pops (I used Whole Fruit) in a pretty glass at an angle and pour lemonade on top.
Serve immediately.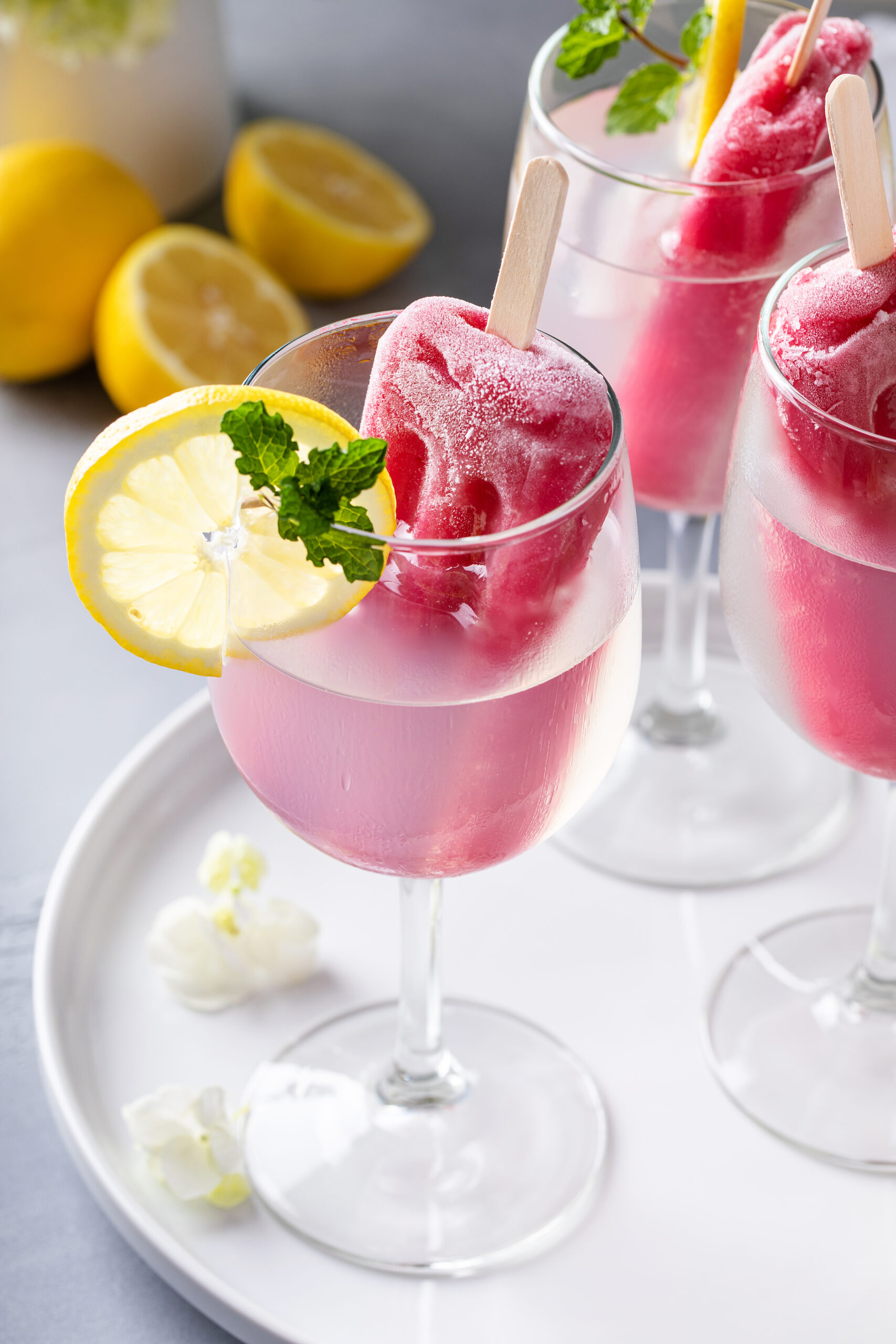 I cannot wait for you to try this amazing mocktail! If you do be sure to tag me on Instagram or let me know if you loved it in the comments below!
SAVE NOW, MAKE LATER: