Have you ever got home and realized you didn't feel like / want to cook a solid home cooked meal? Well, lucky you that is when a great snack supper comes in. As you know I LOVE a great charcuterie board (as well as a burger board, peanut butter board, and the list goes on) so it is no surprise that I am LOVING this fried chicken board. Not only is it fun, its customizable and it is something the entire family will love. Keep reading to see how to make the perfect fried chicken board.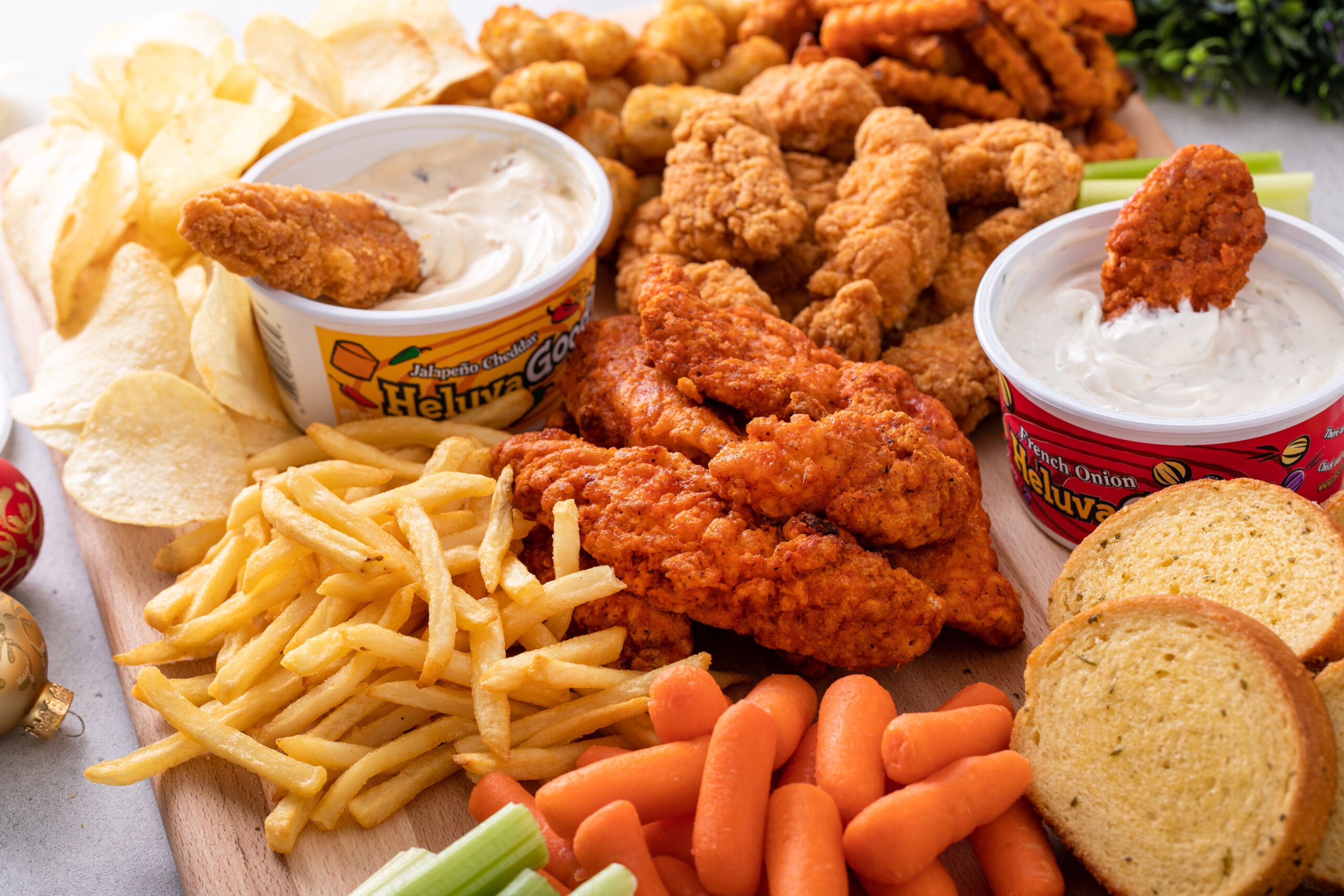 FRIED CHICKEN BOARD TIPS
Tip 1: Get a bit of variety! For this I choose a few different variations of chicken ranging from tenders. But you can do just about anything – wings, thighs, breasts, etc.. You can also pick a variety of seasonings: spicy, mild, regular, etc.. It helps give a variety of shapes, colors and overall dimension to the board.
Tip 2: Buy some garnish! For this I grabbed my favorite garnishments of simple yet easy carrots and celery
Tip 3: Sauce it up! Grab your favorite dipping sauces. I grabbed Jalapeño Cheddar and French Onion for this, but you can grab spicy sauce, BBQ, Ranch, etc…
Tip 4: Add some comfort to the board. Basically surround the board with fries, crinkle fries, tater tots, you name it. I also added in some delicious Texas Toast to give it a bit of extra comfort food vibes.
Tip 5: Relax! When arranging the board, always remember there is NO wrong or right way to do this. Do whatever you think looks appetizing to you and how your guests will love it.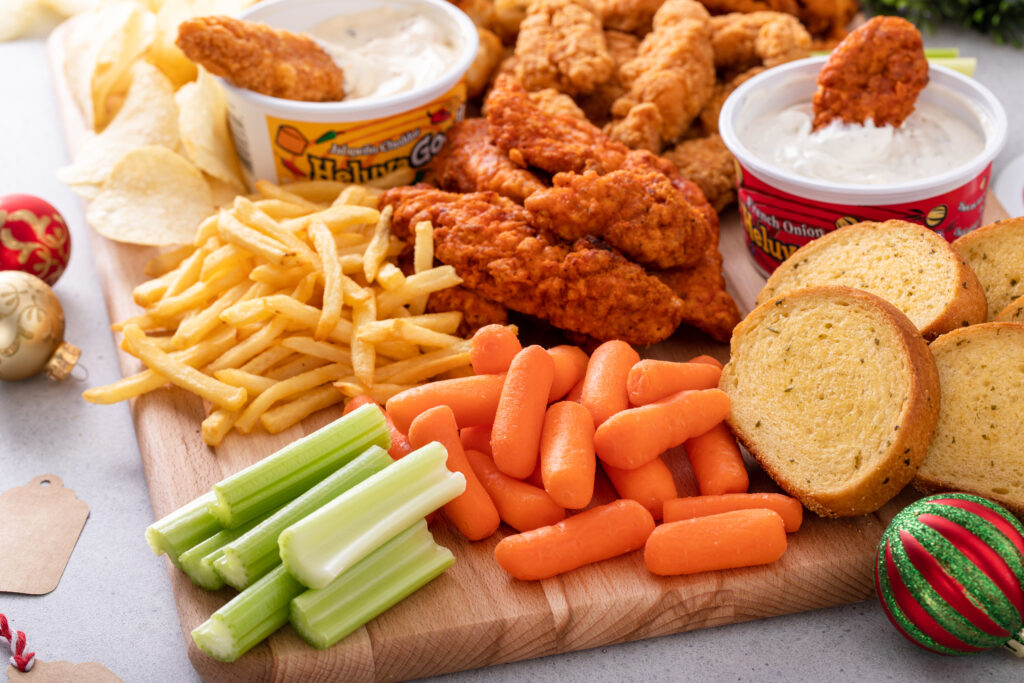 THE PERFECT FRIED CHICKEN BOARD
INGREDIENTS
1 pound Buffalo Chicken Fingers
1 pound of Plain Fried Chicken
1/2 pound of French Fries
1/2 pound of Sweet Potatoes Fries
1/2 pound of Tater Tots
1 cup of Carrots
1 cup of Celery
6 pieces of Texas Toast
1 bag of Plain Potato Chips
Heluva Good! Dip (I love Jalapeño Cheddar and French Onion for this)
INSTRUCTIONS
Arrange all ingredients on a large board of your choosing
Serve immediately
Enjoy!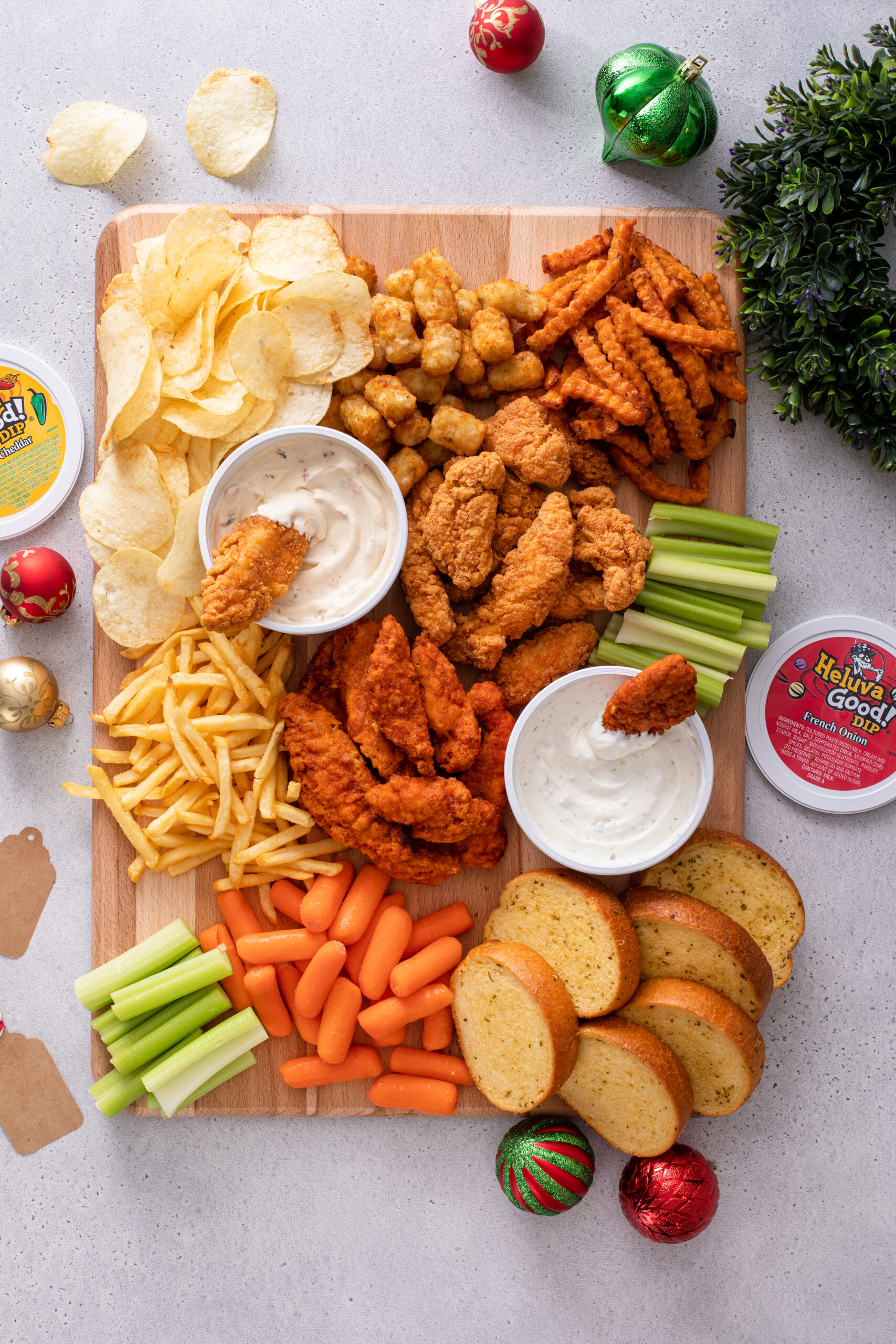 I cannot wait for you to try this awesome fried chicken board idea! If you do be sure to tag me on Instagram or let me know if you loved it in the comments below!
SAVE NOW, MAKE LATER: