This delicious very berry french toast casserole is a crowd pleasure the entire family will love. Not only does it make a delicious breakfast or brunch option- it is perfect to make for just about any holiday!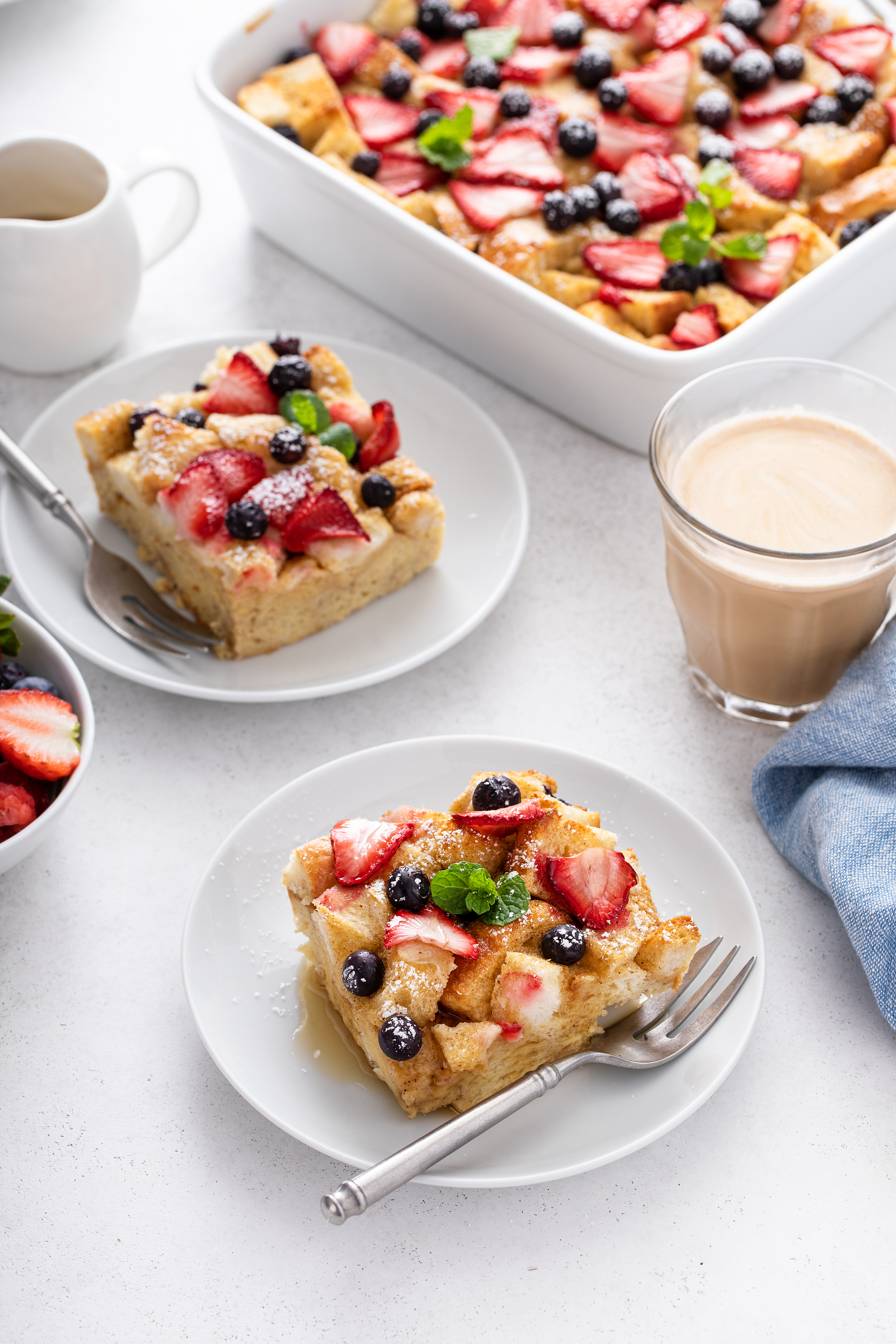 Are you a brunch person? I totally am, and this recipe is pure perfection! Not only is it super special and makes the perfect breakfast option for any holiday, but also it has seriously changed my breakfast/weekend brunching for the good!
I am OBSESSED with the fact that this recipe can be made overnight and prepped ahead of time and just pop into the oven the morning of. The fruity goodness of the two different berries and sweetness of brown sugar and cinnamon just scream DELICIOUS BREAKFAST IS SERVED- am I right?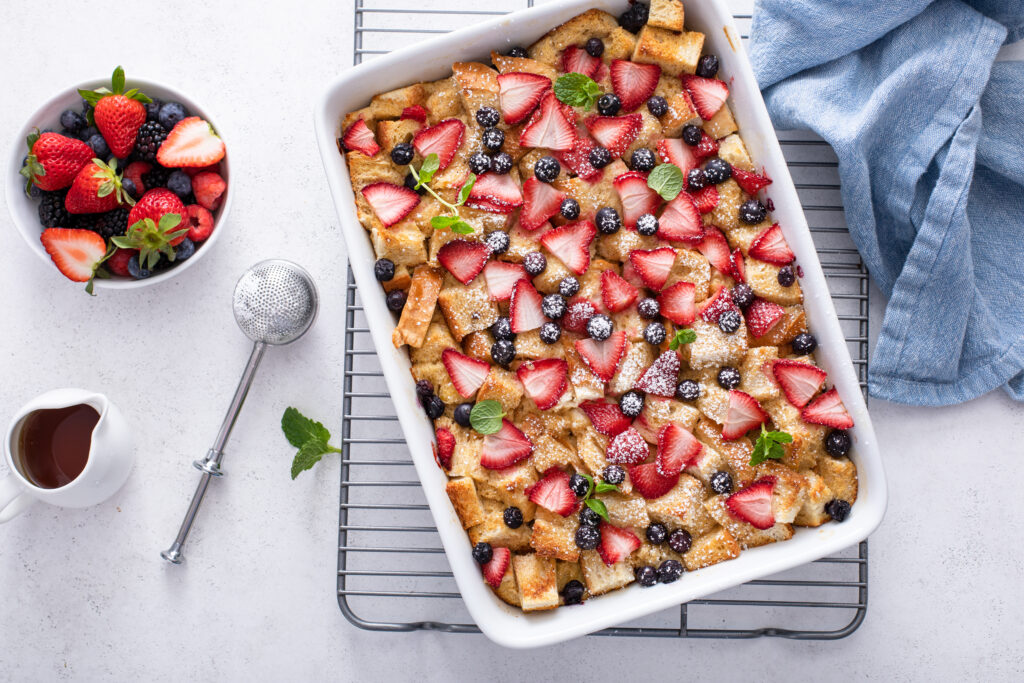 Very Berry French Toast Casserole
INGREDIENTS
12 cups French bread
8 large eggs
2 cups milk
2 tsp vanilla extract
1 tsp cinnamon
2/3 cup brown sugar
1 cup strawberries sliced
1/2 cup blueberries
1 tsp nutmeg
1-2 tbsp powdered sugar
Maple Syrup
INSTRUCTIONS
Grease a 9″x13″ casserole with vegetable oil or butter. Cut up French bread into cubes and add to casserole (fill up to ~3/4).
In a large bowl, combine eggs, milk, vanilla extract, cinnamon, and brown sugar. Whisk mixture and mix well. Pour mixture into the casserole.
Slice strawberries. Top casserole with strawberries and blueberries.
Wrap the casserole with saran wrap and refrigerate for four hours, or up to overnight.
Preheat the oven to 350 degrees F. Bake for 35-50 minutes. Check at the 35-minute mark, and if it is not done bake for longer.
Sprinkle it with powdered sugar.
Serve with maple syrup and enjoy!
WHY PEOPLE LOVE THIS VERY BERRY FRENCH TOAST CASSEROLE
The perfect recipe to either make ahead or make right before serving- either way you can't go wrong.
Super convenient as a make ahead recipe
Family, Kid and picky eater approved
A crowd stopping, taste bud pleasing recipe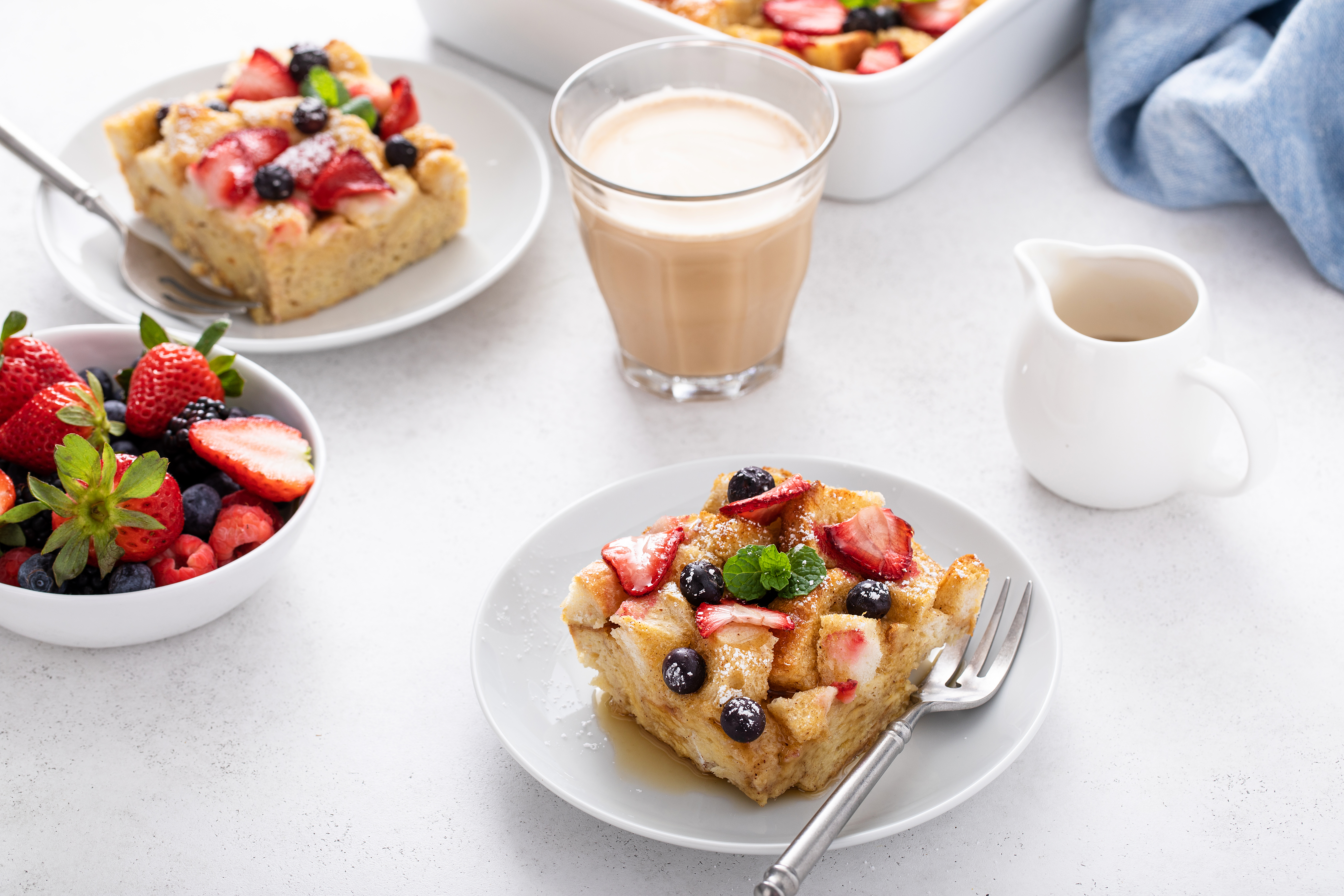 I cannot wait for you to try this amazing breakfast, brunch, basically anytime food. If you do be sure to tag me on Instagram or let me know if you loved it in the comments below!
SAVE NOW, MAKE LATER: