This Easy Sausage Rigatoni Pasta is seriously perfection in a pasta. Not only is it easy to make with everyday ingredients, it takes under 30 minutes from start to finish making it perfect for a busy work week. Curious how to make it? Keep reading below to make this recipe ASAP!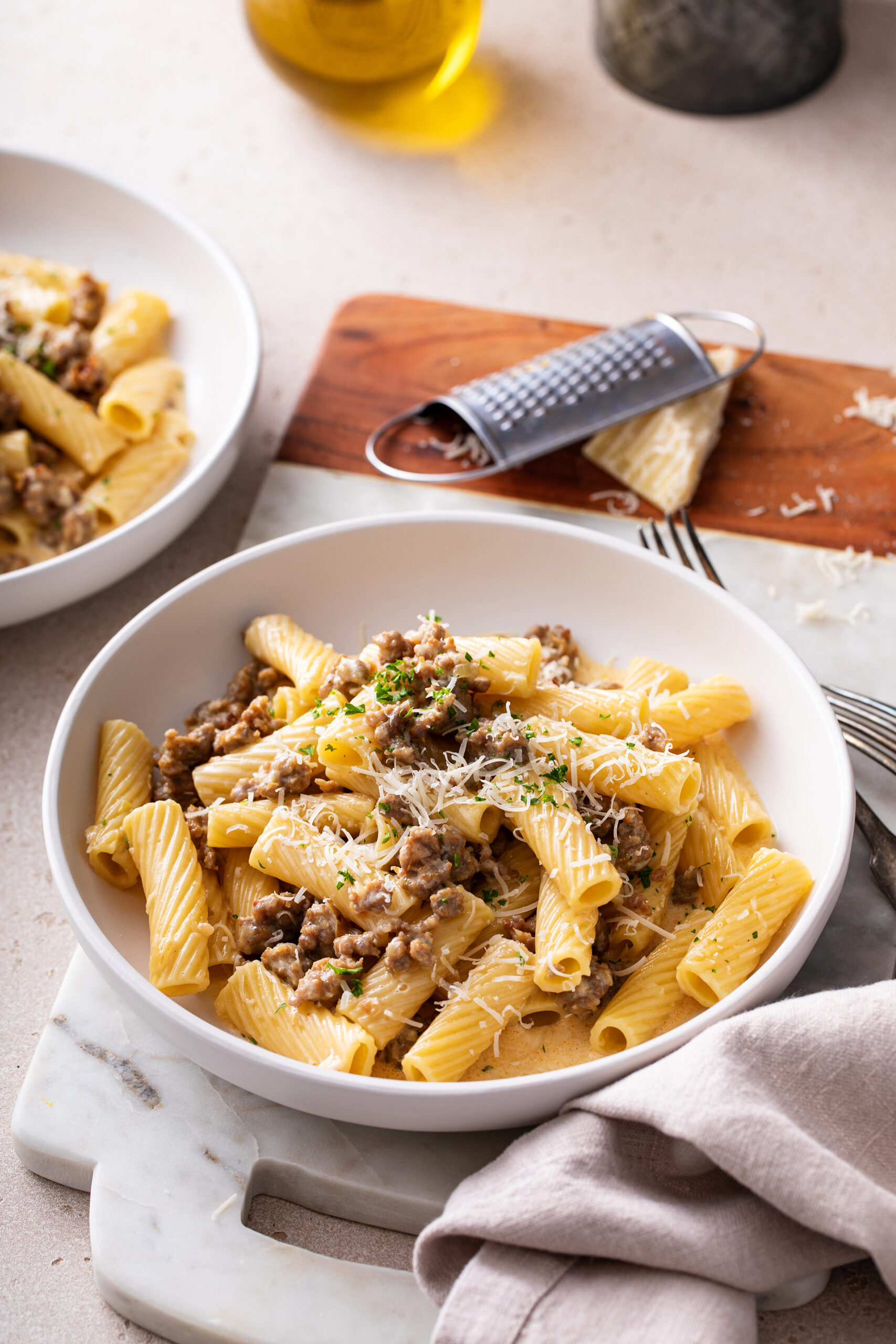 I love a great pasta dish, who doesn't? And let's be honest rigatoni pasta with sausage is always a great idea, right? This recipe is super easy to make, and something the entire family would love. Don't be surprise when it becomes a family favorite immediately.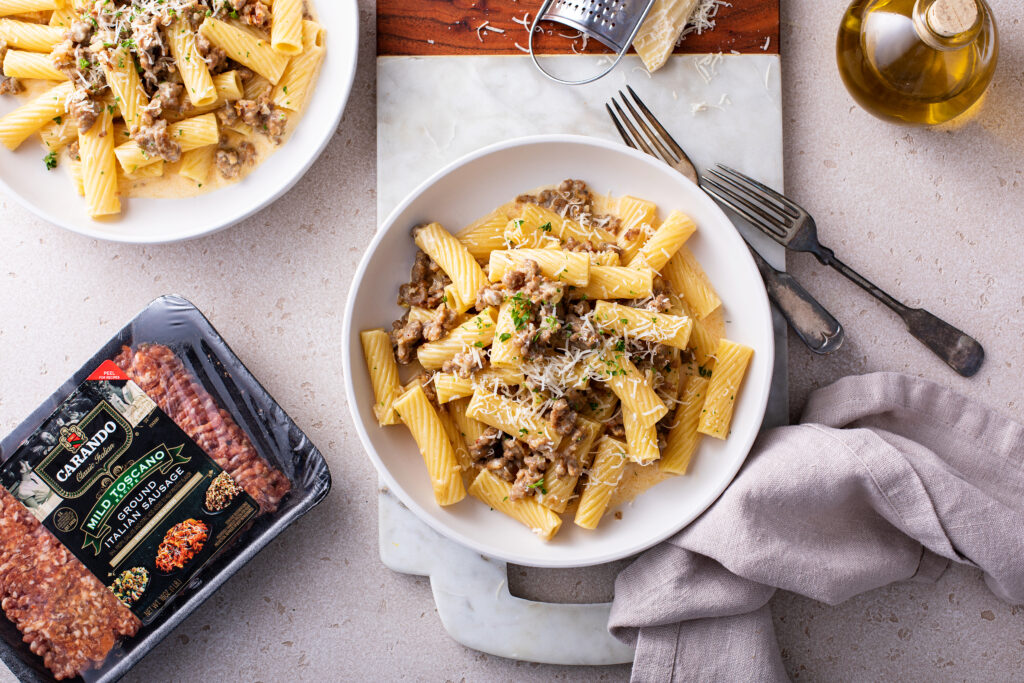 This recipe is super simple and features basic items found in most grocery stores. For this recipe everything is cooked in one pan on the stove-top. It featured a few of my top favorites: Italian Sausage, a creamy sauce and of course pasta! Literally this recipe is restaurant quality food made in the comfort of your home.
EASY SAUSAGE RIGATONI PASTA
Prep Time: 5 Mins // Cook Time: 15 mins // Serves 4 People
INGREDIENTS
16 ounces Carando Mild Toscano Ground Sausage (one package)
8 ounces Rigatoni Pasta (one package)
1 Tablespoon Olive Oil
½ Yellow Onion, minced
½ Teaspoon Salt
½ Teaspoon Black Pepper
3 Cups Heavy Cream
2 Cups Shredded Parmesan Cheese
½ Teaspoon Red Pepper Flakes
2 Tablespoons Pre-minced Garlic
INSTRUCTIONS
Prepare rigatoni in a large pot of salted, boiling water. When done cooking, drain and set aside.
While the pasta is cooking, heat olive oil in a large skillet pan over medium-high heat. Add Carando Mild Toscano Ground Sausage, onion, pre-minced garlic, red pepper flakes, and salt to the pan. Cook until the sausage is no longer pink.
Drain excess fat from the skillet, if necessary, and return the sausage mixture to the pan.
Turn heat to low and add heavy cream to the skillet. Stir in the Parmesan cheese until melted to create pasta sauce.
Stir cooked rigatoni into the pasta sauce. Serve immediately. Top with Parmesan cheese.
EASY SAUSAGE RIGATONI RECIPE NOTES
Want to add a little heat to this pasta? You can sprinkle more crushed red pepper flakes OR add in Spicy Sausage to get it a bit of a kick
Want it less spicy, and slightly sweet? Remove the red pepper flakes and use Sweet Italian Sausage instead of mild sausage
Can I use other pasta other than rigatoni? Absolutely this recipe can be used with any type of pasta and still taste equally amazing!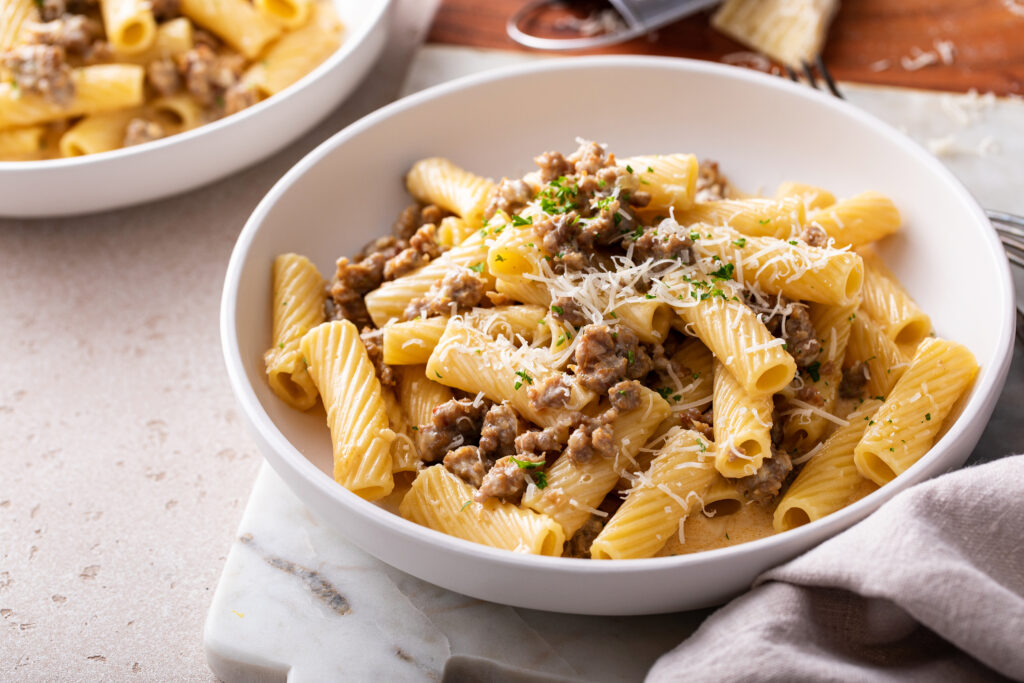 I cannot wait for you to try this amazing pasta dish! Seriously your taste buds will thank you! If you do be sure to tag me on Instagram or let me know if you loved it in the comments below!
SAVE NOW, MAKE LATER: