Who doesn't love a great no-heat lunch option? Whether it is for lunch, a work day or an easy grab and go option – this EASY Chicken Cobb Mason Jar Salad is hands down perfect. Keep reading to see how to to make it!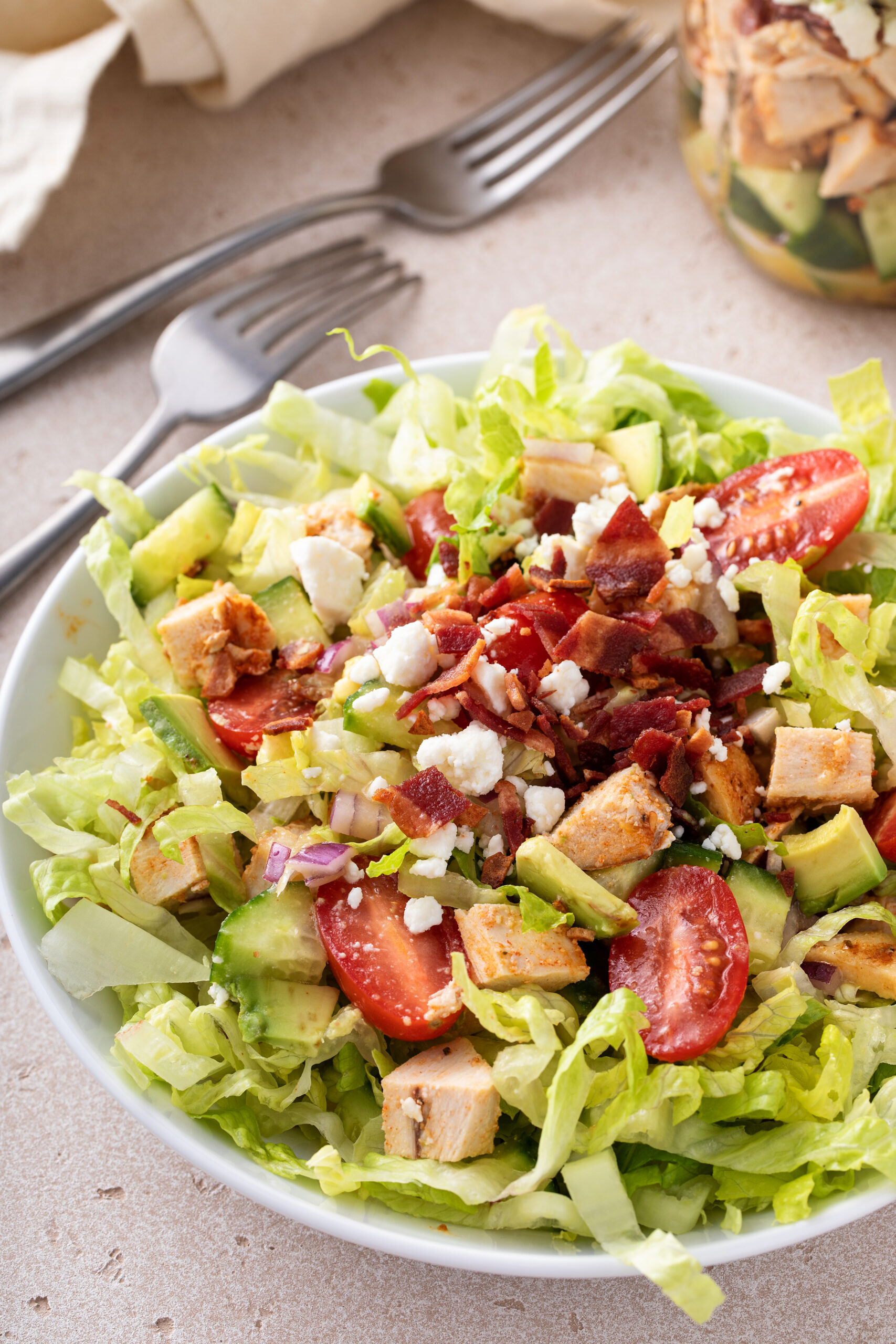 Filled with a delicious yet light dressing, chicken, crispy bacon, tomato, cucumber, red onion and avocado – this perfect grab and go salad is delicious one bite after another. The best part is you can make ahead and you're ready to eat, dump the whole jar into a big bowl, mix, and eat!
Easy, right?
First things first, in order to make this salad you only need a few ingredients. Here's what you'll need to make this super easy and delicious recipe.
Chicken  
Red Onion 
Cucumber
Cheese (I love either blue or goat cheese)
Romaine Lettuce
Tomato
Avocado
Honey Mustard Dressing
Salt and Pepper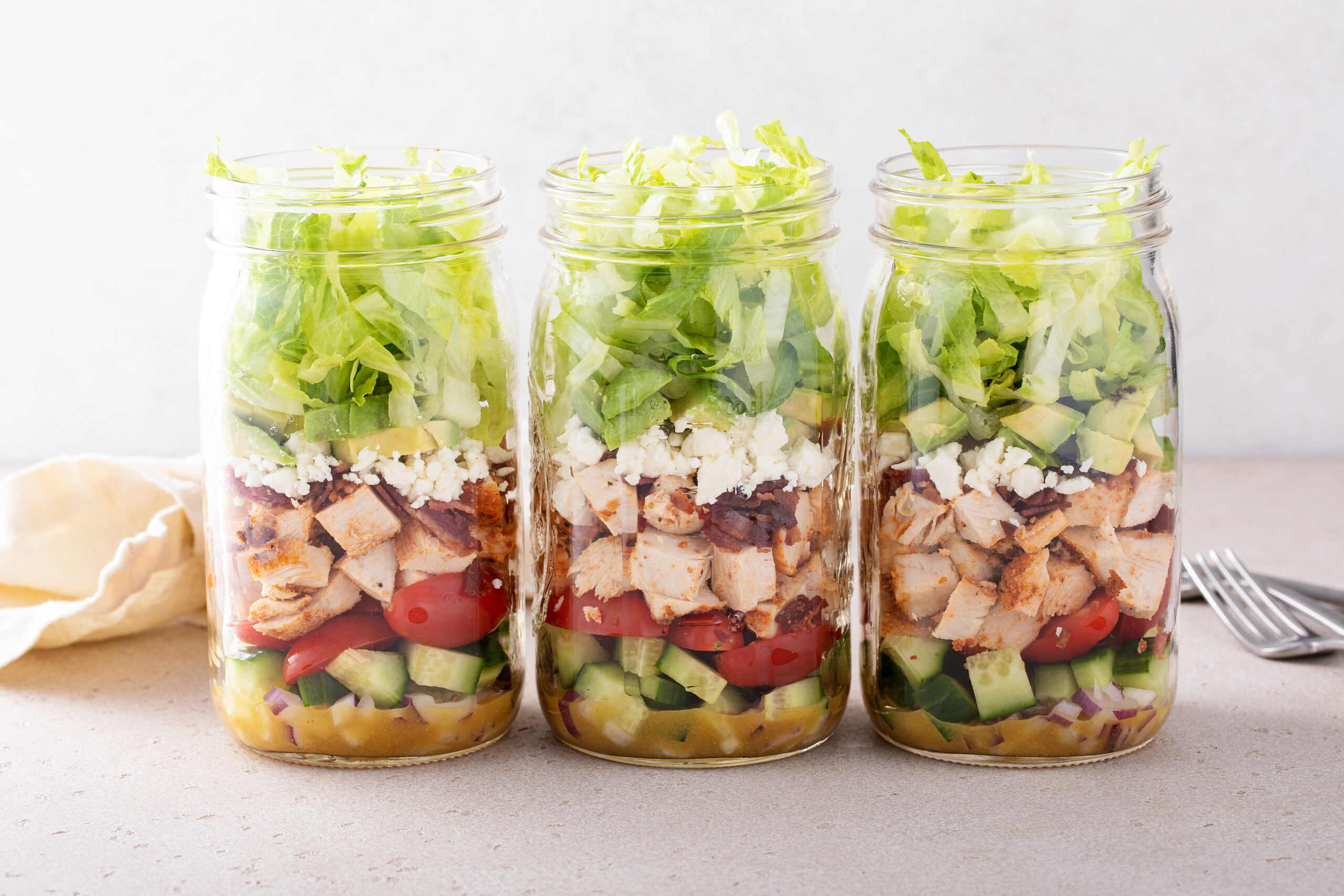 Easy Chicken Cobb Mason Jar Salad
INGREDIENTS
3 cups of diced chicken cooked 
4 slices Turkey bacon, cooked
1 Avocado
1 cup Cucumber
1 Garlic powder
1 cup Grape tomatoes
1/2 cup Red onion
3 cups Romaine
1 Honey mustard dressing
1 tbsp Olive oil
1/2 cup goat cheese 
INSTRUCTIONS
Layer mason jar with salad in this order: red onion, cucumber, tomatoes, chicken, bacon, cheese, avocado and romaine. 
When ready to enjoy, shake the jar and pour into a serving bowl.
Enjoy!
TIPS for this recipe:
* Make sure to layer the Chicken Cobb Mason Jar Salad in this specific order, because let's be honest you don't want a soggy salad within hours. This order below helps keep this fresh and delicious.
Dressing on bottom
Red Onion
Cucumber
Tomatoes
Chicken
Bacon
Blue Cheese or Goat Cheese
Avocado
Romain Lettuce
* Make it more cobb-esque by adding egg if wanted. But make sure to leave egg whole on top of salad and then smash prior to eating.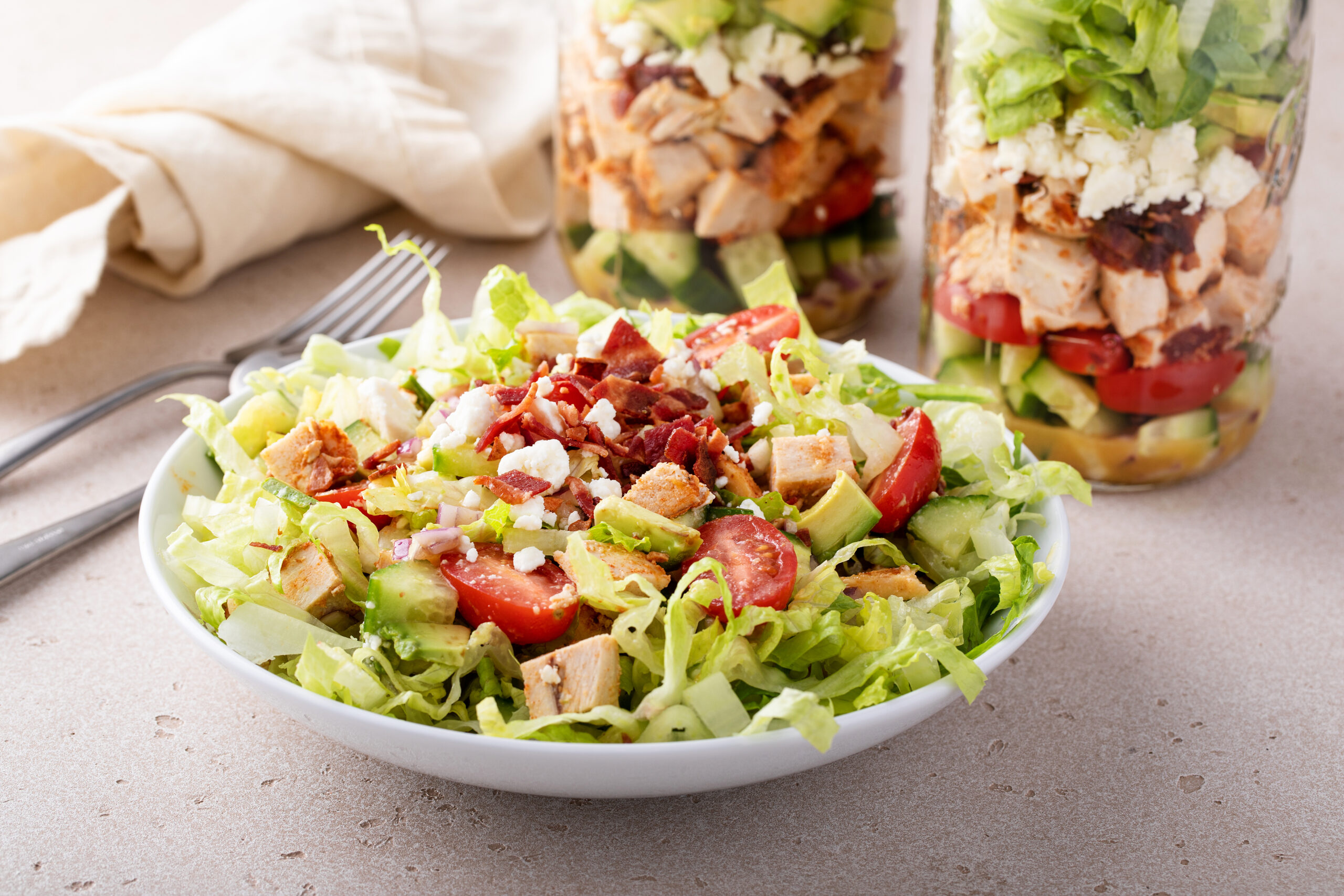 I cannot wait for you to try this. If you do be sure to tag me on Instagram or let me know if you loved it in the comments below!
SAVE NOW, MAKE LATER: