U.S. Farm-Raised Catfish BLT Sliders
I love the holiday season, but New Year's Eve always has a special place in my heart. There's nothing better than dressing up in sequins, being with my friends while relishing champagne, and yelling "Cheers!" to the endless possibilities of an upcoming new year.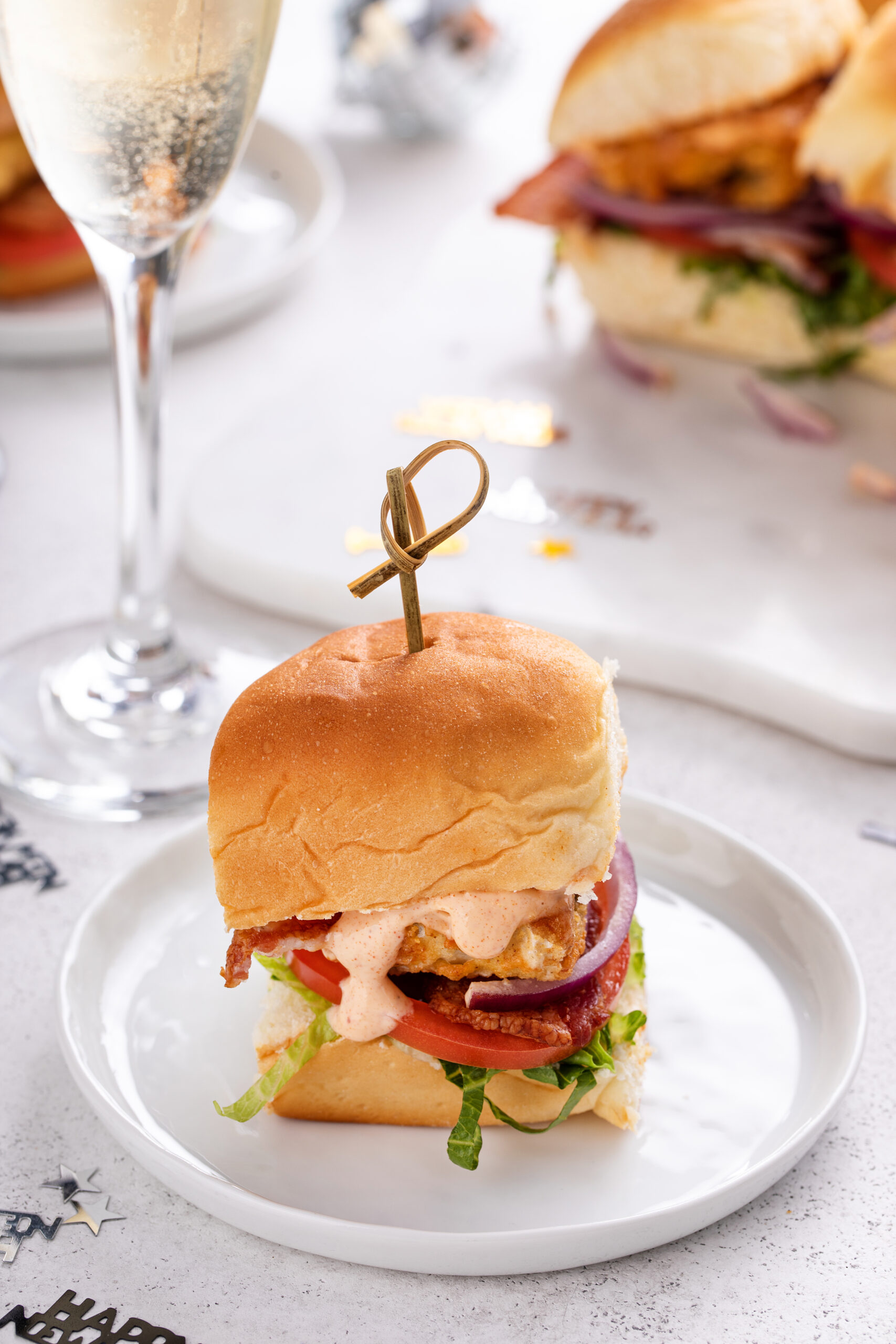 New Year's Eve is a really fun holiday for entertaining. The star of New Year's Eve are the appetizers. What I love about New Year's Eve appetizers is that there are no set expectations with the menu. You can go as fancy or casual with the menu as you prefer. If you're like me, you love giving your guests plenty of options by including appetizers that are on a little bit of the heavier side. These catfish BLT sliders are really going to impress your guests. When making these sliders, make sure to purchase U.S. Farm-Raised Catfish. In this recipe, U.S. Farm-Raised Catfish really takes this recipe to the next level.
I enjoy cooking with this particular catfish because it's low in calories and packed with lean protein, healthy fats, vitamins, and minerals.When cooking with U.S. Farm-Raised Catfish, you'll appreciate that it's very versatile, sustainable, and healthy. The key to this slider and any sandwich is layering. When layering your slider, put the proteins at the bottom of the sandwich. Crunchy toppings and veggies work best at the top. Prior to your New Year's Eve party, be sure to assemble the sliders as close to serving as possible. #USCatfish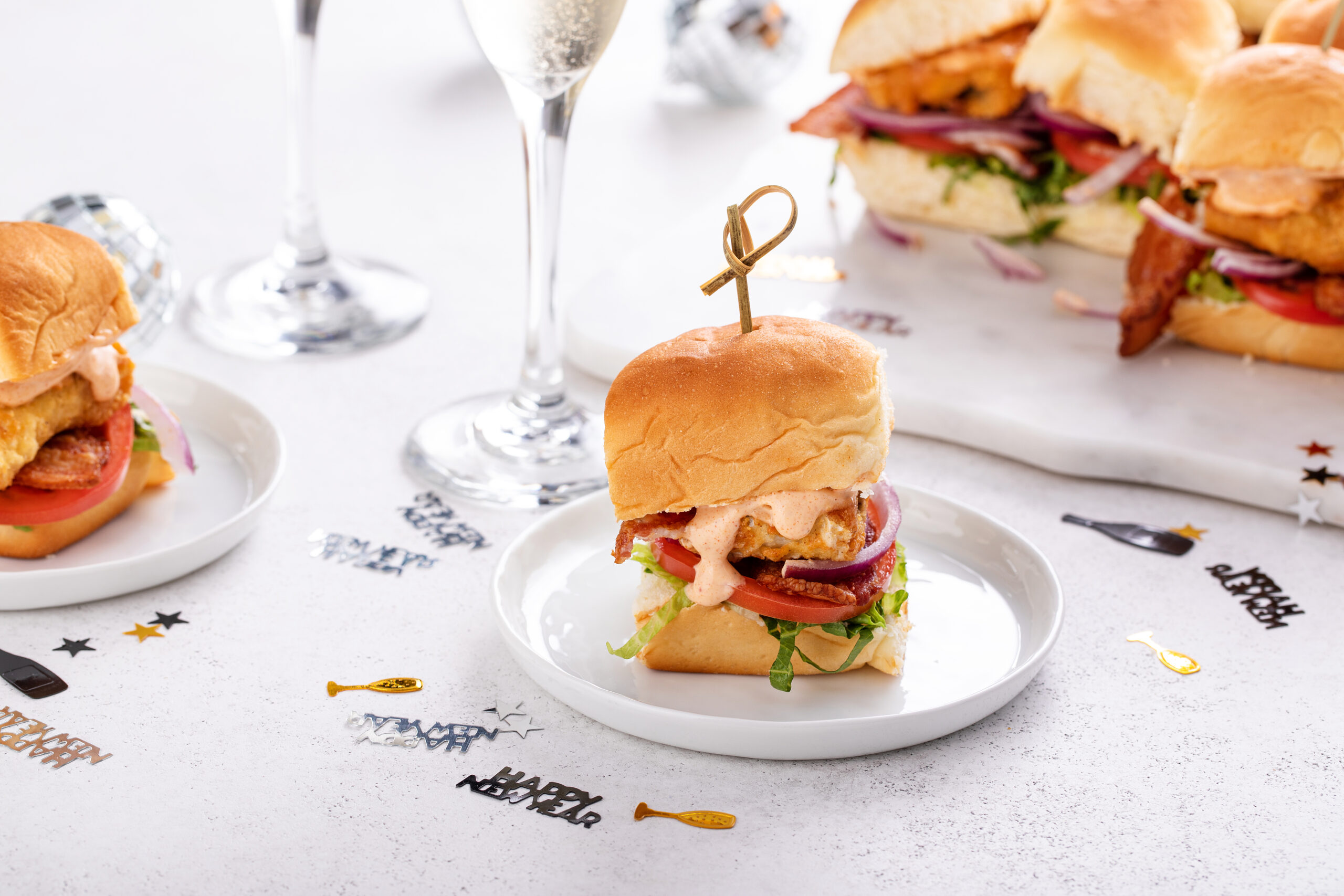 U.S. Farm-Raised Catfish BLT Sliders
INGREDIENTS
1 sliced red onion
2 cups shredded lettuce
6 slices cooked bacon
1 pound fried catfish nuggets
1 roma tomato
1 pack Hawaiian Sweet Rolls
4 tablespoons of rémoulade sauce
INSTRUCTIONS
Cut loaf in half.
Drizzle with olive oil.
Toast bread for 2 to 3 minutes
On bottom loaf piece add lettuce, tomatoes, bacon, red onion, and fried catfish.
Spread rémoulade on top loaf.
Bring both halves together. Cut. Serve immediately.
U.S. Farm-Raised Catfish Nuggets
INGREDIENTS
1 pound U.S Farm Raised Catfish Fillets, cut into 2 inch pieces
3/4 cup seasoned fish fry coating
INSTRUCTIONS
Preheat an air fryer to 400 degrees F (200 degrees C).
Rinse and dry the catfish with a paper towel before coating.
Add the seasoned breading to a shallow bowl, and then dip each piece of fish until coated completely.
Spread out nuggets on a baking sheet and spray with non-stick cooking spray.
Place nuggets in an even layer in the air fryer basket, sprayed side down.
Air fry for 8 minutes.
Flip nuggets over and cook for 4 minutes.
SAVE NOW, MAKE LATER: