U.S. Farm-Raised Catfish and Grits shooters
Happy holiday, friends!I cannot believe Thanksgiving is in three days. Where has this year gone? As we prepare for Thanksgiving, I wanted to share an awesome recipe that is sure to get your guests tastebuds dancing. I've added a spin on a Southern classic: shrimp and grits. I decided to make U.S. Farm-Raised Catfish and grits shooters. I am so thankful, I will be able to enjoy my friends and family this holiday season. Especially since the last two years gathering has been smaller. There is nothing better than celebrating the holiday season, making memories with family and friends over a fabulous meal. I am wishing you all a Happy Thanksgiving. Let's get into this recipe.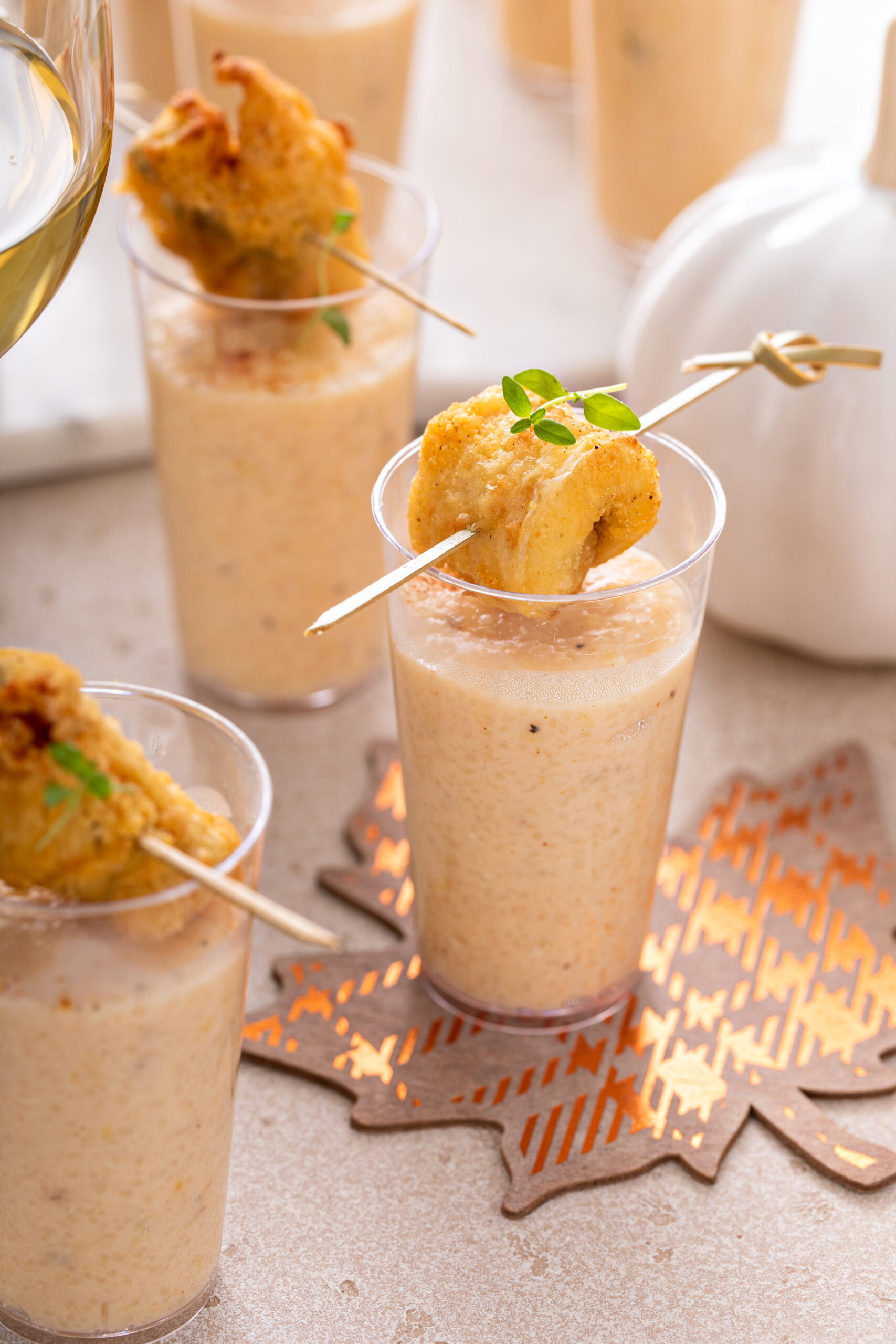 I'm gonna be honest: I'm a grits girl. I love all-things grits. I truly believe that I make the best grits, and, yes, I am absolutely tooting my own horn. The key to amazing grits are three things.
First, whatever you cook your grits in, is what your grits will taste like. If you prepare your grits in water, they're going to taste like water, which is why I use chicken broth. Chicken broth provides so much more flavor.
Second, make sure to cook your grits slow and low. By simmering them slowly, this releases starches in the grits that creates that decadent, silky texture. When you first make grits, lots of whisking will need to take place because you want them lump-free and smooth.
Last but certainly not least, butter and heavy cream is going to help achieve that creamy texture.
Now that we have the recipe for success for the grits, let's talk U.S. Farm-Raised Catfish, which is one of my favorite fish, and it's delicious whether fried or grilled. If you are looking for a fish with minimal calories, U.S. Farm-Raised Catfish only has about 98 calories in a 100 gram portion. It's a fantastic protein source, and it's high in vitamin B12. To make the catfish for this recipe, I made sure to make U.S. Farm-Raised Catfish nuggets. If you want to avoid a step, you might be able to locate U.S. Farm-Raised Catfish nuggets at your local market. For this recipe specifically, I preferred to make my own because I wanted to make sure that the nuggets were small enough to fit inside the shooters. What I love most about this recipe is how easy it is to create.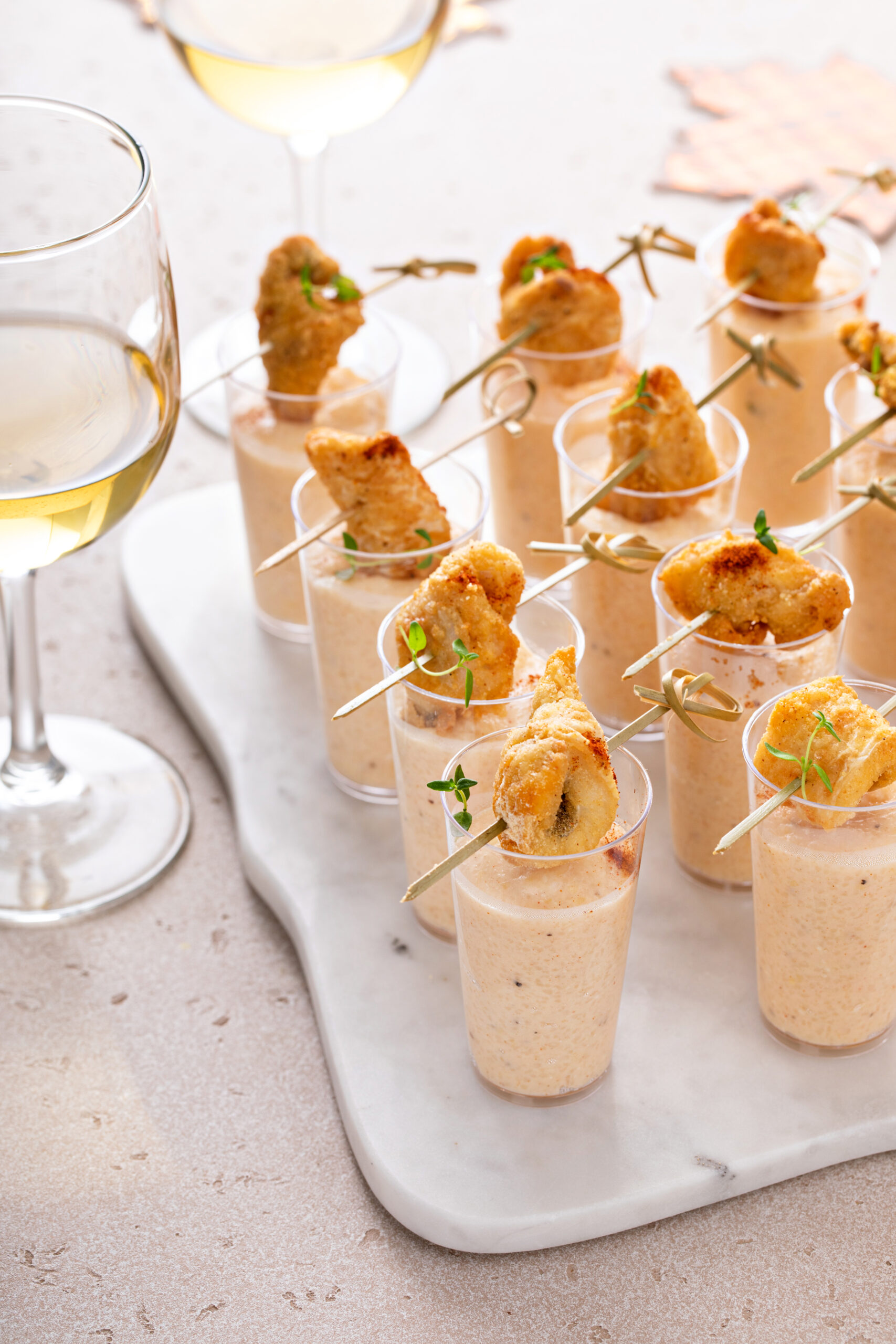 Catfish & Grits Shooters
GRITS
INGREDIENTS
1 1/2 cups Quick grits
3 cups Chicken stock
1/2 tsp Black pepper, coarsely ground
1 1/2 tsp Salt
4 tbsp Butter, unsalted
8 oz Gouda cheese, smoked4 oz Shaved Parmesan
3 cups heavy cream
1/4 cup White wine
INSTRUCTIONS
In a medium saucepan bring Chicken Stock to a boil. Slowly add in Quick Cooking Grits while whisking continuously. Over medium heat, cook grits for about 4 to 5 minutes until they thicken up.
Add in Salt , Ground Black Pepper , Butter , Gouda & Parmesan Cheese , and heavy cream. Turn the heat to low until you are ready to serve.
Catfish & Grits Shooters
CATFISH NUGGETS
INGREDIENTS
1 pound catfish fillets, cut into 2 inch pieces
3/4 cup Seasoned fish fry coating
INSTRUCTIONS
Preheat an air fryer to 400 degrees F (200 degrees C).
Rinse and dry the catfish with a paper towel before coating.
Add the seasoned breading to a shallow bowl and then dip each piece of fish until coated completely.
Spread out nuggets on a baking sheet and spray with non-stick cooking spray.
Place nuggets in an even layer in the air fryer basket, sprayed side down.
Air fry for 8 minutes.
Flip nuggets over and cook for 4 minutes.
Take grits and pour into a shooter container. Take catfish and slide on the mini skewer and serve.
You're going to love how savory and satisfying these shooters will turn out. I'm certain your guests will be asking about this recipe.
SAVE NOW, MAKE LATER: