How To Make A Burger Board
Who doesn't love a great charcuterie board? But also who doesn't love a great burger? Ever wondered what merging the two would be like? Well you don't have to wonder any more, because today I am sharing the best board for any gathering ever- The Burger Board. From piling your delicious cheeseburgers or turkey burgers with all the fixing, adding in a side of fries and more- this Burger Board will be the talk of the party. Keep reading to see how to create your own.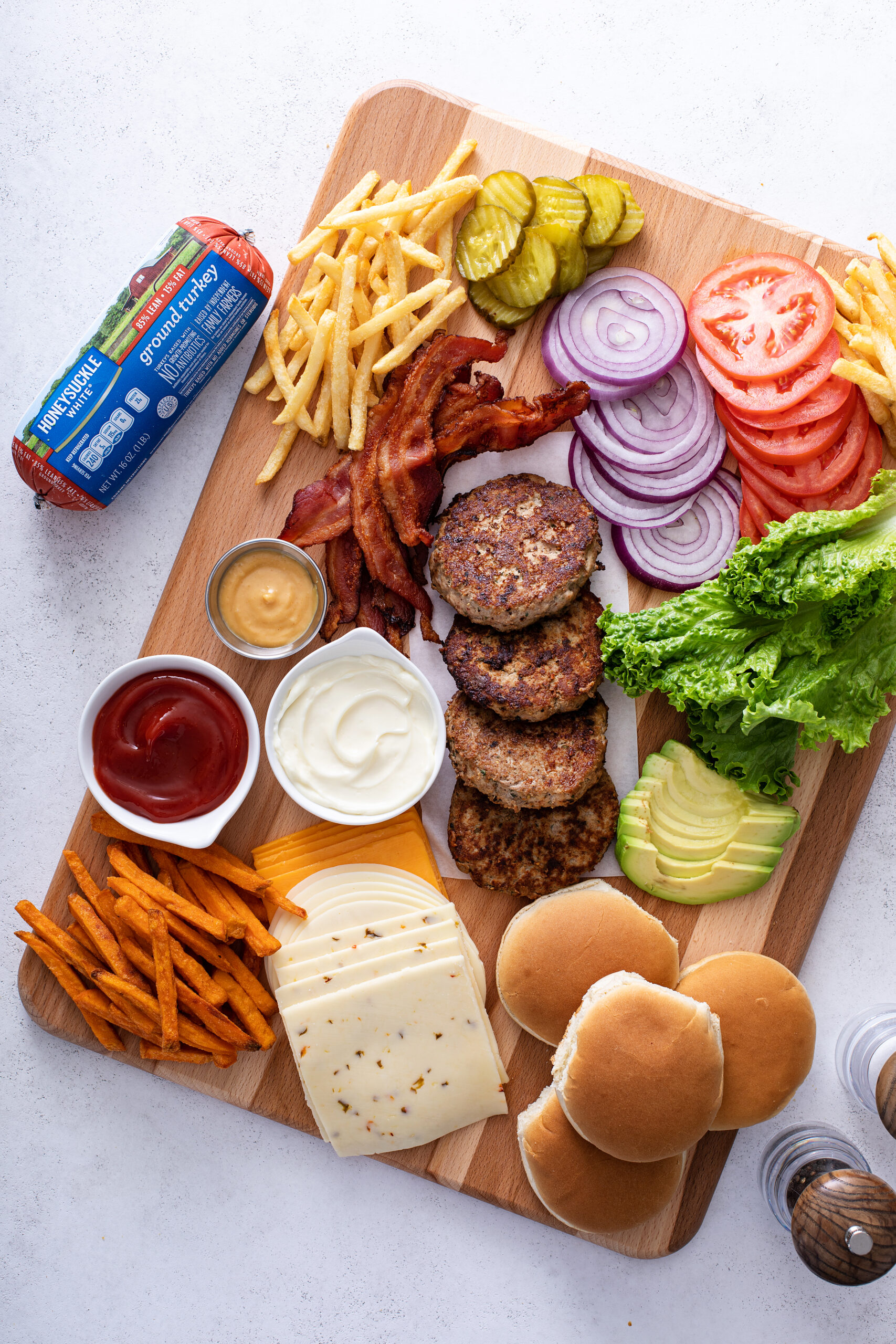 When it comes to burger toppings, there are a massive amount of variations. Pretty much anything goes and the sky is the limit. For this one, we are doing a classic board, but you can always jazz it up and do speciality toppings for people. Here are just a few that we recommend:
Tomatoes – a good beefsteak tomato always holds up and makes a great companion
Lettuce – leafy lettuce in my opinion always works best
Pickles – love a great sliced dill pickle, but you can alway grab spicy pickles or even make a little container of relish as well
Red Onion – we use a thinly sliced red onion, but you can alway use white onion as well.
Bacon- bacon for us is a must have and always a great addition
Avocado – just adds a little something extra, thinly sliced you can add a little or a lot, you can even have mashed avocado on the side in a container as more of a spread
Cheese -we like to have at least two options, so people have a little option
A few more ideas to add: pickled onions, sriracha mayo, jalapeños, caramelized onions, candied bacon, mushrooms and eggs- when it comes to this burger board literally the sky is the limit with options and variations of what to make.
How To Make The Perfect Turkey Burger
INGREDIENTS
1 lb. ground turkey
1 large egg, beaten
1 tbsp. Worcestershire sauce
2 tbsp. freshly chopped parsley
Salt & Pepper to taste
1 tbsp. extra-virgin olive oil
INSTRUCTIONS
In a bowl, mix together turkey meat, egg, Worcestershire sauce, and parsley, then season with salt and pepper to taste.
Form mixture into four flat patties.
In a skillet over medium heat, add olive oil.
Add patties and cook until golden and cooked through, 3-5 minutes per side.
Add to burger board with desired toppings.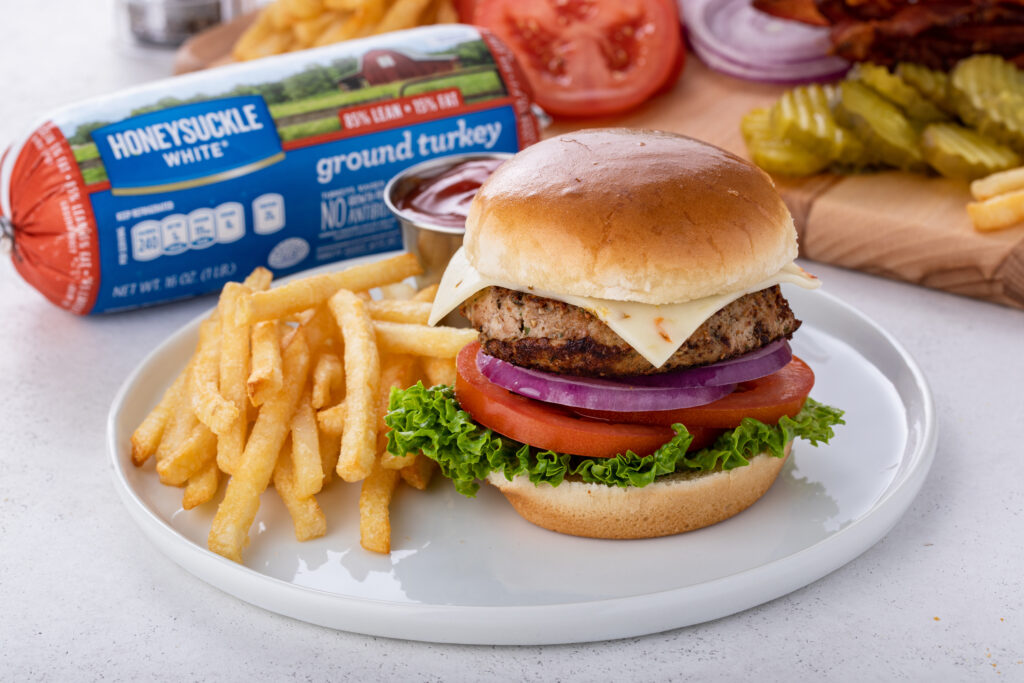 How To Make A Burger Board
INGREDIENTS
Hamburger buns
Cooked burgers
Slice red onions
Sliced tomatoes
Lettuce
Slices cheese (provolone, cheddar, pepper jack)
Sliced pickles
Cooked bacon
Sliced avocado
Sliced onion
Mayonnaise
Ketchup
Mustard
French Fries
Sweet Potato Fries
INSTRUCTIONS
Grill Burgers and Toast Buns
Lay down a little parchment paper where burgers are going to sit on board
Start adding condiments to little small bowls
Add hamburgers and toasted buns to the tray
Fill in remainder of board with topping and finish by adding French fries and Sweet Potato fries to the tray before serving.
Enjoy!
HELPFUL TIP: You can prep the board ahead of time by leaving space for the cooked burgers and buns on the side. Cover with plastic wrap and place in fridge. After grilling burgers remove board from fridge and arrange burgers into the spot left open for them , fill in any opening with more toppings and serve!
SAVE NOW, MAKE LATER: