How To Create The Perfect Hot Chocolate Bar
This recipe is sponsored by The Dairy Alliance. All ideas are my own.
When I am hosting my holiday gatherings, I am always stumped on a couple of how-to things: how to impress my guests & how to create an epic recipe in under an hour without breaking the bank, all while looking flawless. Talk about a dilemma. But don't fret! Save your holiday season with a hot chocolate bar. This hot chocolate bar can be a fun activity with the kids, or a wow factor for your guests while entertaining. For this recipe the hot coco is the star, which means you need milk. Hot coco is the star of the show, and hot coco isn't complete without milk. Milk packed with important nutrients like calcium, phosphorus, B vitamins, potassium and vitamin D. Plus, it's an excellent source of protein. Drinking milk and dairy products may prevent osteoporosis and bone fractures and even help you maintain a healthy weight.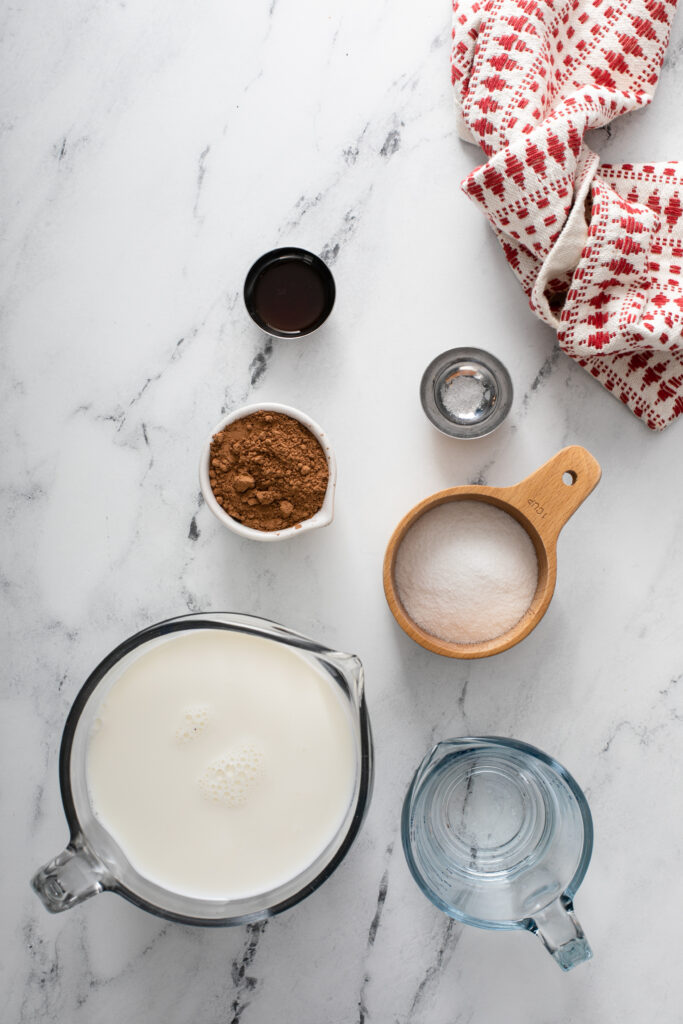 What I love about a hot chocolate bar is that it can be so simplistic, yet impressive. You can put together a creative holiday drink bar in less than 45 minutes in an awesomely frugal way. On average, a holiday bar will run you in the range of $45 to $60 and will increase depending on the ingredients that you select. Winter is finally here, which means it's time to turn on Mariah Carey's "All I Want for Christmas Is You" while getting some kisses under the mistletoe. It's also time to start getting creative with your holiday parties!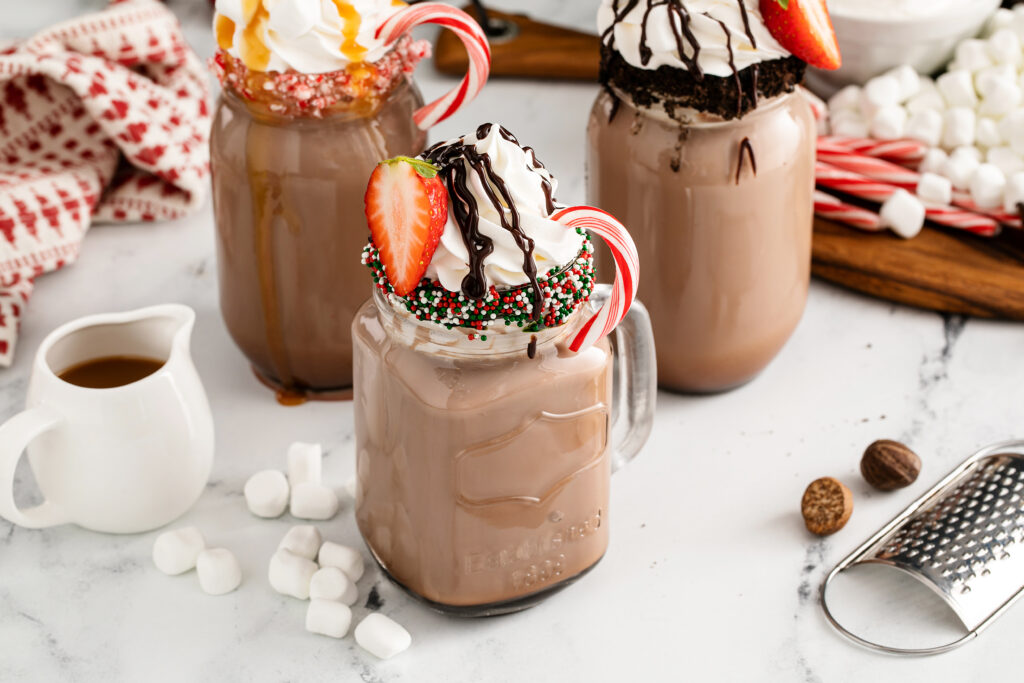 Of course, to create your hot chocolate bar, you first need to start with hot cocoa. The hot cocoa should be really creamy – the more chocolatey, the better. If you are on-the-go, instant cocoa will work just fine, but remember to use milk instead of water! If you have extra time, you can create hot cocoa in the slow cooker.
Once you've decided on your cocoa, you'll need to choose the type of mug you'd like to drink your hot chocolate out of. I highly recommend using Mason jar mugs. They are the easiest to decorate and the mugs are perfect for photos. You definitely want to be sure that the end product is photo worthy. C'mon! Do it for the 'Gram!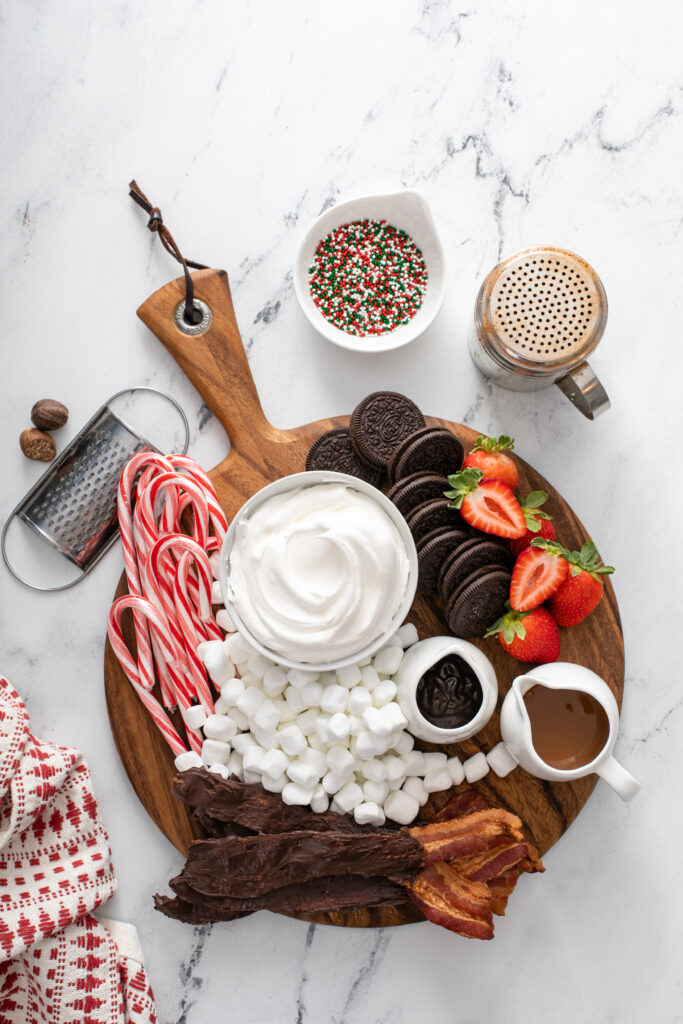 Your bar won't be much of a sight without tasty, unique ingredients. The more ingredients you have, the fuller your bar will look which will give it that WOW factor – the more ingredients, the better! I added some of my favorite ingredients such as peppermint, whipped cream, strawberries, sprinkles, and crushed Oreos. I am known to be a little extra, so you know I had to create some over-the-top items such as chocolate-covered bacon. It is also important you remember to invite a variety of guests who will love creating their hot beverages.
To make your bar more festive, add some charming Christmas décor, like Poinsettia plants, festive napkins, and classic Santa trinkets. The goal is to leave your guests thinking that Martha Stewart did all of your holiday decorating. There is so much variation and possibility when creating your very own hot chocolate bar, so it's unlikely that anything will go wrong. If you are still apprehensive, no worries! There's still time to do a trial run of your hot chocolate bar so you can rest assured everything will run smoothly on the actual day of your holiday gathering. I know your "bar" will be a hit!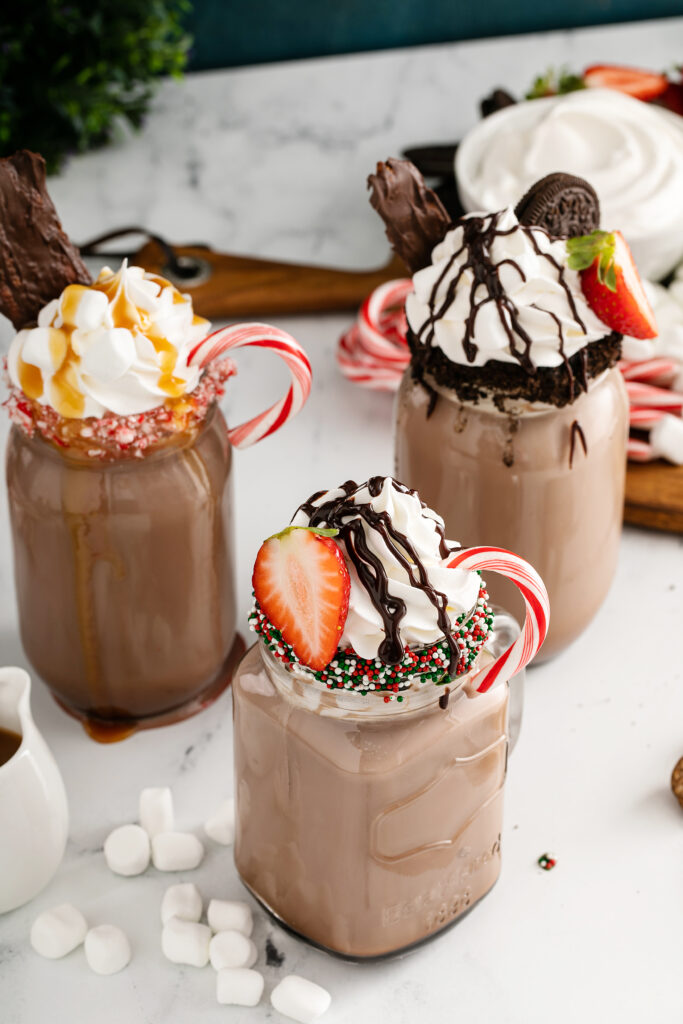 Recipe: How To Create A Hot Chocolate Bar
HOT CHOCOLATE
⅓ cup unsweetened cocoa powder
⅓ cup boiling water
½-⅔ cups granulated sugar (to taste)
Pinch of salt
½-¾ tsp vanilla extract
1 quart milk (at least 1%)
In a large saucepan, whisk together the cocoa powder, sugar, salt, and boiling water until the sugar is mostly dissolved and no lumps remain.
Add the milk and vanilla extract and turn the burner to LOW HEAT. Do not bring to a boil. Heat until drinkable hot. Remove from heat and keep warm in a slow cooker, if desired.
FOR THE RIMS OF GLASSES
Oreos (one)
Crushed Peppermint Candies (one)
Sprinkles (one)
TOPPINGS AND ADD-INS
Whipped Cream
Creme Fraiche
Ground Cinnamon
Caramel Syrup
Chocolate Syrup
Marshmallows
Chocolate-Covered Bacon
Grated Nutmeg
Sliced strawberries dipped in chocolate
Peppermint sticks
Mint Leaves