Baked Brie With Balsamic Caramelized Onions
This recipe is sponsored by The Dairy Alliance. All ideas are my own.
Happy holidays and happy new year! During the holiday season, there is enough stress worrying about making sure the house is clean, gifts are ordered, and your guests/family are having a good time.
This year, no matter how large or small your gathering, make sure to take some stress off your plate with easy appetizers. Nothing says "happy holidays" like baked brie.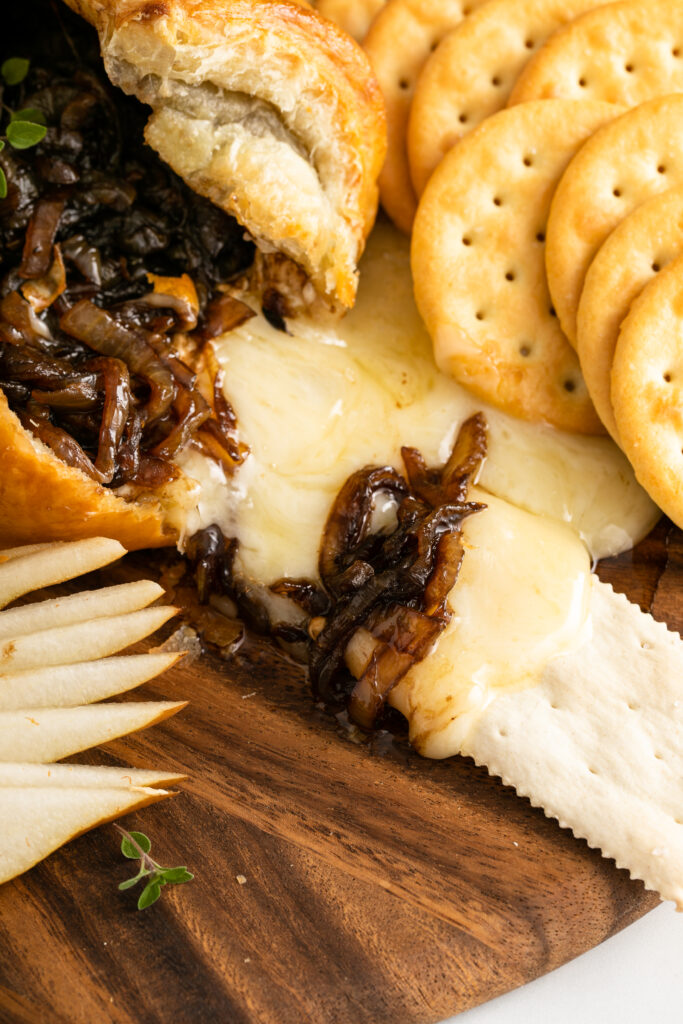 Baked brie is comfort food, and there are so many various ways to create this tasty app. Brie is a soft cow's milk cheese that originated in France but is now popular worldwide. Not only does brie have several vitamins and minerals, but it's also high in fat and is a nutrient-rich cheese. It's also a good source of protein with 1 ounce (28 grams) offering a little less protein than a medium egg.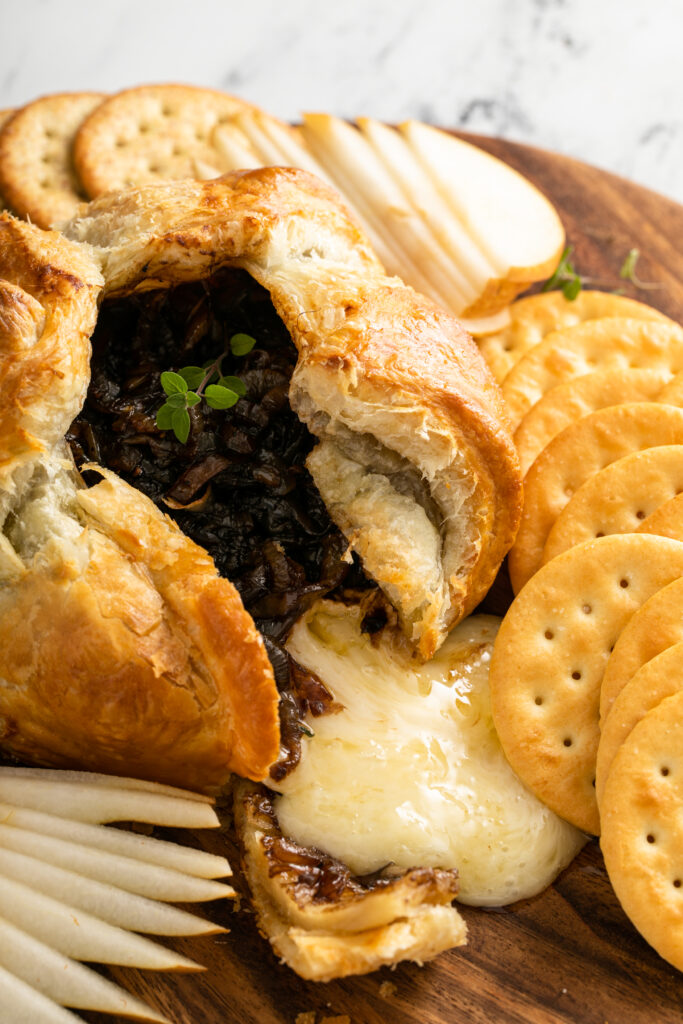 This recipe for baked brie is vegan and gluten-free, and it's absolutely divine. There are several options for dipping such as chips, pears, apples, crackers, or bread. When making this recipe, you don't have to cut off the rind. You can bake it with the rind on. You can visit any local grocery store or farmer's market to purchase an 8 ounce round of brie.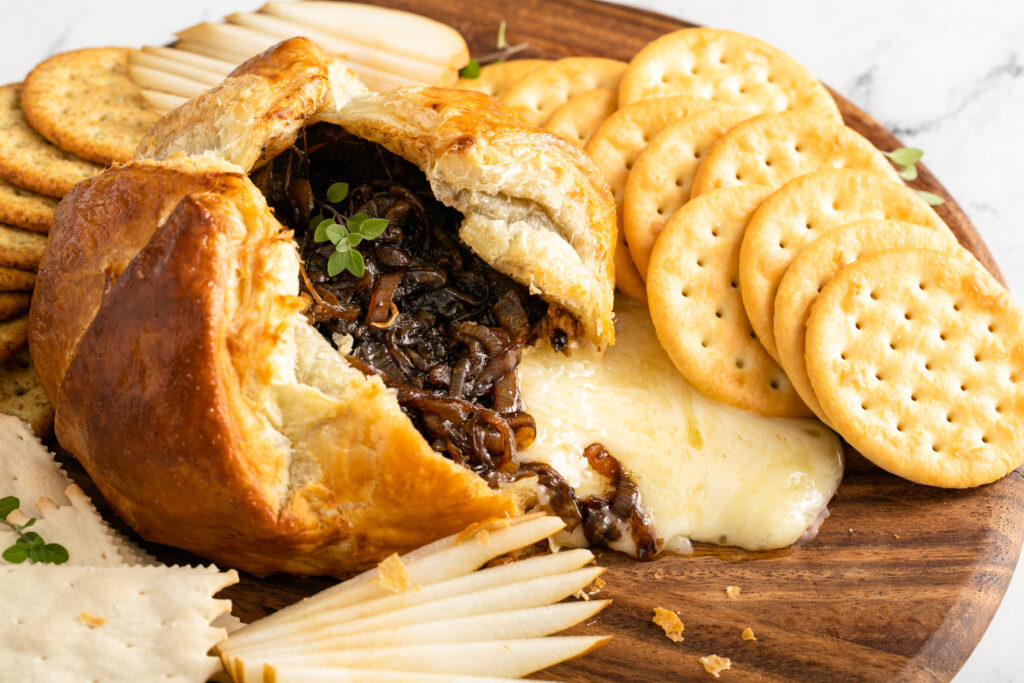 Cooking tip: When the brie is hot out of the oven, give it about ten minutes to sit. By not doing this step, the cheese will be too gooey to eat.
Enjoy!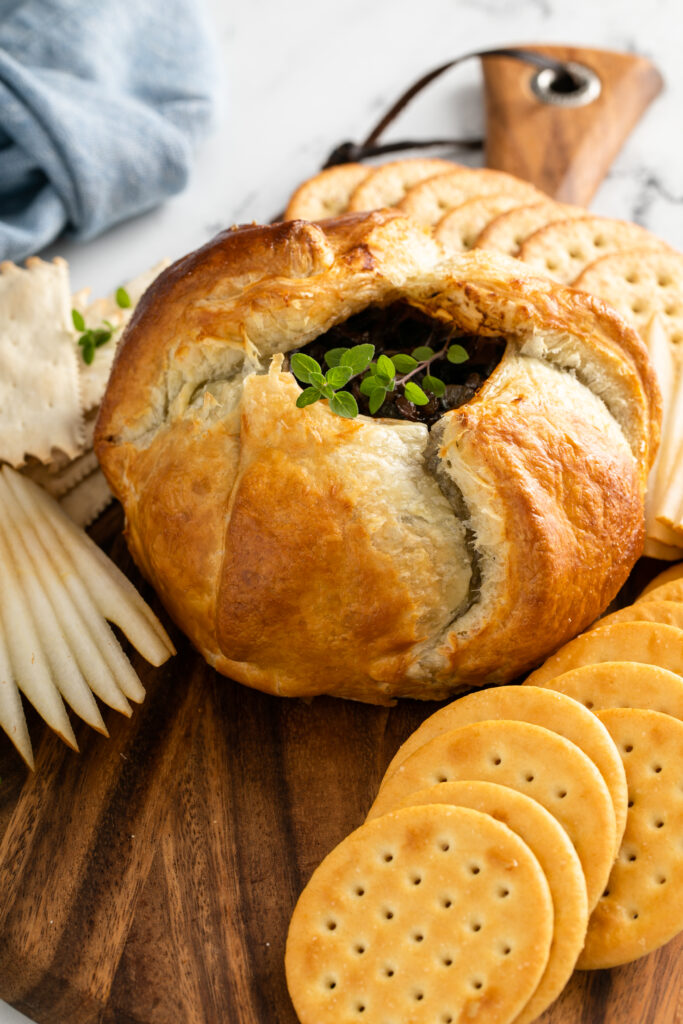 Baked Brie with Balsamic Caramelized Onions
Ingredients
1 1/2 onions, medium
1 tsp thyme, fresh leaves
1 whisked egg
2 tbsp balsamic vinegar
1 black pepper
1 tsp brown sugar
1 pear sliced
1 flour
1 salt
1 olive oil
1 cracker
1 8-ounce wheel brie cheese
Directions
Place a large skillet over medium-high heat, then drizzle in about 2 to 3 tablespoons of oil. Once hot, add in the sliced onions along with a pinch of salt and pepper. Cook the onions, stirring occasionally until they become deeply golden brown and caramelized for about 20 minutes.
Once golden, stir in the teaspoon of sugar, followed by the balsamic vinegar, and allow the mixture to bubble up and reduce, stirring to incorporate. Allow the onions to cook for another 3 to 5 minutes, stirring frequently until it has a jam-like consistency and is deeply browned. Next, add 1 teaspoon of thyme leaves. Stir to combine and remove from pan. Allow cooling (you should have roughly ½ cup).
To prepare the baked brie, lightly flour your work surface and roll out the thawed puff pastry sheet to about ⅛" thickness, a bit larger than the wheel of brie. (Trim the puff pastry a little bit, if it's considerably too large for your brie).
Place the brie in the center of the puff pastry. Spoon over the top of it the cooled balsamic caramelized onions, then fold the puff pastry sheet over the top to cover everything, creating a little "package" with pleats.
Place the wrapped brie "package" onto a small baking sheet lined with parchment paper. Very gently brush egg wash over the puff pastry. (Avoid allowing it to cool underneath). Then place into the fridge to chill for 30 minutes (or overnight). Cover lightly with plastic wrap.
When ready to bake, preheat the oven to 400°.
Place the brie into the oven and bake for 35 to 40 minutes, or until deeply golden and puffed. Allow the baked brie to stand for ten minutes before serving, to avoid it oozing out too much.
To serve, add a couple of decorative sprigs of thyme and surround the brie with crackers, sliced baguette, and pears.
Enjoy!