Recipe: Bacon, Onion, Spinach, Mushrooms, Pepper Jack Cheese, Quiche
I am partnering with my friends at The Dairy Alliance for this tasty quiche recipe.
Quiche is one of my go-to breakfast foods when entertaining. It takes minimal effort, and it's great when I want something simple to create. And this recipe is ideal for brunch, entertaining, or breakfast.
Quiche has so many various combinations and ingredients, not to mention that it's also fail-proof.
The key to a quality quiche is the dairy. You must have plenty of milk, cheese, and eggs because you want the quiche to be fluffy, smooth, and creamy.
Please remember these two important things:
First, it is imperative that you bake the quiche low and slow, because high oven heat poses the risk of scrambling the eggs. Second, the best quiche consists of a custard that has the perfect ratio of eggs and milk.  Using too many eggs in the custard will result in a quiche that is too firm and rubbery, when baked.  However, if you don't use enough eggs, it will prevent the custard from setting.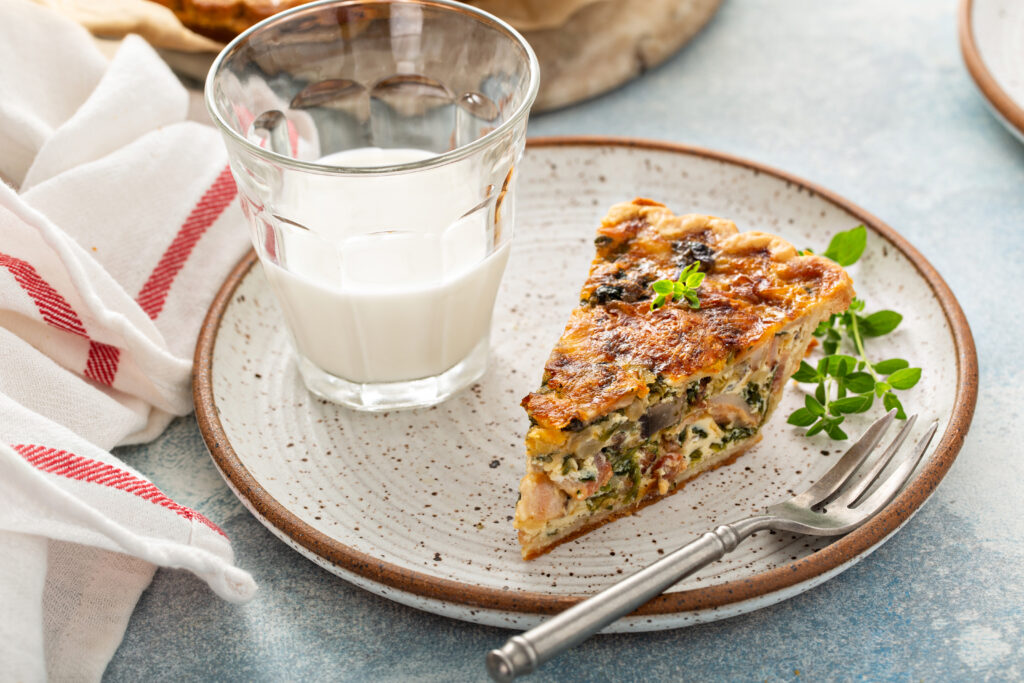 Eating eggs has several benefits.  They are incredibly nutritious and high in protein.  They are very filling when you want something light to snack on.  And they tend to cause you to eat fewer calories, which can result in weight loss.
The thing about quiche is that you can add anything to it.  You can make it as healthy or as decadent as you'd like.  The combinations are endless. You can pair this quiche with a small salad or a side of avocado.  
After you bake your quiche, let it rest for at least 25 minutes.  If you cut the quiche before it's time, it will collapse.  Be patient.  Your quiche will become more firm as it cools.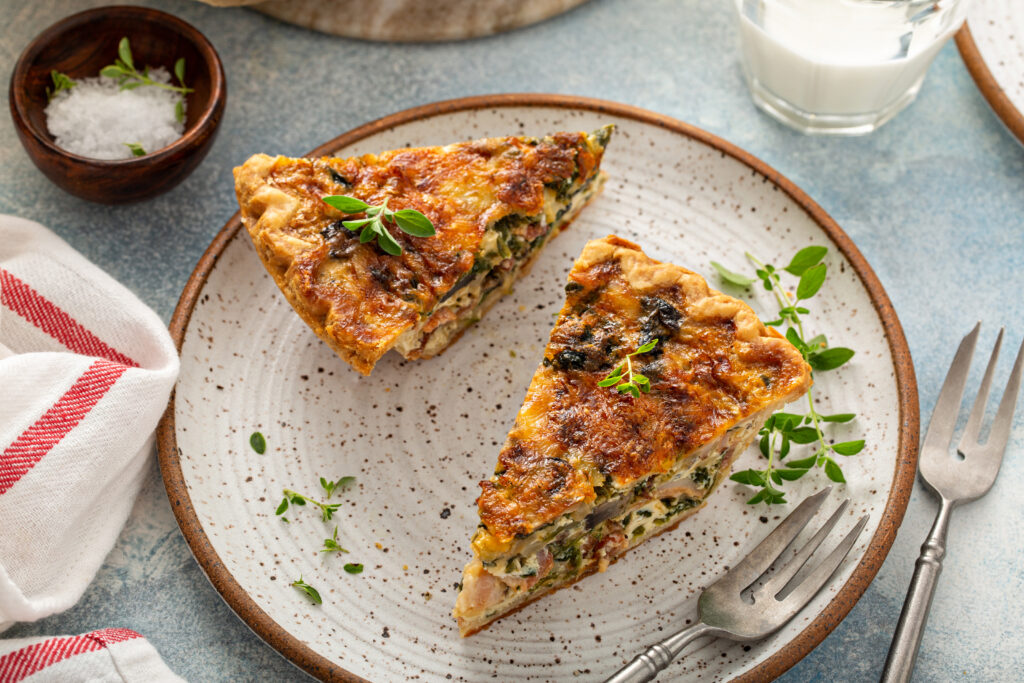 Bacon, Onion, Spinach, Mushrooms, Pepper Jack Cheese, Quiche
Ingredients 6 slices bacon, crumbled
4 eggs, beaten
1 ½ cup whole milk
½ teaspoon salt1/2 garlic salt
½ teaspoon pepper
2 cups fresh spinach, chopped
2 cups fresh mushrooms, chopped
½ cup onions, chopped
1 cup shredded Pepper jack cheese
1 cup shredded mild cheddar cheese
1 (9-inch) deep-dish pie crust
Directions
1. Preheat oven to 400 degrees F (200 degrees C).
2. Place bacon in a large, deep skillet. Cook over medium-high heat, until evenly brown. Drain, crumble, and set aside.3. Season with garlic salt and pepper 4. Sauté spinach and mushrooms. Drain and set aside.
5. In a large bowl, whip together eggs, milk, salt, and pepper. Stir in bacon, spinach, mushrooms, onions, 3/4 cup Pepper jack cheese, and 3/4 cup mild cheddar cheese. Transfer to the pie crust. Top with remaining cheese.6. Bake uncovered in the preheated oven for 35 minutes, or until bubbly and lightly browned.7. Let cool for at least 25 minutes.