Grilled cheese is one of my favorite sandwiches to prepare, and grilled cheese sandwiches were a must-have during my childhood. They are so delicious and very simple to make. I have taken this classic sandwich and remixed it using AdapTable Meals Meats Smokey Mesquite
Pot Roast. The smokey mesquite pot roast takes this sandwich to the next level because it's high in quality and full of flavor. The flavor of smokey mesquite is lighter and sweeter than that of hickory
smoke.
AdapTable Meals Meats have ZERO artificial ingredients. Their product is also gluten-free and a wonderful source of protein. This will be great to prepare for your family or any large group. When I created the mesquite pot roast, I put the meat in the slow cooker.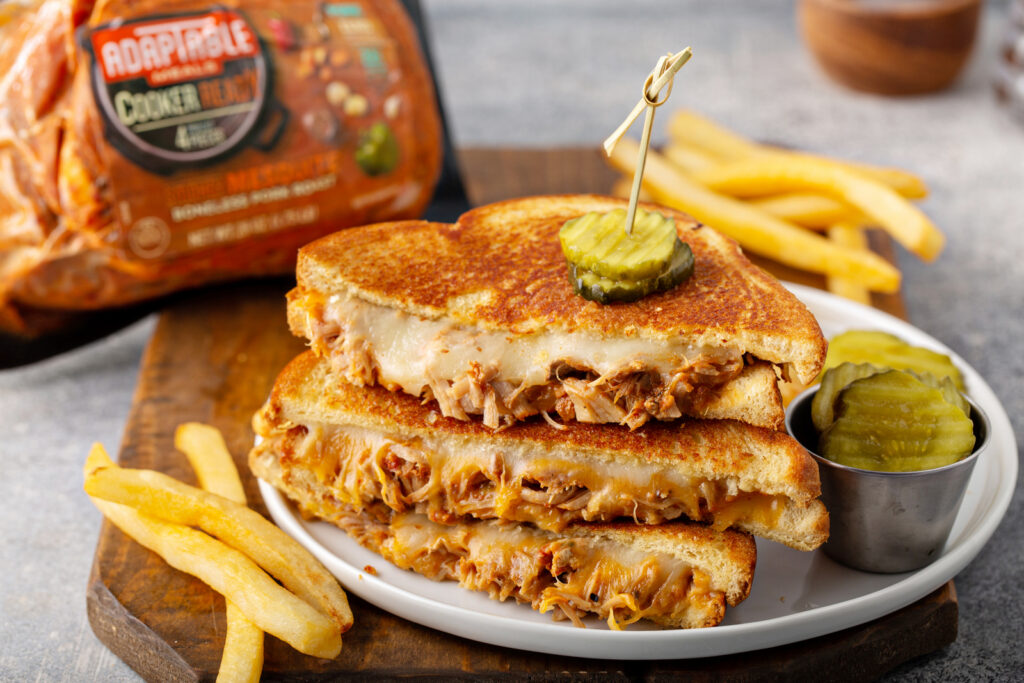 Call me old school, but I love using my slow cooker. When you slow cook the pot roast, the results are more tender and tastier. You will definitely appreciate the longer cooking time. Even if you aren't the best cook, AdapTable Meals Meats is great because it comes pre-seasoned.
You can pair this recipe with french fries or a small salad.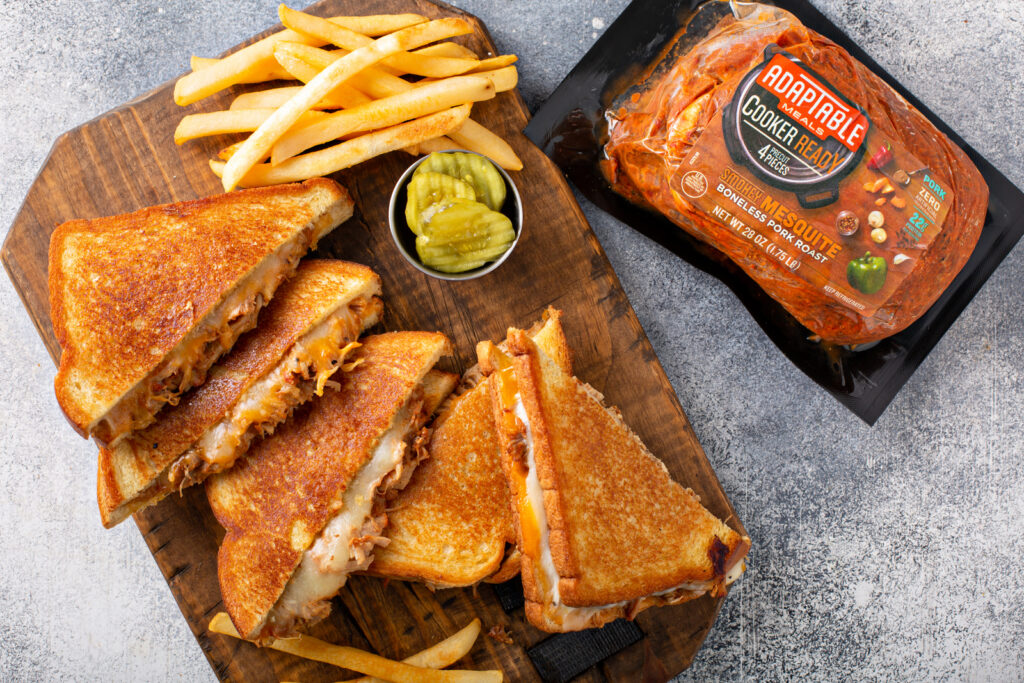 Four Tips for This Recipe
Make sure the AdapTable meat is dry. You don't want leftover juices, which will make the
sandwiches soggy.
Keep the heat on medium to medium-low. Adjust heat as you cook, ensuring that the bread
toasts at the same rate that the cheese melts.
If you have a panini press, you can use it for this recipe.
Use mayo instead of butter when grilling the grilled cheese. Trust me on this. Mayo has a
higher smoke point than butter. This means that it won't start to burn while getting the
sandwich golden brown.

Smokey Mesquite Grilled Cheese Sandwich Using AdapTable Meals Meats
Serves (4)
Ingredients
4 cups of beef broth
1 onion, medium
2 tablespoons of salt
2 tablespoons of pepper
2 tablespoons of garlic powder
AdapTable Meals Meats Smokey Mesquite Pork Roast
1/2 cup spicy barbecue sauce
8 slices of sweet Hawaiian bread
8 slices of sharp cheddar cheese
8 slices of mozzarella cheese
2 tablespoons of mayo
Sliced pickles
Directions
In a slow cooker, add beef broth, onion, salt, pepper, pork roast, and garlic powder. Add
barbecue sauce one hour before removing pork roast.
Slow cook on low for 6-8 hours, or until meat is tender. Remove meat and shred with a fork.
While the meat is resting, turn the stove on low heat.
Apply mayo to each side of the bread and layer bread with mozzarella, pork roast, and cheddar
cheese.
In a large non-stick skillet, toast sandwiches in batches over medium-low heat, until golden
brown and cheese is melted. This should take 2-3 minutes per side.
Serve with french fries and enjoy.