Sometimes you just want a fabulous meal, strong cocktails, and a girls' night out. Recently, I had the opportunity to indulge in a fabulous meal and more at STK Steakhouse.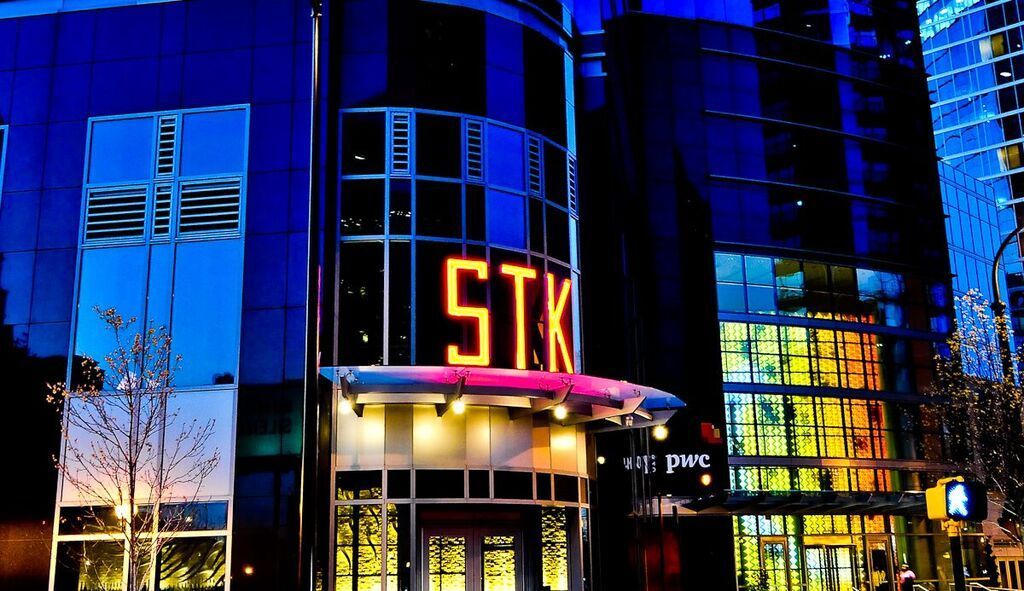 "STK" is a unique concept that artfully blends the modern steakhouse and chic lounge into one, offering a dynamic, fine dining experience with the superior quality of a traditional steakhouse. This steakhouse has been a Midtown Atlanta staple for the past ten years. They have added new offerings such as STK Meat Market and MEAT UP Mondays that you should check out!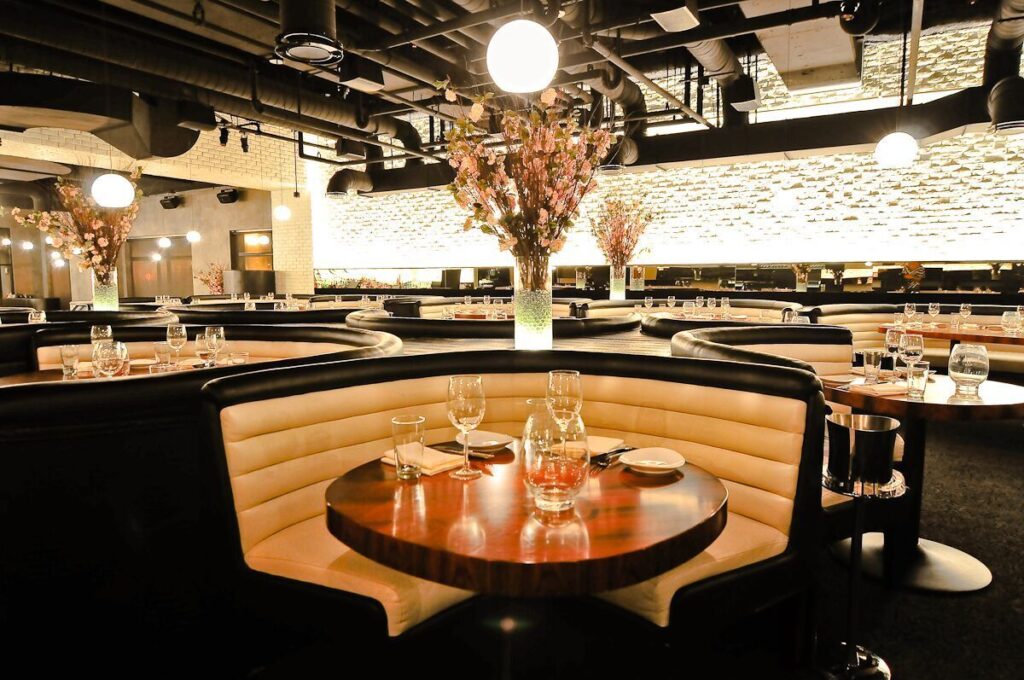 The STK Meat Market offers a variety of packages to fit every need and taste at unbeatable prices without sacrificing quality. All packages come with chef-curated instruction cards, links to STK Radio, and dining dollars to use for future in-person dining visits. Diners who spend up to $200 will receive $25 dining dollars; or $50 dining dollars, with all packages over $200.
Eaters can complete their in-home STK experience and turn up the heat with STK Radio, which features six playlists of live sets from STK Steakhouses from around the globe.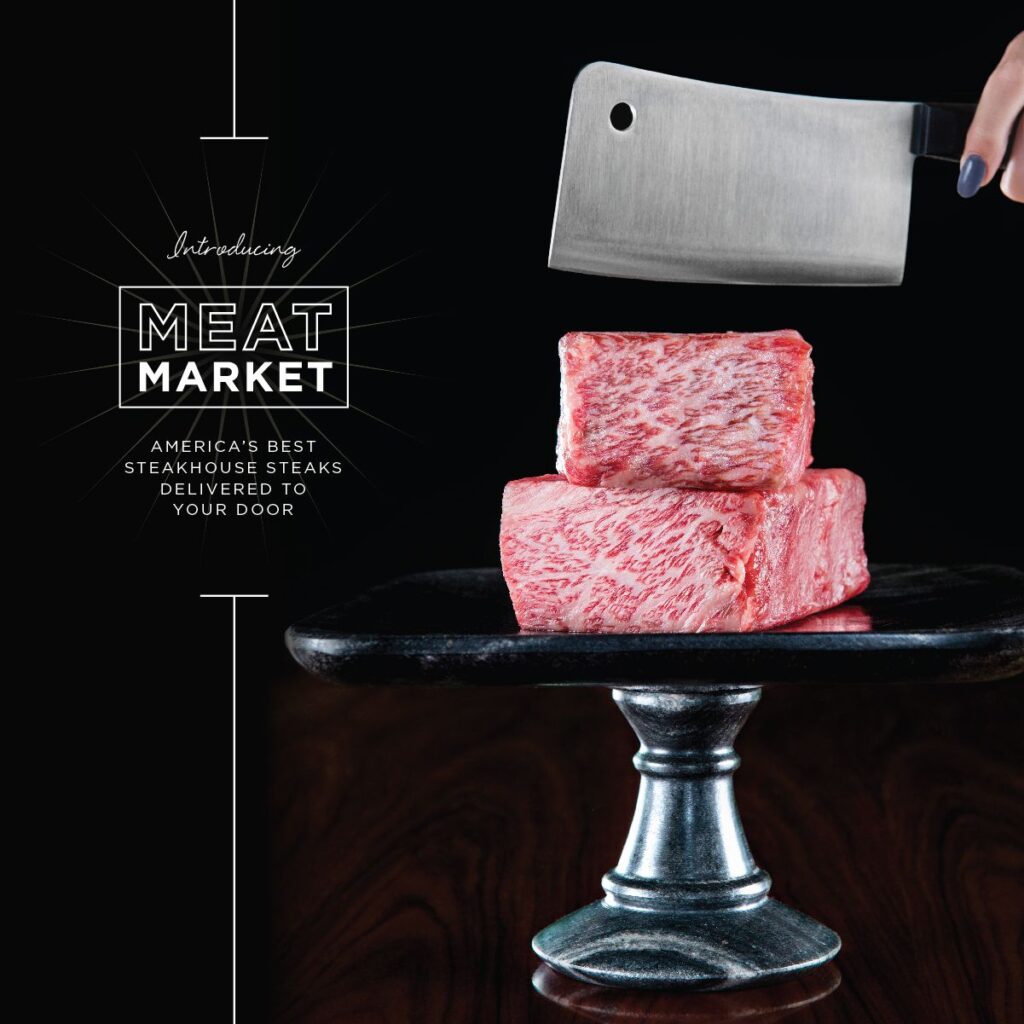 Typically when I dine, I start all my meals off with a salad. I decided to indulge in a Baby Caesar Salad, which was topped with Manchego cheese, herbed croutons, and a lemon-black pepper emulsion. With a lemon extract that provided a bright, bold citrus flavor and also gave our salads an amazing taste, the emulsion was totally on point and definitely a great start to the meal.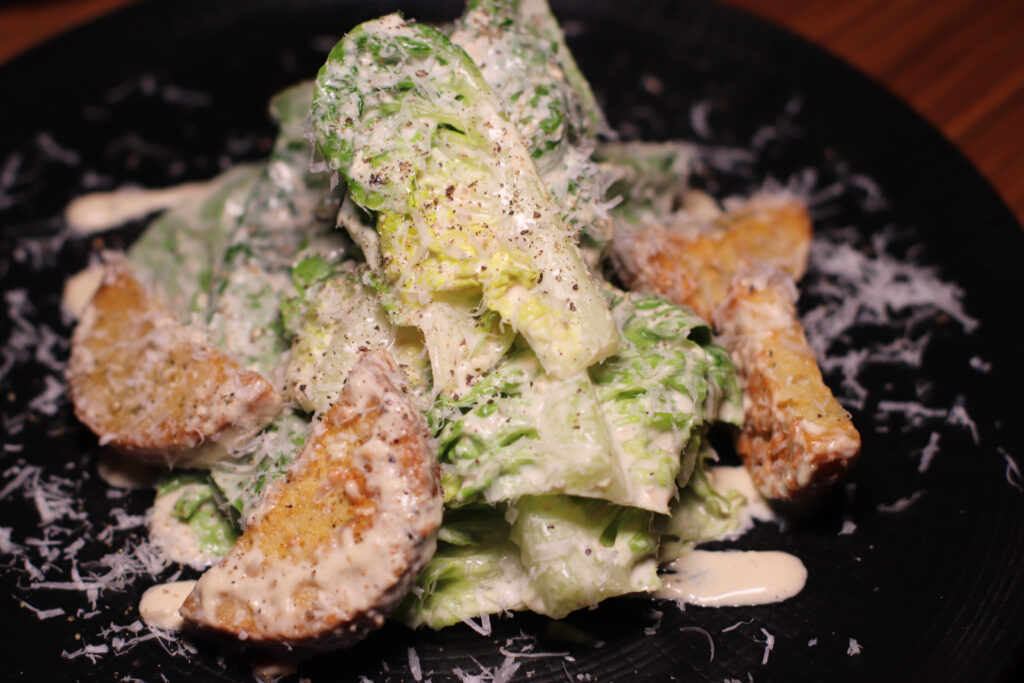 Everything on the menu had my taste buds dancing, but what really caught their attention were the lobster bites, which were gently fried without being overly greasy. What I liked most was the light crisp that they had and the savory Cajun flavor that made this appetizer so amazing.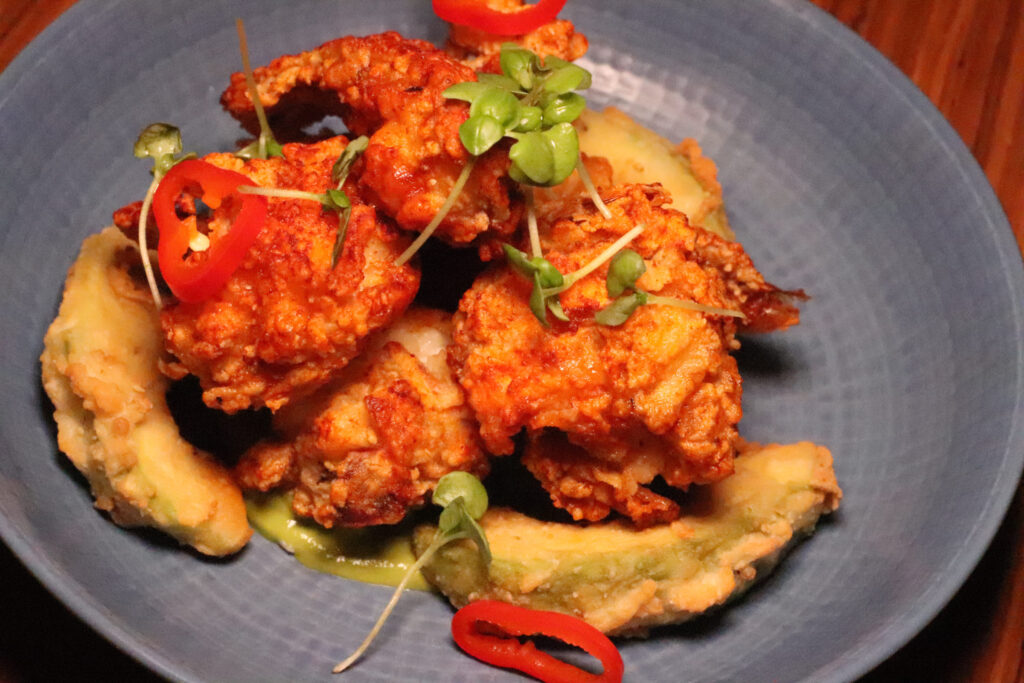 When I see sea bass on a menu, it is a must that I order it. So from the moment I read the menu, I knew that I would be ordering the Miso Glazed Chilean Sea Bass. Known for its silky texture and buttery flavor, miso marries well with an oily fish such as sea bass. My fish was cooked to perfection by not being tough to chew or undercooked.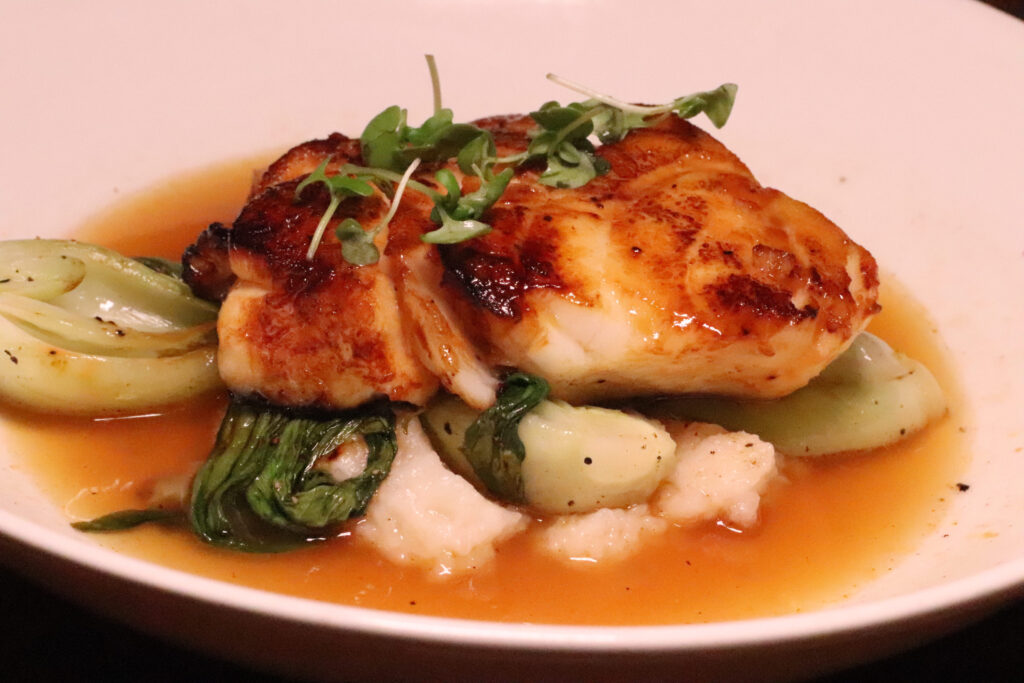 Mac & cheese is one of my favorite dishes. The only thing better than one mac & cheese is a mac & cheese trio: traditional mac & cheese, lobster mac & cheese, and bacon mac & cheese! I was in awe at how creamy, cheesy, savory, and rich this dish was. I hope none of my followers are on a diet because I highly recommend ordering this oh, so delicious dish.
The presentation of the salmon was not only a beautiful piece of fish, but it was fresh, tender, and flaky.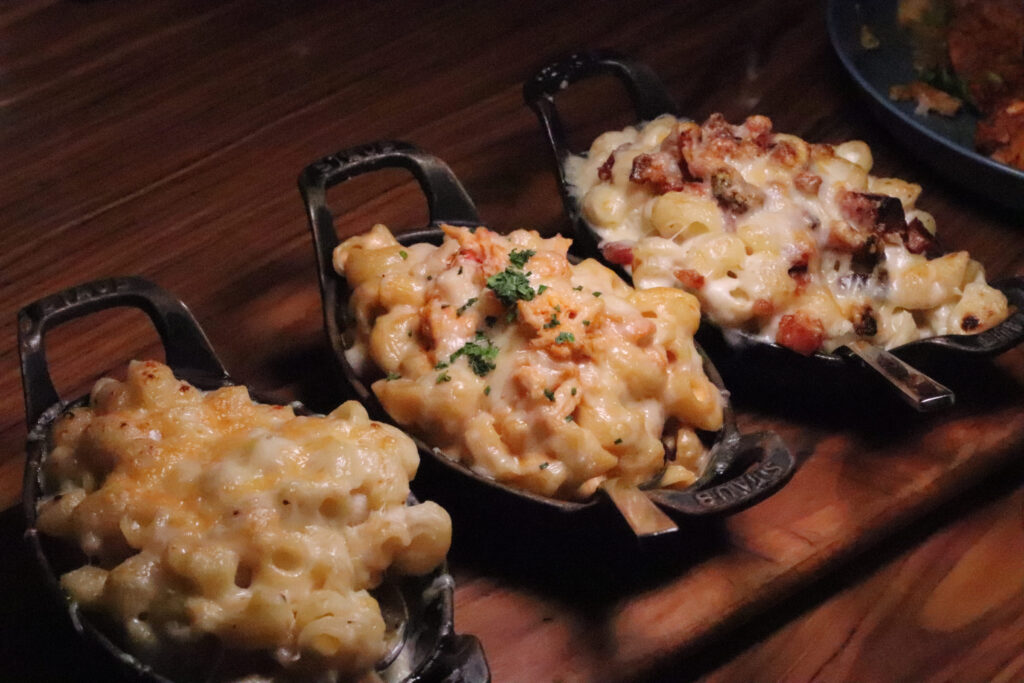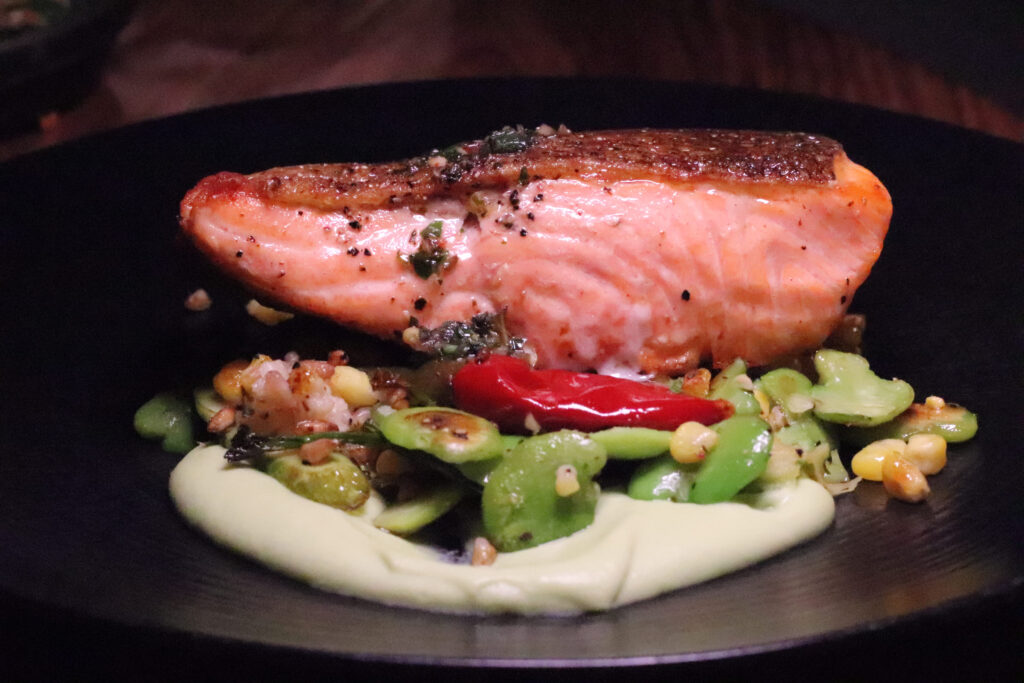 After the dining experience that I had, I recommend that you visit STK.  You will love the food, appreciate their new interior decor, and you will be impressed with their accommodating staff.  Along with a new menu, STK has a new chef, Chef Andrea, who brings his superb culinary skills to the STK scene. Make sure that you keep up with all of the STK happenings by following STK online: @eatstk #STKAtlanta.