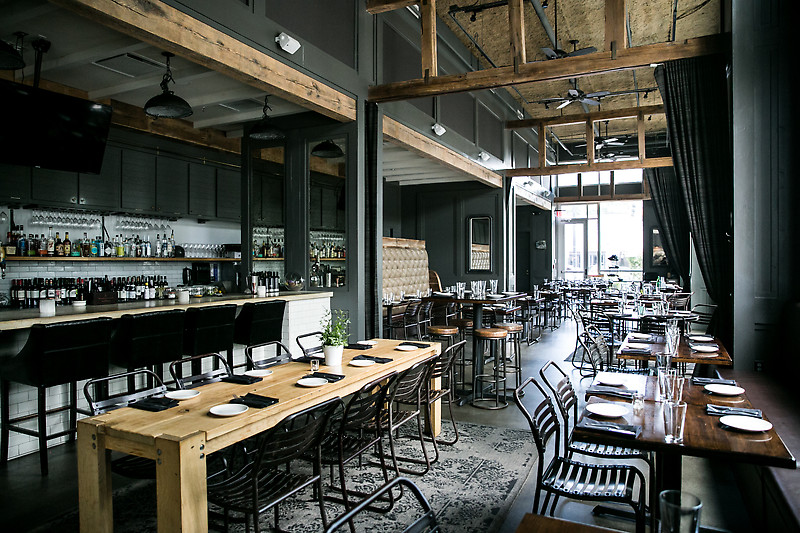 Chic, yet casual. Contemporary, but globally-inspired. Small plates, with colossal flavor. Saltyard in Brookwood Hills is the quintessential social house. From the moment you step inside, the aesthetically pleasing, tastefully adorned dining room and stylish bar will invite you in for an intimate, charming dinner.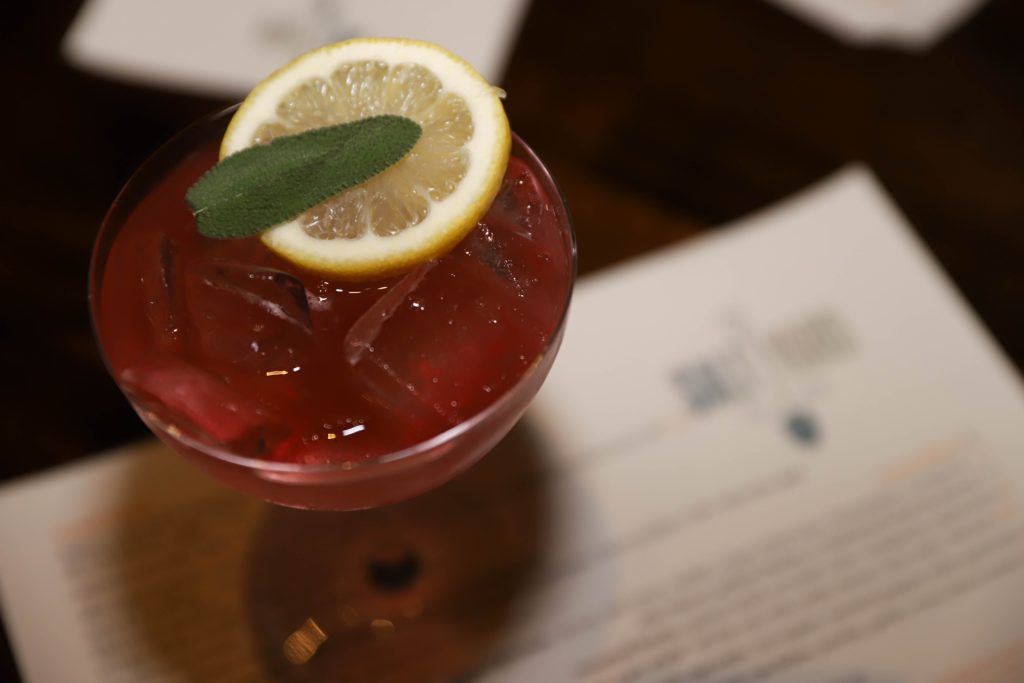 We started the evening with a cocktail – a specialty Saltyard happens to excel in. Cheers! We went with the Berry New Year and the Black Daisy. Berry New Year, made with Titos and seasonal berries, was quite possibly the most refreshing cocktail I have ever tasted. Oddly enough, it truly tasted hydrating, and I want another – right now! The Black Daisy – anejo patron, blackberries, lemon, and sage – was equally as impressive. Making our cocktail choices was no easy feat. The fresh fruit-inspired cocktail list is something that I absolutely loved. There's nothing like a refreshing cocktail to start off what is sure to be an exceptional meal.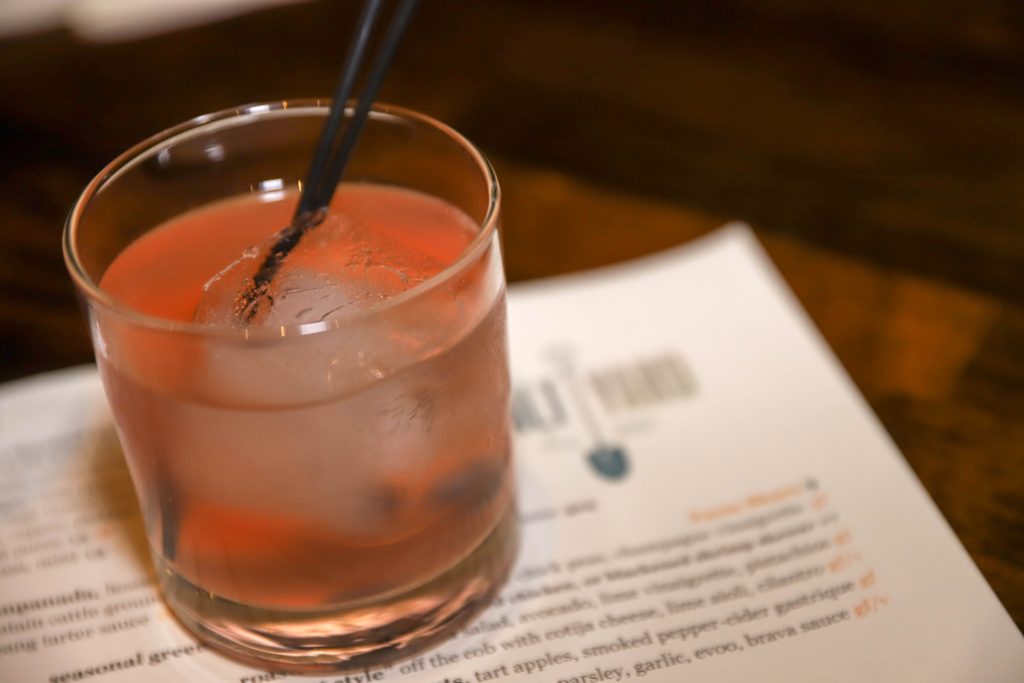 Saltyard's menu is unique in that it consists mostly of small plates/tapas, grouped into three different sub-categories. With options suited for absolutely all palates, you seriously can't go wrong here. From the pickiest of eaters to the most adventurous, everyone will find something to enjoy at Saltyard.

Off of the "small plates" section of the menu, we started with Deviled Farm Eggs and Crab Cakes. The Deviled Farm Eggs were as beautiful as they were tasty. Topped with tobiko, dijon, and herbs, these deviled eggs were surely a globally-inspired twist on the classic deviled egg. They were a perfect, light way to start the meal. The Crab Cakes – a recipe pioneered by the executive chef almost eight years ago – provided fabulous Thai flavor with savory pang tarter sauce. Highly recommend.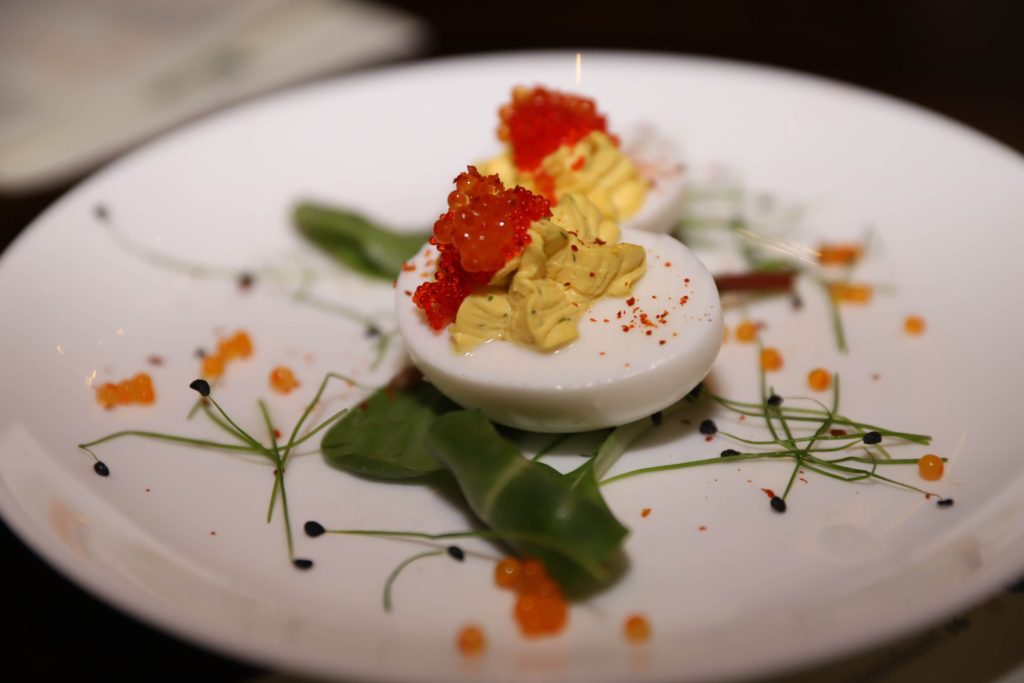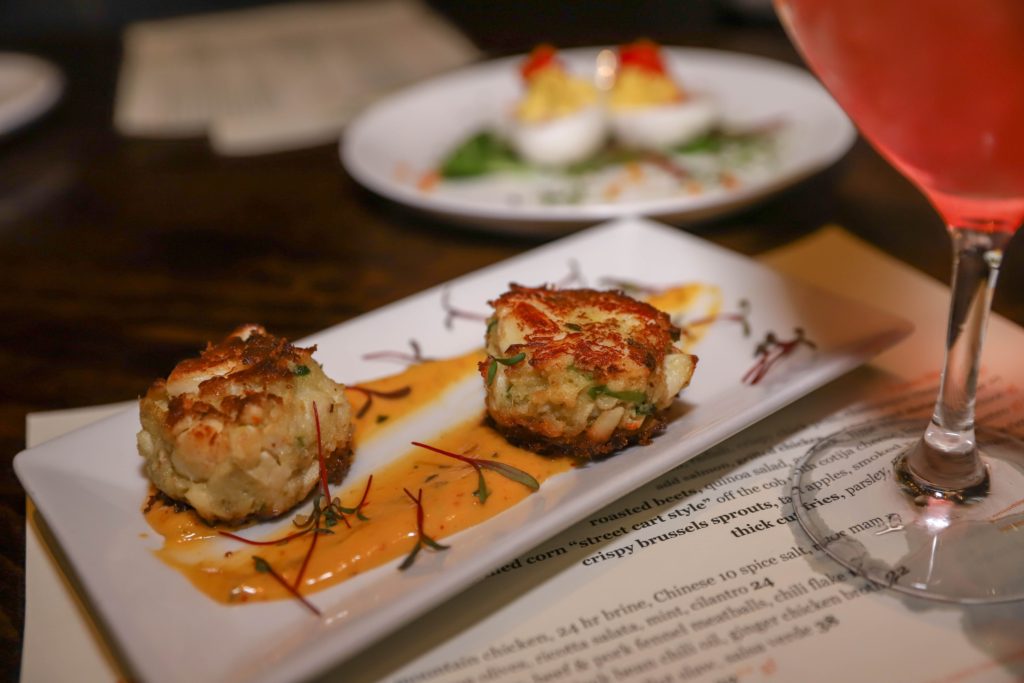 Next, we moved on to "farm share" dishes. Highly suggested by our server, we eagerly chose the Crispy Brussels Sprouts. Oh. My. Gosh. Served with apple cider gastrique, Szechuan peppercorn, and topped with thinly sliced green apples for a divine complementary taste, these brussels sprouts have been in my dreams.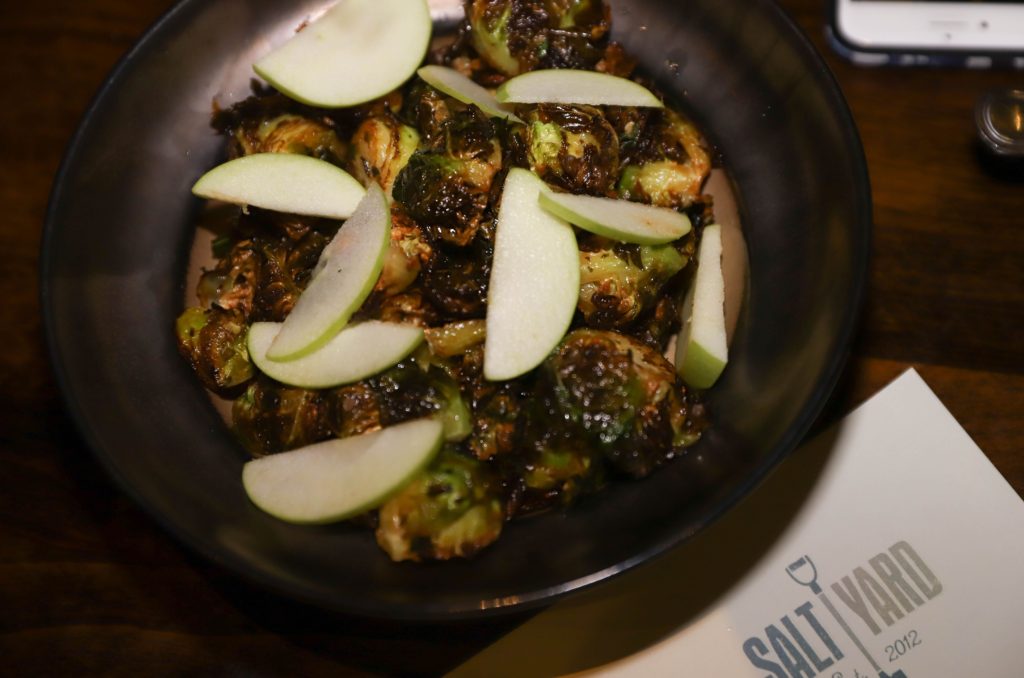 Lastly, our main "for the table" dish was none other than the ½ Saltyard Bird. The name says it all: a 24- hour brine springer mountain chicken served with Chinese 10 spice salt and nuoc mam. Yet another wonderful globally-inspired classic dish, this bird was marvelous looking and plenty for the table to enjoy.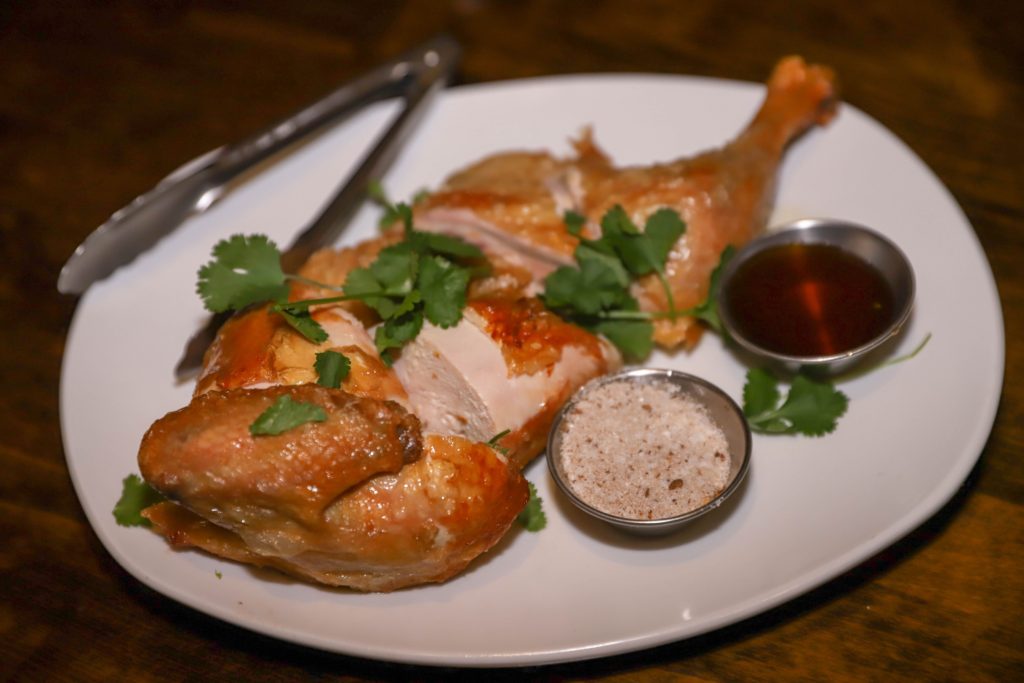 As usual, we couldn't forget dessert. We asked for the best of the best and let our server take care of the rest. In result, we were treated to the Buttermilk Chocolate Cake and Fried Hand Pies. The Buttermilk Chocolate Cake was topped with a heap of vanilla ice cream and ultra-light peppermint-infused whipped cream, which was like nothing I have ever tasted; it was such a neat addition to a chocolatey dessert. I have been thinking about it since! The Fried Hand Pies are a Saltyard staple, and boy do I know why. Baked to a crisp with an outer shell of nothing but cinnamon sugar, the delicious and warm little apple pies were perfectly paired with scoops of vanilla ice cream. Both dishes were an absolutely amazing way to end this delightfully inspiring meal.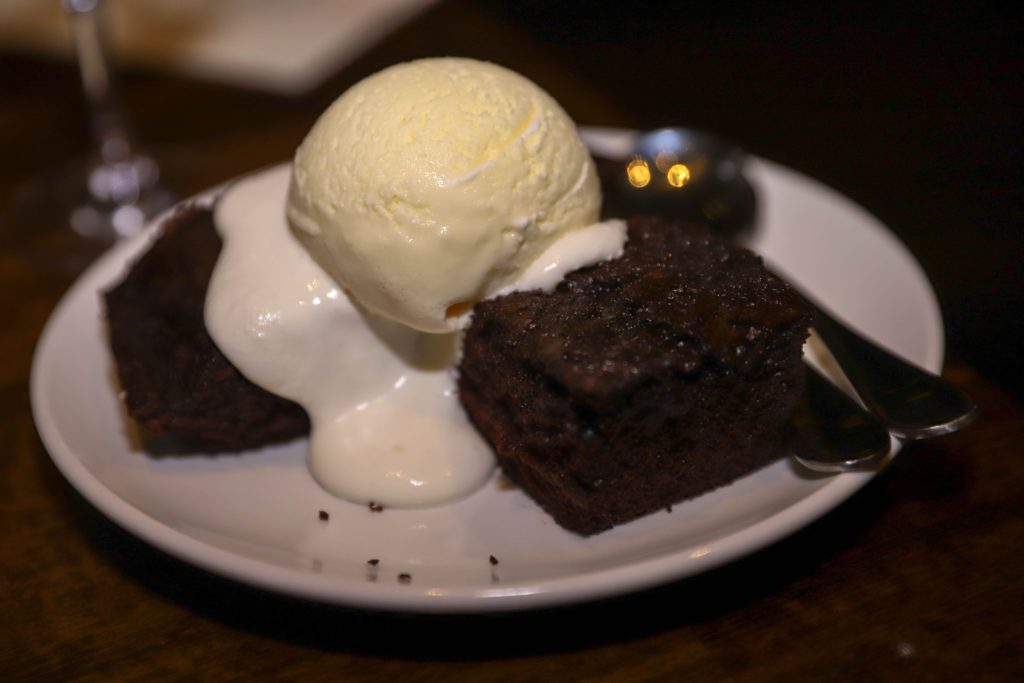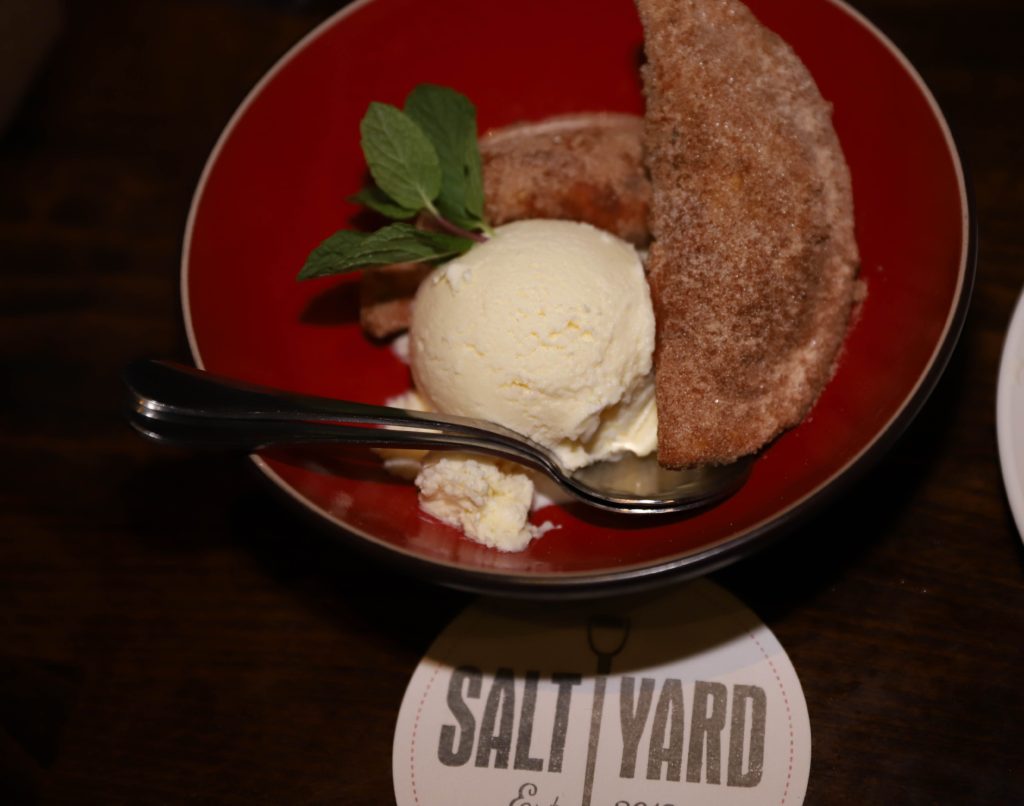 Something about small plates creates a unique dining experience among the table. Choosing plates together, all of which were rare versions of well-loved dishes, makes for a fun, hands-on tasting experience among yourself and your friends or family. We left Saltyard leaving full, but so very satisfied. One plate after another, we were served the freshest, most flavorful dishes that were just right. Saltyard does a fabulous job of curating a menu that is satisfying yet not in an over-indulgent way; it almost feels like a friend is serving you eclectic dishes they've been working on – and you'll love every one of them.
Photos By: Reynolds Rogers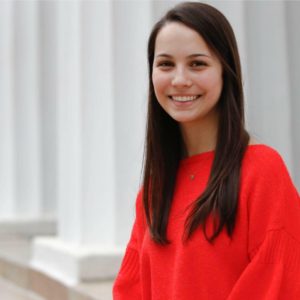 Please follow and like us: