We all have had high school dreams. Some of us wish we had chased our dreams a little bit harder, while others have chased their dreams, despite headaches and hardships.

Well, that is exactly what Chef Brian Kennington and best friend, Terry Kirby did. Both had dreams of opening a restaurant together. Upon graduating, Chef Brian began taking the steps to prepare himself for a culinary career. He held his first leadership role as Outback Steakhouse's kitchen manager in Atlanta.

Here, Chef Brian trained staff, managed all food prep, and oversaw kitchen operations for nine years. In 2000, Brian set off to Hilton Head, South Carolina, to continue his culinary foundation with new and diverse opportunities. Holding various kitchen roles, he quickly climbed to co-founder and executive chef of Club Paradise in Hilton Head. After a few years under his belt, Chef Brian headed back to Atlanta, where he and Terry revisited their high school ambition.

Combining Chef Brian's skillset and impressive resume, along with Terry's customer service experience, Red Sky Tapas & Bar opened its doors in 2008. I had a chance to grab a cocktail and get to know Chef Brian Kennington a little more.
1. What was your journey like to get where you are?
My journey to Red Sky has taken many twists and turns. It started at Outback Steakhouse as a prep cook to pay for college. That job took me to Indiana and back. It also gave me my first taste of management. After a year in the "real world" with an office job, I quickly learned that was not for me. I relocated to Hilton Head, SC, expecting a few years of fun in the sun, but before I knew it I was opening Red Fish of Hilton Head as Co-Executive Chef. Unfortunately, I had to learn how short life is due to a few accidents and hard times impacting my close friends. I decided it was time to come home. I jumped into the bartending and night club managing scene back in Atlanta while revisiting a former ambition. My best friend, Terry Kirby and I talked about opening a restaurant when we graduated high school. With a few years of experience under our belts, Terry and I decided to open Red Sky Tapas & Bar in 2008. More than 10 years later, we are still going strong!
2. Why did you decide to become a chef?
Owning my own restaurant is something Terry (Red Sky Co-Owner) and I have talked about since graduating high school. I wasn't sure if it would ever happen, but as soon as I started working in the restaurant industry, I was hooked. I worked various kitchen positions and before I knew it, I was creating menus and running my own kitchen. I truly can't imagine doing anything else now!
3. If you weren't a chef what would you be?
If I wasn't a chef, I would probably be…I really don't know! It's hard to picture myself doing anything else, but maybe an underwater welder!
4. What/Who Inspires you?
My mother inspires me. She is 70 years old and has fought and survived breast cancer twice. She still works 50-60 hours a week. Whenever I'm facing hard times, I think of my mom!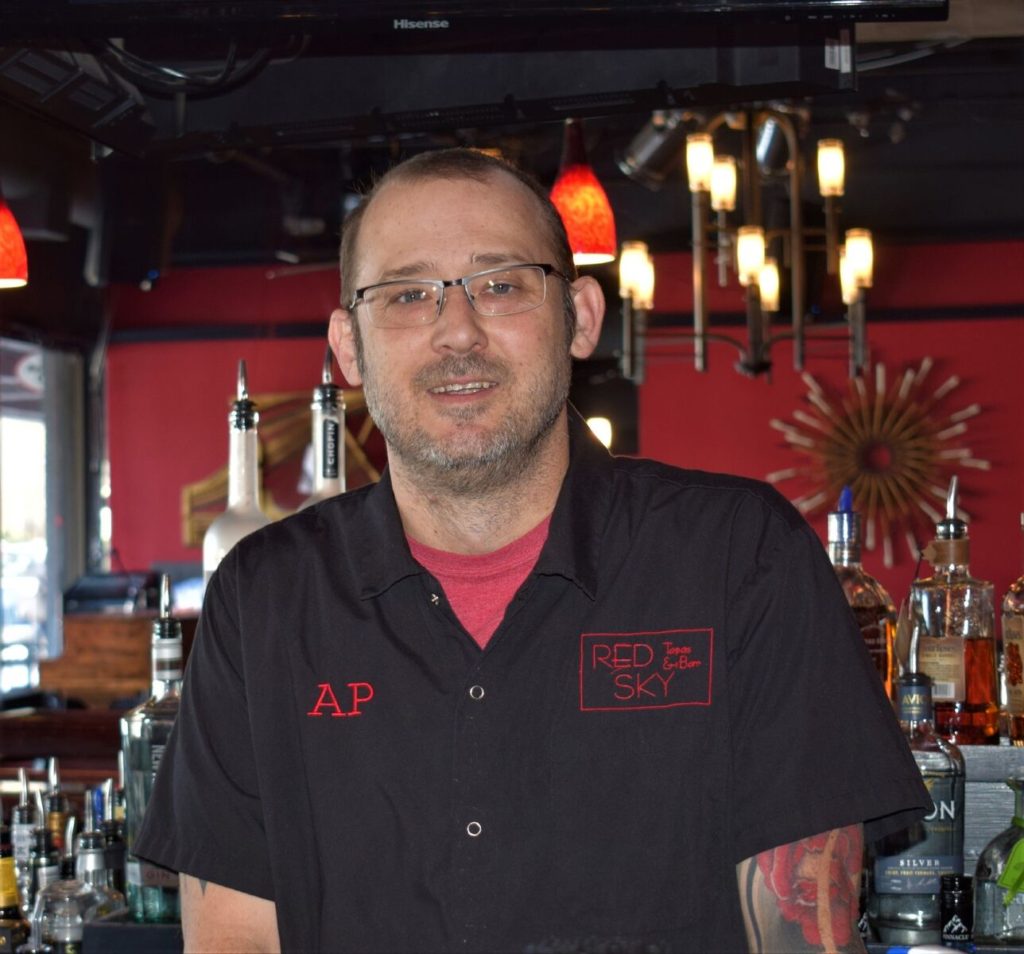 5. How do you handle the daily stress of being a chef?
After many years in the kitchen, I've learned nothing good comes from stressing. So, I do my best not to stress! I've learned you can only control so much and let the things out of your control work themselves out. I'd also say having a great staff makes all the difference!
6. In three words, describe yourself?
A Triple Leo. If you don't know what it is, look it up!
7. What do you do to stay current with food trends?
I have to admit, staying up-to-date on food trends isn't one of my strong points. I feel they come and go so quickly. I'd rather find unique flavors and textures from various regions and cultures to incorporate into simple dishes.
8. What would be your last meal?
My last meal would be breakfast cooked by my grandmother! I'd want her to make her go-to pinto beans and cornbread. That's all my grandmother cooked and I wish I could it enjoy with her once more.
9. What is your favorite cuisine to prepare and why?
I love cooking seafood! It lends itself to so many different flavors and textures.
10. Who is your favorite person to cook for?
I wish I could say I love cooking for my daughters, but one is way too picky and the other wants to eat all the time and it would be nonstop cooking for me! I enjoy cooking for anyone who wants to sit down, relax and have a great conversation over great food.
11. What is your favorite quote and why?
The quote I live by is "Don't Try, Just Do!" I've realized when people fail they often say "I tried my best," but when someone succeeds they say "I just went for it." For me, life is too short not to just go for it!