When I received an invite to attend Cocktails, Cuisine & Conversation, I jumped at the opportunity.  Located in West Midtown, it was my second time visiting
Twisted Soul Cookhouse & Pour
s, which is where the event was held.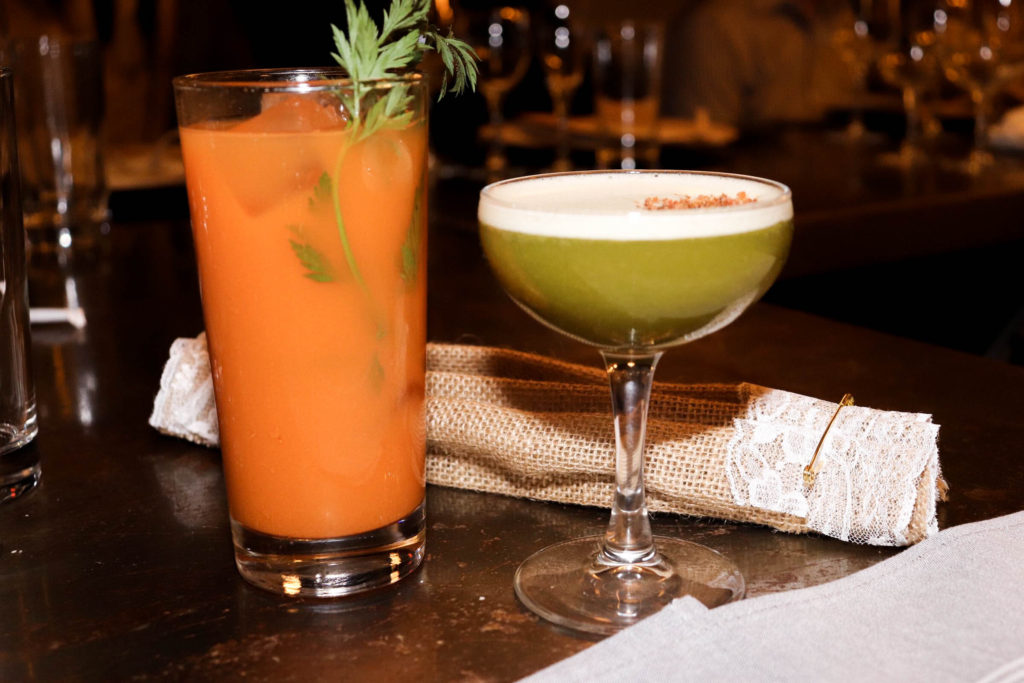 This coursed-dinner was a kick-off to their Cast Iron Chronicles event series.  Each course was paired with a cocktail and poetry-prompting discussion about the soul of the culinary industry, its history, the road that has guided the standards of success today, and challenges that have been faced.  This dinner series featured three of Atlanta's culinary heavy hitters: Deborah VanTrece, Chef Jennifer Hill Booker, and mixologist, Tiffanie Barriere.  All three ladies are experts in their fields.
An extra bonus is the menu that was featured will be the dinner menu presented at the James Beard House in New York City, in which these three incredible ladies are headed to in February.  I am sure everyone will be impressed and doing a happy food dance like everyone at my table was doing.
We started our meal with tasty appetizers and unique, flavorful mixed drinks.  Dinner was filled with tantalizing creations and great conversation.  What I most appreciated about this dinner was that is was original, innovative, and quite titillating.  They took foods and ingredients that were common and made them really stand out and over the top.  Check out the ambrosial menu of items that we enjoyed.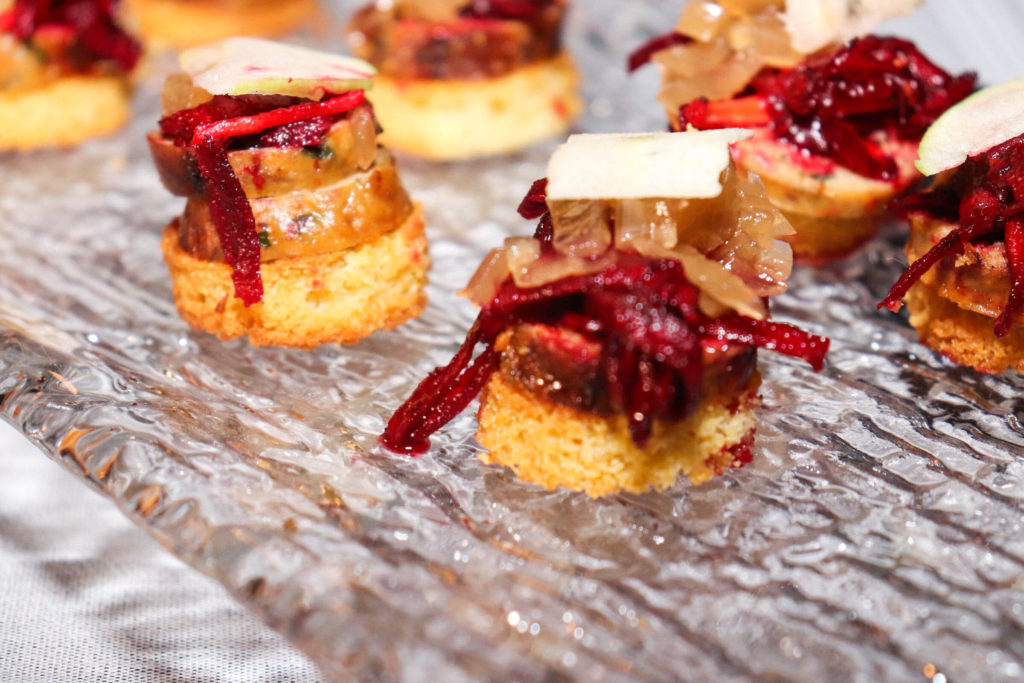 Chitterling Sausage, Apple Beet Slaw, 
Cornbread Broiche, Caramelized 
Shallot & Pepper Gastrique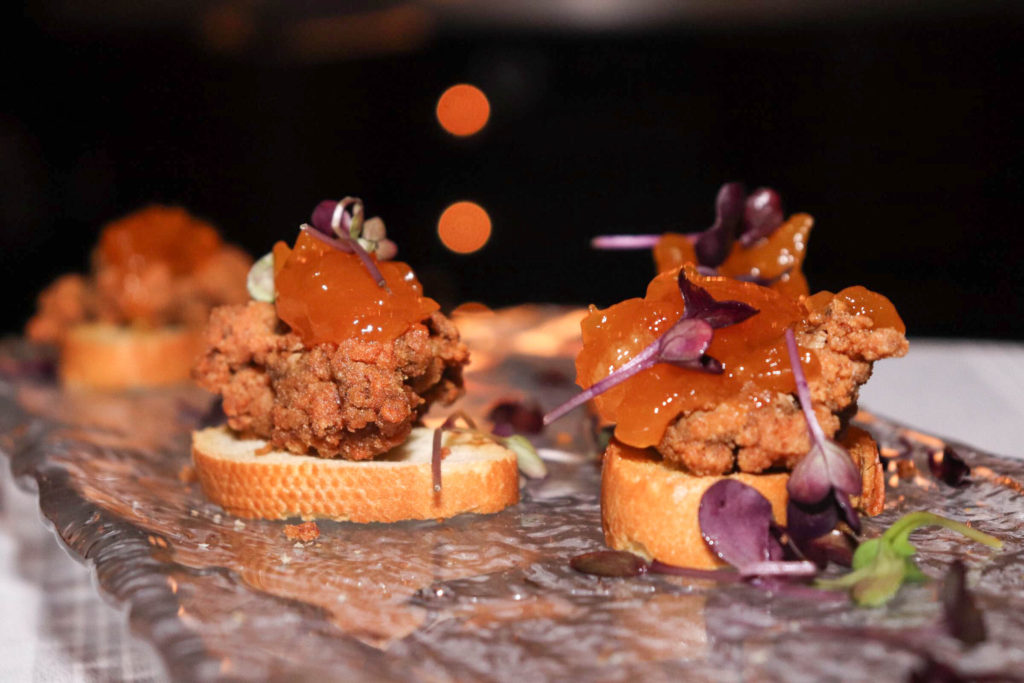 Springer Mountain Fried Chicken Liver, 
Peach Confiture, Crostini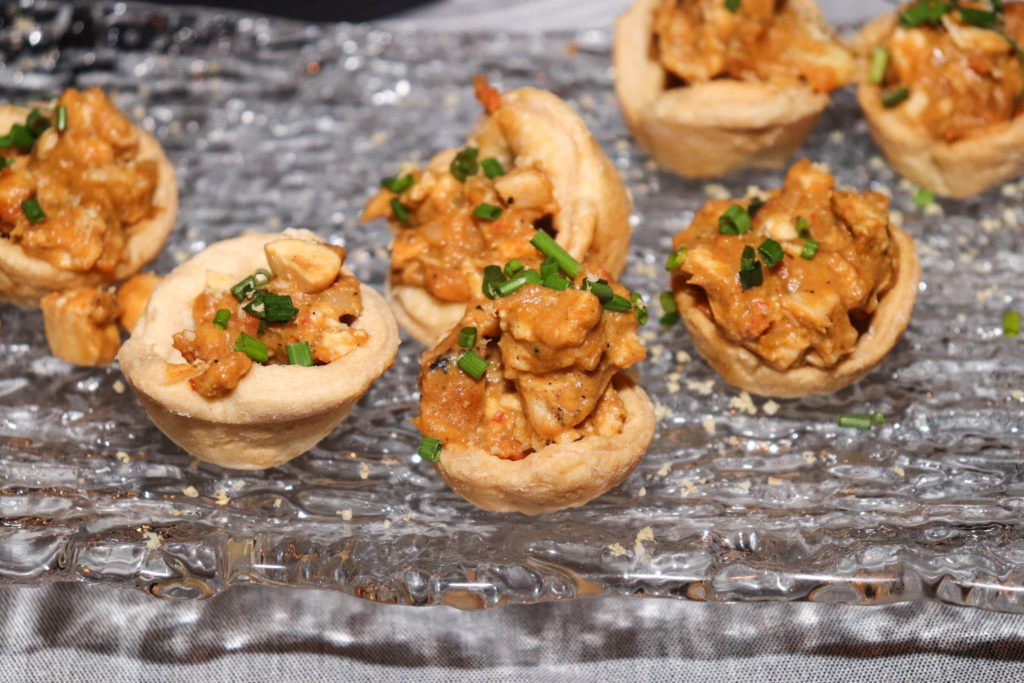 Springer Mountain Smoke Chicken 
Sweet Potato, Peanut, Pot Pie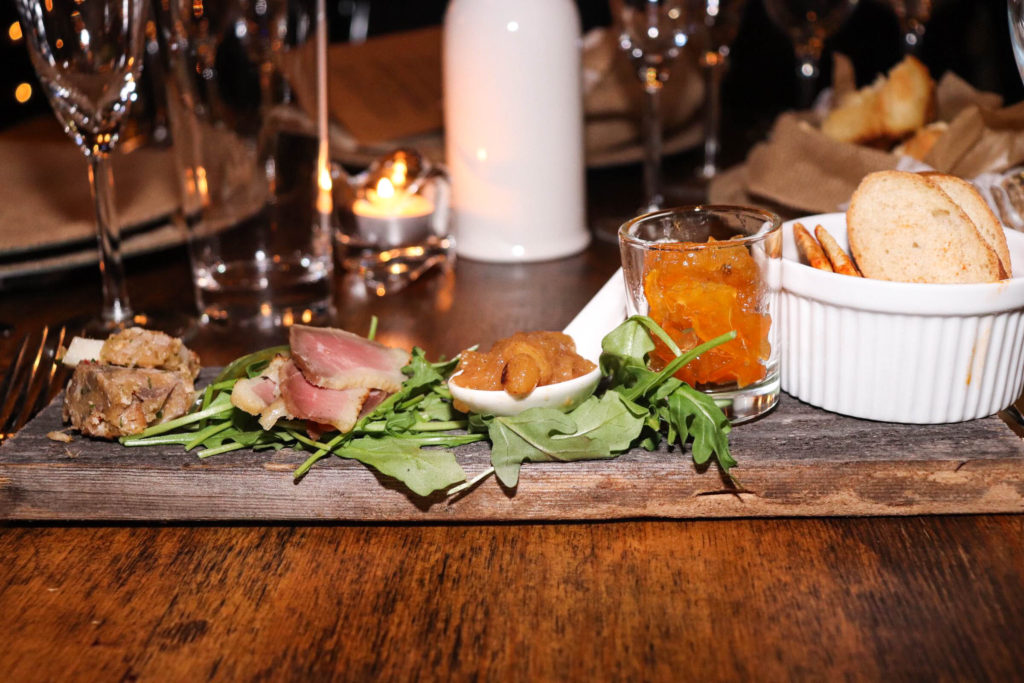 Hog Head Cheese, Apple Monstrada, Duck Proscuitto & Cracklin, Smoked
Paprika, Saltine, Quick Pickles, Kumquat Marmalade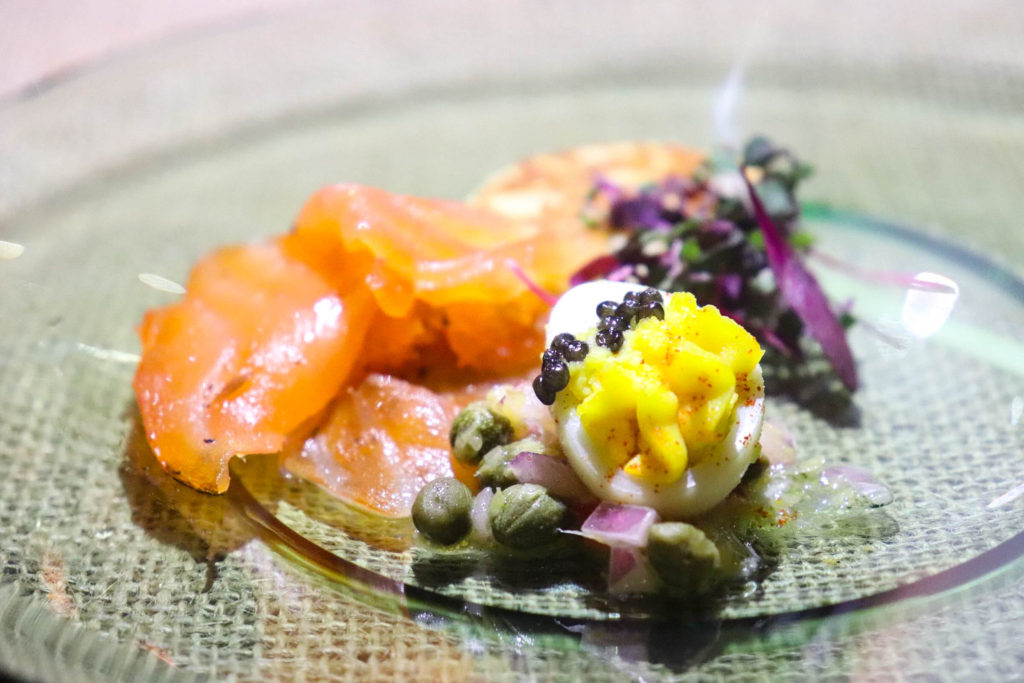 House-Smoke Verlasso Salmon, Deviled Quail Egg, 
Green Onion Hoecakes, Caviar Chow Chow
Pair: Perrier Jouet 
Collard Green Salad, Root Vegetable Confetti, Pecan Apple Vinaigrette
Paired: Vino Verde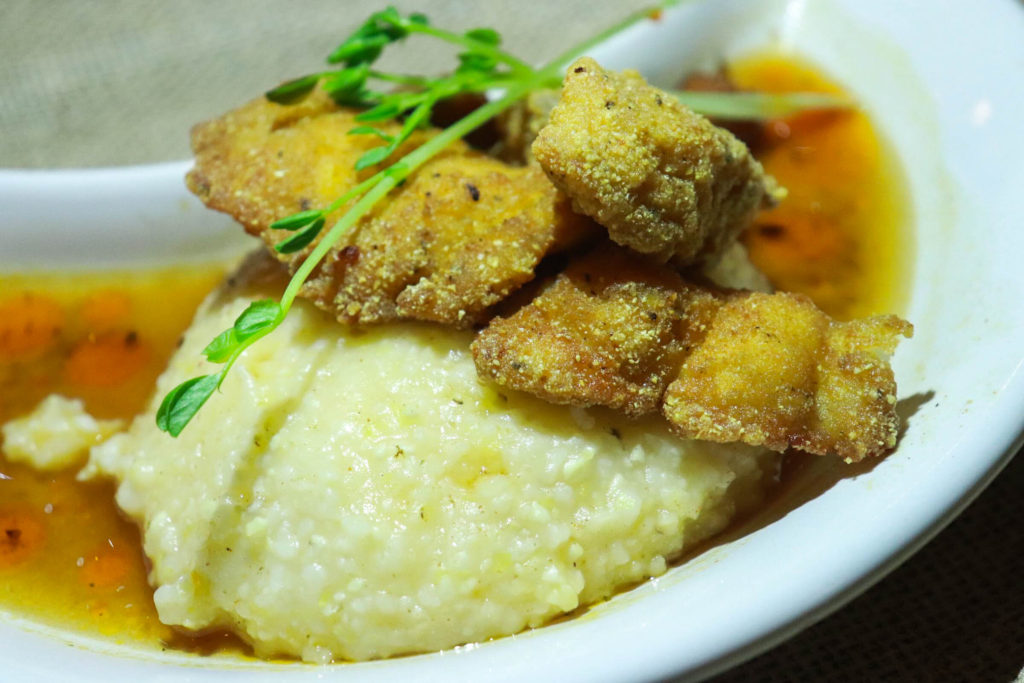 Catfish Goujonnettes, Buttermilk Hominy Grits, Tasso Red Eye Gravy
Paired: Southern Reserved, Apple Cardamom Shrubb, Lemon, Mint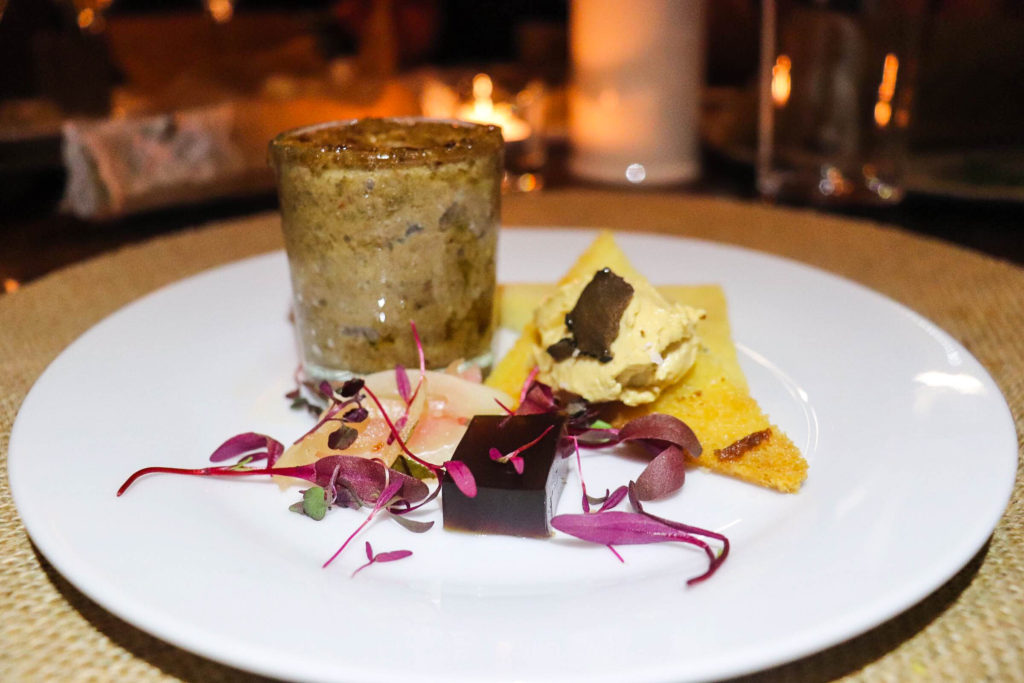 Oxtail Rillette, Foie Gras Mousse, Pickled Vidalia Onions, Muscadine Balsamic,   Gelee, Truffles Toast Points
Paired: Cab Calloway Four Roses Small Batch, Apricot, Olloroso Sherry,Carpano, Dry Vermouth, Orange Bitters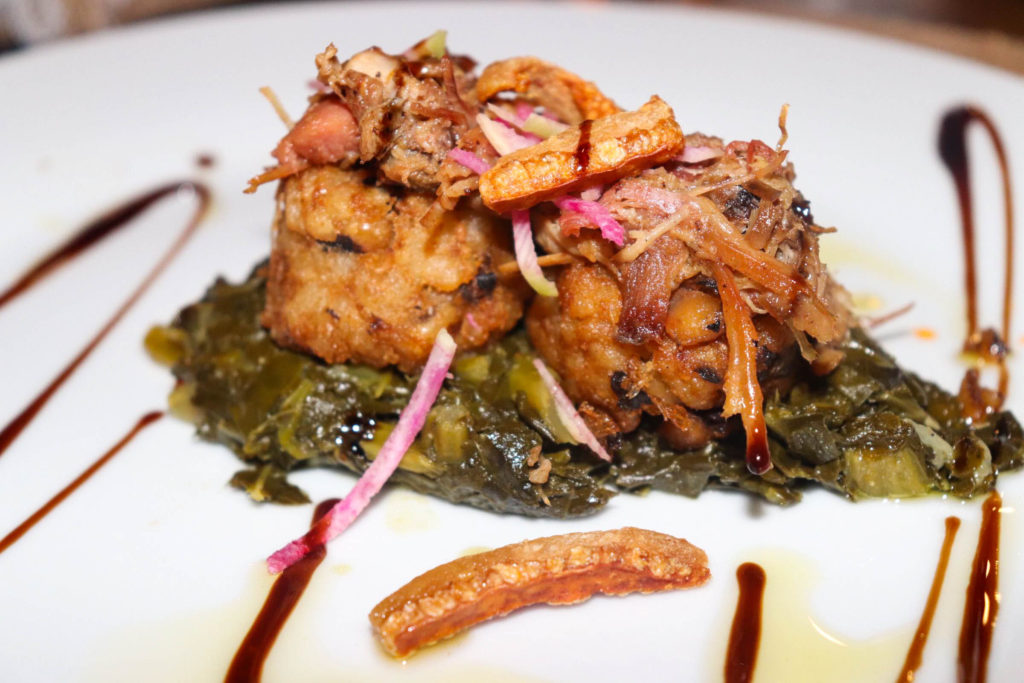 Smoked Ham Hocks, Black Eyed Pea Risotto Cake, Candied Winter Green, Crispy Pig Skin
Paired: Brown Estates Zinfandel 2014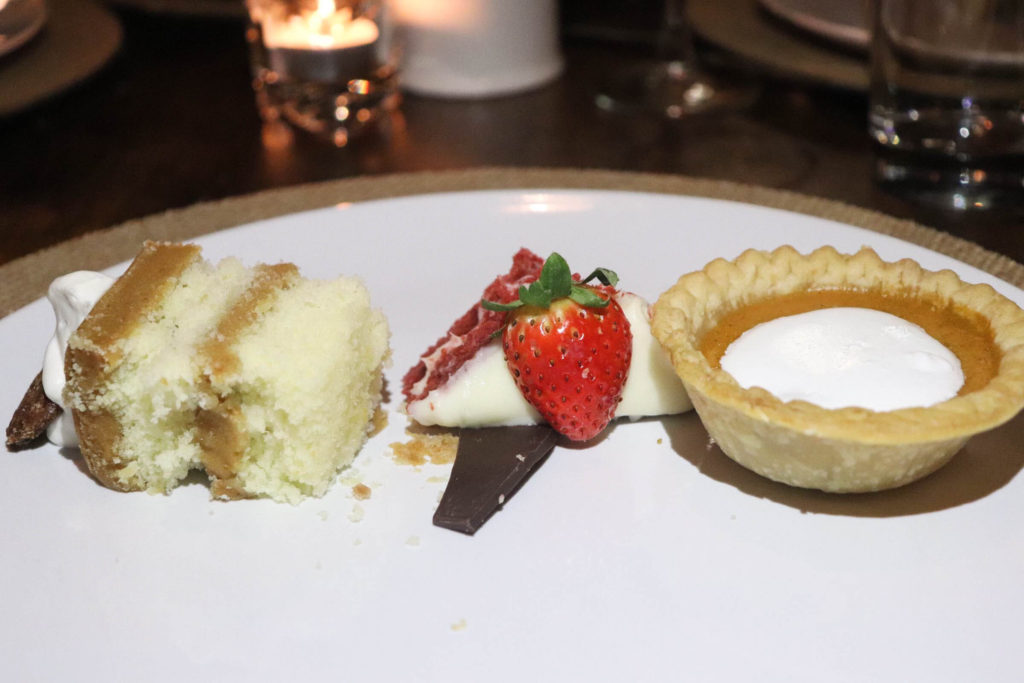 Sweet Potato Tartelett, Meringue Cloud
Red Velvet Cake, Whipped Cream Cheese Souffle, Sweet Southern Pecans
Vanilla Bourbon Caramel Cake 
Paired: BGM Hoodoo Chicory Liqueur, Cynar, Ruby Port Golden Blackberry
I don't know when the next Cast Iron Chronicles is being held, but it's a must-attend.  I will keep you posted on upcoming dates and times. Make sure you visit Twisted Soul Cookhouse & Pours, you will have a great time.