Ashleigh has over 12 years working with/for QSRs (Quick Serve Restaurants) and Manufacturers including Schwan's, Dawn foods, Auntie Anne's International, Cinnabon Domestic and International as well as Focus Brands Global Channel Team (all 6 brands – Moe's, McAllister's, Schlotszky's, Carvel, Cinnabon and Auntie Anne's) in addition to other national account brand throughout her career. During the course of her profession she has collaborated with large national brands like General Mills, Kellogg's and Hershey to bring branded, co-branded and private label products to market place. "I absolutely love what I do, how many people can say they work for a great company, collaborating with fun, relevant brands and get to play with food all day".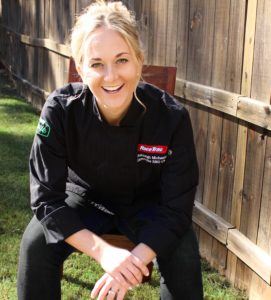 Here at RaceTrac Ashleigh oversees all Culinary R&D projects for RT Made, Hot Foods, Fresh Foods, Bakery, Swirl World and Dispensed Beverage categories and works closely RaceTrac's Food Safety Manager when reviewing vendors, products and processes to ensure only the safest products make it into our stores.  She also works directly with food and equipment vendors and our architecture and design department to get RaceTrac exactly what is needed from a quality, space and platform standpoint.
Fun Facts: Ashleigh is based out of North Georgia. She grew up playing soccer and competitively swimming, later playing college soccer for Wingate University. Food was always her passion and attended the Art Institute for Culinary school. She met her husband at a Rolling Stones concert and later got engaged at a Police concert. They have 2 handsome boys Hank Owen (4) and Waylon Hawk (15 months) and they both enjoy helping to cook dinner each night – Food is definitely a family affair!