Everyone loves a good pizza – but where can you find the best pie in Atlanta? With so many tasty options, here are 8 spots to satisfy your pizza cravings.
Dolce 
Tucked into the Shops at Buckhead, Dolce is a swanky happy hour spot with a pizza menu that packs a punch. Their Sunday Gravy pizza is a can't miss, topped with meatballs and spicy salami. Dolce has a gorgeous patio overlooking the shops, with perfect lighting for Insta-worthy shots. They also have one of the best Wednesday night specials in town – $7 pizzas and $10 Double Cross vodka drinks.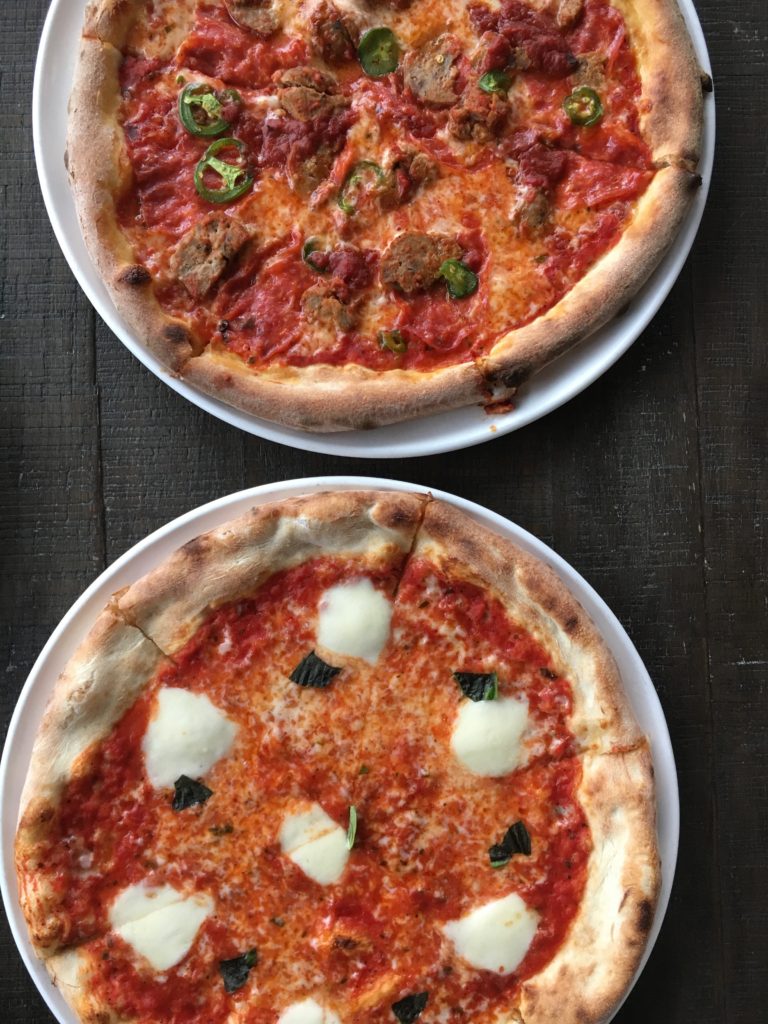 Varuni Napoli
With an Ansley location, plus a shiny new booth at Krog Street Market, Varuni Napoli is one of the hottest pizza spots in Atlanta. Their restaurants feature iconic bright blue pizza ovens, flanked by an open assembly line where you can see your meal being made right before your eyes. A must-try is the simple but stunning Oro Bianco, made with fresh buffalo mozzarella, ricotta, pecorino romano, and basil.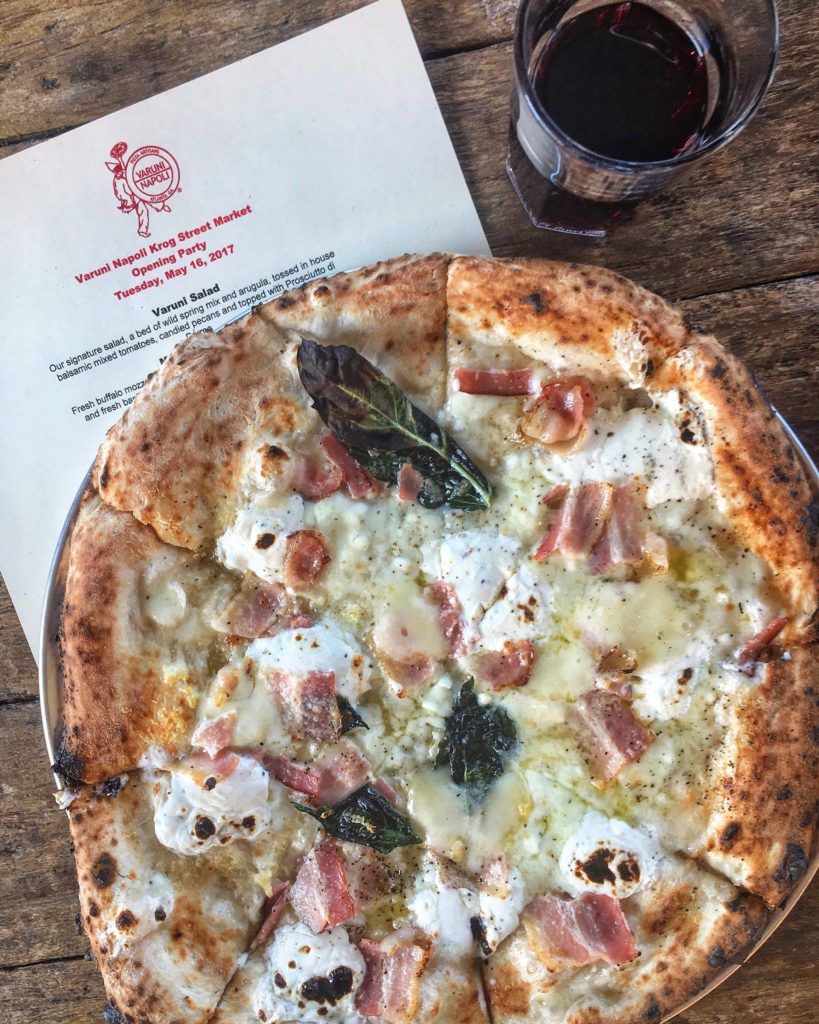 Antico
Consistently touted as an Atlanta favorite, Antico has won multiple awards for most beloved pizza in the city. Antico is loud and boisterous, with communal, cafeteria-style seating. The atmosphere shouldn't deter you — the huge pies and BYOB policy make Antico a front-runner in the Atlanta pizza game. Make sure to arrive early, as Antico quickly gets packed with adoring fans right around dinner time.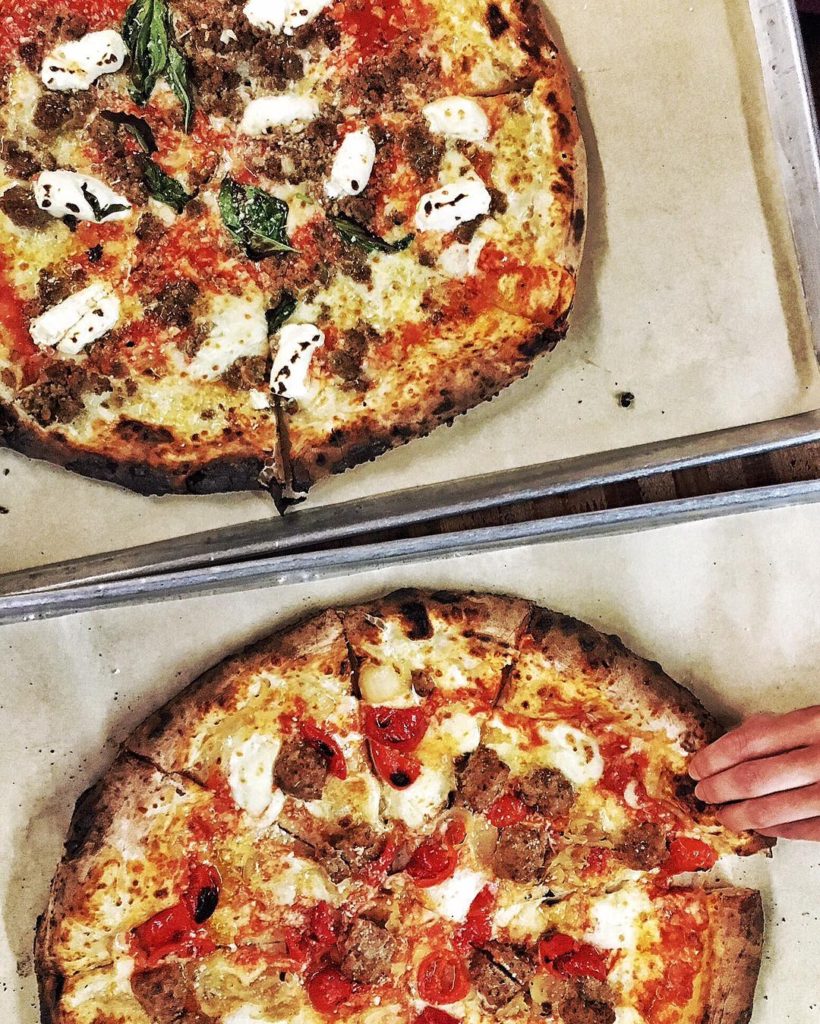 Photo by Nichole Wolf
Ammazza
On the flipside, Ammazza is where you come if you want a little atmosphere with your pizza. Interestingly enough, Ammazza also has communal seating just like Antico, but with a way more laid-back, sultry vibe. The pizzas and wine list are spot on, with lots of options for vegans and vegetarians if you're so inclined. Hint hint – Ammazza is planning on opening a Decatur location in addition to their Edgewood home base.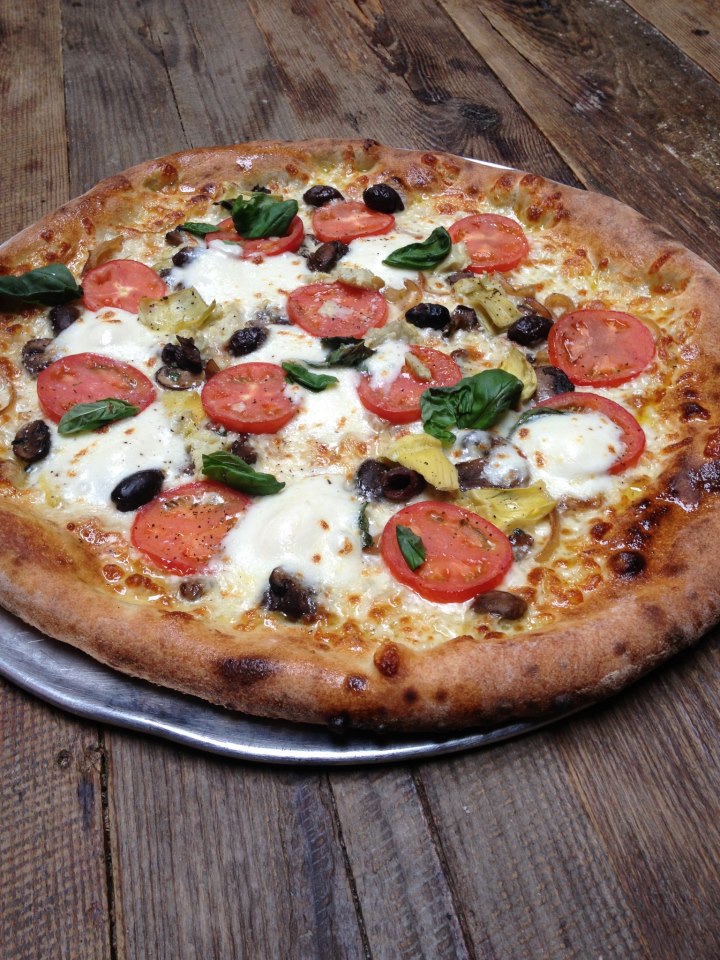 Photo from Ammazza Facebook page
Ribalta 
Ribalta is an uber-authentic Italian spot located in the heart of Midtown, with both the owner and chef hailing from Naples, Italy. The extensive menu features handmade pastas and desserts in addition to a doughy, slightly sweet crust on the Neapolitan style pizzas. Ribalta also serves a unique "pizza in pala" style pie, a baking method where dough is baked twice for a crispy outside but soft inside. These pizzas are extra large and perfect for sharing!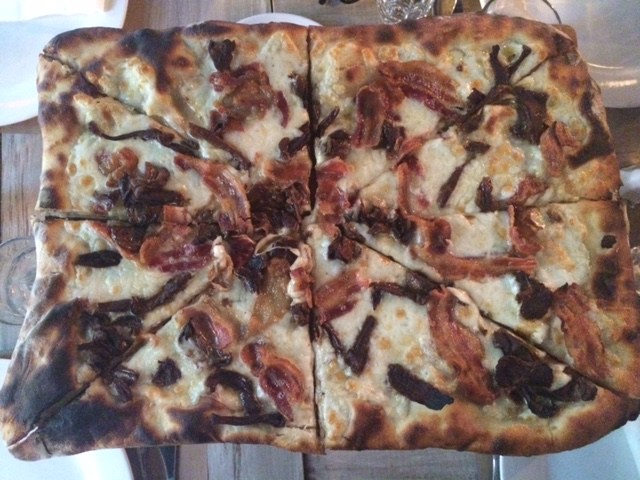 Photo by Nichole Wolf
Fellini's
This local Atlanta chain deserves a spot on the list — with seven locations and late night hours (they're open until 2 am 6 nights a week), Fellini's is perfect for a post-bar night slice no matter where you are in the city. The menu is pretty standard, featuring pizzas, calzones, and salads, but the 'za is consistently delicious. Pro tip – call in your order to skip the line, as crowds can often form on the weekends.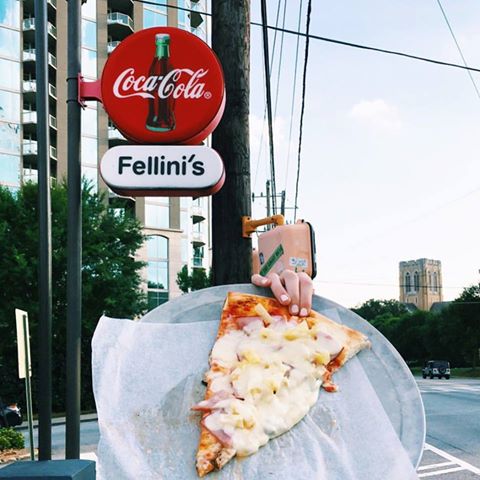 Photo by Hungry Girls Do It Better
Fritti
There's a lot to love at Fritti, with a classy atmosphere, covered patio, and authentic Italian menu. Fan favorites include the Bianca (a decadent white pizza with six cheeses) and the simple but tasty Sorrentino (smoked mozzarella, cherry tomatoes, and basil). Fritti has a fantastic Inman Park Restaurant Week special (occurring in March each year) where you can score an appetizer, pizza, and dessert for just $20.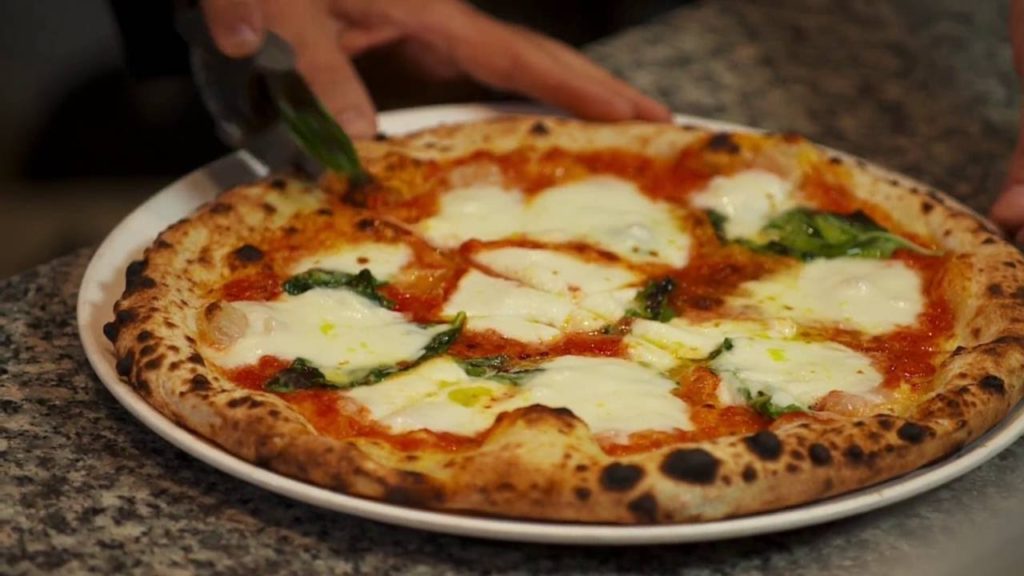 Photo by Atlanta Eats
Brezza Cucina
One of the many amazing restaurants at Ponce City Market, Brezza Cucina is a perfect weekend spot for dining with friends, impressing a date, or stopping by your parents in from out of town. Complete with string lights, high ceilings, and a rustic, modern feel, Brezza is a go-to spot for locals living around PCM. Their selection of pizzas is small but mighty, featuring meats from short rib to hot Italian sausage and tons of fresh veggies.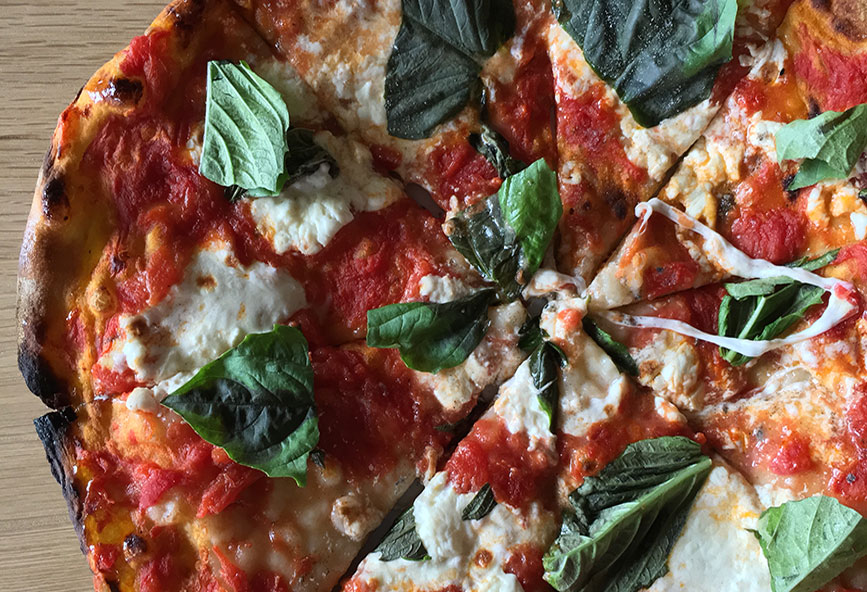 Amalfi Pizza
Housed in a historic downtown building, Amalfi Pizza is reminiscent of a beautiful Italian street, complete with fountains, mini herb gardens, and stunning handpainted walls. The pizza is just as magnificent – Amalfi is known for their Carnevale-style pizza, a ricotta-stuffed crust that can accompany any pie on the menu. Fun fact about Amalfi – they shut down an entire street downtown to airlift their two 6000 pound wood-burning brick ovens (imported from Italy) into the restaurant before they opened.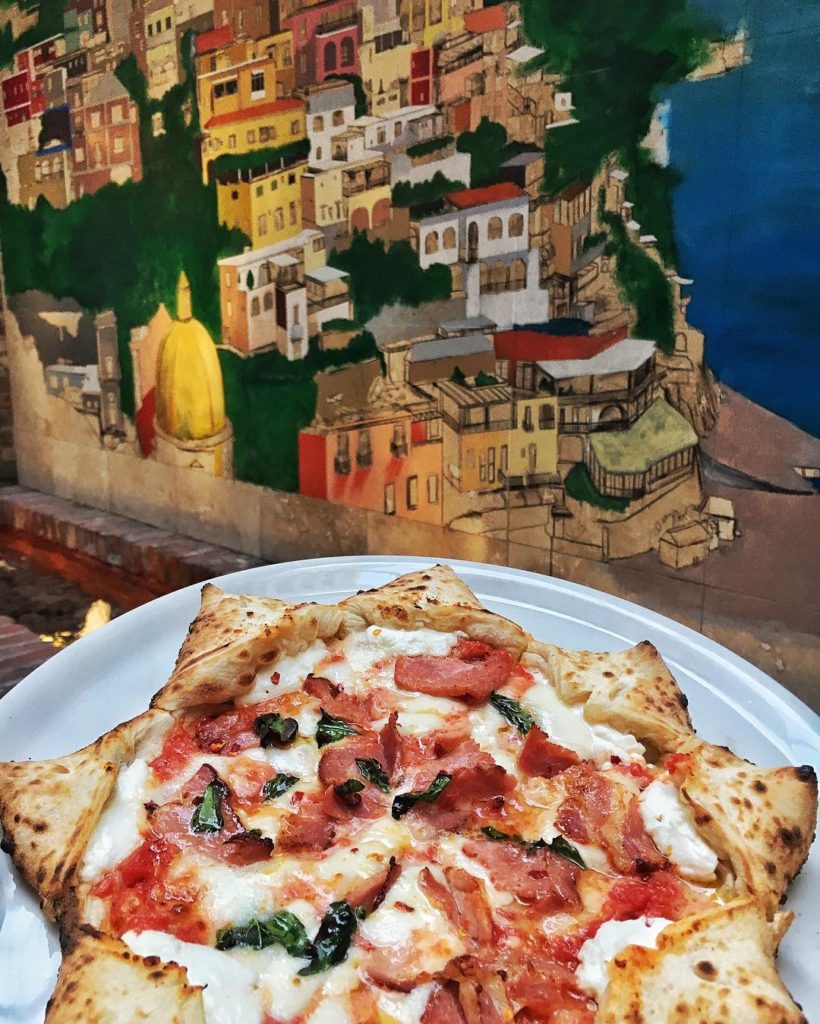 Meet Our Contributing Writer Nichole: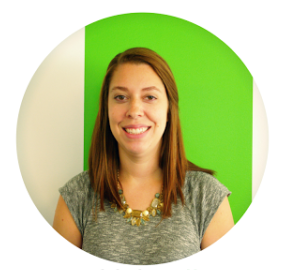 Bio: Nichole runs Atlanta food & lifestyle blog ATL Adventurer, with a focus on curating content on things to do, places to eat, and where to explore in and around Atlanta. She spends most of her time Instagramming her favorite brunch & burger spots around Atlanta, as well as the best places to hike and get outside with her Australian Shepherd pup Riley. Follow Nichole on Instagram: @atladventurer