One Saturday evening, my friend, Anna Kate, invited me to a girls' night out at Château Élan for a cooking class. Although I am a food blogger, I do like to cook.  So I was super excited when she informed me about this adventure. Anna Kate is not a cook, so I was very interested to see how this class was going to go.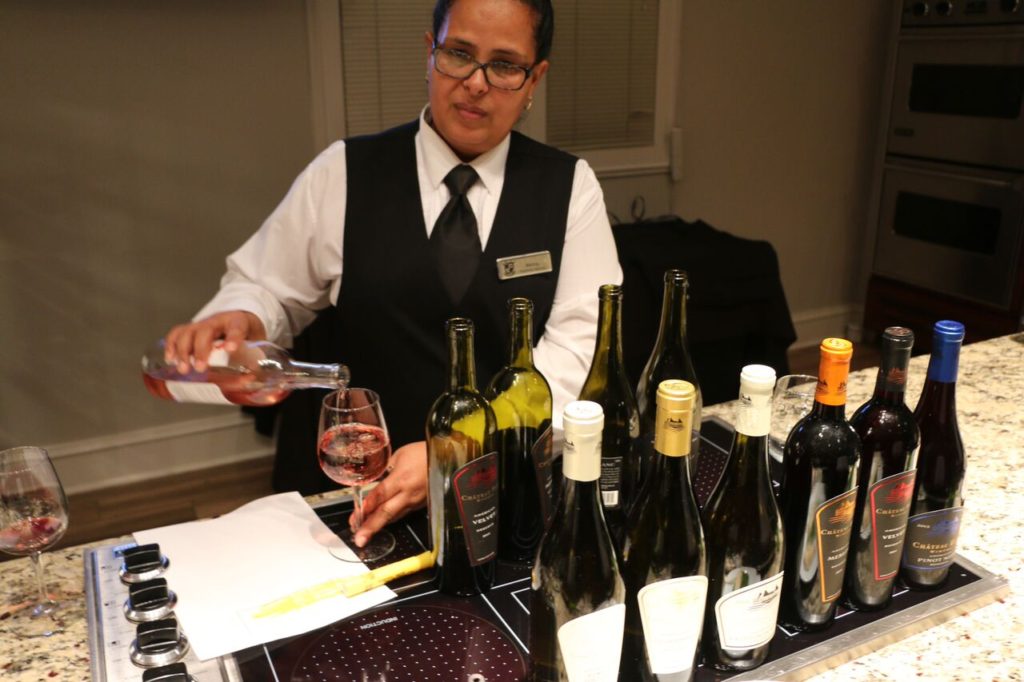 For as long as I can remember, I have enjoyed visiting Château Élan.  It's one of the best reasons to travel outside the perimeter.  You will enjoy their winery, relaxing spa, and the overall ambience that makes this place a true gem. It's what we call an "in-town vacation."  The class was held at the culinary studio kitchen.  When we arrived, we were greeted with glasses of wine.  Wine service is included in the ticket price.  How convenient is that?!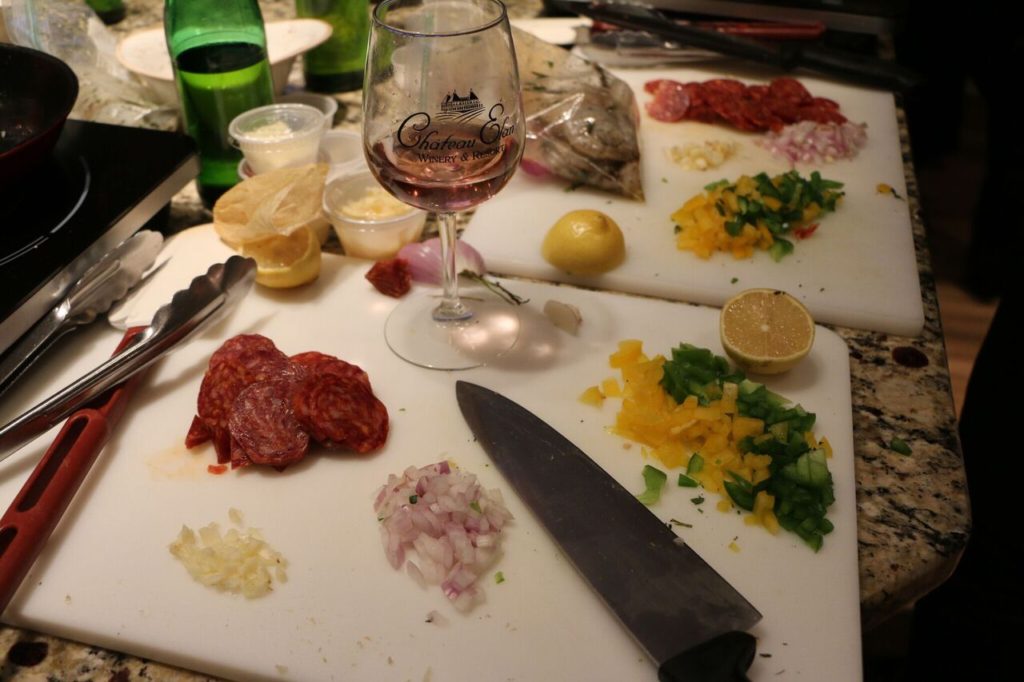 The chef informed us what we were preparing, and when I looked at the menu, I was really happy with what we were going to be cooking.  We prepared the following:
Mushroom bruschetta with herbed goat cheese and balsamic glaze
Chorizo shrimp and Anson Mill grits with smoked cheddar
Dark chocolate cremeaux with caramelized bananas.
I totally wished things were like this when I cooked at home: all the ingredients laid out for me.  The chef walked us through each step for each dish, and the steps were really simple.  What I like most about the cooking class is that it's taught at a beginner's level.  But no matter what your skill level, you are going to have a great time.  And you must eat what you prepare, which makes everyone stay really focused on their creations.  I am proud to say that Anna's and my dishes were home runs. Everything was awesome!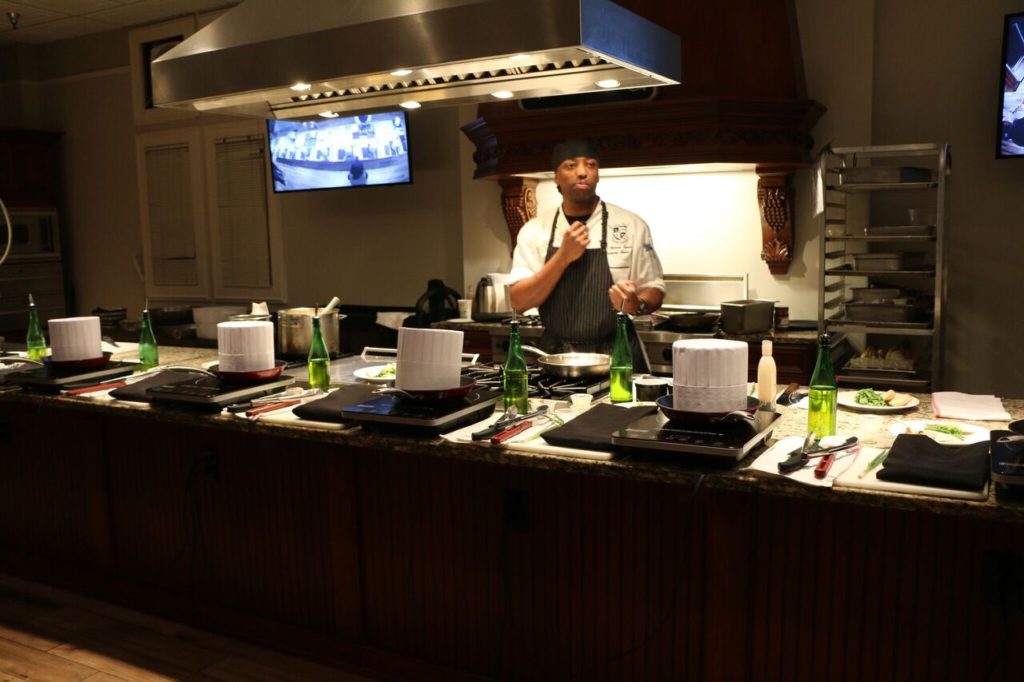 We enjoyed wine, created delectable recipes, and made new friends.  Everyone was so nice in our class and very social.  This class is perfect for a girls' night out or for a 
date night with Bae
.  There were several couples there, singles and they were a ton of fun.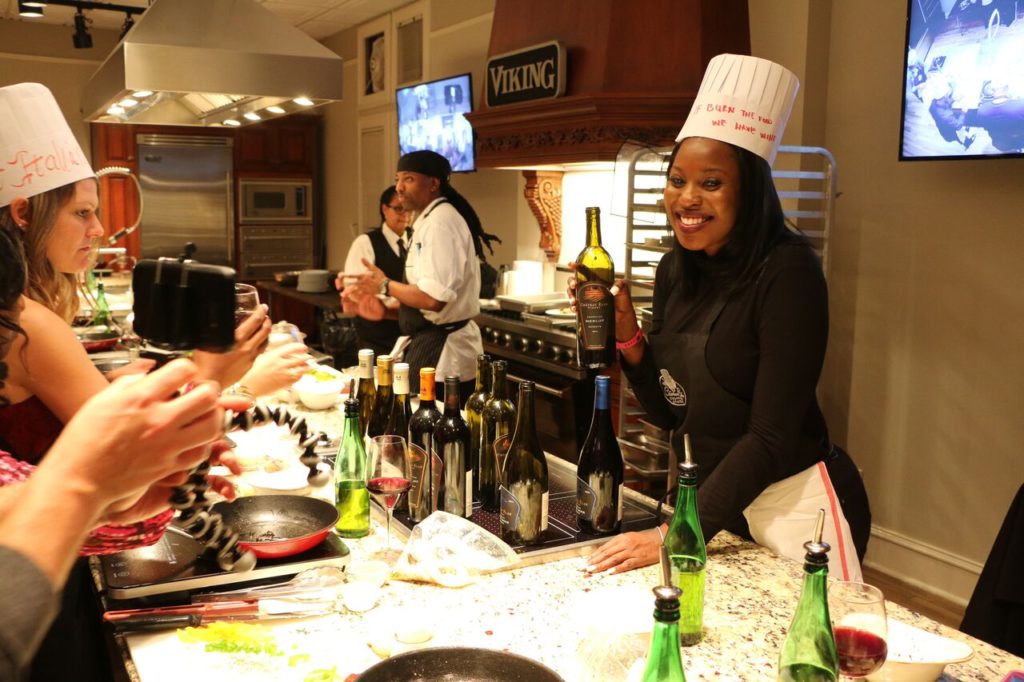 When you attend your cooking class, I would recommend arriving 15 minutes early. Make sure you wear comfy shoes because you will be getting up on your feet a lot during the class. Depending on where you live, spend the night at the Château Élan. It's a perfect way to end the evening.
I have recreated each recipe at home at least three times since the class, and everyone loves them.  At the end of the class, the chef sent us home with a chef's hat, a recipe booklet, and a special gift from the chef, which was an apron.  I cant't wait for my next class.  I highly recommend attending a session.  You will love it!