A Guide To Visiting Vieques, Puerto Rico
When my fiancé told me that we were visiting Vieques, Puerto Rico, I was really excited!  I had several questions about the beautiful private island, so I decided to ask several friends and family if they had ventured there.  They told me that they had not.  So I decided to create a helpful guide to assist anyone desiring to visit Vieques!
Where is Vieques?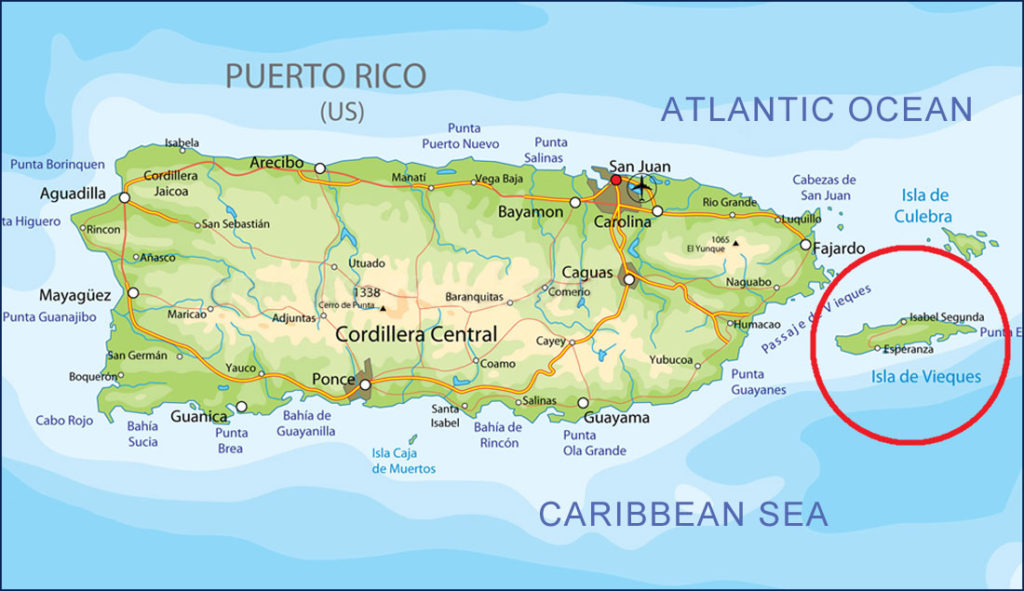 Vieques is located about eight miles east of the Puerto Rican mainland and measures about 21 miles long by 4 miles wide. Everyone says the best time to visit Vieques is between December and April. Most people visit when it's cold in the U.S. Their main source of revenue is tourism, so several businesses close or reduce their business hours until peak season, which is December until April.  In my opinion, anytime is a great time to visit this spectacular island.
Fun Fact: Vieques is best known internationally as the site of a series of protests against the United States Navy's use of the island as a bombing range and testing ground, which led to the navy's departure in 2003.
Why Visit Vieques?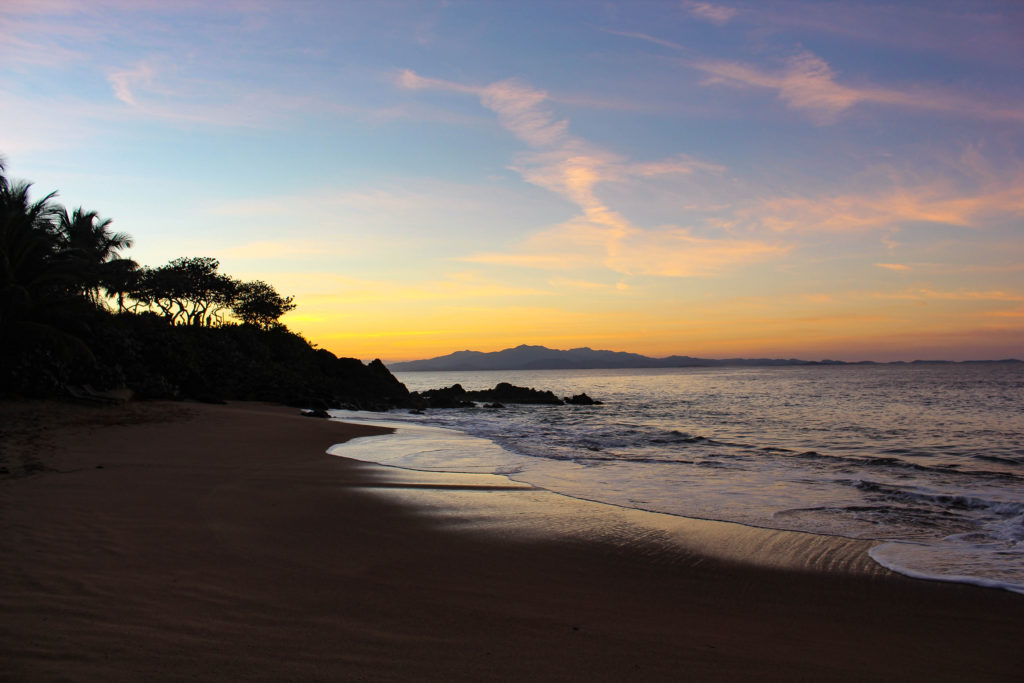 When I initially found out that my fiancé and I were visiting Vieques, I was elated for several reasons.  One of the main reasons was because I was in need of a vacation. And a vacation just isn't a vacation without a beach.  I am certain that I was a mermaid in a previous life because I refuse to take vacations without beaches.  If you are like me, then Vieques is a match made in heaven because it has some of the best beaches in the world.  Vieques' beaches feature white sand beaches and black sand beaches.  Secondly, I was estastic about the resort where we were staying, which was the W Resort.  I'm a huge fan of all-things Starwood brand. The resort was so beautiful! (blog post coming soon).  One great thing about Vieques is if you don't have a passport, it is totally okay because Vieques is a terriority of the United States. I always encourage everyone to get a passport, but if you don't have one, Vieques would be the perfect getaway.
Fun Fact: The entire island of Vieques has seven beaches:
*Pata Prieta Beach – "Secret Beach" – Vieques Island
* La Chiva Beach "Blue Beach"- Vieques Island
* Escondida Beach, Playa la Plata – Vieques
* Playa Negrita/ Negra "Black Sand Beach" – Vieques
* Playa Grande Beach – Vieques
* Sun Bay Beach / Balneario Sombre – Vieques
* Mosquito Pier Beach, Rompeolas – Vieques
No matter where you stay on the island, you are sure to have a great beach to enjoy.
Getting To Vieques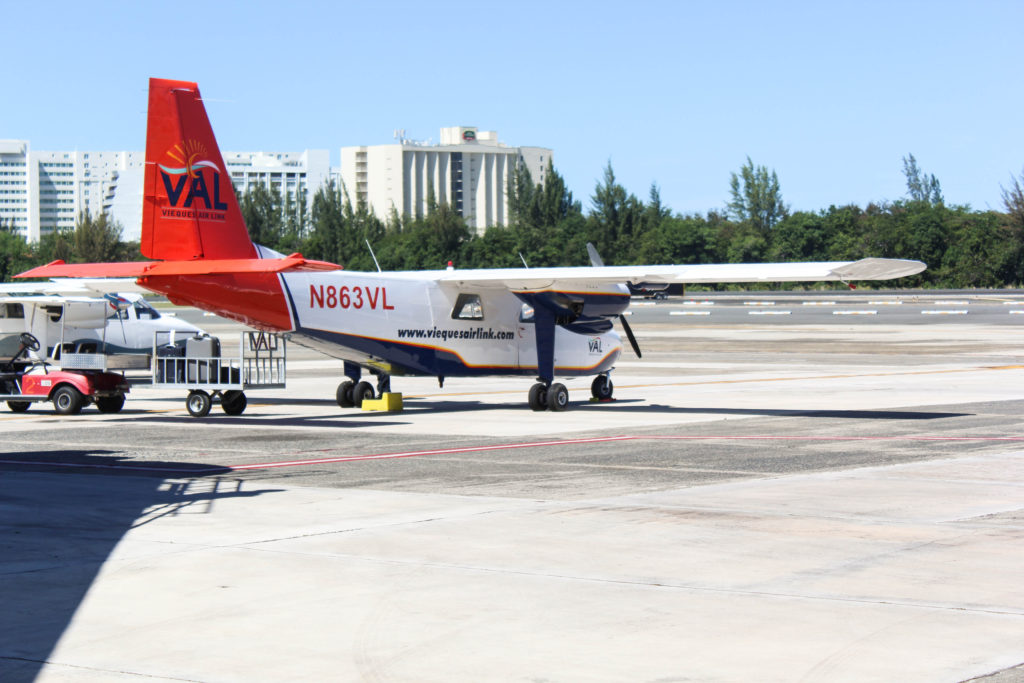 We flew on Vieques Air on an eight-seater puddle jumper. Several people asked why didn't we take the ferry, which was is $4 and a one-hour travel time.  Well, you get what you pay for.  We flew for three reasons:  One, residents of Puerto Rico have seniority, which means you can have a confirmed ticket and wait for a ferry; however, three residents can come, which means you are now bumped off.  I have read horror stories about couples and fellow travelers waiting three hours or more for a ferry. In my opinion, it wasn't worth it.  You're totally losing time playing a waiting game. Secondly, the flight is only 25 minutes.  I love to maximize my time on vacation, so 25 minutes verses one hour just made more sense to me. Third, W Vieques has their own airport lounge, and the W provides transportation to the hotel, which is were we stayed.
Fun Fact: There is no difference in currency, which means the U.S. dollar is accepted.  We used our cards for everything except to pay for taxis.
Transportation in Vieques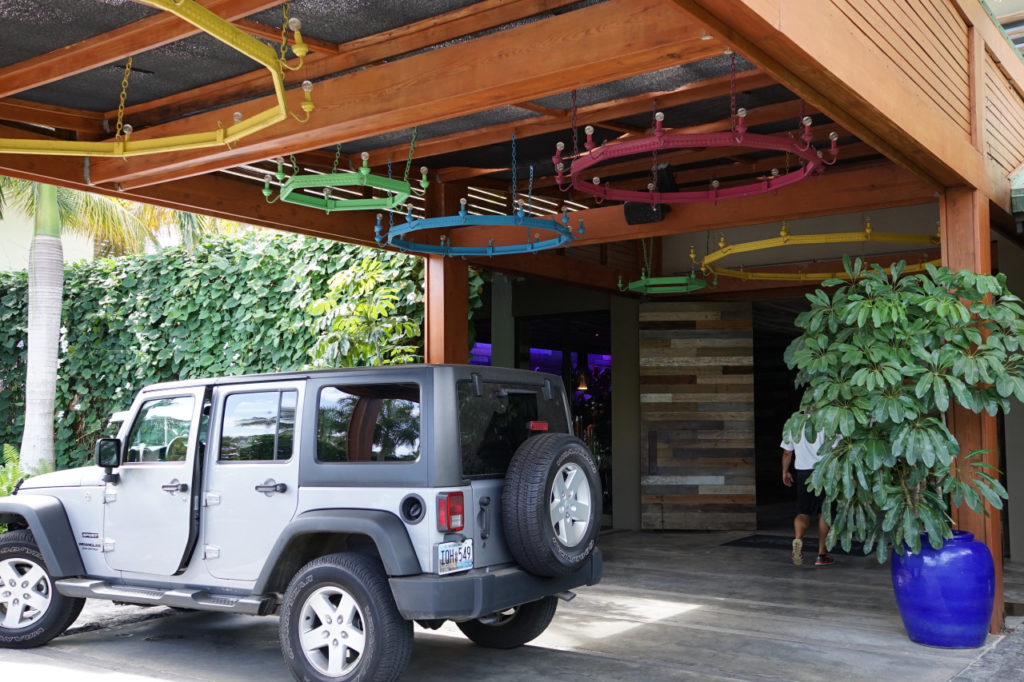 I don't make it a habit to drive when I'm in another country.  I am not familiar with their laws, and I can barely drive in Atlanta.  We decided to use taxis, which was really cost effective.  Our most expensive cab ride was $11. When you use the cab services, make sure you set up transportation everywhere.  Typically, you have to call for a cab.  But during our four-day visit, I didn't see one cab.  If you live in a high-traffic city like myself, take the time to enjoy someone else driving.  Relax!  It is a vacation.  If you are more adventurous, you can rent a car.
Fun Fact: Vieques doesn't have a speed limit. You just drive how you feel.  Drive with precaution.
What lanugage is spoken in Vieques? 
While we were there, we experienced very minimal language barriers. Puerto Rico's official languages are both Spanish and English. The preferred language of Puerto Ricans, however, is Spanish.
Fun Fact: English is taught starting in elementary school, so you will have a easy time communicationing.
I hope this information was helpful.  When you visit, you are certainly going to have a blast!  I know that we did!