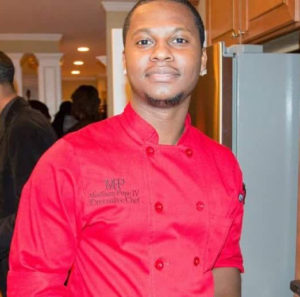 Originally from Atlanta, Georgia, chef Madison David Pope, IV was lured into the culinary world when his passion for food was recognized at an early age. Madison went on to study culinary arts at Le Cordon Bleu Atlanta, where he learned to develop his fundamental skills and depth of knowledge.  He continued his career at the Biltmore Estate in Asheville, North Carolina, Affairs to Remember Caterers, and Bold American Events Catering both in Atlanta.
Over the years, Madison worked on his sweets and culinary arts to help shape his unique style and flair. His culinary philosophy and passion reflects in his sweets as well.
There are pies, cakes, cupcakes, and ice cream.  But his cheesecakes are his customer's favorite.  In late 2015, he started his business, MADD Sweets, where they were showcased at Pastry Live Atlanta 2015.
In addition to cooking and baking, Madison's passion is to help cultivate younger chefs to discover their own talents in the same way that he was encouraged. Be it through giving lessons on how to make breakfast or shadowing catering events, Madison believes wholeheartedly in staying active and continuously learning and having fun will keep the drive alive.