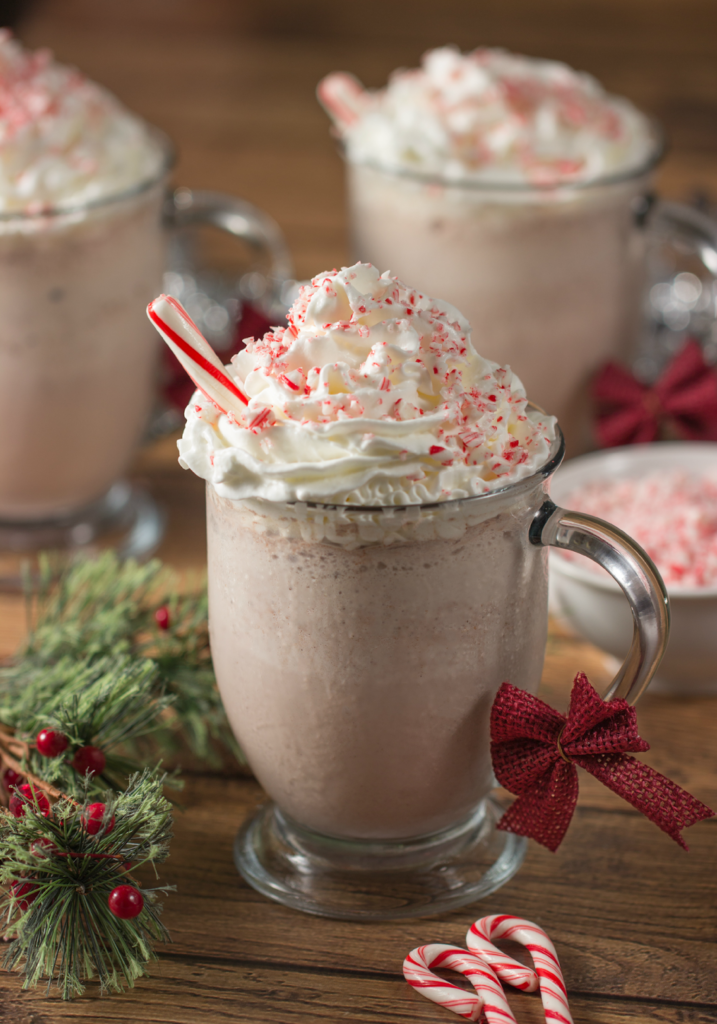 Every year I work to find new holiday cocktail recipes.  This season,
mü
 Peppermint Frappuccino is one my favorite recipes.  Nothing says Christmas like peppermint booze and cocoa.  
mü
 is LiDestri Spirits' award-winning, ready-to-drink cocktails.  The peppermint frappuccino blends mü's creamy cocoa cappuccino flavor with hot cocoa and crushed candy canes to create a delicious cocktail that is sure to please.
Mü comes in four distinct flavors: vanilla latté, chocolate chai, cocoa cappuccino, and espresso macchiato.  And mü is now available in mü minis, which is the perfect stocking stuffer.
Cheers!
mü Peppermint Frappuccino
Ingredients
•   1 cup mü Creamy Coco Cappuccino
•   2 cup milk
•   1 pkg (0.73 oz) hot cocoa
•   1tsp peppermint syrup
•   4.5 cup ice
•   1 can whipped topping
•   2-3 large candy canes, crushed
•   2-4 large candy canes for garnish (optional)

Directions
1.  Place mü Creamy Coco Cappuccino, milk, hot cocoa, peppermint syrup and ice in a blender and blend until smooth.
2.  Pour into a glass or mug and top with whipped topping.
3.  Add the crushed candy cane to the whipped topping.
4.  Break the curved end off of a candy cane and place into your drink for garnish and some added flavor.
For more information on mü, where you can purchase it and to join the "müvement" this holiday season, visit 
www.drinkmu.com
. Stay connected on Twitter and Instagram at @drinkmu and on Facebook at 
Facebook.com/drinkmu
.