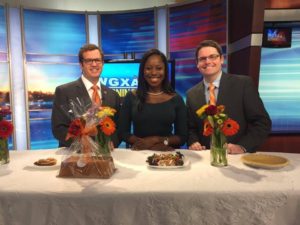 Recently, I have had the opportunity to appear, on a monthly basis, on Macon's Fox 24 and ABC 16.  It has been a blast, and I have been enjoying every moment.  The news crew and news anchors are a riot and so kind.  They have made me feel at home and more comfortable on camera.  This has given me an opportunity to work with some awesome brands such as:
It has been an awesome experience, and I can't wait to see what 2017 brings.  Tune in 
December 19th at 6:45 a.m. and 7:15 a.m.
 to watch me discuss holiday baking tips and tricks.
Check out some of my videos: 
http://wgxa.tv/news/morning-news/thanksgiving-tips-and-tricks-with-eating-with-erica
http://wgxa.tv/news/morning-news/eating-with-erica-discusses-national-dessert-month-11-30-2016
http://wgxa.tv/news/morning-news/eating-with-erica-discusses-national-rice-month