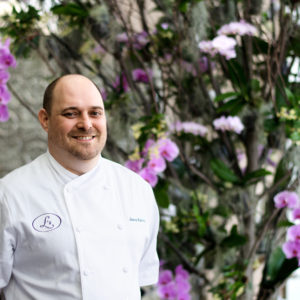 As executive chef of Linton's in the Garden, chef-owner Linton Hopkins' latest outpost at the Atlanta Botanical Garden, Jason Paolini holds more than five years of tenure within the Resurgens Hospitality Group family, helming the kitchens of Restaurant Eugene, Holeman and Finch Public House and H&F Burger. Rooted in family and building personal relationships, Paolini prides his work on utilizing the finest ingredients focusing on terroir.
Originally from New Orleans, La., Paolini spent his early years immersed in the dining scene. At the age of 16, he was shucking oysters and boiling shrimp, crab and crawfish at a small seafood restaurant and later began waiting tables at the Palace Cafe in the French Quarter. He moved to Atlanta after graduating from culinary school and w
ith more than 17 years of experience in the fine dining industry under his belt, he continues to bring his passion for connecting the food he serves to every dish he creates. Along with building relationships with the farmers who grow the fruits, vegetables and animals he utilizes, Paolini enjoys sharing these stories with diners on a personal level.
He shares, "I'm reminded of how important is it to know where your food comes from. As a chef, you become connected to the food you serve, while building personal relationships with the farmers who grow the fruits, vegetables and animals we cook. Through cuisine, we are able to share these relationships with our guests."
Paolini currently resides in Decatur with his wife and two dogs and enjoys playing golf, riding bikes, hiking, hunting and fishing in his leisure time.