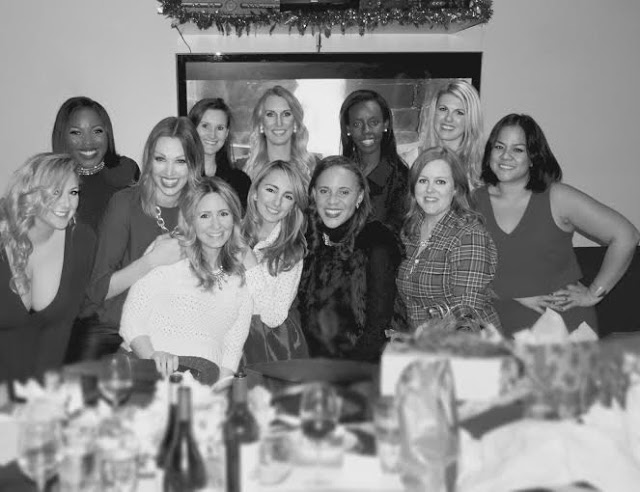 There is nothing better than holiday parties, especially when you have a friend who is always the hostess with the mostess.  One of my favorite people and closest friends, Allison Cawley, founder of Peachfully Chic, hosted one of the best Christmas soiree's . It was held at Dantanna's last Sunday with some of my favorite blogger friends.
I always joke with Allison and say that our children will have to be BFFs because she is so good at arts and crafts, and her child's school projects are going to be incredible.  And I am determined that my children will not be upstaged.  She's amazing at curating events that are all-things DIY.  She has a real eye for all things artistic.  I always say she needs to launch her own event planning company because she's so talented.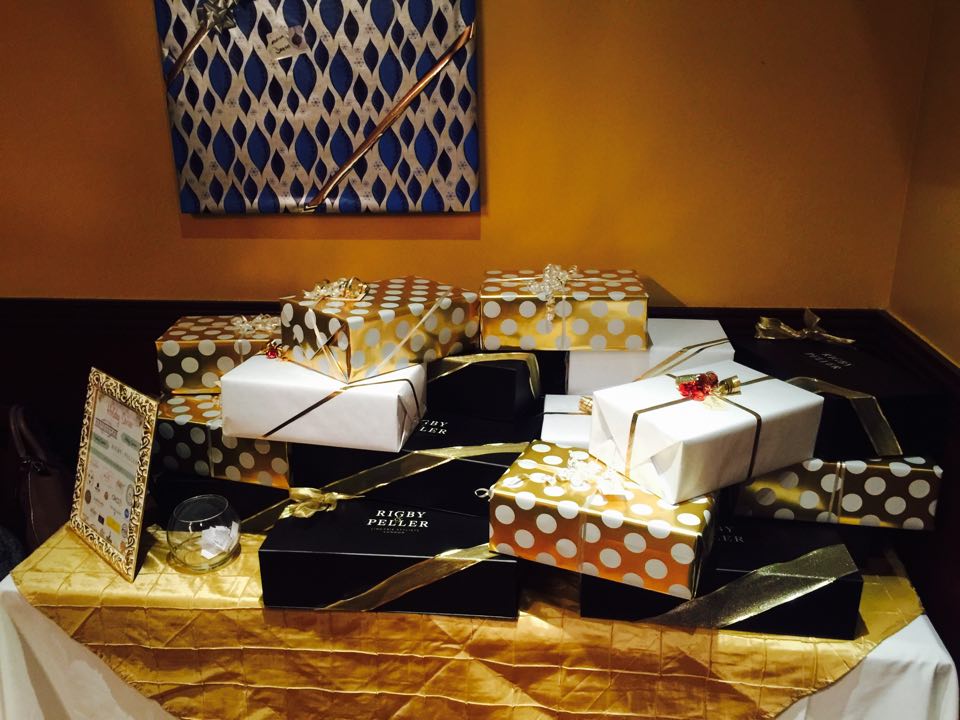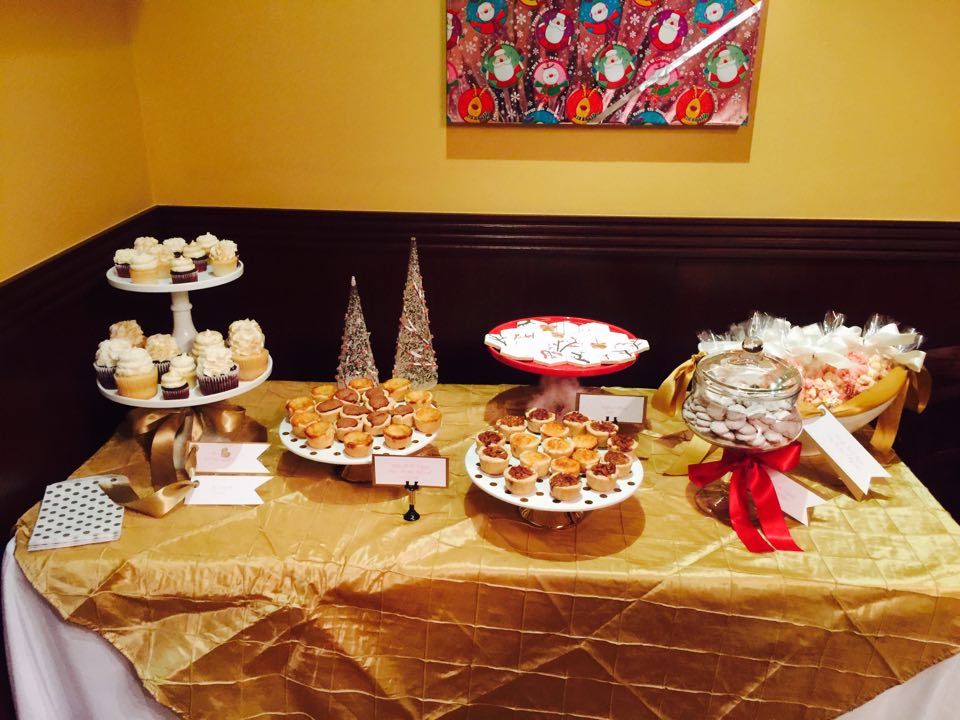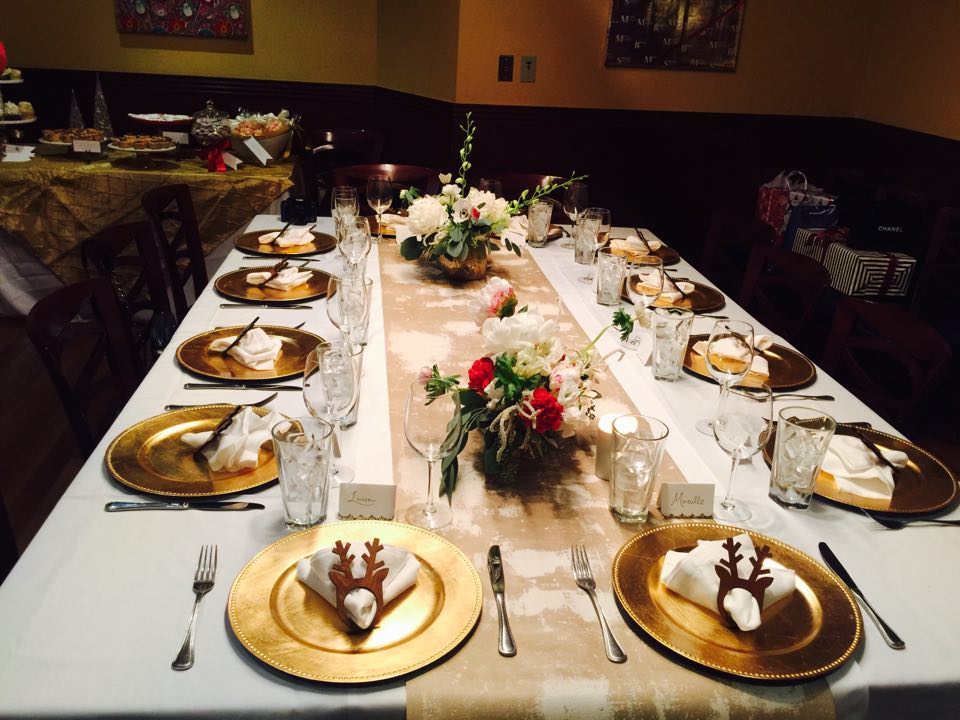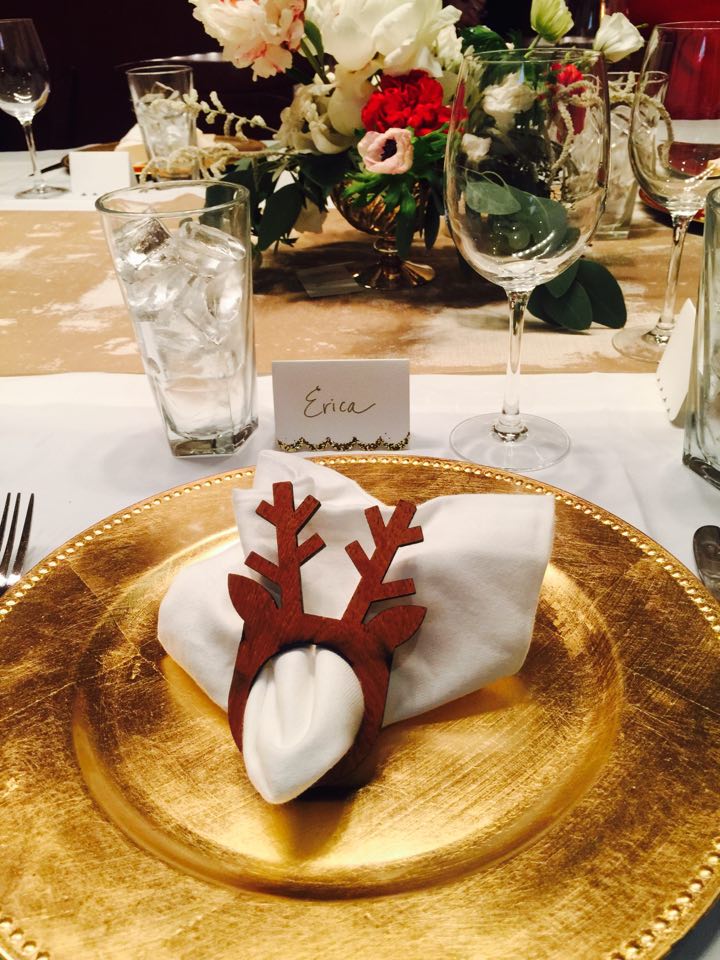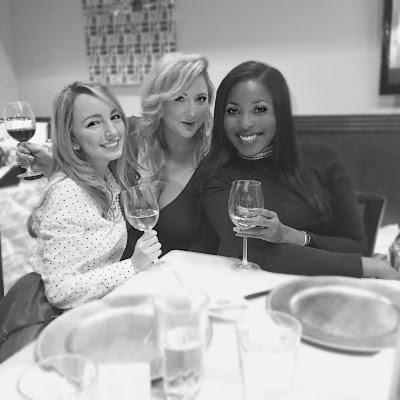 If you don't know about Dantanna's, it's located in the Shops Around Lenox.  I am a huge fan of this restaurant because it's my go-to place on Sunday for brunch.  Also, there is no better place to watch sports.  I had no idea they offered a private room for private dining.  It's very spacious, and it was perfect for a group of 12.
For dinner we enjoyed:
*  Organic quinoa salad: edamame, red peppers, dry cherries, goat cheese, shallots, spring mix,topped with a balsamic dressing.
*  Creekstone Farms Porterhouse-  house signature rub, chargrilled, with herb compound butter.
*  Maine Lobster Tail Medallions- drawn butter, citrus-caper cocktail sauce.
*  Wasabi Tuna- panko crusted ahi, pan seared, shiitake-soy glaze, lump crab.
*  Cajun chicken eggrolls with Creole mustard dipping sauce.
*  Sesame steak skewers with soy ginger chili aioli.
*  Pan-charred local okra with sea salt.
*  Pepper blend, lemon,and grana padano.
*  Crab and berry salad: Grown greens, seasonal berries, tropical fruit tomatoes, and a raspberry vinaigrette to tie the flavor all in.
*  Kale salad: Chopped tomatoes, carrots, Granny Smith apples, chopped pecans, blue cheese, topped with an herb vinaigrette.
*  Spinach salad: Baby spinach leaves, tomatoes, red onion, mandarin oranges, caramelized onions, blue cheese, with a champagne lime dressing.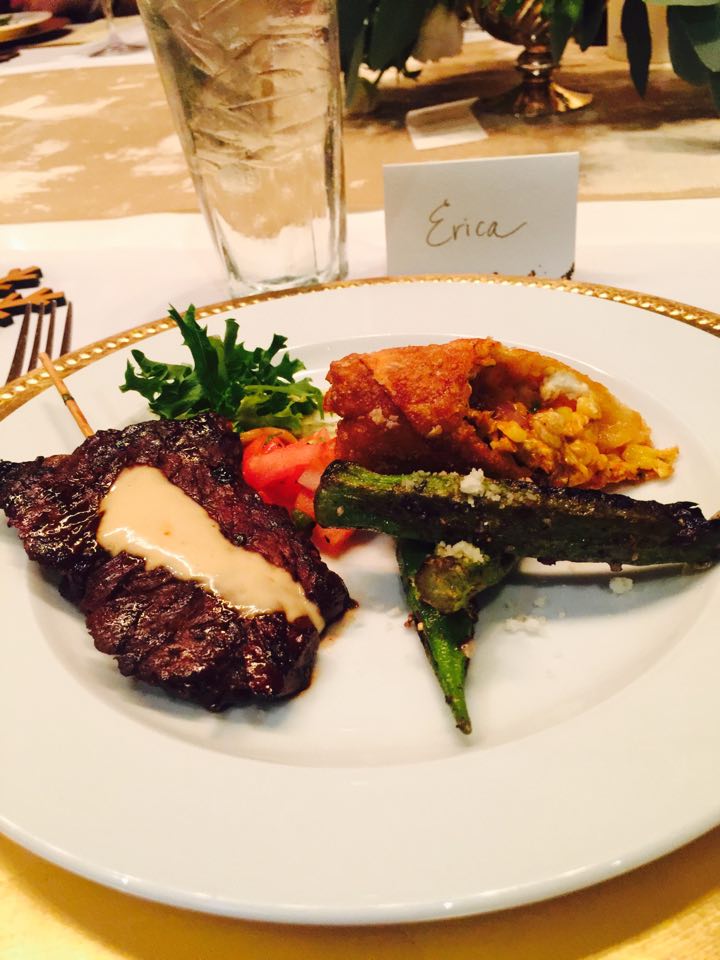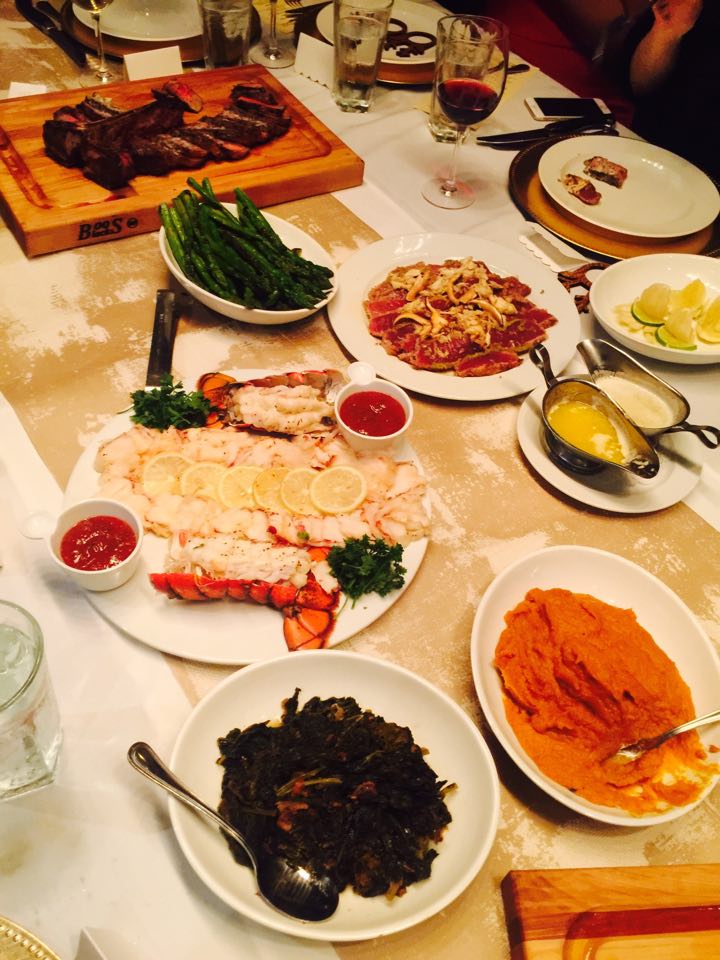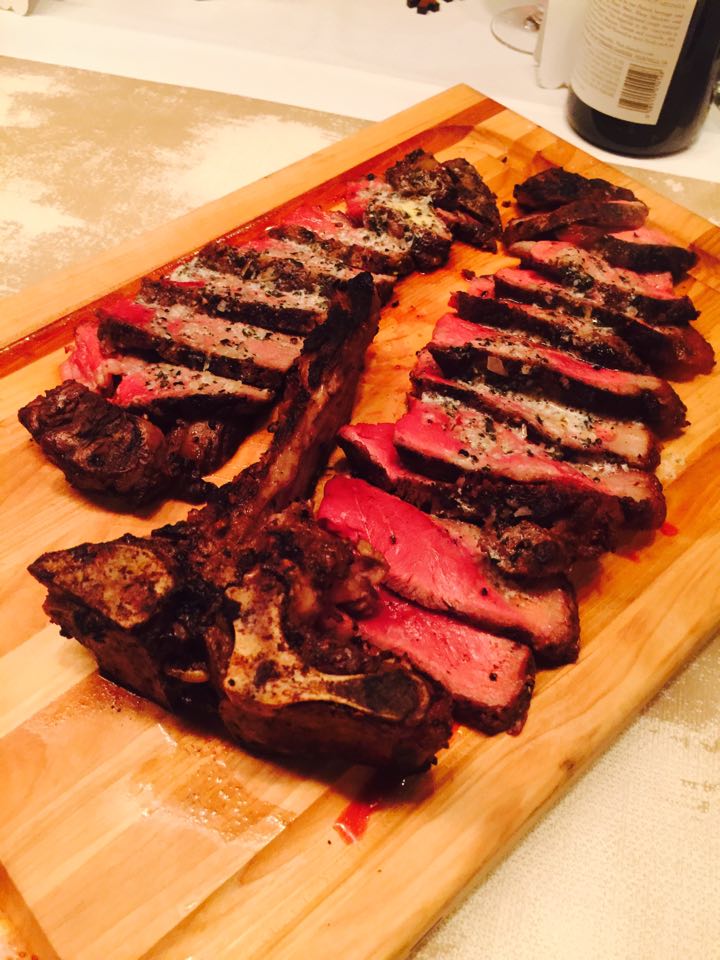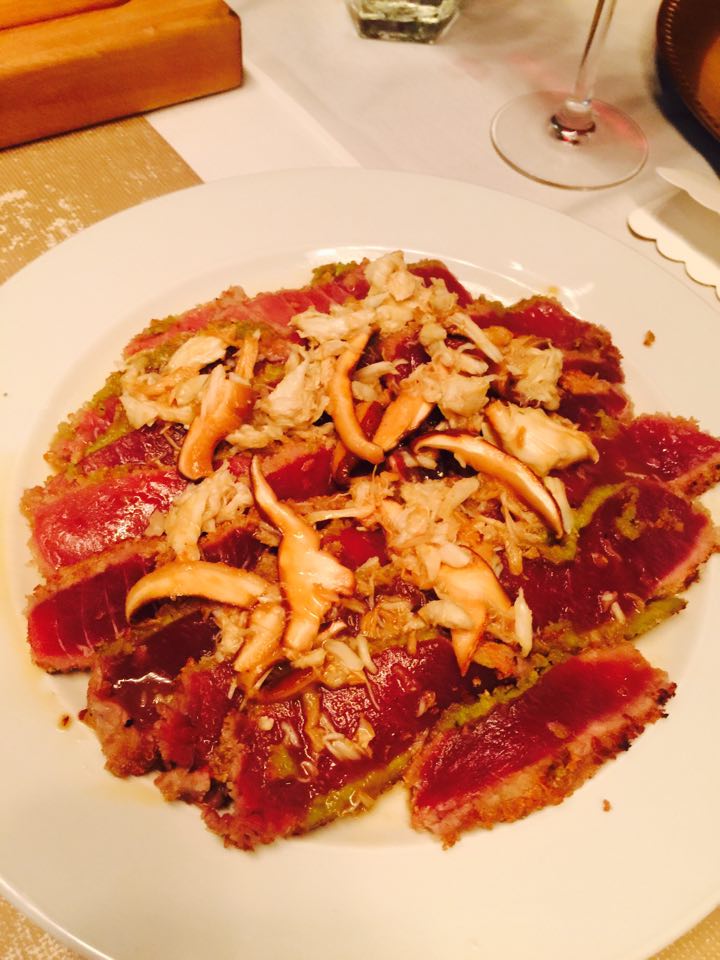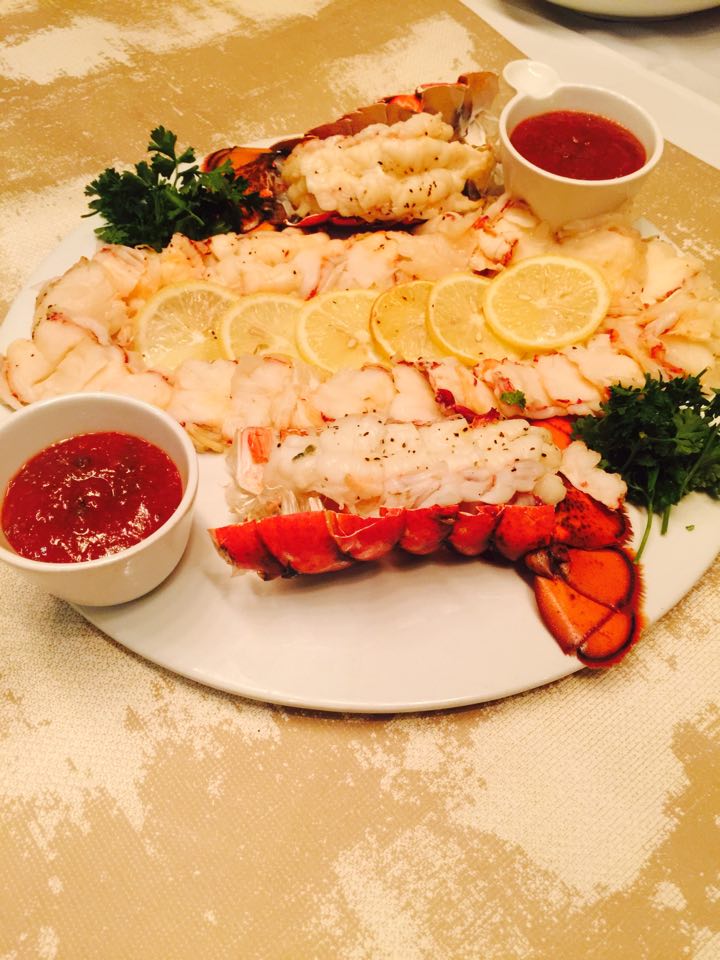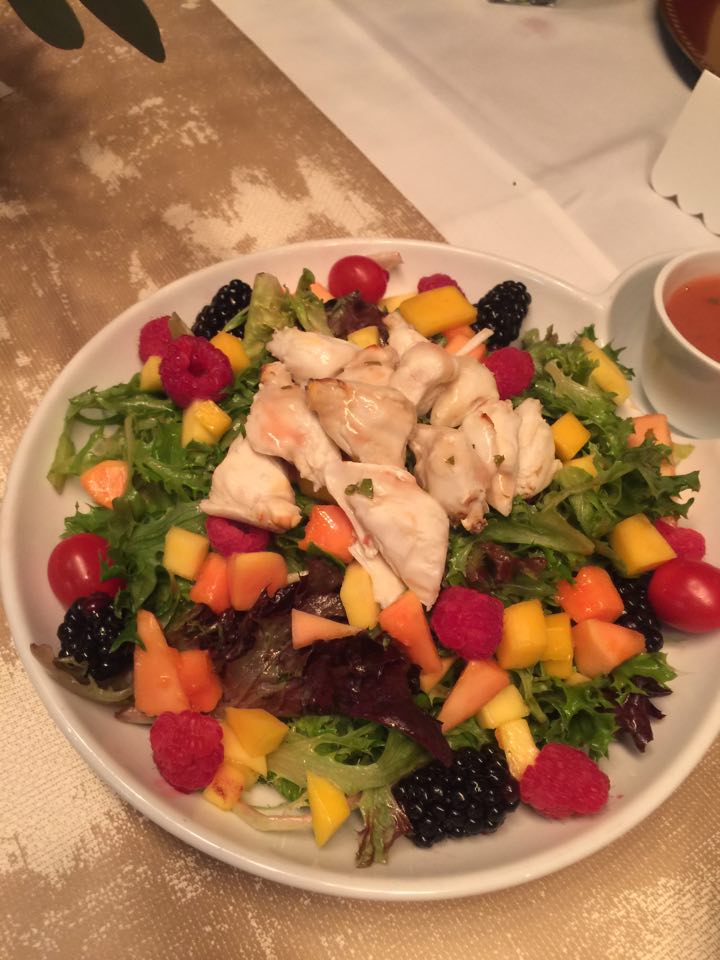 The dinner was sheer perfection.  It was paired with all-things wine, which was the cherry on top. The evening was filled with nothing but laughs.  And being merry would be an understatement.
The fun twist to this holiday soirée was that it was a white elephant party.  Things got competitive, but in good fun.  I was elated to walk away with an amazing Diptyque cypress candle.  First of all, these are the best candles ever created. They burn for 60 hours, and they smell like heaven.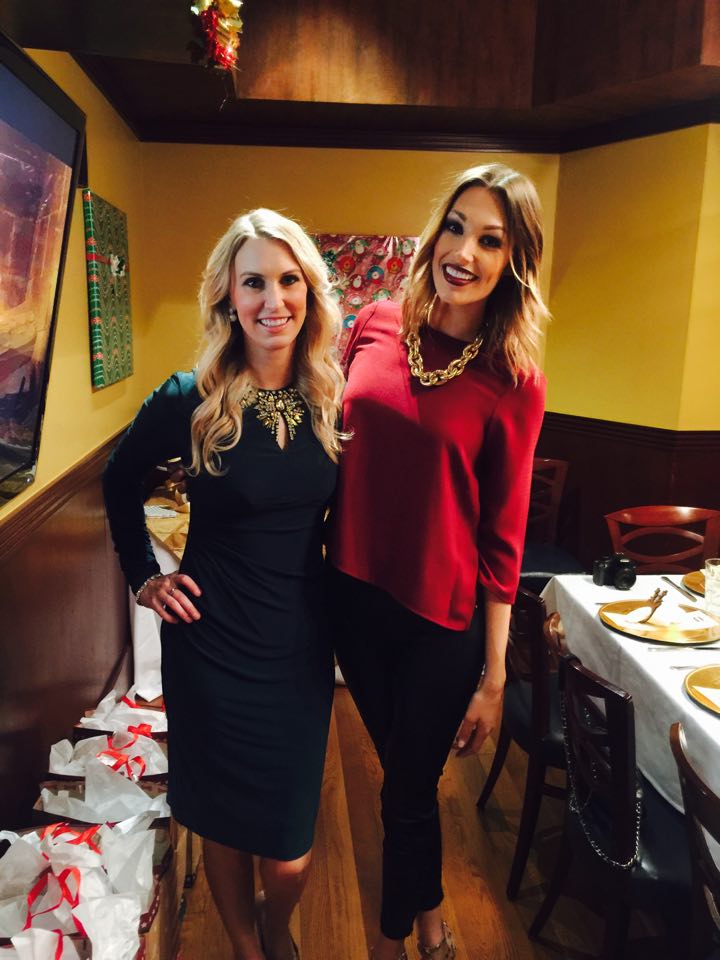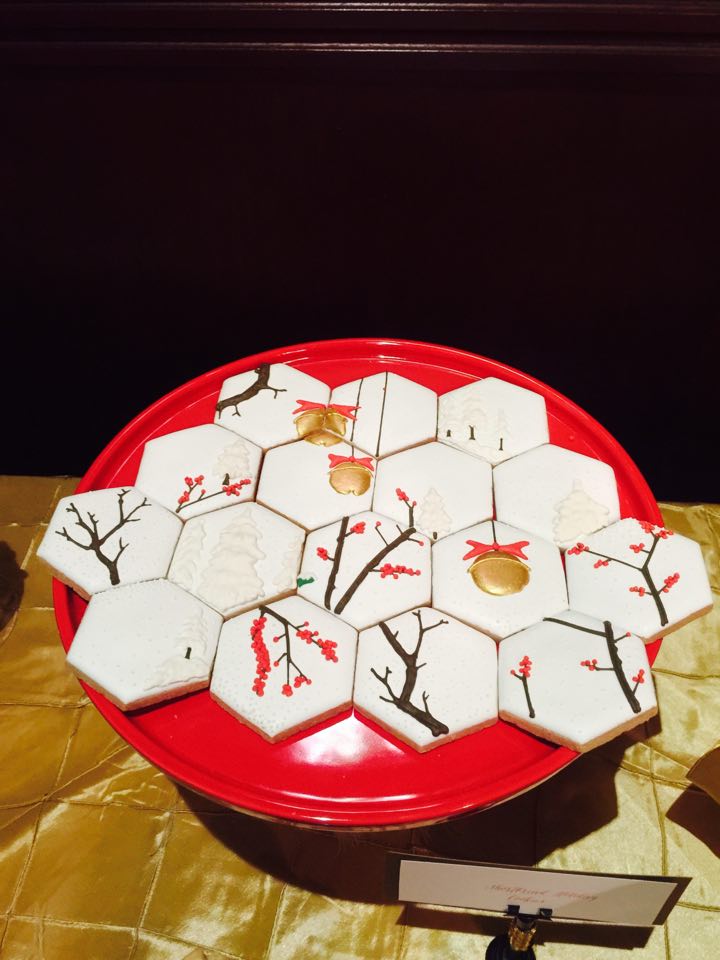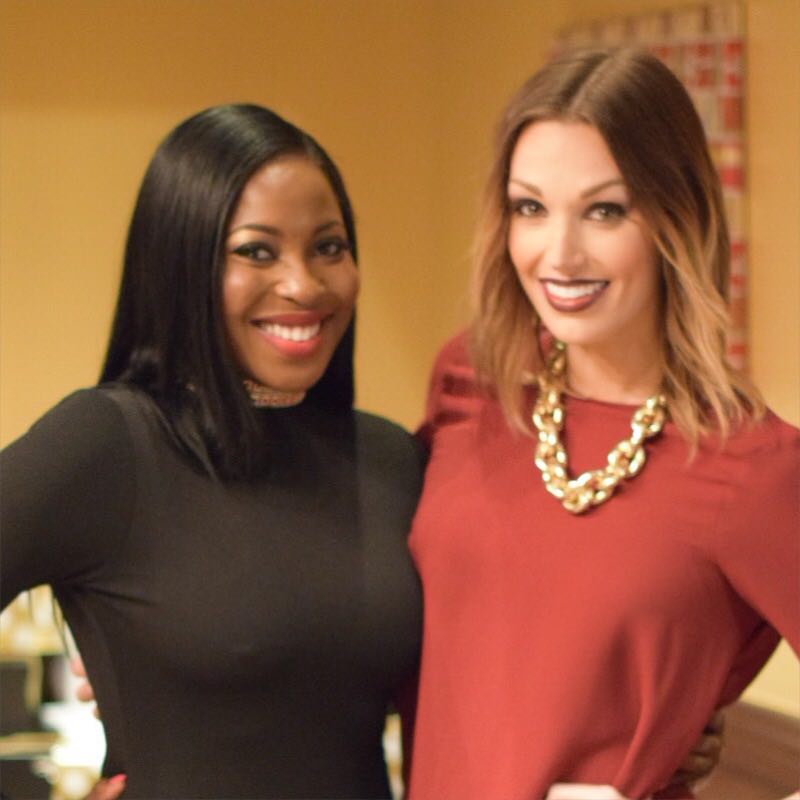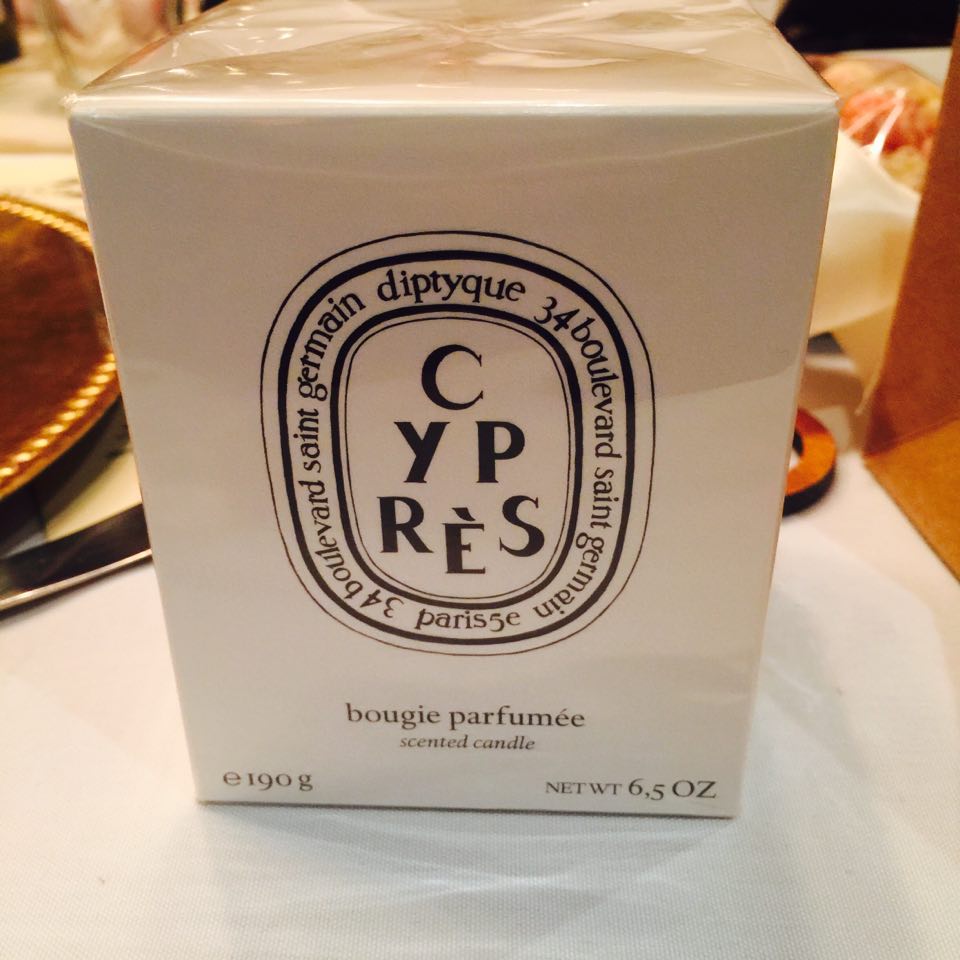 We all know that I'm a huge fan of any and all 'swag bags'.  Allison's 'swag bags' were on steroids.  I received in my bag: Rigby & Peller gave us a lovely gift box including $20 gift card, candle, soap, tea and cookies! Check out their gift guide here.  Other favors included a candle from diptyque, scarves from Roberta Roller Rabbit, socks, candles, and a gift card from Intown ACE Hardware, a gift set from Savannah Bee Company, a manicure set by Duri Cosmetics,  Flywheel class passes, Oka-B Wedge in Licorice (the most comfortable shoes ever!), and Macarons by Marche de Macarons.  Even after all of that we were given a gift certificate from White Salon & Spa, creamy coffeehouse inspired wine cocktails from Mu, hot sauce by Owner and Chef Mimmo Alboumeh and a gift card to Red Pepper Taqueria,  recycled glass earrings from Smartglass Recycled Jewelry here in Atlanta, a gift card from Maya Steaks & Seafood, cookie cutters from Trudeau,  a mani and pedi gift card from Three 13 (my lucky  number and a great spa & boutique), a 12oz. emergency drinking beer (the perfect gift and stocking stuffer) from Wild Heaven Craft Beers, and a salt scrub from Bishops Coffee and Tea.    A grapefruit from Wonderful Sweet Scarlett's, scented car ornaments from Scentsicles, and a lovely necklace from Vincent Peach were the final gifts!
I want to give a huge thanks to the amazing sponsors: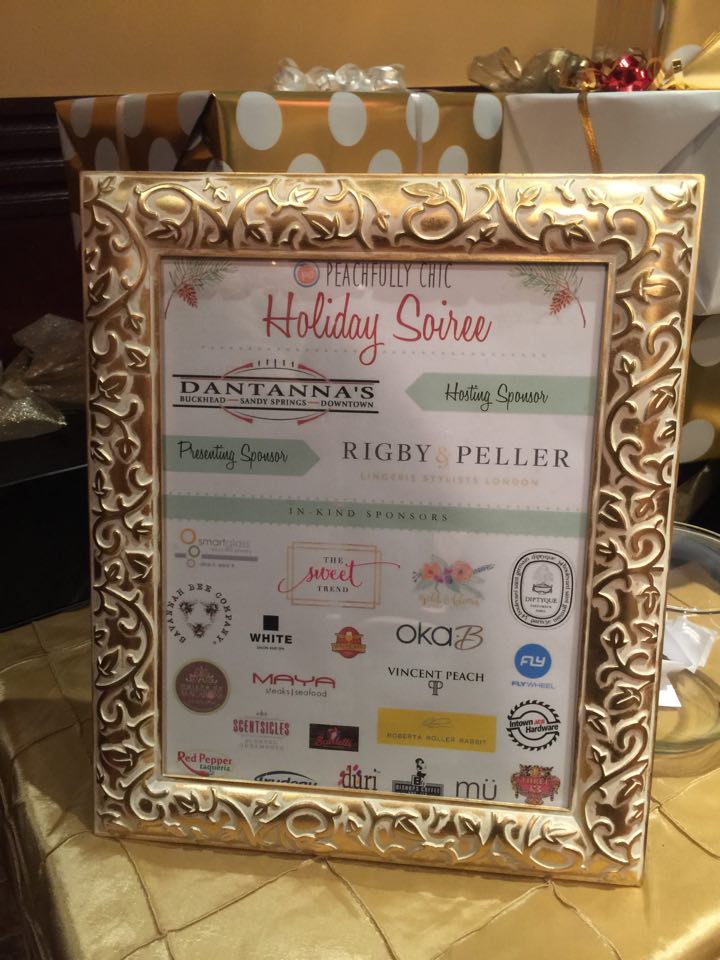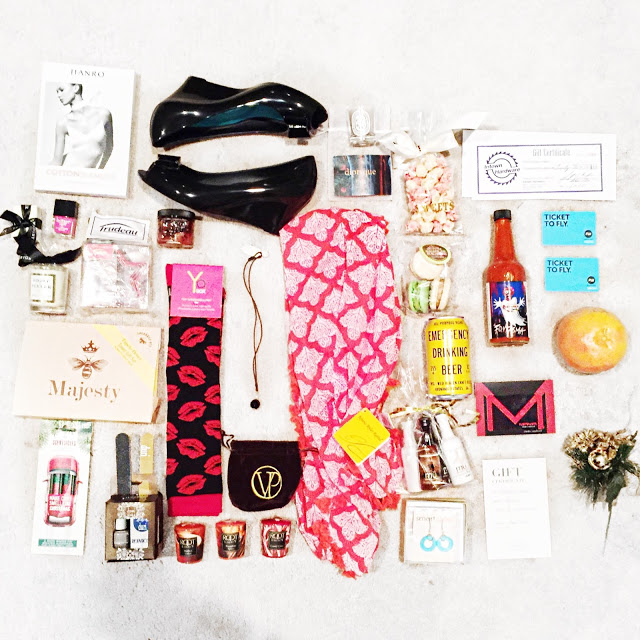 I loved everything in my bag, and I will utilize each item in my bag!  I'm totally looking forward to see what Allie has up her sleeve for 2016. Make sure to follow Allison on social media @allisoncawley.
Happy Holidays!